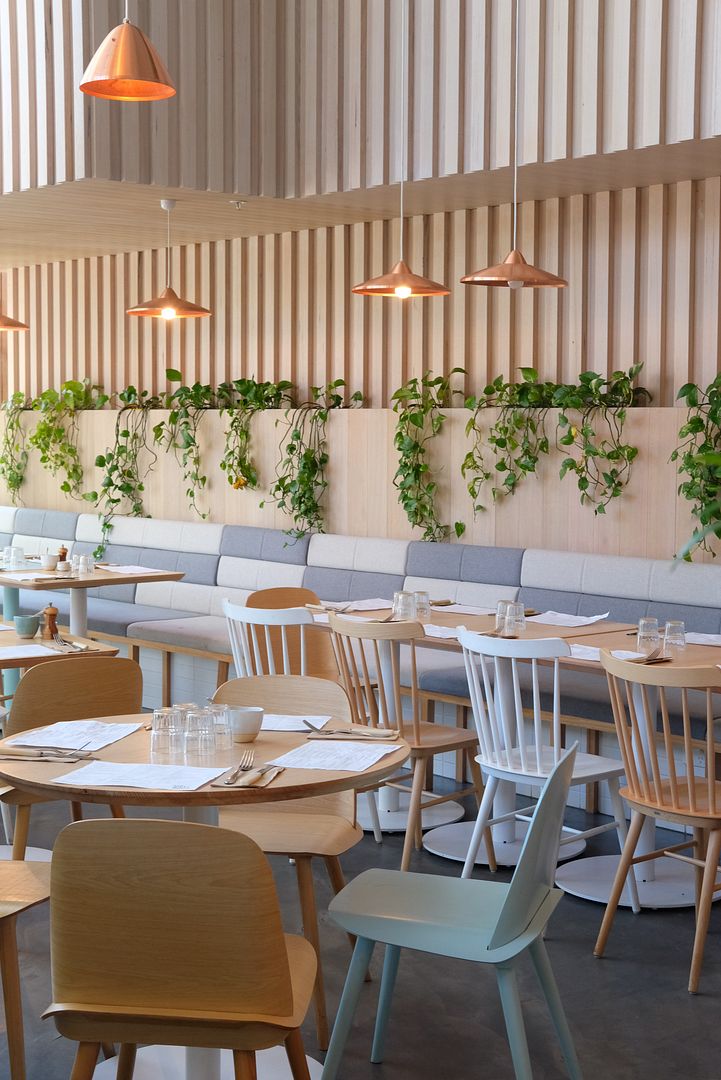 If you're a coffee-lover, like me, you'd be no stranger to names such as Nylon, Liberty, and Sarnies. I love my lattes rich, robust, creamy, smooth, and with as little sourness or acidity, and bitterness as possible. Hence, my all-time favourite coffee place in Singapore is Nylon. I used to love Assembly Coffee, and Pacamara too. I travelled to Melbourne for 3 weeks recently, and visited a total of 21 cafes - including famous coffee houses such as Market Lane Coffee, Industry Beans, and Manchester Press. Here are 15 gorgeous cafes that brew awesome coffee. And if you love Nylon, Liberty, or Sarnies, I'm confident that you'll love the coffee at these cafes too.
Kitty Burns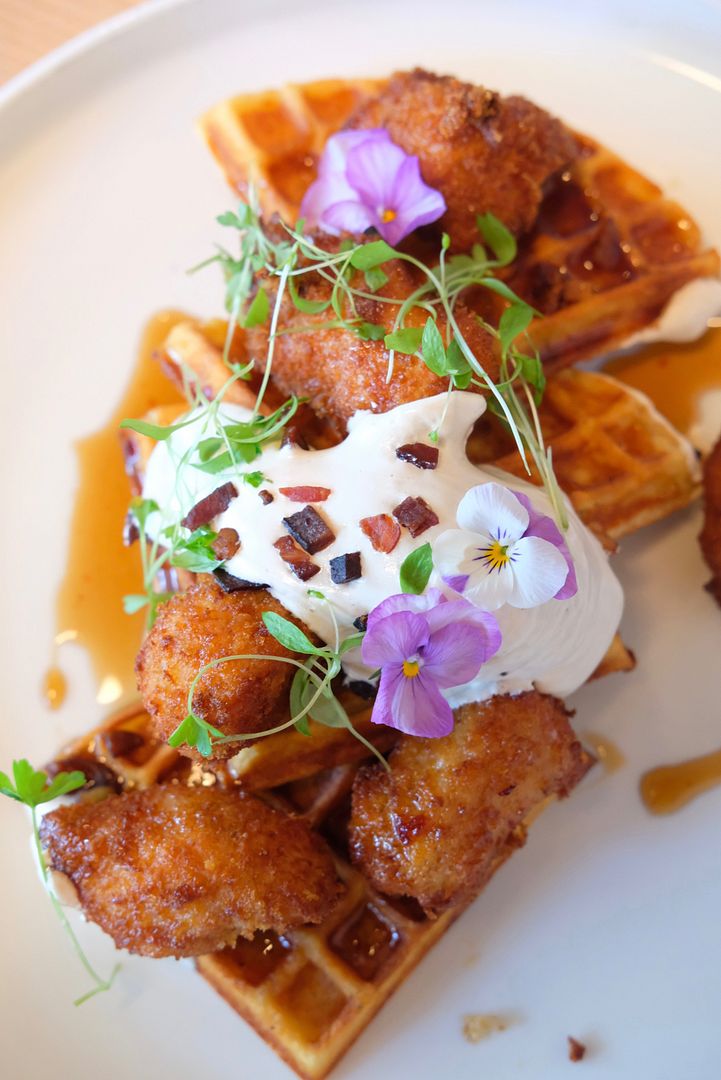 Kitty Burns is not the most accessible cafe, but it is worth travelling for. The space is so pretty - high ceiling, wooden furniture, shades of blue, dashes of bronze, booth seats. It is easily one of the prettiest cafes in Melbourne.
Coffee beans : Allpress Espresso
Food : Popcorn Chilli Chicken with Waffles, Buttermilk Fried Chicken Burger - Decent. Skip the house-cured seared salmon
24 Acacia Place, Abbotsford VIC 3067, Australia
Monday - Friday : 7am - 330pm
Saturday - Sunday : 8am - 330pm
Twenty & Six Espresso
The cafe is pretty small, with limited seats indoors. I'll recommend dining in the courtyard - the space is not huge, but it is cozy and homey, and also dog-friendly! The staff were really nice and friendly too. I also had one of the best eggs benedict that I've ever had here. I won't forget those perfectly-poached eggs and thick cuts of ham!
Coffee beans : Seven Seeds
Food : Eggs Benedict - delish!
594 Queensberry St, North Melbourne VIC 3051, Australia
Monday - Friday : 7am - 3pm
Saturday - Sunday : 8am - 3pm
The Farm Cafe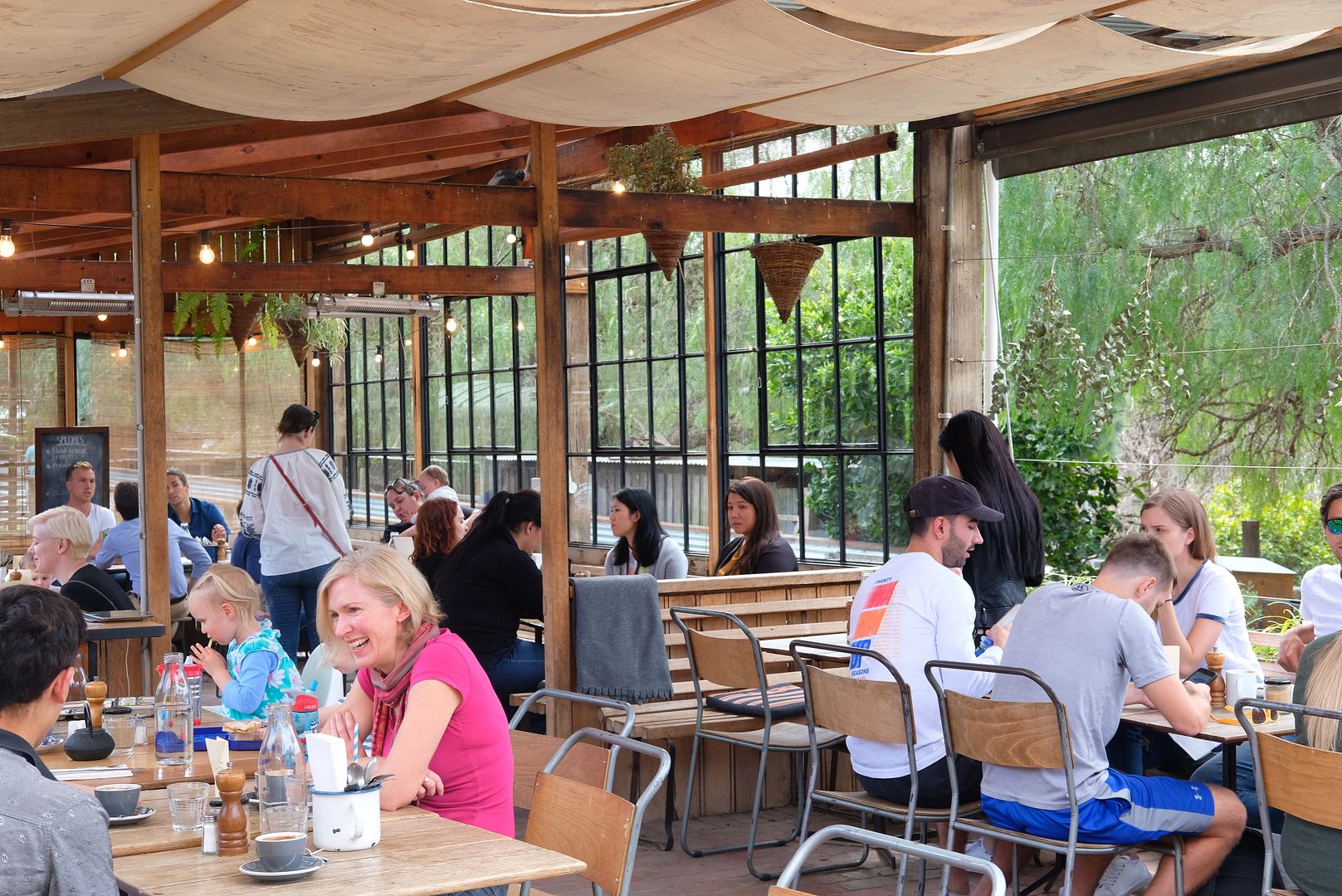 The Farm Cafe is a distance away from central Melbourne, but if you have a full day to spare, I'll really recommend that you pop by. The space is lovely, the staff are friendly, and the food is delicious. You can take a nice long stroll to see horses, or pay a small fee to enter the farm where you can cuddle with guinea pigs, watch the milking of a cow, feed lamb and calves and more.
Beans : STREAT Coffee
Food :
Really d

elicious

and hearty - Farmer's breakfast, Sweet Potato Rosti
Collingwood Children's Farm, 18 St Heliers St, Abbotsford VIC 3067, Australia
Monday - Friday : 9am - 3pm
Saturday - Sunday : 9am - 4pm
No.19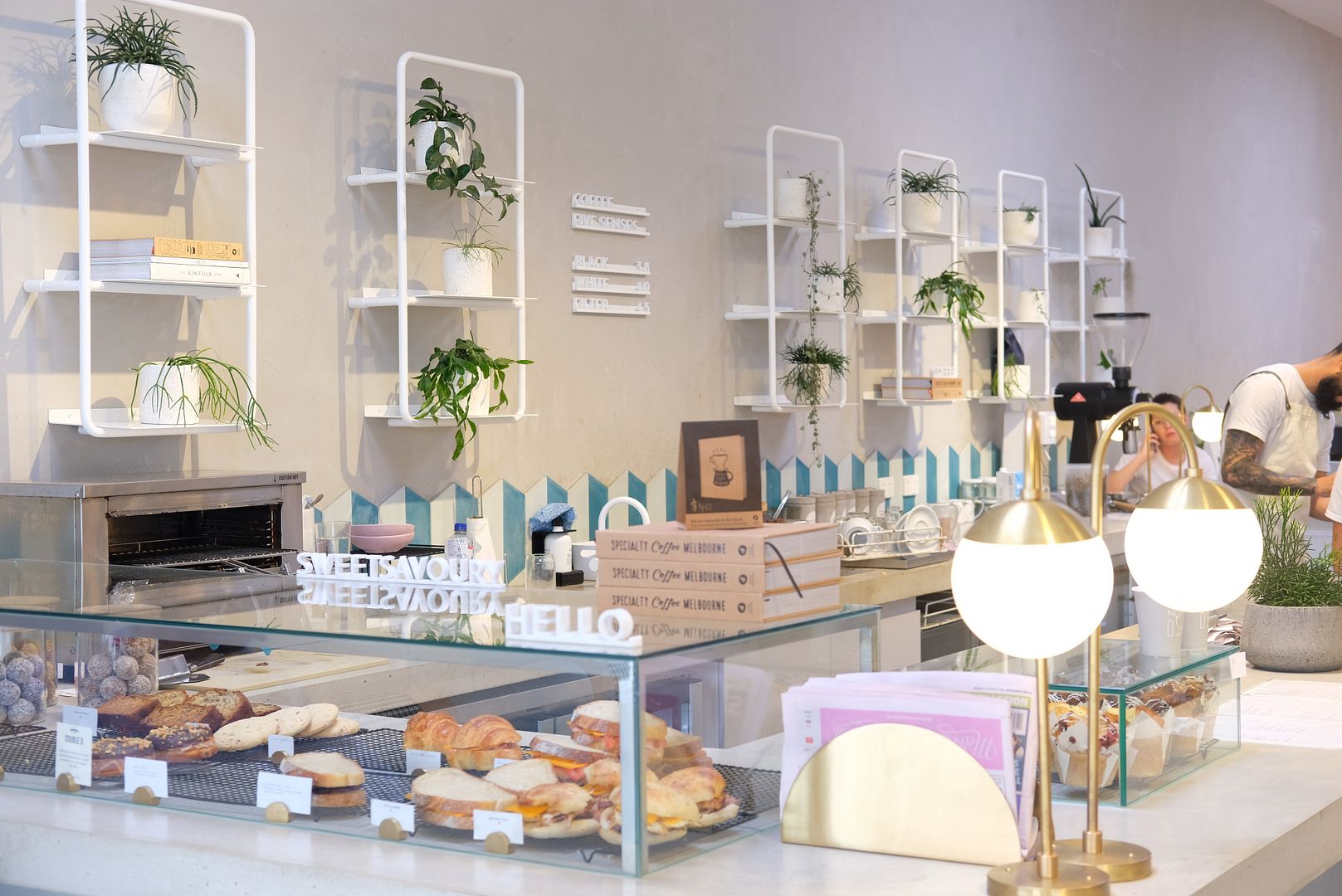 A popular cafe in Ascot Vale, No.19 dazzles with a tasteful colour scheme of white, gold, and teal. They have a variety of sandwiches and baked goods.
Coffee beans : Five Senses
Food : Pulled Pork Benedict - the entire dish was extremely salty, I couldn't finish it.
214 Union Rd, Ascot Vale VIC 3032, Australia
Monday - Friday : 7am - 4pm
Saturday - Sunday : 8am - 4pm
Darling Street Espresso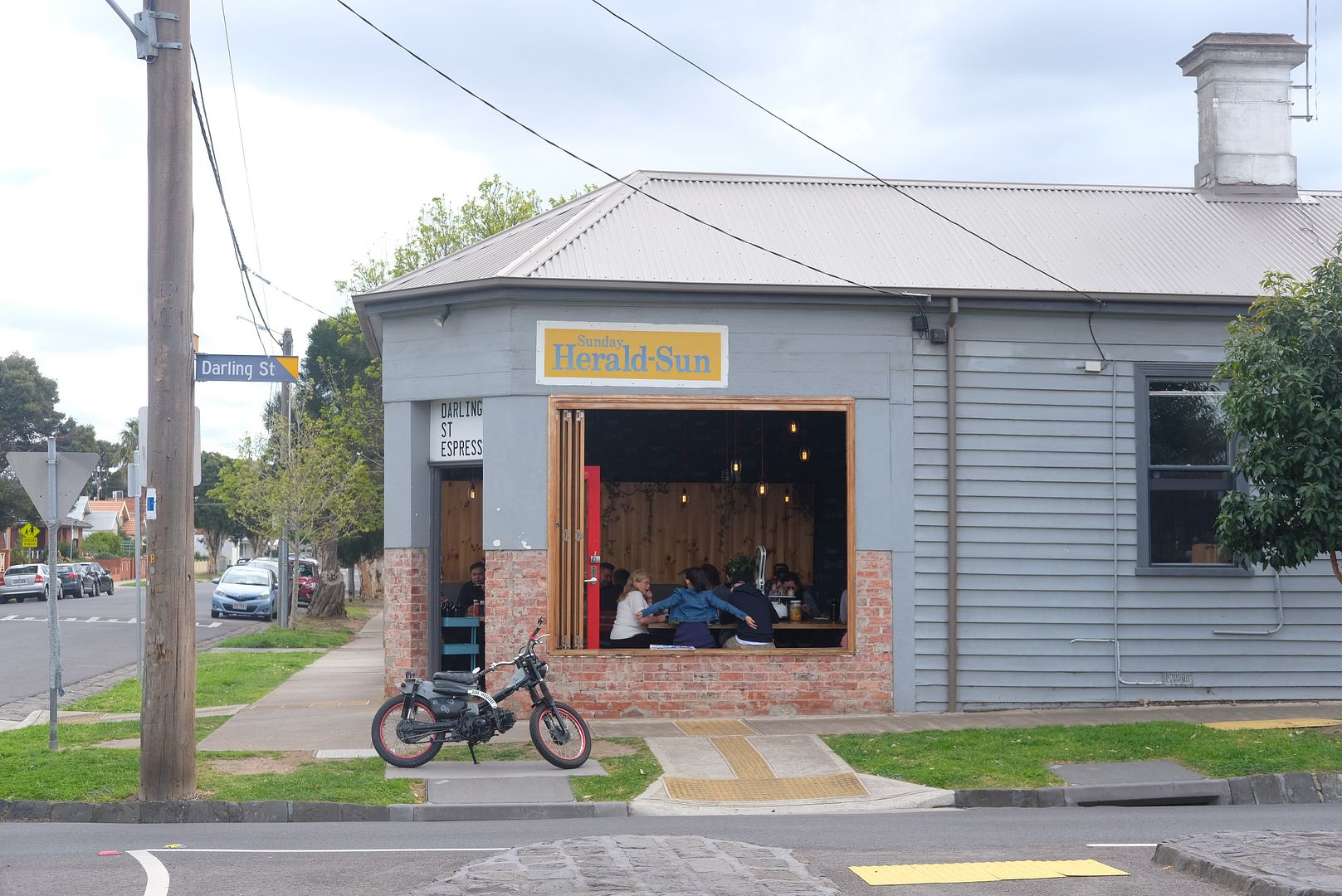 I was really drawn to Darling Street Espresso, for some strange reason, and had to visit even though it was pretty far away from the city. The creative menu, really friendly staff, and brilliant coffee will make your long journey here worthwhile. It is truly the best cafe in Moonee Ponds, and is definitely a contender for the title of Best Cafe in Melbourne. Also, this is one of the very few cafes that I had 2 cups of latte at.
Coffee beans : Industry Beans
Food : I had poached eggs with potato and preserved lemon waffles, goats cheese and beetroot-cured salmon - it's a little too intense for me as it was quite tangy, and beetroot(which I don't eat) was everywhere. The food here is really unique - Darling Street Espresso combines ingredients and flavours in a way that I've never seen before. Everything is made in-house with locally-sourced ingredients. The food is really well received, so I guess I should have picked something that suited my tastebuds more
146 Athol St, Moonee Ponds VIC 3039, Australia
Monday - Friday : 730am - 4pm
Saturday - Sunday : 8am - 4pm
Young Bloods
After visiting the Rose Street Market, which happens every weekend, we popped into Young Bloods for a quick drink. The cafe was really pretty, and the coffee was pretty good too. If you're looking for a pitstop after an entire afternoon of shopping, Young Bloods might just be perfect for you.
Coffee beans : Allpress
60 Rose St, Fitzroy VIC 3065, Australia
Wednesday - Friday : 7am - 4pm
Saturday - Sunday : 8am - 5pm
The Vertue of the Coffee Drink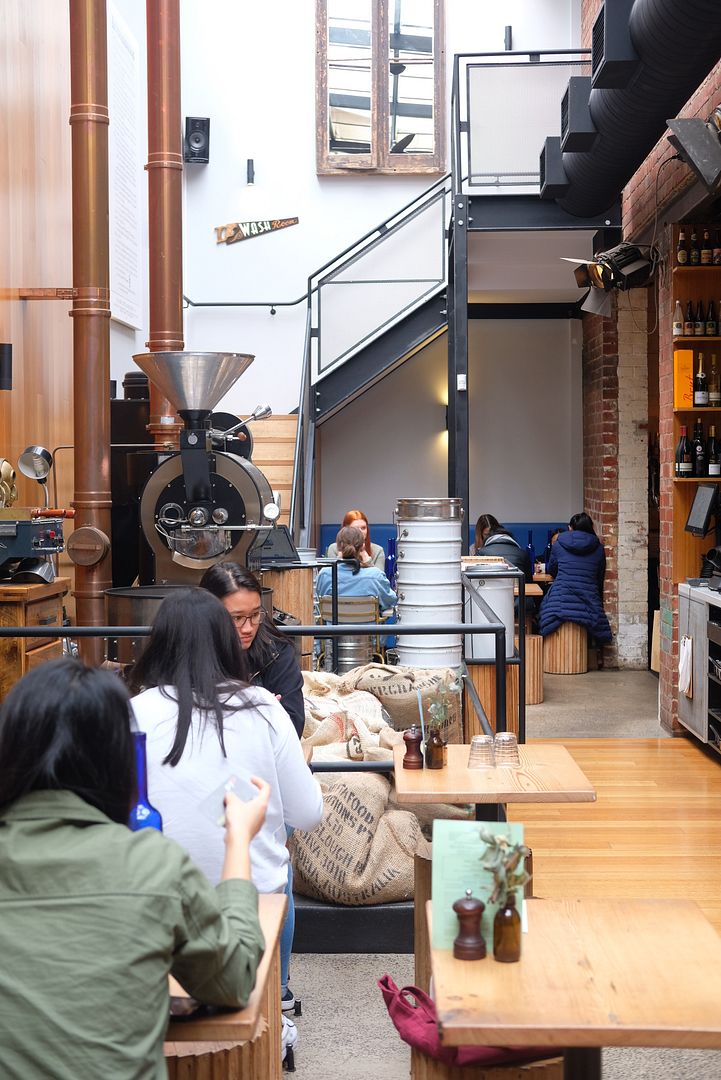 This might look like an alfresco area, but it is actually an air-conditioned dining area in the cafe itself. When you first enter the cafe, you might feel like you've stepped into an underground bar of some sort. Venture beyond the "deceptive" area, and you'll come into this space that is filled with natural light.
Coffee beans : they roast their own beans
Food : Pretty good! - French Kiss (brioche French toast), Eggs Your Style + avocado with cashew cheese and beetroot dust + wood smoked back bacon
8 Raffa Pl, Carlton VIC 3053, Australia
Monday - Friday : 7am - 4pm
Saturday - Sunday : 730am - 4pm
Campos Coffee
The design is simple, but charming nonetheless. The cafe was full on a weekday afternoon and people just stood at the bar table chatting over cups of coffee. There's a really nice vibe going on - it feels like that neighbourhood coffeeshop where everyone hangs out at.
Coffee beans : their own
144 Elgin St, Carlton VIC 3053, Australia
Monday - Friday : 7am - 3pm
Saturday : 8am - 3pm
Sunday : 9am - 3pm
Rudimentary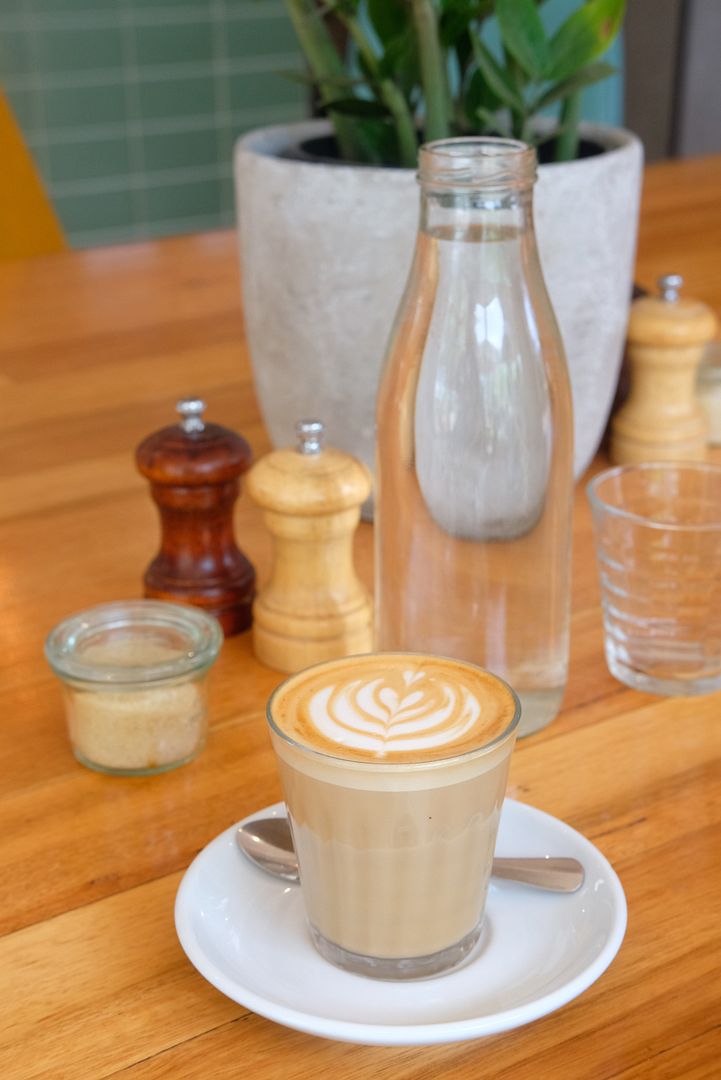 Housed in shipping containers with long window panels, Rudimentary is a cafe that values sustainability. The cafe has an adjoining garden area, if you prefer to sit outdoors. Judging from the number of people here on a weekday afternoon, it's clear to me that Rudimentary has quite a loyal following.
Coffee beans : Small Batch Coffee
Food : Okonomiyaki - whipped up by a chef who's been cooking okonomiyaki for three years. I spent a month in Tokyo pretty recently so the okonomiyaki can't really compare but it's still some kind of comfort food.
16-20 Leeds St, Footscray VIC 3011, Australia
Monday - Friday : 730am - 330pm
Saturday - Sunday : 8am - 330pm
Wide Open Road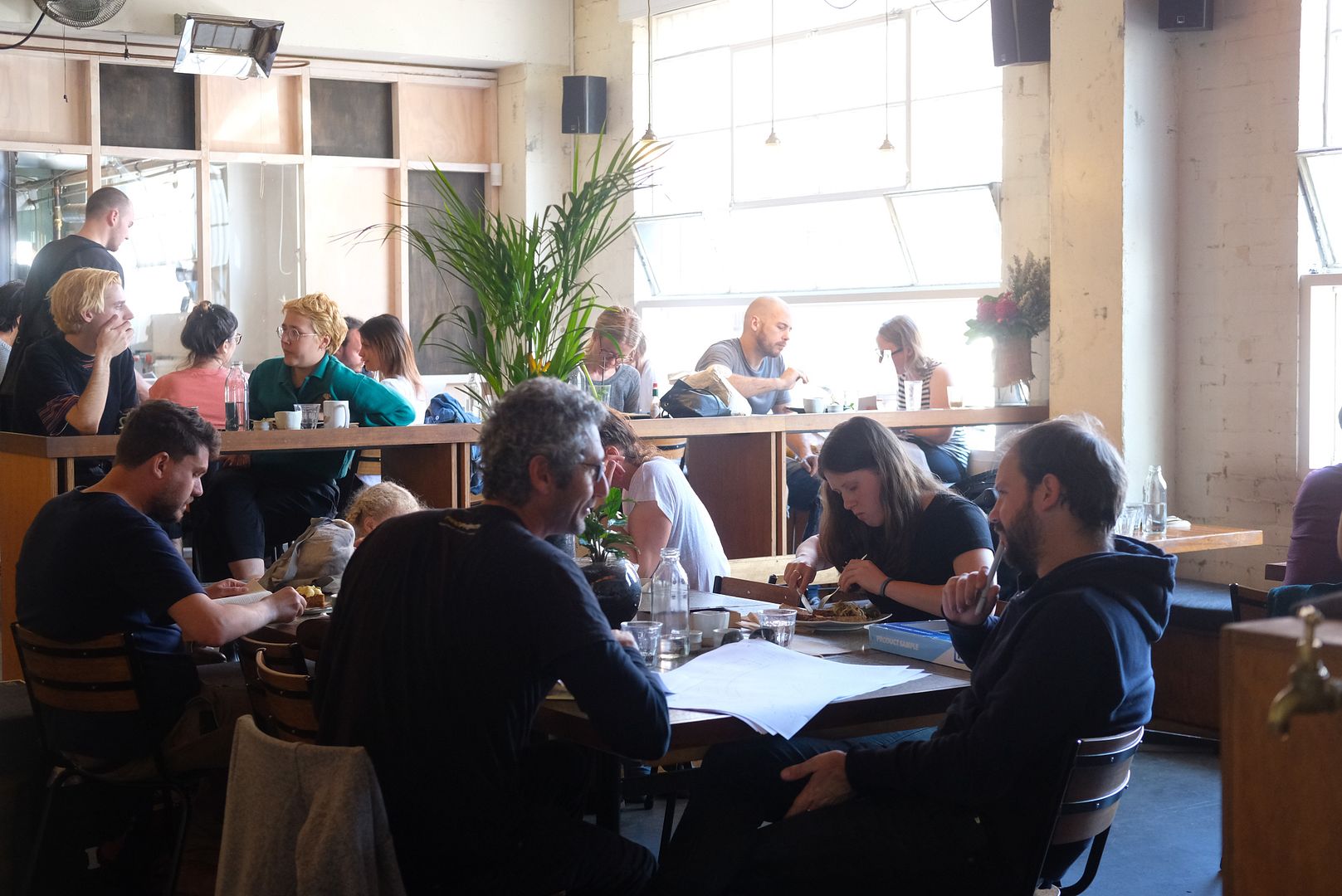 I've noticed that cafes in Melbourne generally have unique names, and Wide Open Road is one of such cafes. The cafe rocks an industrial-chic look, and is one of those places where you can say "good vibes only". Completely packed on a Wednesday afternoon, Wide Open Road has a menu that is influenced by global flavours. Look forward to Japanese, Korean, and even Egyptian touches in their dishes.
Coffee beans : their own
Food : Rosemary Grilled Mushrooms, Donburi Bowl - pretty awesome fare !
274 Barkly St, Brunswick VIC 3056, Australia
Monday - Friday : 7am - 4pm
Saturday : 7am - 5pm
Sunday : 8am - 5pm
Noughts and Crosses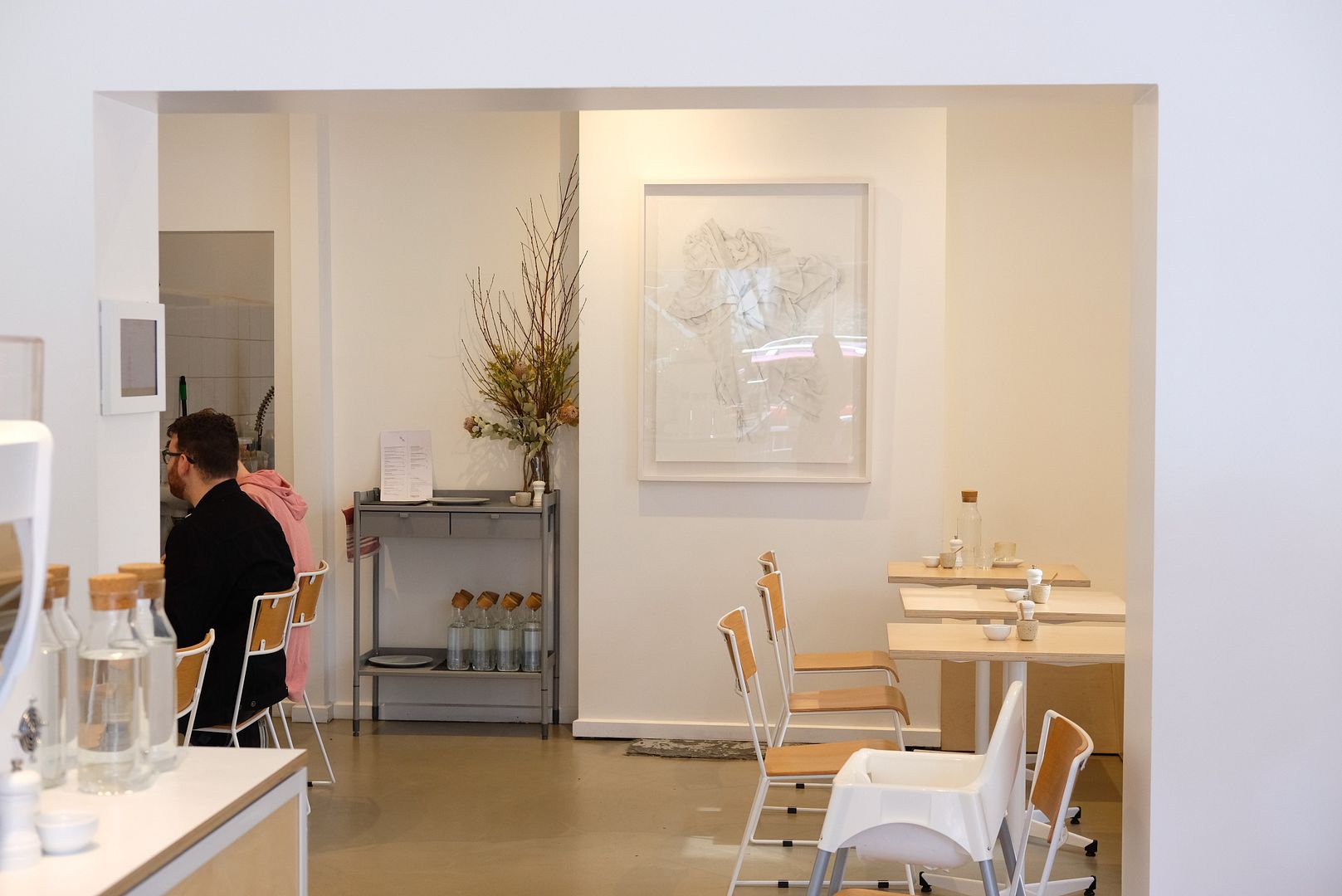 The minimalist design is especially pleasing to the eyes. I love the neat and clean look that is spiced up by pops of colours from flowers, and baked goods. There's a nice alfresco area too.
Coffee beans : Small Batch Coffee
32 Pin Oak Cres, Flemington VIC 3031, Australia
Monday - Friday : 7am - 5pm
Saturday - Sunday : 730am - 5pm
Queensberry Pour House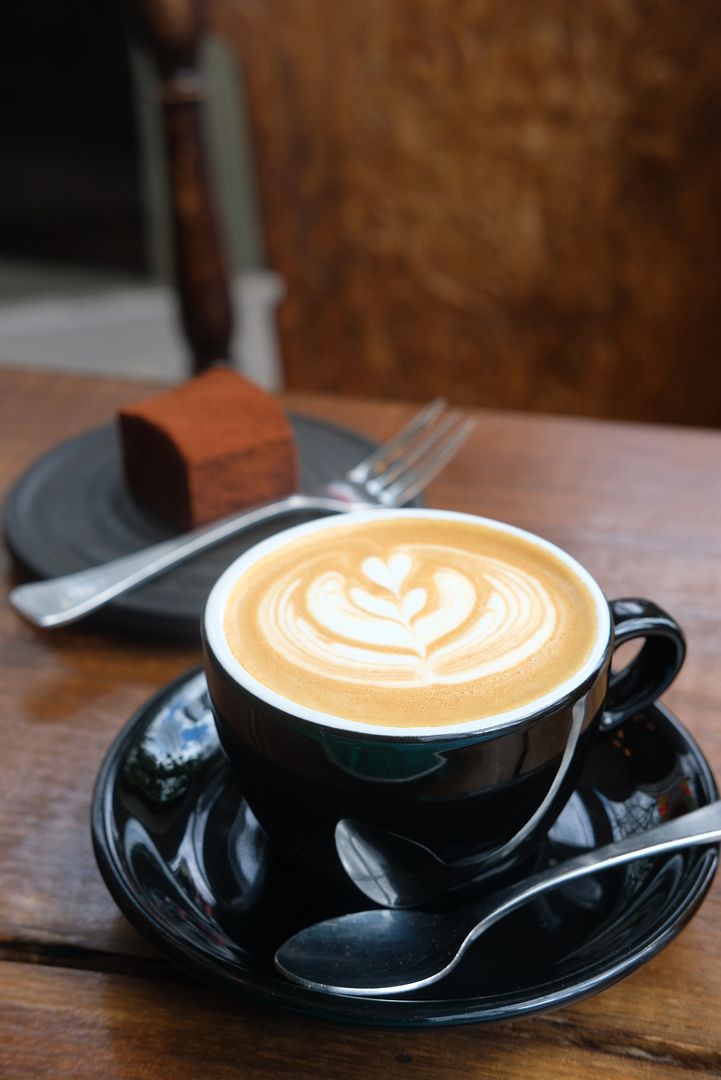 Going back to the corner where I first saw Queensberry Pour House... I went in and grabbed a cup of latte to warm my hands, and soul. The cafe looks like it has alot of history, and it feels like it has been around for a long time. I like how this place makes me feel - comfortable, and contented. I sat by the window, and watched people pass me by. And somehow, I had a great afternoon, even though I wasn't doing much.
Coffee beans : Tin Man Coffee Roasters
Food : brownie - it was more like a hard and dense fudge cube
210 Queensberry St, Carlton VIC 3053, Australia
Monday - Friday : 7am - 430pm
Saturday : 8am - 4pm
Rustica Sourdough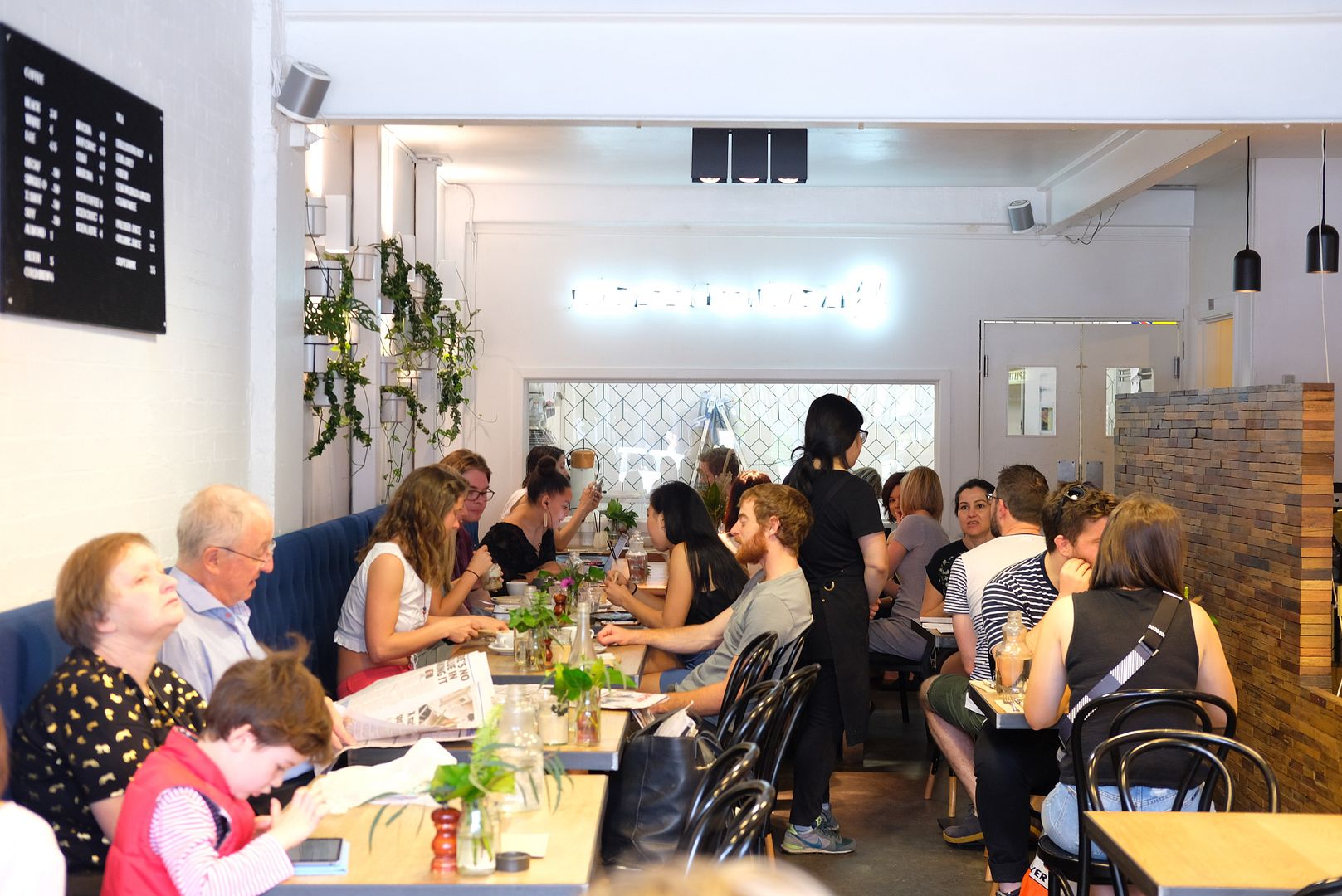 Rustica Sourdough is famous for their sourdough(of course), artisan breads, delicious brunch fare and pastries made in-house from fresh local produce. They have two other outlets - one in CBD, and one in Hawthorn. The Scrambled Chilli Eggs seem to be one of the bestsellers here!
Coffee beans: Rumble Coffee Roasters
Food : Scrambled Chilli Eggs, Brioche French Toast - the food here is definitely above average! The baked goods look really yummy too.
402 Brunswick St, Fitzroy VIC 3065, Australia
Monday - Saturday : 7am - 4pm
Sunday : 8am - 4pm
Auction Rooms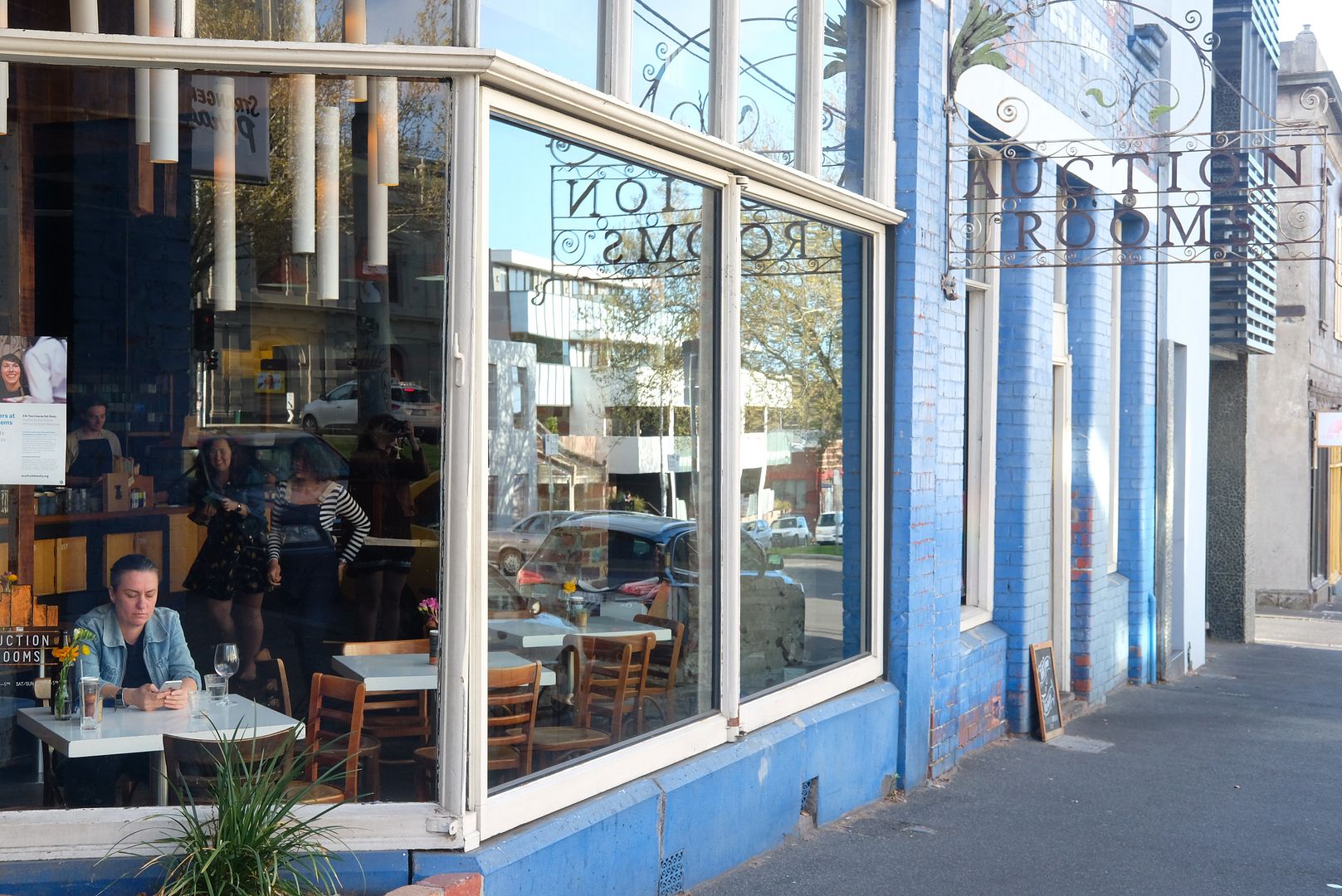 Auction Rooms is another popular cafe that was highly recommended to me by my friends. I love how exposed bricks and wood come together beautifully in this cozy space that has natural light streaming in through the tall windows.
Coffee beans : Small Batch Coffee
103-107 Errol St, North Melbourne VIC 3051, Australia
Monday - Friday : 7am - 5pm
Saturday - Sunday : 730am - 5pm
Brother Baba Budan
There are plenty of cafes in Melbourne, and I had more than 20 cups of latte. However, it's interesting to note that not all of them came with good latte art, or tasted good. Brother Baba Budan probably is one of the few cafes that consistently sends out awesome cups of coffee with beautiful latte art. The cafe is really small, so it gets really crowded, and you might not be able to secure a seat. However, the coffee is really good so you can always grab a cuppa to go!
Coffee beans : Seven Seeds
359 Little Bourke St, Melbourne VIC 3000, Australia
Monday - Thursday : 7am - 5pm
Friday - Saturday : 7am - 630pm
Sunday : 8am - 5pm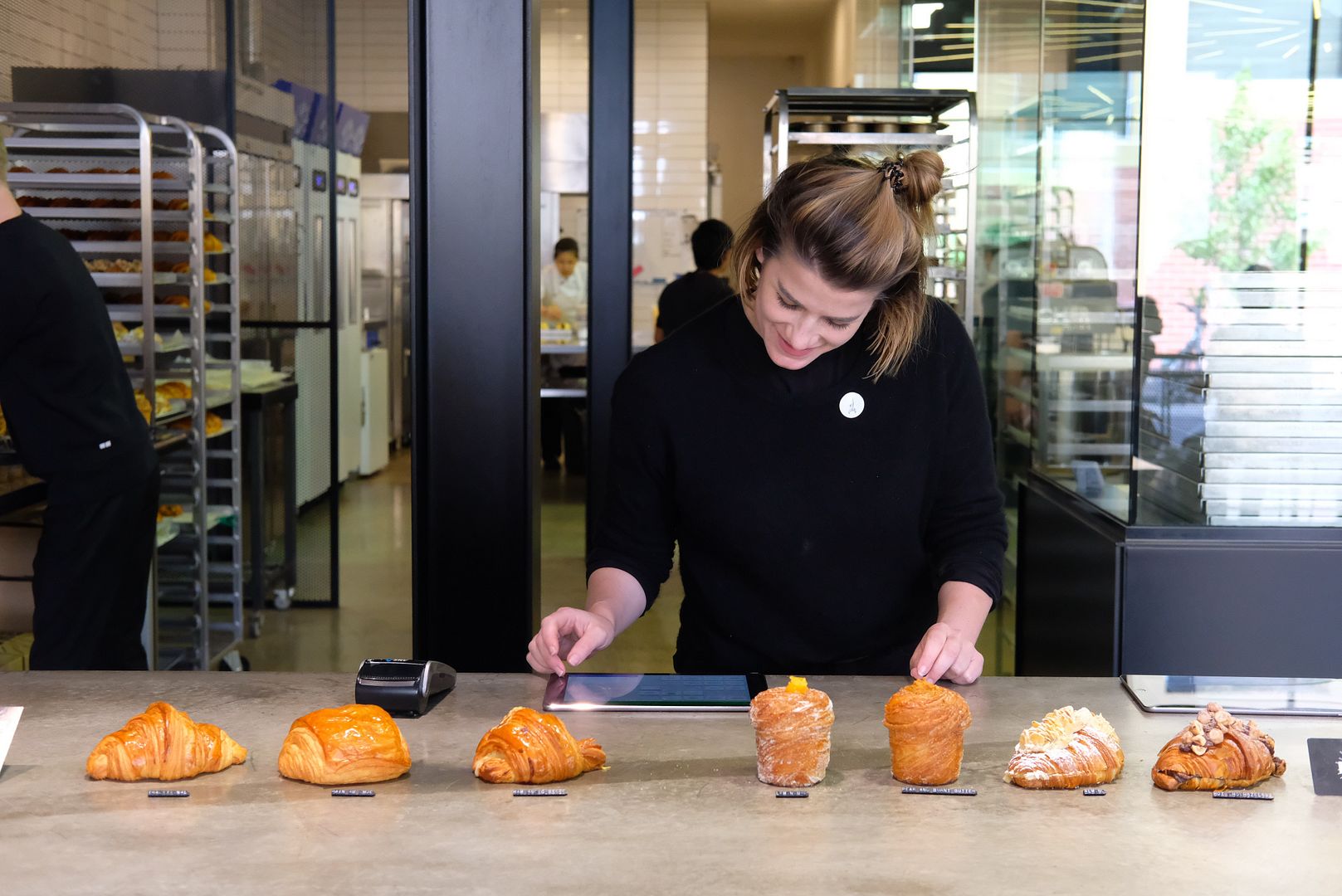 I've also tried coffee from Manchester Press, Market Lane, Industry Beans, Clement, Higher Ground, and Lune Croissanterie. For a Nylon coffee-lover, the coffee at these places did not fare as well as the coffee at the other 15 cafes listed above. I had the house blend at Industry Beans and the colour of the coffee was super dark. I knew I wasn't going to like it the moment I saw it. Truly, it was bitter and acidic. It was actually the worst cup of coffee that I had in Melbourne. Interestingly, I loved the coffee at Darling Street Espresso, which is apparently brewed from beans from Industry Beans.
Coffee is extremely subjective, as with food. Some people like it sour, or bitter, but I prefer mine otherwise. I didn't get the chance to try the coffee from famous cafes such as Axil, Padre, and Patricia, so my list is definitely not the most comprehensive.
There are various factors that go into coffee-making. When I had my cafe for 2 years, I made coffee almost everyday using a La Marzocco. I know that the type of coffee machine, type of beans used, and the barista, all affect the cup of coffee that you are crafting. Hence, the coffee at a cafe might not always be consistent, largely due to the barista and the way he works (i.e : how hard he tamps the powder, how long he runs the shots, how he steams the milk). So, don't be surprised if the coffee at a cafe tastes different on separate visits!
I'll be back for more coffee, Melbourne!
---
Love, K