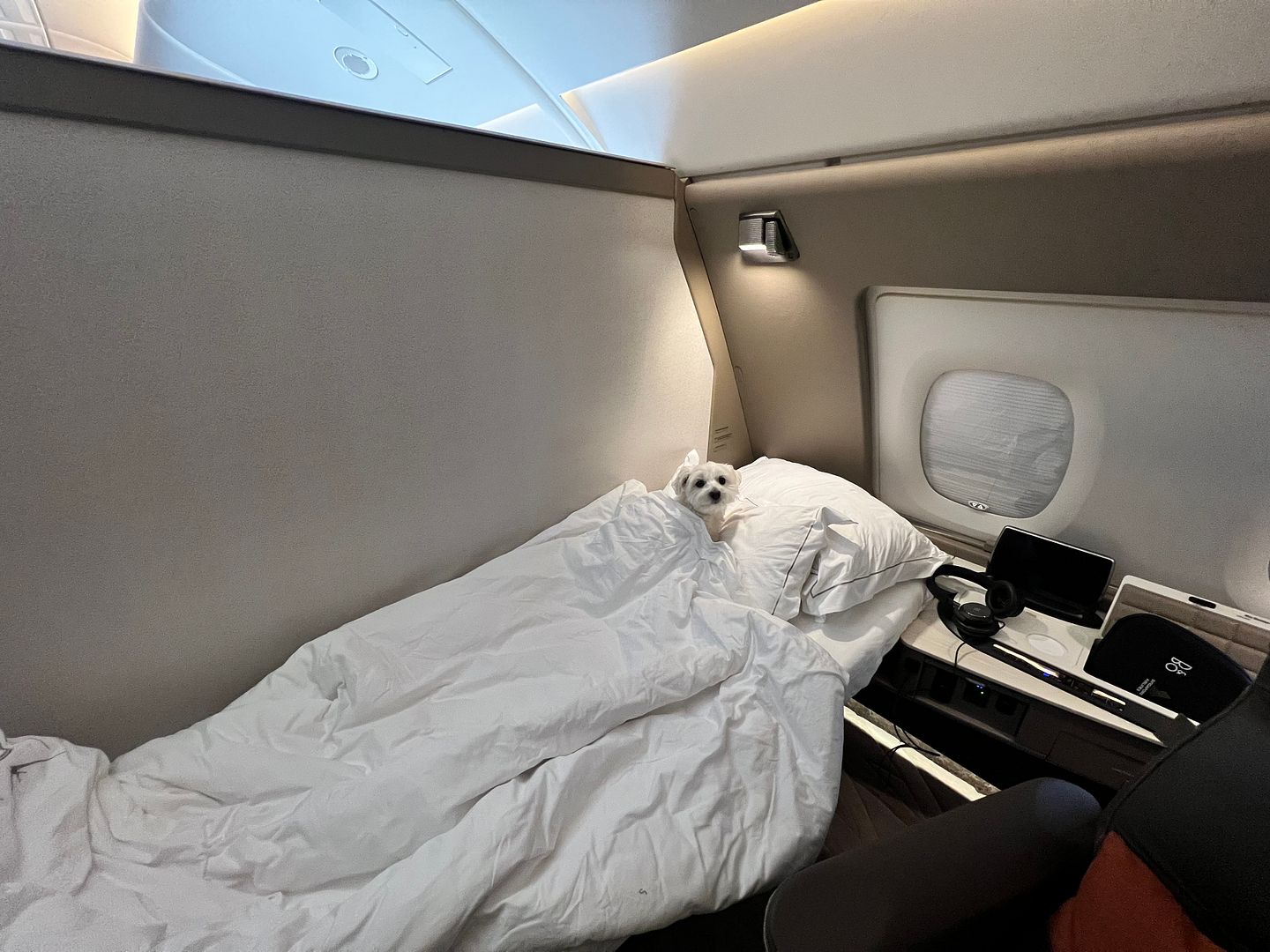 Hello everyone! So my pup, Snuffles, and I left Singapore on 15 June 2022 and we travelled around Europe and the UK for 13.5 months. We just got back on 2 August 2023 and I thought I would do up this post since I know how everyone wants to travel with their pups! Here's everything you would potentially need to know, I think, and if you have any questions, you can DM me on Instagram @kimberleyyeo or drop me an email at kimberleyyeo@gmail.com
INFORMATION ABOUT SNUFFLES :
Breed : Maltese
Age on 15 June 2022 : 3.5 years old
Weight : 4.8kg

Medical conditions : None

Flight preparation : none (Snuffs has been flying since he was 8 weeks old, so he does really well on the plane). We have pee pads with us in case he needs to relieve himself.
Behaviour in general, and on plane : Snuffs is a very friendly and happy boy who travels really quietly, and he doesn't bark at all. On the plane, he sits with me quietly as I eat or watch movies (he doesn't try to snatch my food or anything like that) and he goes to sleep the moment he's done looking out the window or playing with his toys. Most passengers didn't even know there's a dog onboard until they walked past us and Snuffs wanted to say hi. He obviously loves the attention that he gets from the crew and the other passengers onboard. He's really the best travel buddy! He eats and drinks well onboard as well — everything is basically like it is when he's at home.

AIRLINE USED FROM SINGAPORE TO PARIS/LONDON TO SINGAPORE
Singapore Airlines
Snuffles is my emotional support animal so he could sit with me in the cabin at no extra charge. We flew with Singapore Airlines thrice (twice in business, and once in suites). Singapore Airlines has since scrapped the ESA policy.
DOG-FRIENDLY AIRLINES YOU CAN CONSIDER:
Dog and carrier combined typically have to weigh below 8kg

Air France
KLM
Lufthansa
Turkish Airlines
Etihad Airways
Swiss Air

Note : check if their business class seats allow dogs because you will definitely need the space
IATA APPROVED BACKPACK WE USED :
This post contains Amazon affiliate links, I might earn from qualifying purchases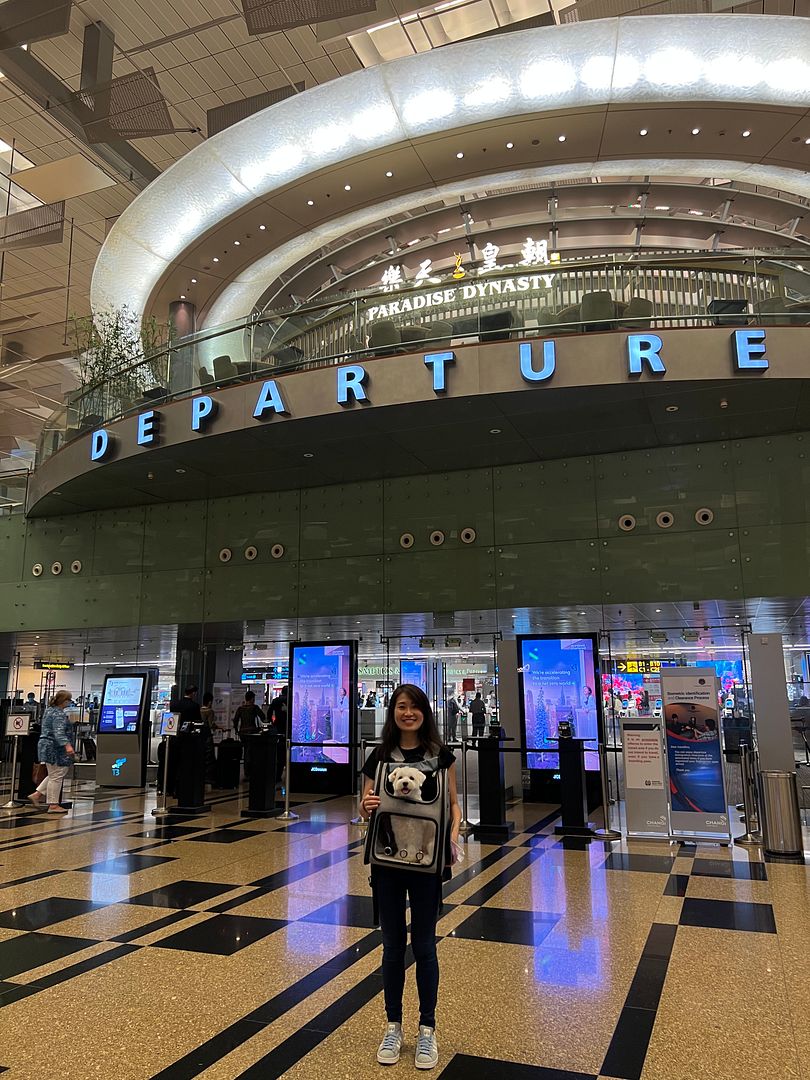 -super sturdy, foldable/collapsible/easy to keep, very breathable, expandable
-very comfortable for Snuffles - he can take naps on his back, or just lie down and watch through the clear portion, sit up and pop his head out
-Not too heavy
-good and adequate support for my back — I can carry him for hours

-fits under seat of airplane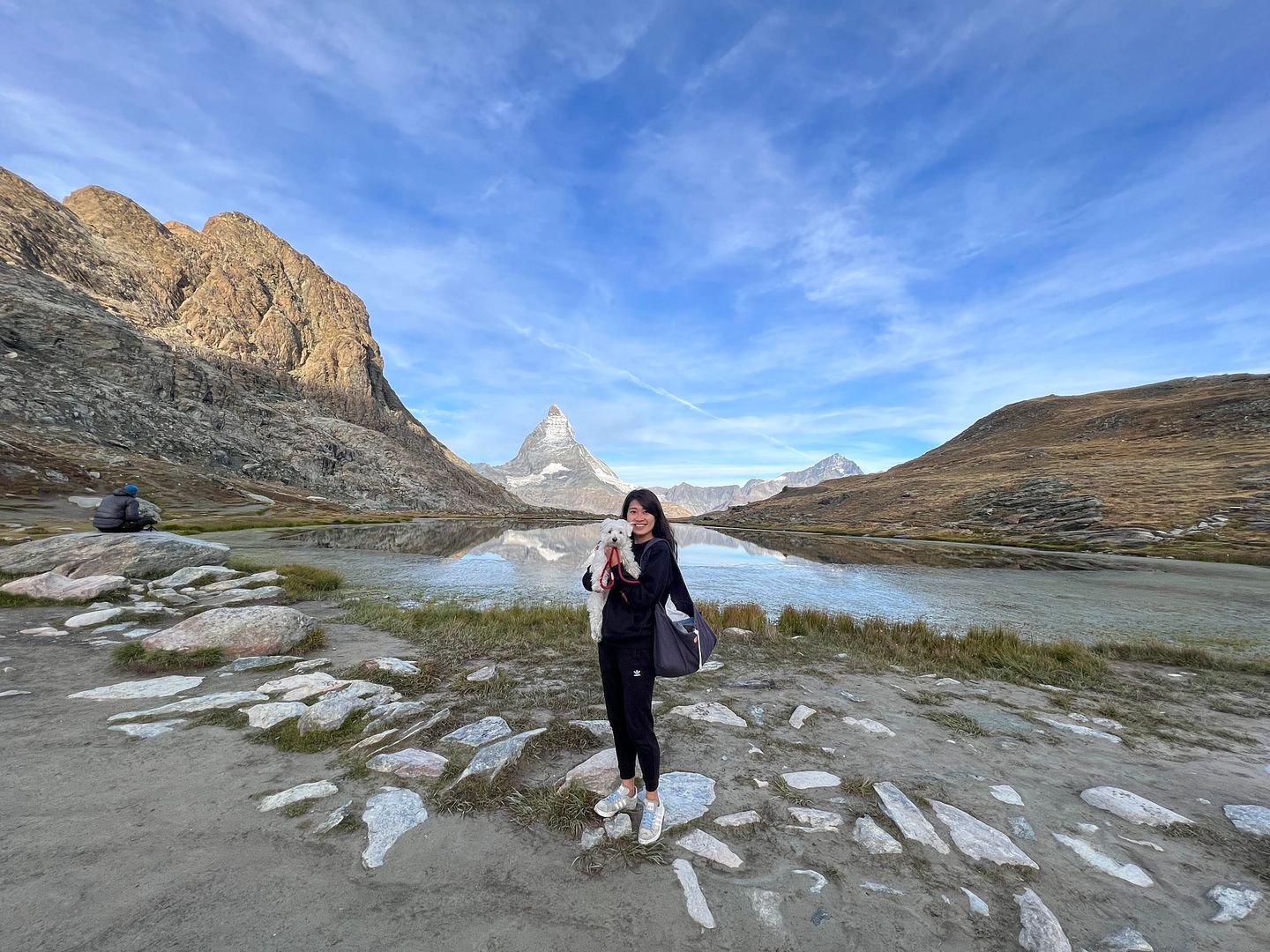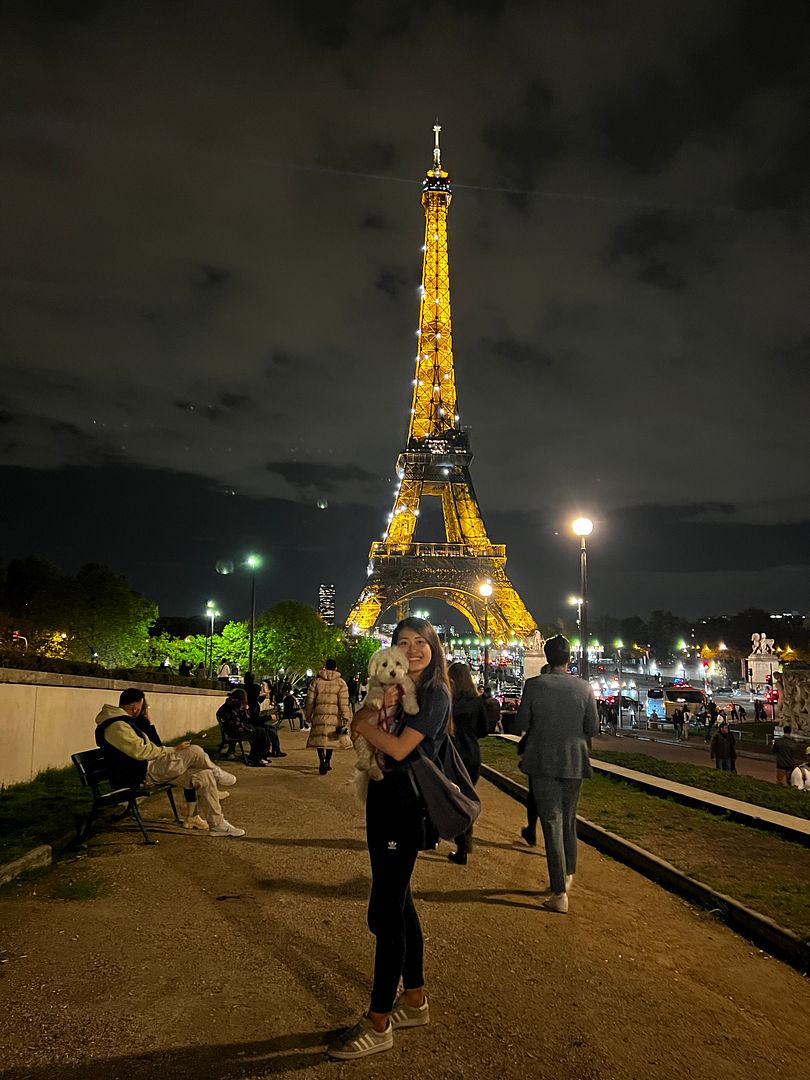 FLYING TO PARIS FROM SINGAPORE WITH A SMALL DOG IN CABIN :

PROCEDURE/DOCUMENTS REQUIRED- website
1) Pup must have microchip before rabies vaccination (which has to be taken at least 21 days before export)

2) apply for export permit($50) with AVS (within 30 days of export)
3) Get
EU Health Certificate
(
here) filled up by licensed veterinarian, and obtain an animal health certificate stating pet has been checked on a specific date - we went to Doctor Elaine at Pets Avenue Upper Thomson
4) Get
EU Health Certificate + Health Certificate Submission Checklist endorsed by Official Vet/AVS - Make an online application via the GoBusiness Licensing Portal and note your application number as it is needed during the submission of the completed health certificate template and subsequent collection of the endorsed certificate. Drop off
original completed VHC, original vaccination records, your application number, h

ealth certificate submission checklist

at
AVS Drop-off box
(
Level 1, JEM Office Tower (next to security counter)). We picked up the documents in 2 working days.
5) a
written declaration
completed by the owner or an authorised person regarding the non-commercial nature of the movement (
here)
6) all original vaccination records + microchip record

ROUTE WE TOOK

Singapore - Paris - UK - Europe - UK - Singapore
QUARANTINE

No quarantine going from Singapore to Paris
No quarantine coming back from the UK as we spent 6 months in the UK.
LEAVING SINGAPORE + ENTERING PARIS

At Singapore customs, we had to present the export permit. While going through the security/baggage checks, I went through the scanner first, before returning to carry Snuffles through the scanner, and his carrier is then sent through the xray machine. When we arrived at the airport in Paris, there were no checks even though the staff knew I had a dog in my bag so we just walked straight through.
ENTERING THE UK WITH DOG WITHOUT FLYING
You can't fly with your dogs in the cabin INTO the UK but you can fly OUT of.

So the best way to avoid putting Snuffles in the hold is to enter the UK via France (ferry/LeShuttle at the eurotunnel)
Possible routes :
Ferry from Dieppe to Newhaven(the only route that doesn't require passengers to have a car)

Ferry from Calais to Dover(15 pounds for pup) - we tried this

LeShuttle / Eurotunnel from Calais to Folkestone(22 pounds for pup) - we tried this

Ferry from Rotterdam to Hull

All routes apart from the ferry from Dieppe require passengers and dogs to travel in a car. The ferry route between Dieppe and Newhaven is the only one that allows foot passengers onboard with their dogs. Foot passengers have to leave their dogs in the kennel onboard (only 3 available) so make sure you make a booking prior(18 euros). The crossing is about 4.5 hours long. Once you get to Newhaven, you can take a train straight into London. We did Newhaven -> Dieppe and it was quite smooth. I was allowed to see Snuffles at a specified timing. My only gripe is that the ferry timings are really few so it might be hard to make them. We left London at 6am in the morning and took the 10am ferry from Newhaven. Once we got to Dieppe, we realised that there was barely any taxi or public transport options available to take us into town, so we asked if a group of ladies could give us a ride into town and they kindly did!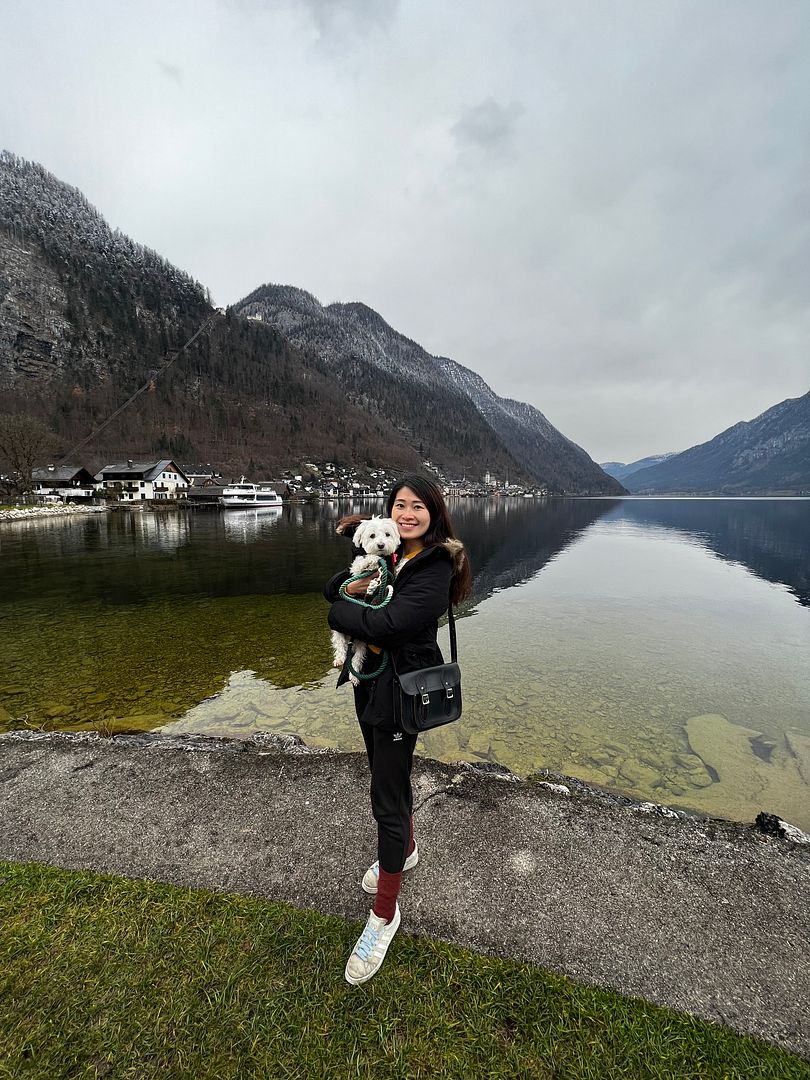 ENTERING THE UK FROM FRANCE + MISHAPS WE MET
1) Animal Health Certificate from vet in Brussels not accepted at DFDS French customs

We touched down in Paris, spent a week there before going to Belgium for 5 days, and then we booked a bla bla car (like grabhitch/people who happen to be making the same route and don't mind taking additional passengers for a small fee) which would pick us from Calais train station onto a ferry from Calais terminal across into the UK. Since the animal health certificate from Singapore is only valid for 10 days, we needed to get an AHC in Belgium, and also a mandatory deworming pill.

When we were at the customs at DFDS Ferry in Calais to exit France into the UK, our AHC was not accepted because it's handwritten (?!?!). We ended up being stranded in Calais for the night (our driver was nice enough to send us to a nearby hotel (20 minutes drive at no extra charge, and all passengers missed the ferry). The hotel was in the middle of nowhere with no public transport links at all and the staff at the hotel were not fluent in English but they tried their best to help me with making calls to our vet in Belgium. We sent over an official UK document to the vet to fill up (which also came back handwritten..) and it was readily accepted along with all our other papers at P&O Ferry customs. We finally managed to get onto the ferry which allowed dogs, out of the vehicles, in the pet lounge on the top floor. We were dropped off in Leatherhead in the UK and took an Uber into London.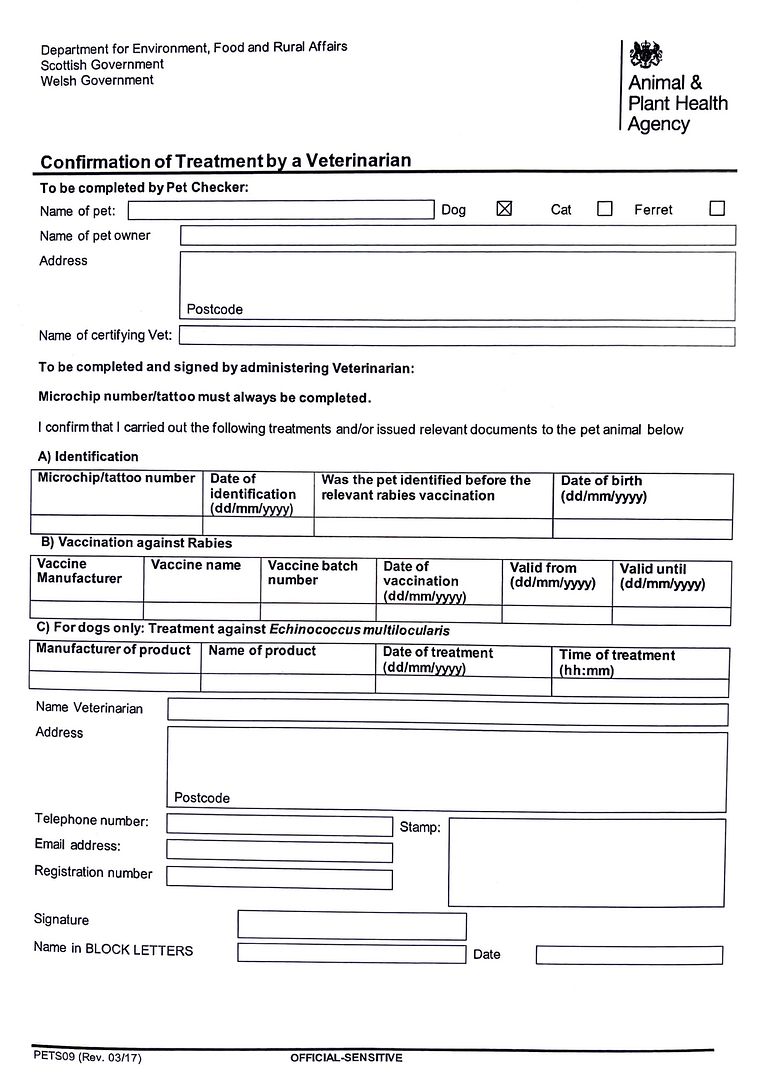 2) European pet passport did not have rabies vaccine on it
We managed to get a EU pet passport in Stockholm. Note that not all vets will issue a pet passport to you because they require proof of residence/citizenship etc. The pet passport was very useful and we used it whenever we had to fly in Europe. The second time we tried to enter the UK, we also booked a bla bla car to take us across (this time via LeShuttle at the Eurotunnel instead of a ferry). The bla bla car picked us up in Paris, and drove to LeShuttle in Calais. At the pet reception at LeShuttle, Snuffles' EU pet passport was rejected because his rabies vaccine sticker was not on his EU passport (despite the original vaccination certificate). There's no way that we could transfer the sticker from the original certificate to the pet passport (it's illegal to doctor the documents by the way). The staff at the reception told me to go to a specific vet to get it sorted. It was 9am then, and the earliest appointment available was at 3pm. The vet simply tore off the rabies vaccine sticker from the original health certificate, stuck it onto the passport, signed and stamped it, and charged me 60 euros.
We then had to go back to LeShuttle to beg strangers to drive us across the tunnel. We begged more than 30 strangers. Some were really nice and really tried to help but they didn't have space in their cars. We finally met this nice angel, Carla, who took us across to Wimbledon and we took an Uber into London.
There are pet taxis that make this particular trip via the LeShuttle but the cost is pretty hefty. You will be looking at at least 500 pounds I believe. Some bla bla car drivers are used to making this trip, and will charge you 200 pounds for the entire trip.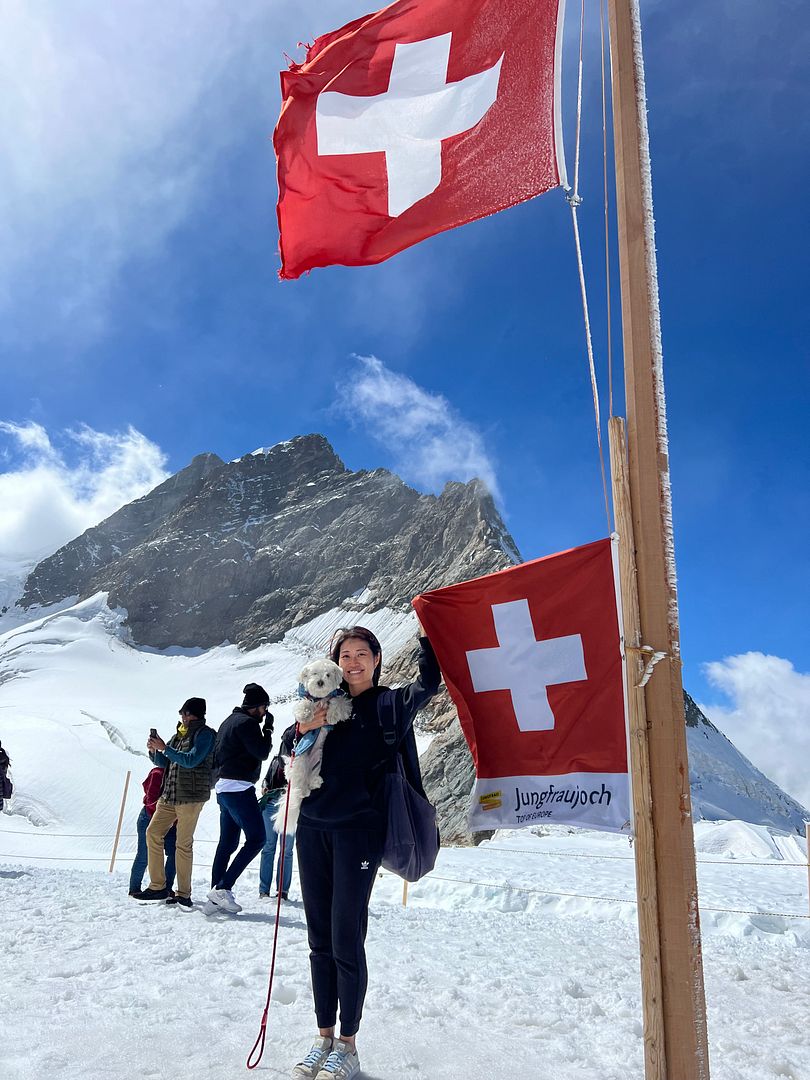 LEAVING LONDON TO FRANCE
We actually weren't sure if we needed to get an Animal Health Certificate for this route. We called up a few vets and they told us that it's about 180 - 210 pounds to get the AHC and the process requires 3 weeks because it's a whole 10 page document to fill up. And Snuffs and I were only in London for a week, so Snuffs and I took a chance at the DFDS ferry customs in Newhaven, and just used the AHC that our vet in Belgium gave us. We went through smoothly without any issues. This was the Newhaven -> Dieppe foot passenger route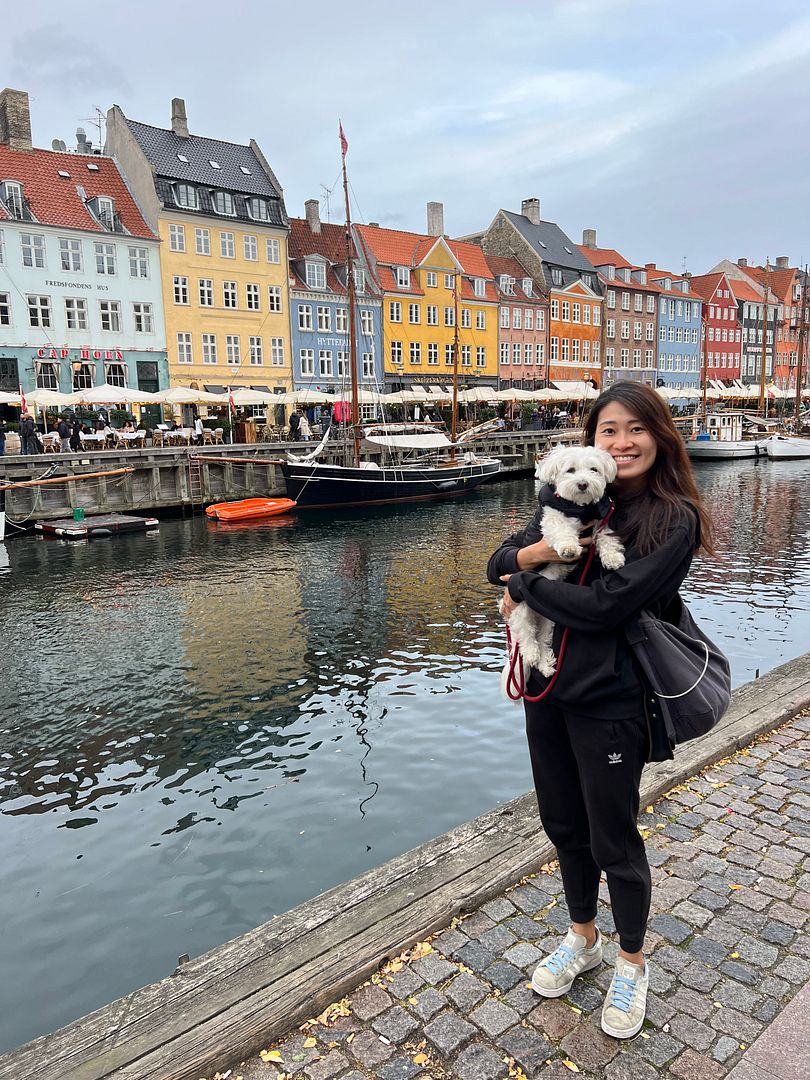 EUROPEAN COUNTRIES/CITIES/TOWNS WE VISITED
FRANCE
- Paris, Dieppe, Rouen, Saint malo, Mont St Michel, La Rochelle, Ile de Re, Bordeaux, Carcassonne, Avignon, Gordes, Rousillion, Aix-en-Provence, Moustiers Saint Marie, Marseilles, Cassis
Cannes, St Tropez, Eze, Menton, Nice, Dijon, Beaune, Lyon, Annecy, Colmar, Strausbourg
MONACO

BASQUE COUNTRY - San Sebastian, Bilbao
PORTUGAL - Porto, Lisbon, Lagos
SPAIN - Sevilla, Granada, Madrid, Valencia, Tarragona, Barcelona
SWITZERLAND
- Zurich, Interlaken, Lucerne, Iseltwald, Zermatt, Bern
GERMANY - Munich, Mittenwald, Neuwanstein, Nuremberg, Heidelberg, Koln, Berlin, Hamburg
NETHERLANDS - Maastricht, Utrecht, Amsterdam, Rotterdam, The Hague, Delft, Zaanse Schans, Hoorn, Haarlem

BELGIUM - Brussels, Ghent, Antwerp, Bruges
SWEDEN - Stockholm, Vaxholm Island

DENMARK - Copenhagen
NORWAY - Tromso
GREECE - Chania, Heraklion, Santorini, Paros, Naxos, Mykonos, Tinos, Syros, Athens
SOUTH ITALY - Naples, Sorrento, Capri, Amalfi, Positano, Pompeii, Bari, Matera, Polignano a Mare, Alberobello, SICILY - Milazzo, taormina, Palermo, Catania
MALTA

AUSTRIA -
Salzburg, Hallstatt, Innsbruck
VERY DOG FRIENDLY EUROPEAN COUNTRIES
All European countries are dog friendly if you consider how you can take them on public transport with you or dine alfresco with them almost all of the time.

But the truly dog friendly countries in my opinion where dogs can travel without a carrier on public transport, and dine indoors almost always are :

France
Germany
Switzerland
Netherlands
South Italy/Sicily
Malta

Greece (bus on Santorini requires your pup to be in an enclosed carrier, but pups are allowed on all ferries)
EUROPEAN COUNTRIES THAT ARE NOT SO DOG FRIENDLY
(dogs are not allowed indoors in restaurants and they have to be in enclosed carriers on public transport)

Spain
Portugal
Scandi countries

TRAVELLING AROUND IN EUROPE
We took trains most of the time(SNCF requires a pet fee, but most other train services did not), a couple of flights and loads of ferries in Greece and from South Italy to Malta. Long distance buses or coaches typically don't take dogs and the only long distance buses we took were from
Naples -> Bari (Marino Bus) and Bari -> Milazzo (SAIS Autolinee Spa). We used bla bla car a lot because it can be cheaper and it's more comfortable since we were moving around with bulky luggage.
DOCUMENTS NEEDED :
We were always in the Schengen area(France, Portugal, Spain, Switzerland, Germany, Belgium, Netherlands, Denmark, Norway, Greece, South Italy, Malta) and didn't need an additional AHC while travelling within Europe

AIRLINES WE FLEW WITH IN EUROPE
Pet fee required on all flights, and pets have to be housed in an IATA approved container under the seat in front of you.
Stockholm - Tromso : Norwegian
Tromso - Helsinki - Chania(Greece) : Finnair
Athens - Naples : Aegean
Malta - Paris : Vueling
DEWORMING PILL REQUIRED FOR
UK, Norway, Malta
FLYING FROM LONDON TO SINGAPORE WITH A SMALL DOG IN CABIN
PROCEDURE/DOCUMENTS REQUIRED

1) Apply for an import permit($50) with AVS
2) Apply for a dog license(starts from $15) with AVS (ours was a 3 years license so we didn't need to get a new one)

3) Book inspection($80) for dog at Changi Animal & Plant Quarantine Station (CAPQ)

4) Create an account with DEFRA and have the Export Health Certificate sent to your official vet in the UK

Official Vet we used : Medivet Southwark - Doctor Giuseppe (we paid about 350 pounds for the EHC and the AVS Veterinary Certificate)
5) Bring dog to official vet for checks, endorsement of EHC, internal and external parasite treatment
6) Have vet fill up
AVS veterinary certificate
(which is basically the same thing as the document that DEFRA sent to your vet), vet will charge you extra for the filling of the form (click
here)

7) Have aircraft captain/staff sign declaration - snuffs wasn't in a tamper proof bag as he sat with me on the seat, and the captain wasn't comfortable with saying that snuffs did not have contact with other animals on the flight. So the captain struck out certain parts of the form, and signed it, without a stamp. Form was accepted by AVS at CAPQ

LEAVING LONDON + ENTERING SINGAPORE

1) Present all papers at airline check in.

2) Security/baggage check - Your pup will be handed over to the staff in his carrier and he would be brought to a separate room for his checks with you once you've made it past the scanner

Note : Make sure you have documents / airline boarding pass stating you have a dog with you
3) When you arrive in Singapore, drop your pup off in an IATA approved carrier at the Lost and Found counter, and make your way to CAPQ (around 25-30 minutes drive from the airport) to pick up your pup. All papers have to be presented at CAPQ.
Check out the best dog-friendly hotels in Paris
here
Check out the best dog-friendly hotels in Europe
here