I posted a snippet of my dinner at Bistro du le Pin on Instagram stories and there were 250 sticker taps on it. This is when I knew I absolutely have to share about my dinner experience! I made a reservation weeks in advance for the 6pm seating, so make sure you book way in advance as well. I arrived promptly and the super friendly staff showed me to my counter seat and proceeded to store the cake I bought for my friend's birthday celebration in the fridge. There were a la carte options available but we were here for the $120/pax dinner omakase with free flow wine. And I would highly recommend that you go for that. I was super excited for the meal — I mean, come on, FREE FLOW WINE???

The small restaurant relocated from another unit in Orchard Plaza to its current location on level 1 (outside of the building, along a stretch of restaurants). With safe distancing measures in place, the restaurant which only offers counter seats was host to 4 small groups that evening. To say that this omakase experience is one-of-a-kind is a fairly accurate description. While the restaurant looks similar to a modern Japanese restaurant with a wooden counter table, it's nothing like it. I didn't expect to be listening to clubbing hits by Pitbull, nor to be served by staff not dressed in uniform. I did not expect the Japanese chef-owner, Chef Shige, to be drinking liberally alongside diners, and making sure that our glasses stay topped up throughout the meal. He hardly had to signal to the server to top up our glasses because she was always on the ball, and at the top of her game. Don't come expecting top grade wine, of course, but the white wine was decent, easy on the palate, and complemented all the dishes perfectly.
I loved that the chef told us to "drink more" and he even mentioned that we were eating too quickly (we thought it's because of the fast paced music that made us eat faster subconsciously hahaha).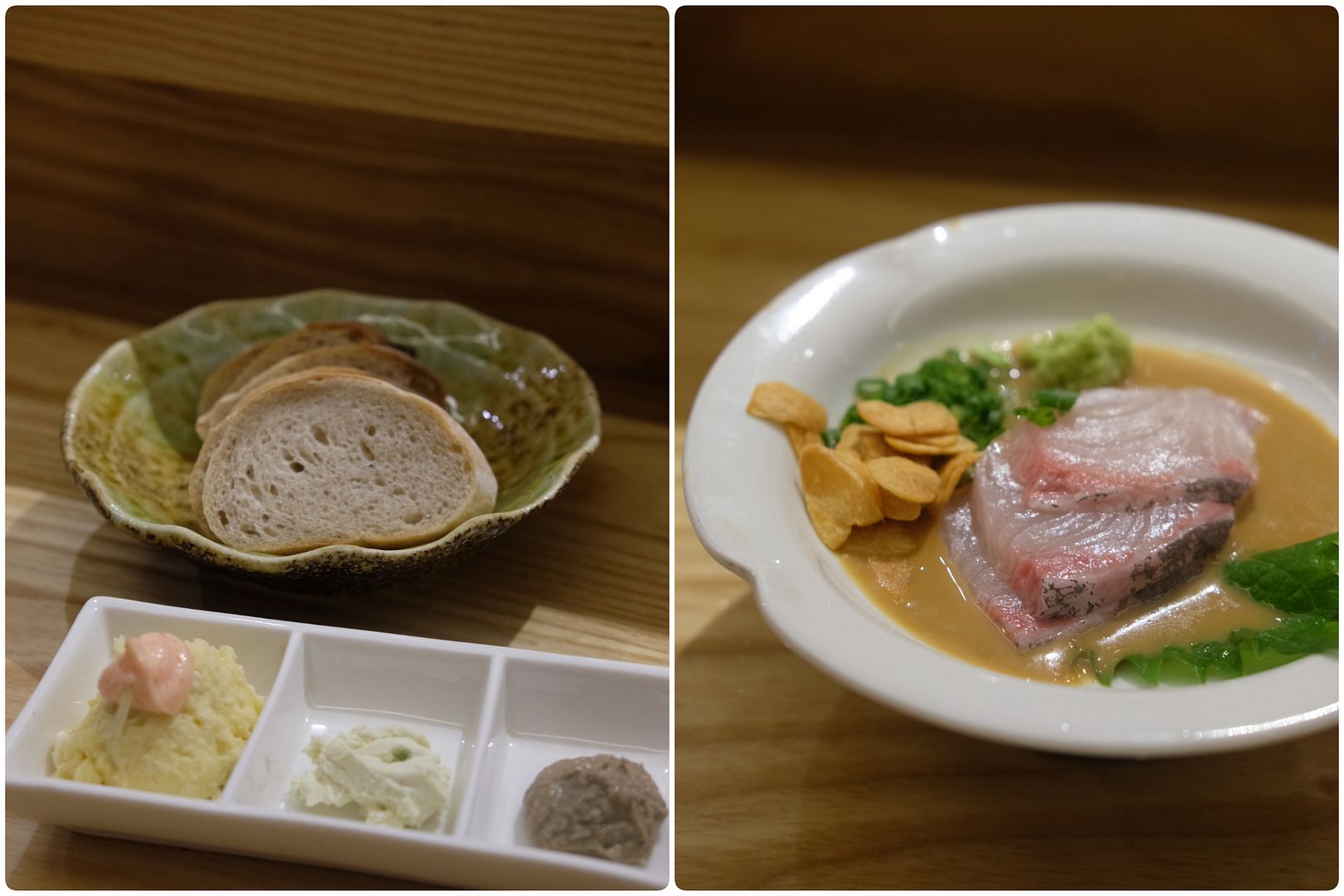 The meal started with some bread, pate, wasabi cream cheese, and mentaiko potato salad. We were pleasantly surprised by how appetizing this seemingly simple starter was. And that's when we knew, that the meal was going to be amazing. Sashimi was up next, and it was ace.

I would say that the food here is huge on flavours. The dishes are mostly quite heavily seasoned, and garlic is used generously in many of them. The natural taste of the ingredients tends to be a little muted, but the sauces are always tasty, so you won't encounter a single dish that's bland or lacking in flavour. Here we have kani mayo, and chilli tuna.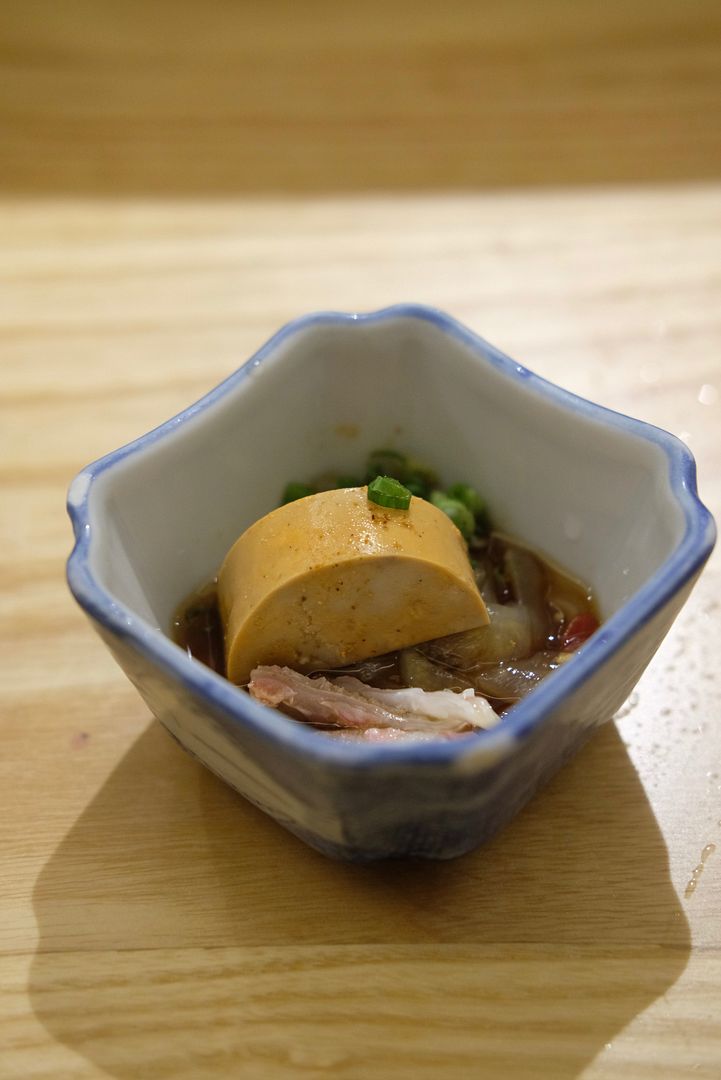 It's a good time to visit in January since ankimo and shirako are in season. I wasn't expecting these premium seasonal dishes to be part of the omakase, and this just affirms my belief that the omakase here is crazy value for money.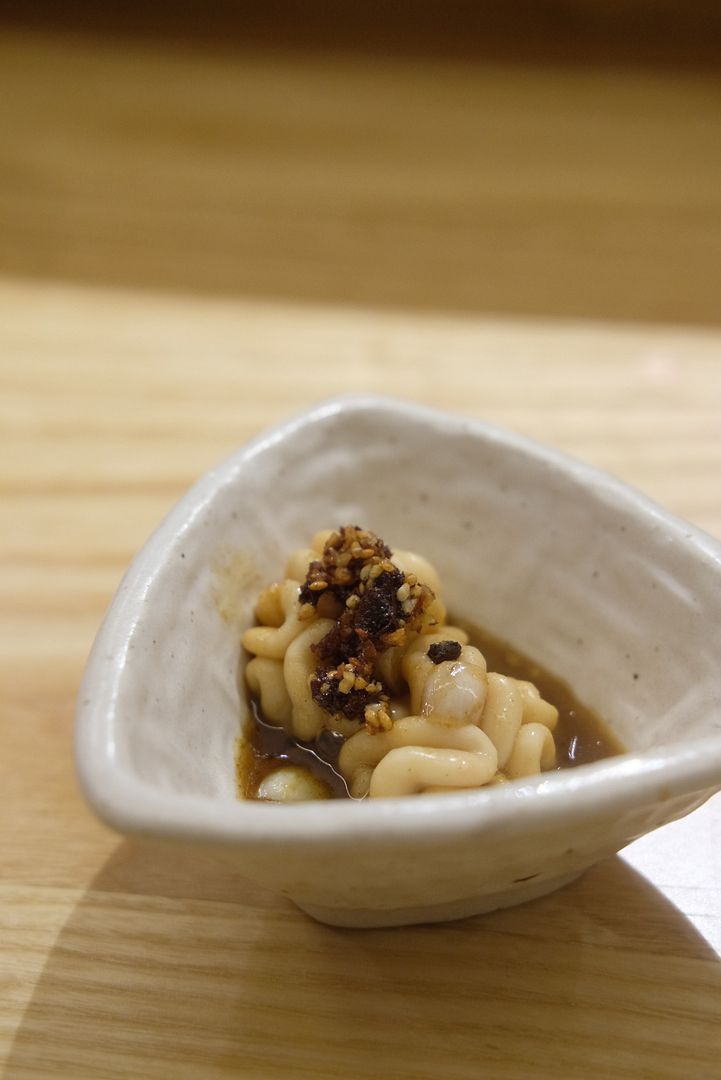 If you have always wanted to try shirako but have been unsure about its taste, Bistro Du Le Pin's rendition is a good place to start. As it's strongly seasoned, the taste of the shirako was not very pronounced.

Most kaki fry served in Singapore come frozen in a packet, so don't be surprised to see chef taking them out from a packet and placing them into the fryer. My oyster was fried to perfection and was really yummy!
Scallop with ikura. The scallop was very substantial and went well with the garlic cream sauce.

A4 Miyazaki beef grilled over charcoal yummm. So tender and juicy! I quite enjoy the taste of garlic, and I love garlic chips so I'm glad that I got plenty of them in this meal.

Uni ikura rice bowl. Don't expect super top quality uni as well, but it's decent enough. And chef was very generous with the amount of ikura. There was a very small bed of rice, which I felt was not enough, and hence this bowl was very salty because of the abundance of ikura. Would have been better if there was more rice! I'm very sure that Chef Shige will oblige if you ask for more rice.

Nigiri time yay!!! All the sushi pieces were so good!

We noticed this gigantic leg of ham sitting in the corner of the restaurant. Towards the end of the meal, a couple asked about the ham and chef brought it over and said that if we wanted to try it, we need to ask. HAHA we just laughed and looked around to see if there was anything else we could ask to try. Chef began to shave the ham which has been aged for 48 months(wow??).
Intensely flavourful and savoury!

Prawn head soup, and peach, and sea salt icecream to round off the meal.
We had so much wine, that we were honestly quite tipsy at the end of the 2 hour meal. And we are pretty decent drinkers. The meal was super value for money, and I think it might be the best value for money omakase dinner in Singapore. Well, it is the best omakase in Orchard for sure! Chef Shige is super friendly and fun, and service here is excellent. I will definitely be back!!!

Orchard Plaza
Monday - Saturday : 5pm - 1030pm