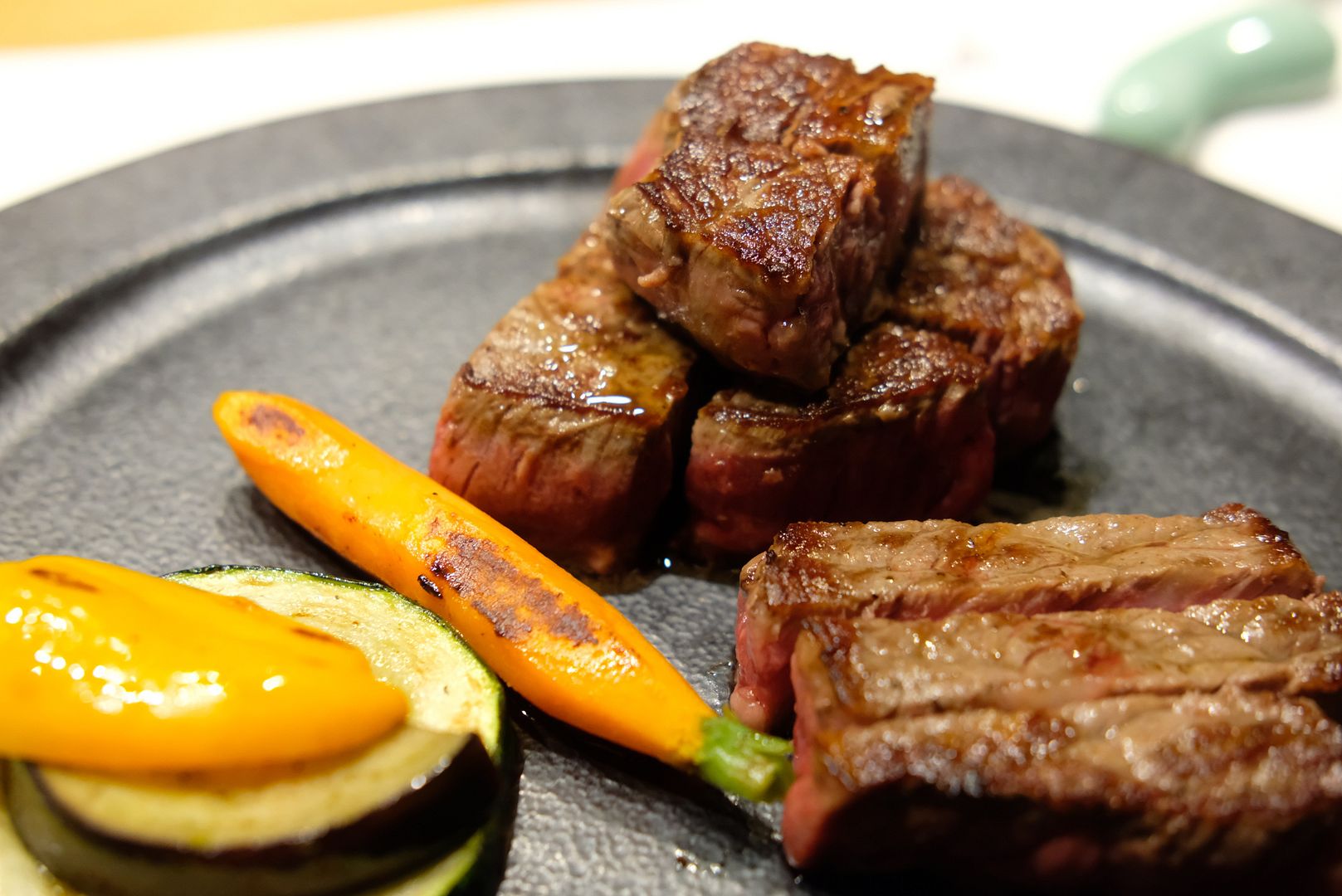 Koko at Crown Melbourne is a household name. Known for authentic teppanyaki, the popular and elegant restaurant sends out sushi and a la carte dishes as well. Be sure to get a reservation in days before your visit to avoid disappointment!
The two of us ordered the
Himawari Teppanyaki Set ($150
),
Tender Valley Black Angus Grain Fed Beef Tenderloin (200g/$47)
and
Koko Special Nigiri Sushi (14 pc/$56)
.
Salad, dobin mushi
Assorted sashimi, tempura
Seared tuna, Grilled U6 Tiger prawns, scallops and Loligo squid with ponzu and sesame sauce
Mayura Wagyu beef striploin MBS 7 (160gms), and
Tender Valley Black Angus Grain Fed Beef Tenderloin (200g/$47).
We dived into the tenderloin first, and it was really tender and juicy. We enjoyed every single bite! The striploin was a tad tougher, and it's safe to say that we preferred the tenderloin
which was cheaper than the Mayura Wagyu.
The chef's choice of seasonal nigiri sushi

was supposed to arrive before the teppanyaki meal started. However, the staff forgot about it and when they told us that the kitchen was closing, and asked if we had any last orders, we told them about our missing sushi. They apologised and sent us this platter which was honestly underwhelming. I'm not sure if the 14 pieces were supposed to consist of this many same pieces. The rice was bland, and the fish didn't really taste fresh. The nigiri was largely tasteless, and if this was to allow us to taste the natural flavours of the fish, it definitely did not work. For $56, I would say this was a waste of money. We should have just cancelled the order instead of having them send it over. The staff who forgot our order was very apologetic and came back with a can of tonic water just cracked it open for us. While we appreciated the nice gesture, we don't actually like tonic water and didn't really touch it.
Garlic fried rice, miso soup
Seasonal fruit platter
We were really full but still stuffed the garlic rice down our throats. We enjoyed the teppanyaki very much, and will highly recommend it. But we will definitely advise against getting the sushi.
Level 3 Crown Towers, Crown Melbourne
8 Whiteman Street
Southbank VIC 3006
Sunday - Thursday : 12pm - 230pm, 6pm - 10pm
Friday - Saturday : 12pm - 230pm, 6pm - 1030pm