Mykonos Soul Suites in Mykonos quite frankly took my breath away. It is, no doubt, one of the best hotels that I've stayed at in my entire life. I knew I was in for a treat before I got there, but I did not expect to be swept off my feet the moment I stepped into the luxurious property! It was just truly remarkable. Best part? It's exceptionally dog-friendly! So, if you're planning a vacation to Mykonos with your pup, look no further, because you won't find a dog-friendly hotel better than Mykonos Soul Suites.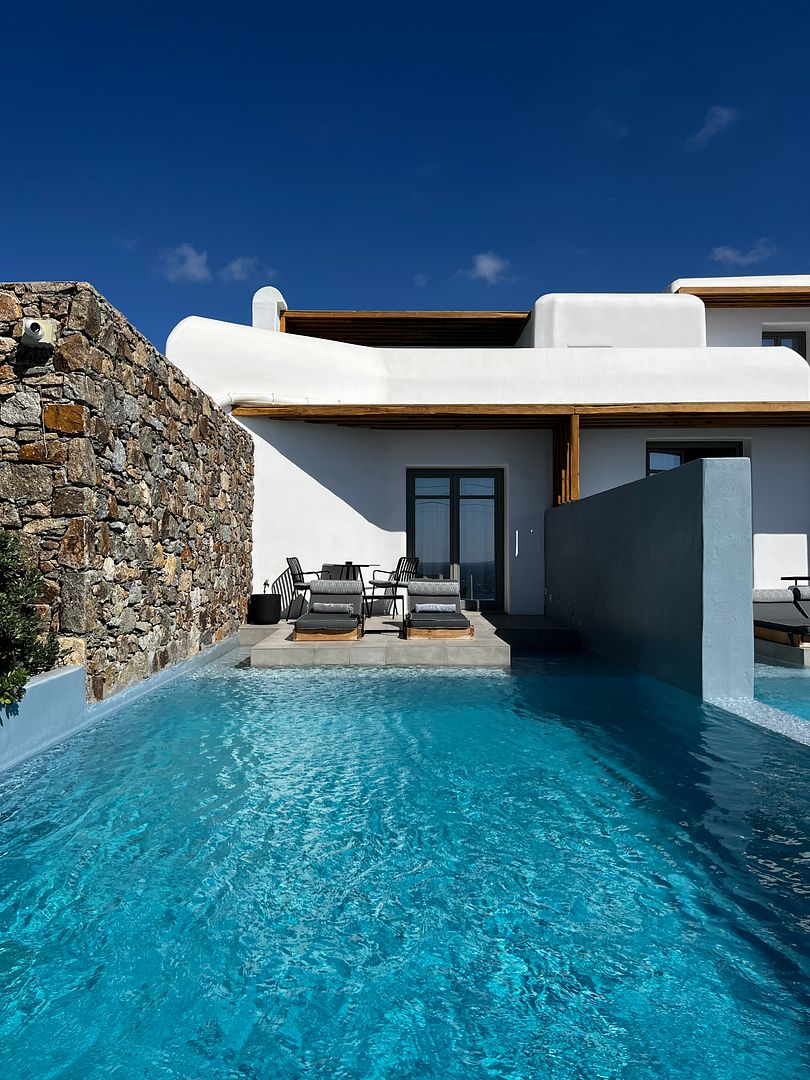 My 2-night stay at the 5-Star property began with a pick-up in a BMW at the ferry terminal where I met a couple who told me that they had just stayed at Mykonos Soul Suites and that I was going to have the best time there. Well, that got me even more excited! After a short drive, Snuffles and I arrived at the front gate of the property. We left our luggage in the car, and headed in where we were offered a welcome drink and some snacks, as we waited for our room to be ready.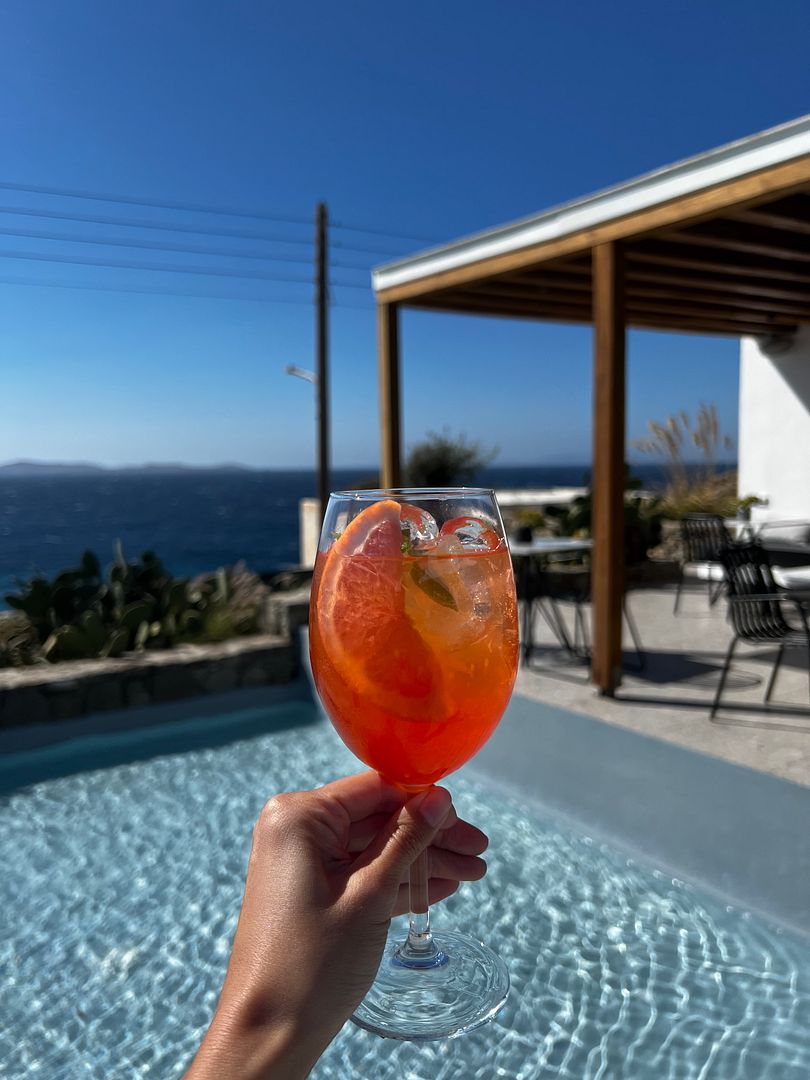 I opted for the signature cocktail, and it sure was yummy!

What struck me hard was how tranquil and quiet the surroundings were. The hotel overlooks the sea, and that means sunsets and sunrises are going to be magnificent. As I took a little walk around the incredibly beautiful property, Snuffles was having the time of his life playing with the young and friendly team of staff, and chewing on a bone they gave him.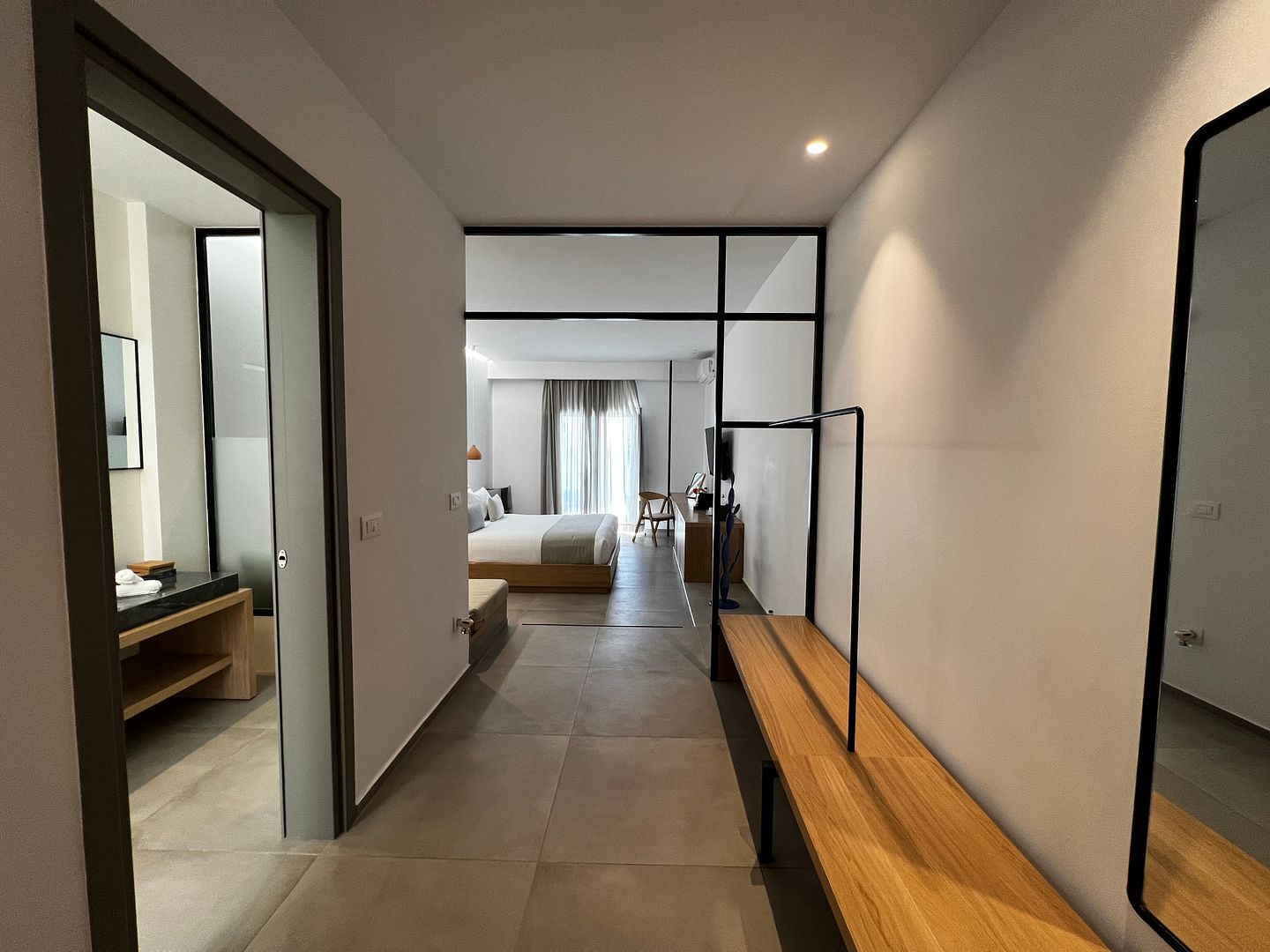 Soon after, we were informed that our suite was ready, and I have to tell you that I was BEYOND excited! 

There are a variety of suites available at Mykonos Soul Suites, so whether you're coming with your significant other or here for a best friends' getaway, there will definitely be a suite that's perfect for you. Snuffles and I stayed in the 34 sqm Junior Pool Suite, and I was glad that we got a corner unit! Even though the villa does already feel really private and exclusive, we had the added benefit of even more privacy so yay to that!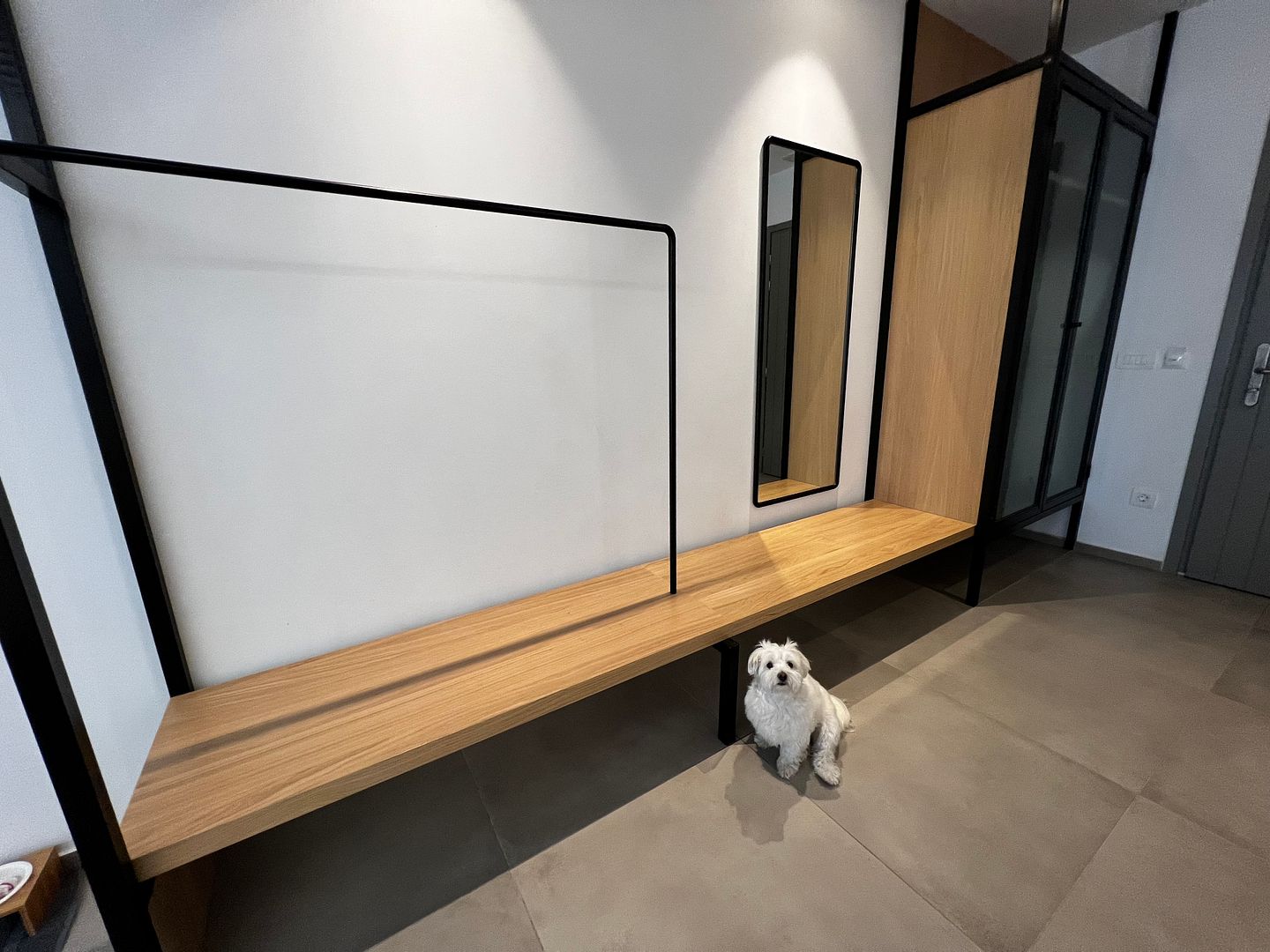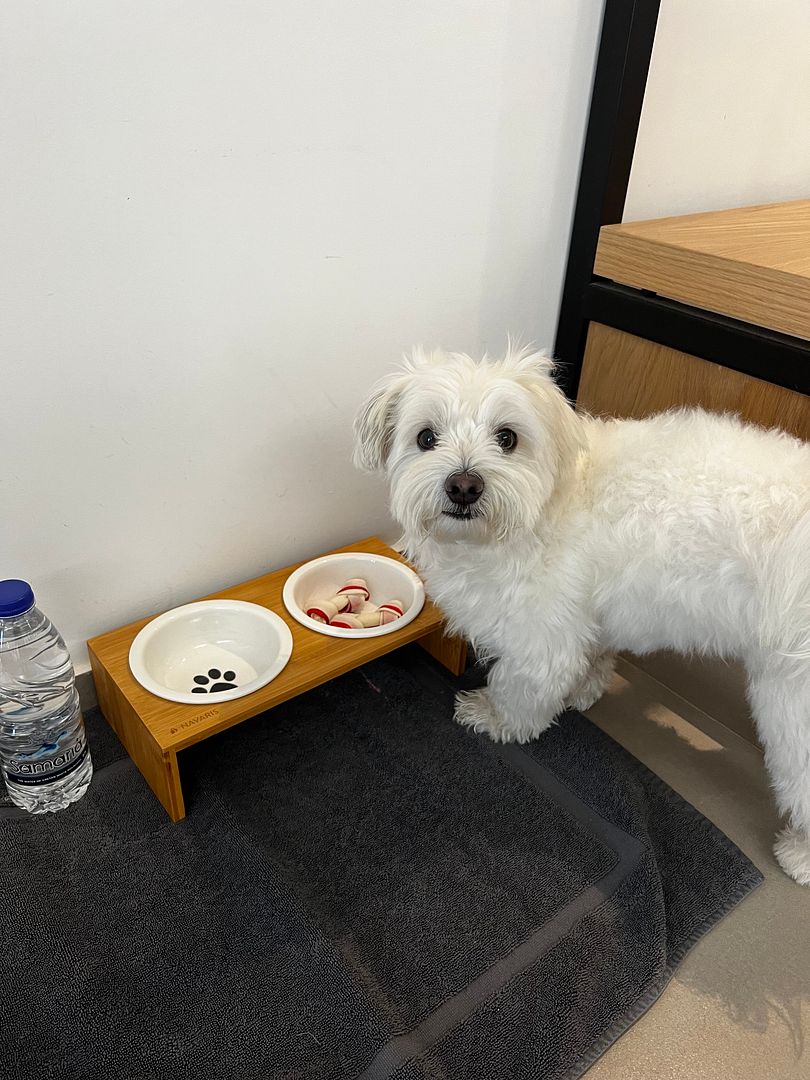 Really loved that the team made sure that my pup is well taken care of!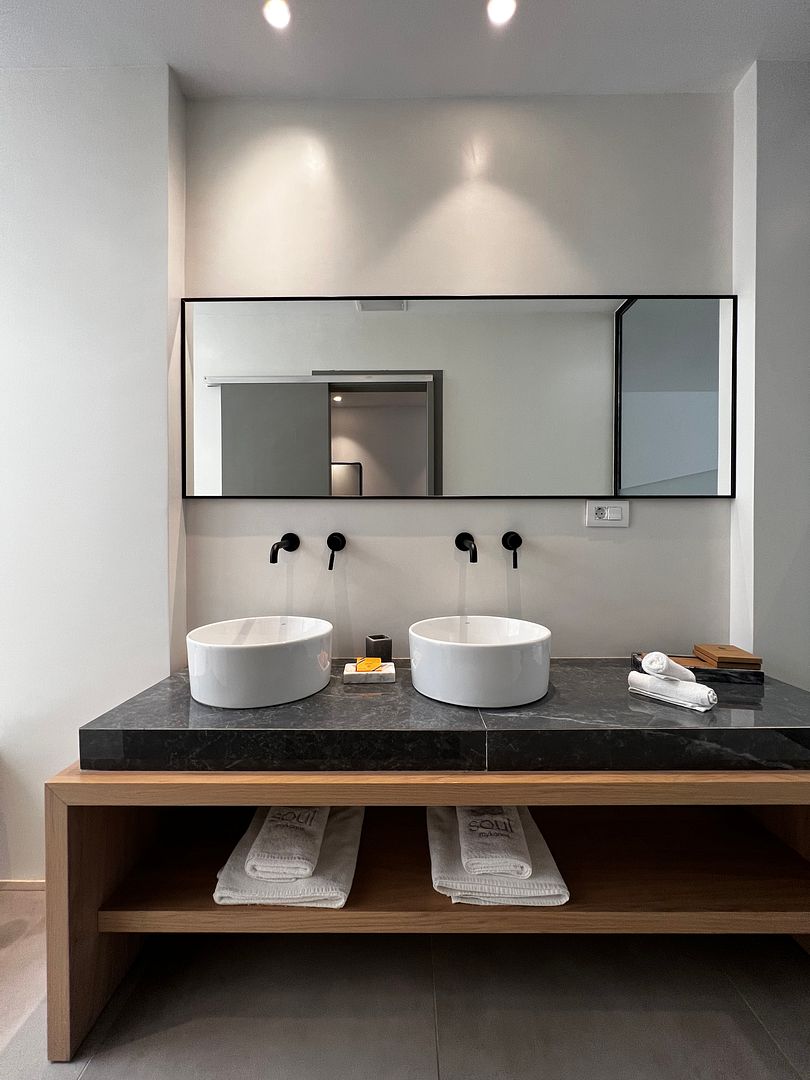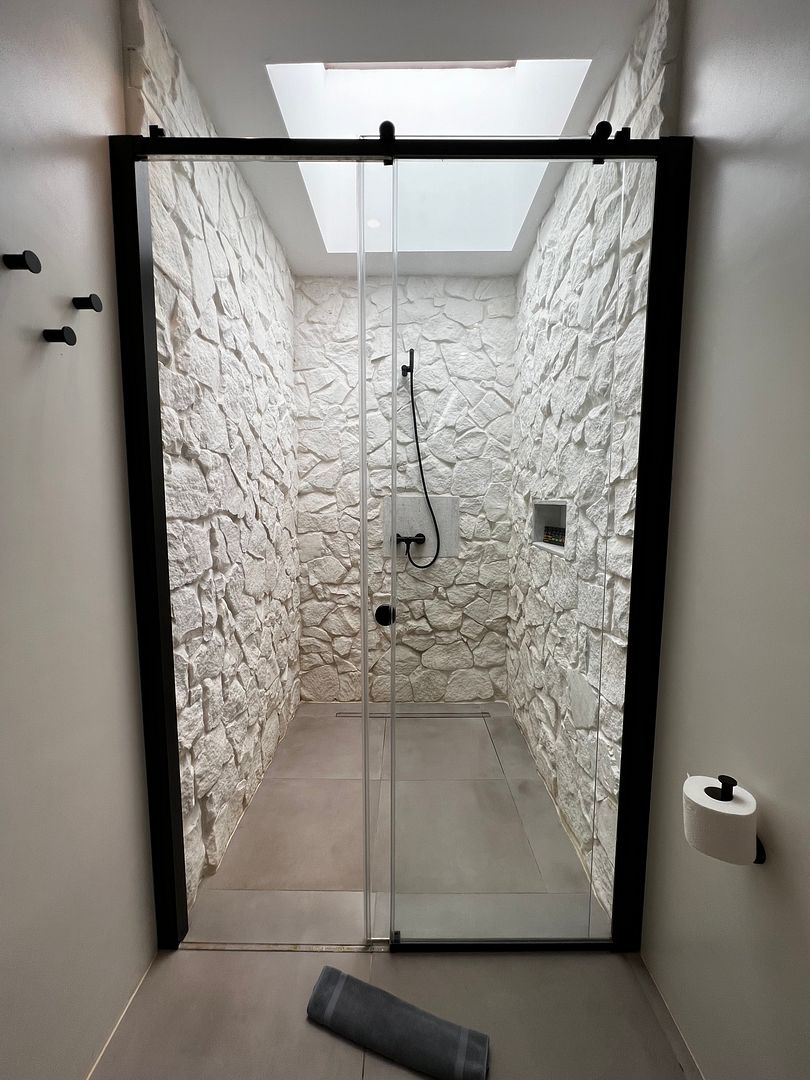 The bathroom is just gorgeous!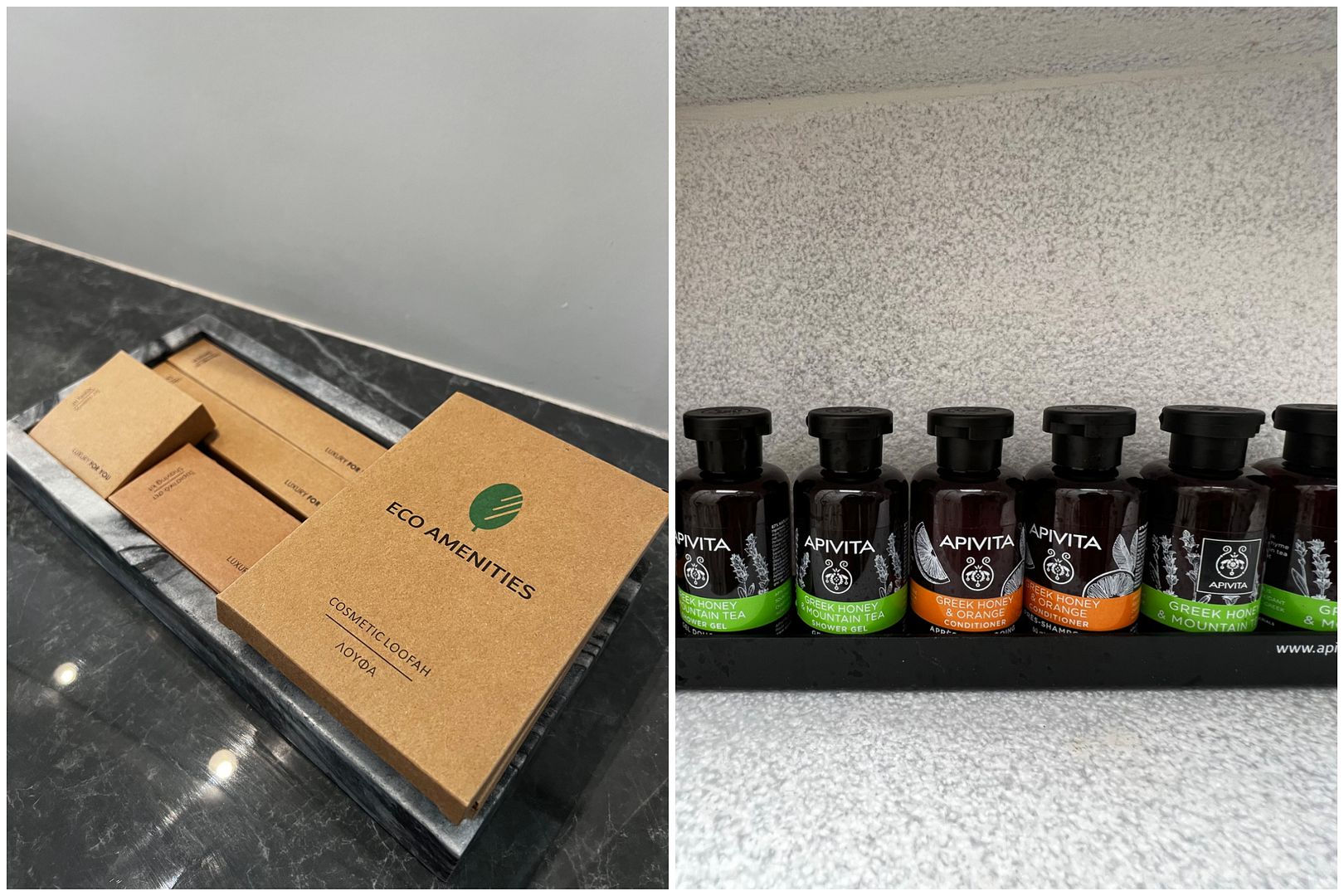 Everything just looks, feels, and seems immensely luxe. I knew I wouldn't be leaving the room much right from the moment I entered the room. I loved how comfortable the room was, the colour palette, the abundance of natural light, how wonderfully-equipped the room was, the plush bed, the roomy bathroom, and of course, the private pool!
We settled in quickly, and I connected my phone to the bluetooth speaker, put on some chill hits, took a quick shower, went for a nice dip in the pool, and just sun bathed on the bean bags with Snuffles for hours. It was so so relaxing, plus I could hear the waves of the sea, which was definitely a bonus.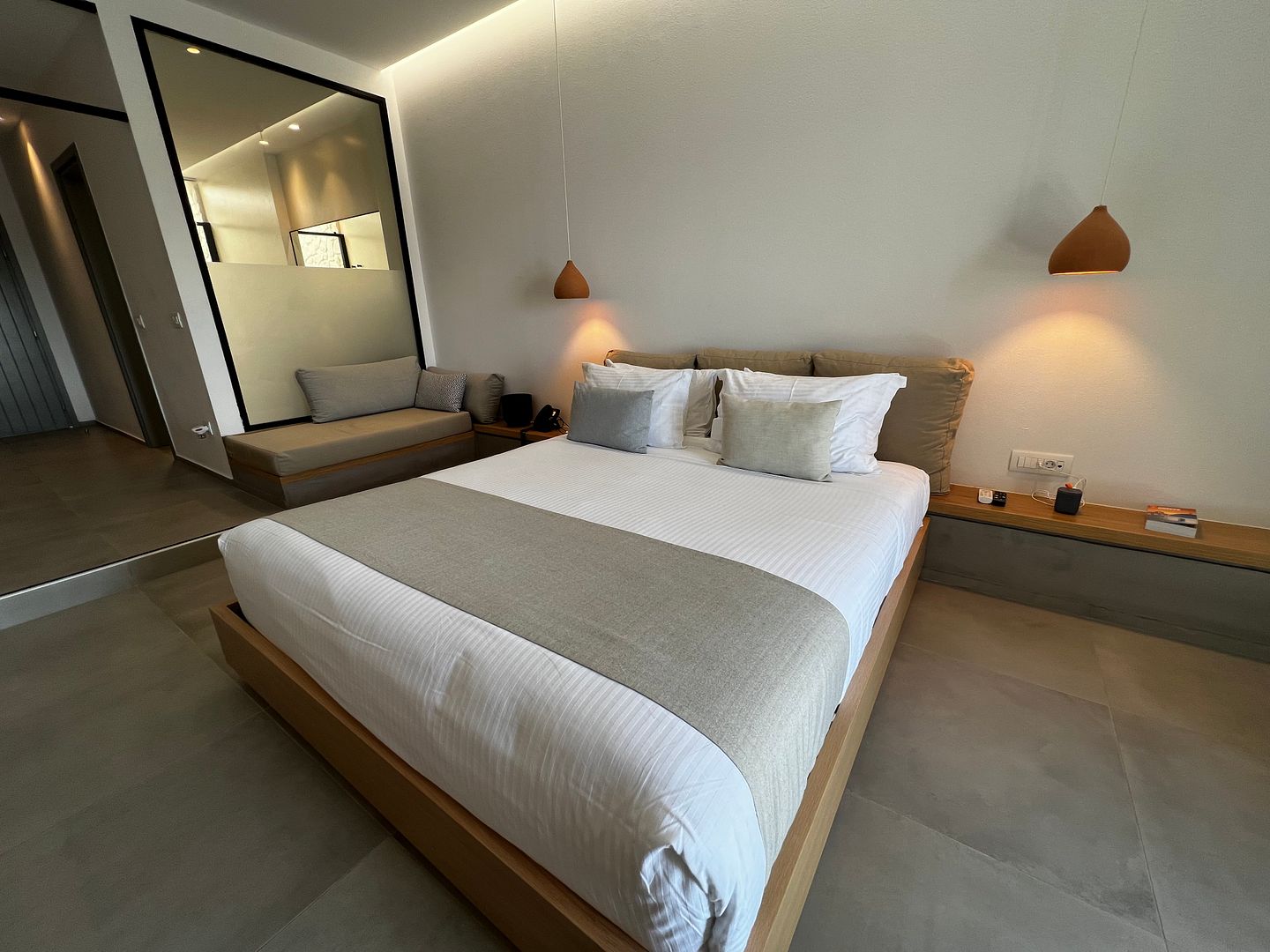 50" tv with netflix, fully stocked maxi bar, bathrobes, nespresso machine, blue tooth speaker, air-conditioning, room service — basically everything you need!
Of course, the highlight would be the terrace and private pool that offers a view of the sea and neighbouring islands!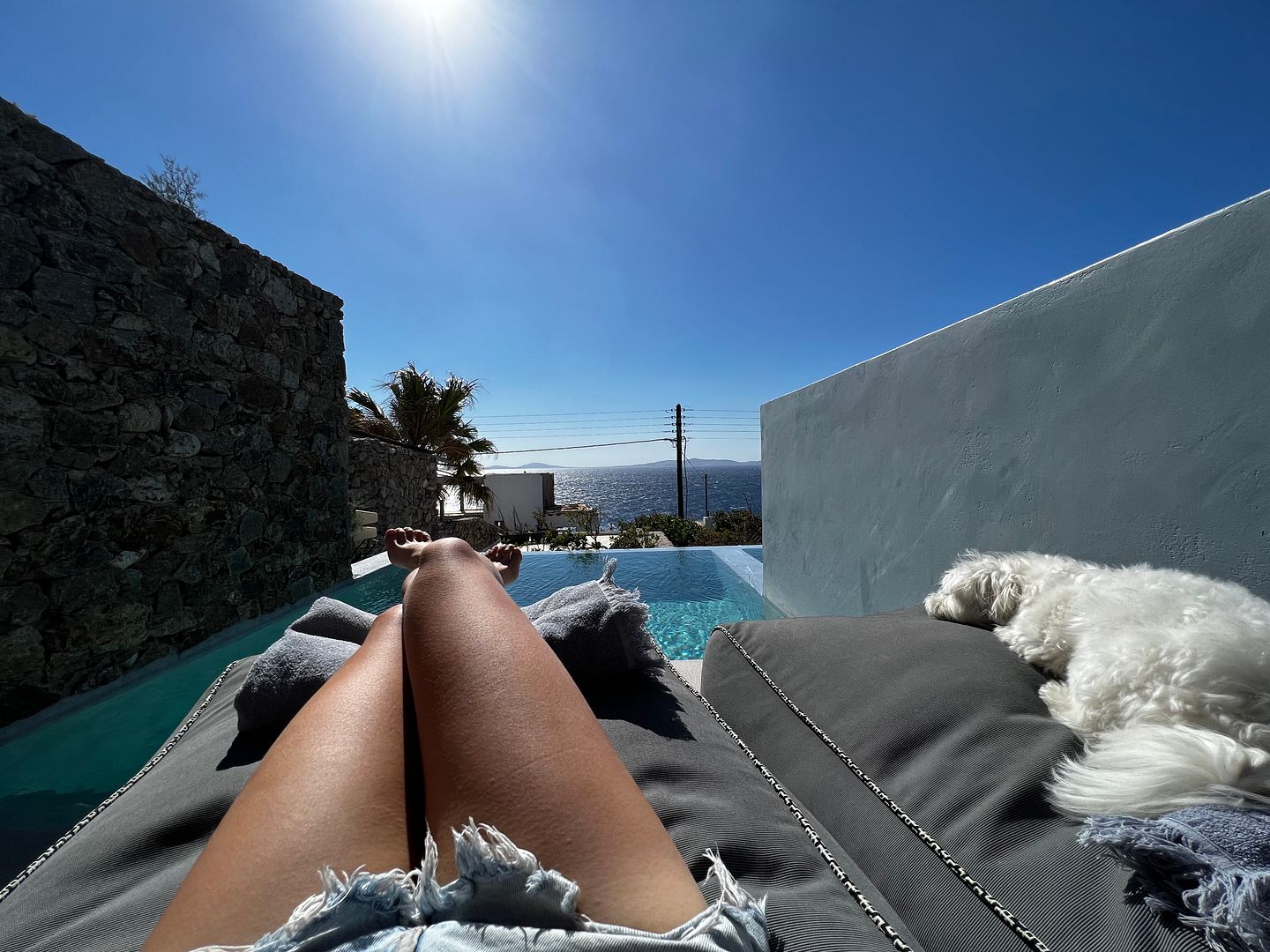 We actually planned to head into town to do a little exploring but I really couldn't get myself to leave the room, so I ordered room service — was really amazed by how easy it is. There's a tablet on which you can find all information you could possibly need, and you can order room service, and pre-order your breakfast for the next morning. I was quite surprised by the extensive spread and already couldn't wait for breakfast even though I haven't even had dinner yet.
Once I've placed an order for dinner, I received a call from the front desk confirming my order. Soon, my food came and I chose to enjoy it while watching the sun set right outside my suite. It was magical, to say the least. I was really so happy to be there at that moment and felt like everything was just perfect.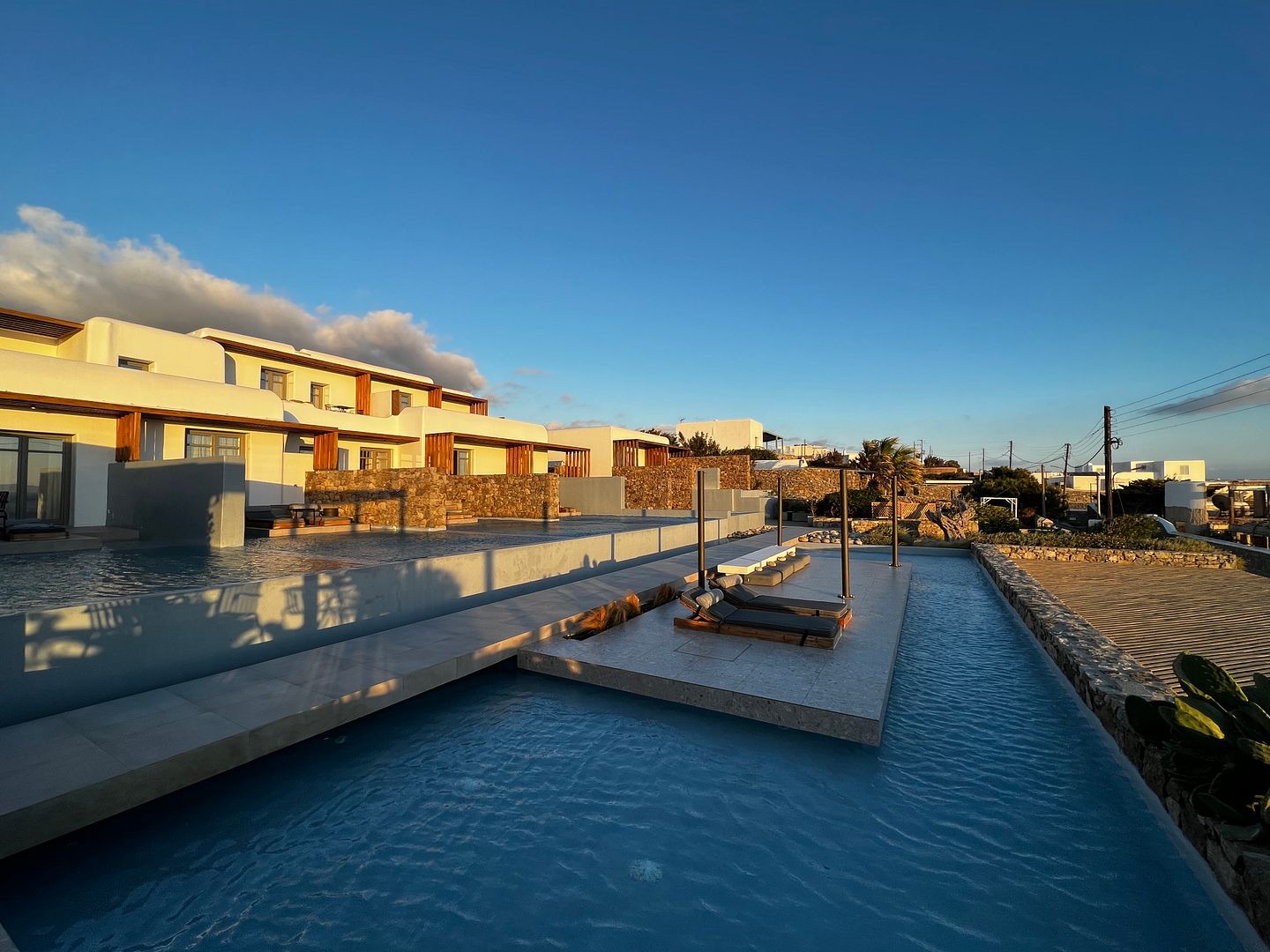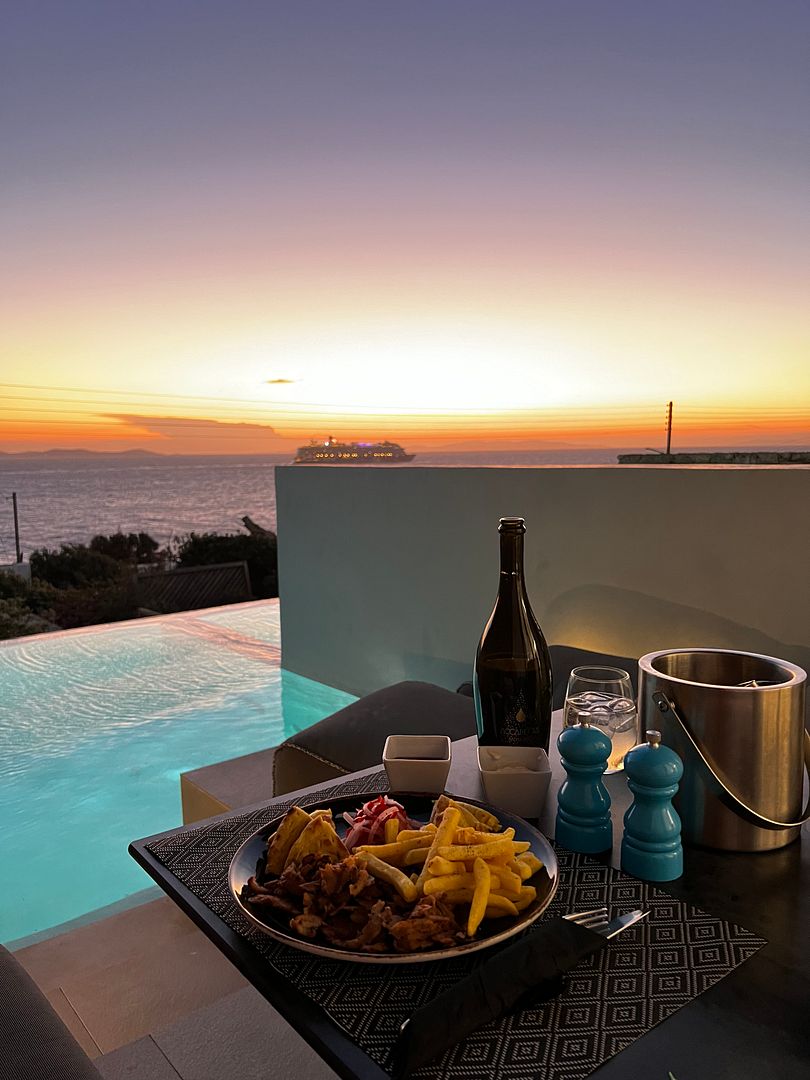 How magnificent is this view!!

It got colder once the sun went down, and we moved indoors to put on some shows on Netflix while lounging on the sofa, sipping some prosecco, and indulging in some crisps.
I took a really long shower after. Love the water pressure and the fragrant bathroom amenities! Even the embroidered towels are of excellent quality. I felt re-energized but was also all ready to climb into bed, because it just looked so inviting. It's been calling out to me the entire day!
And I was right, the bed was exceptionally comfortable! There were even 3 pillow choices to create the ideal sleep setting for each guest. I'm not usually an early sleeper but I was happy to get to dreamland instantly once I got under those smooth silky sheets. I set an alarm for 10am because that's when my breakfast would be arriving!



The moment we got up, Snuffles went outdoors and got on the bean bags. This boy really loves the sun!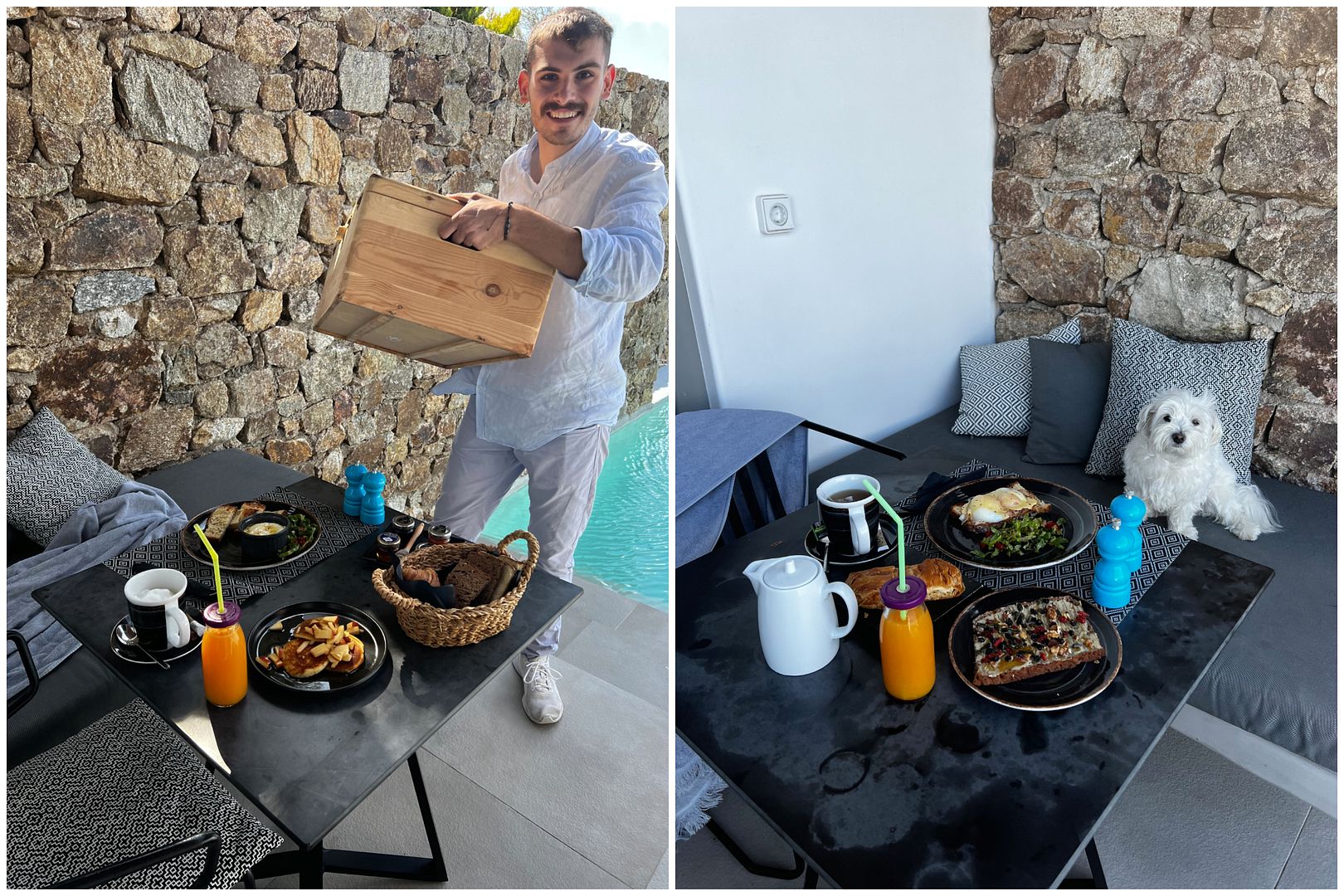 The staff will bring the entire spread to you, and set it up where you prefer to be dining. Everything looked so good, and the food tasted even better than it looked!


After my very food-filling breakfast, we lounged by the pool for a little, soaking up the sun before we headed into town.


Mykonos Soul Suites is just a short walk away from the Agios Stefanos Beach, so if you're looking for some beach lovin', it's not far away. There's a public bus at the beach that will take you to the old port where you can walk into town and new port where you can take a ferry to other islands. If you aren't too keen to take public transport, you can opt for a transfer at the hotel.
While we enjoyed sightseeing and shopping in town, all I really wanted to do was to get back to the hotel! I think at that point, I was full on smitten and in love with Mykonos Soul Suites. We were only in town for a couple of hours, and went back before the sun went down.


I ordered room service, while watching the sunset again.

While we could have also enjoyed breakfast at the lounge by the pool, we chose to have it in the comfort of our suite again! Food was impressive as it was the day before! Concierge services are available so if you aren't up for planning and making reservations, leave it to the capable team of staff!
Writing this really makes me miss Mykonos Soul Suites. They are only open for 6 months a year, so be sure to get down to booking a suite as soon as you can because they're insanely popular! Enjoy your stay here!!

Pet Fee :
None
Attractions :
Little Venice
Windmills of Mykonos
Paradise Beach
Super Paradise Beach Club
Restaurants :
Lucky Fish
Noa Greek Restaurant
Accessibility :
Agios Stefanos Beach: 5 minutes (on foot)
New Mykonos Port: 7 minutes (by car)
Airport: 13 minutes (by car)
Chora: 9 minutes (by car)
Agios Stefanos, 84600 Μykonos, Greece
Instagram : @mykonossoul