Paris is full of dog-friendly hotels, but few check all of these 3 important boxes : affordable, well-located, and modern. If these 3 factors are as important to you as they are to me, you will definitely be pleased with Hotel Bastille Spéria which is an outstanding hotel in Marais(4th arrondissement). The trendy Marais district is interspersed with museums and art galleries, chic boutiques, and tons of great restaurants. Just a 5-minute walk from Bastille Metro Station, Hotel Bastille Spéria is the closest hotel to Place de la Bastille. The lovely property sits on the corner of the quieter Rue de la Bastille, right next to the main road, and is unmissable.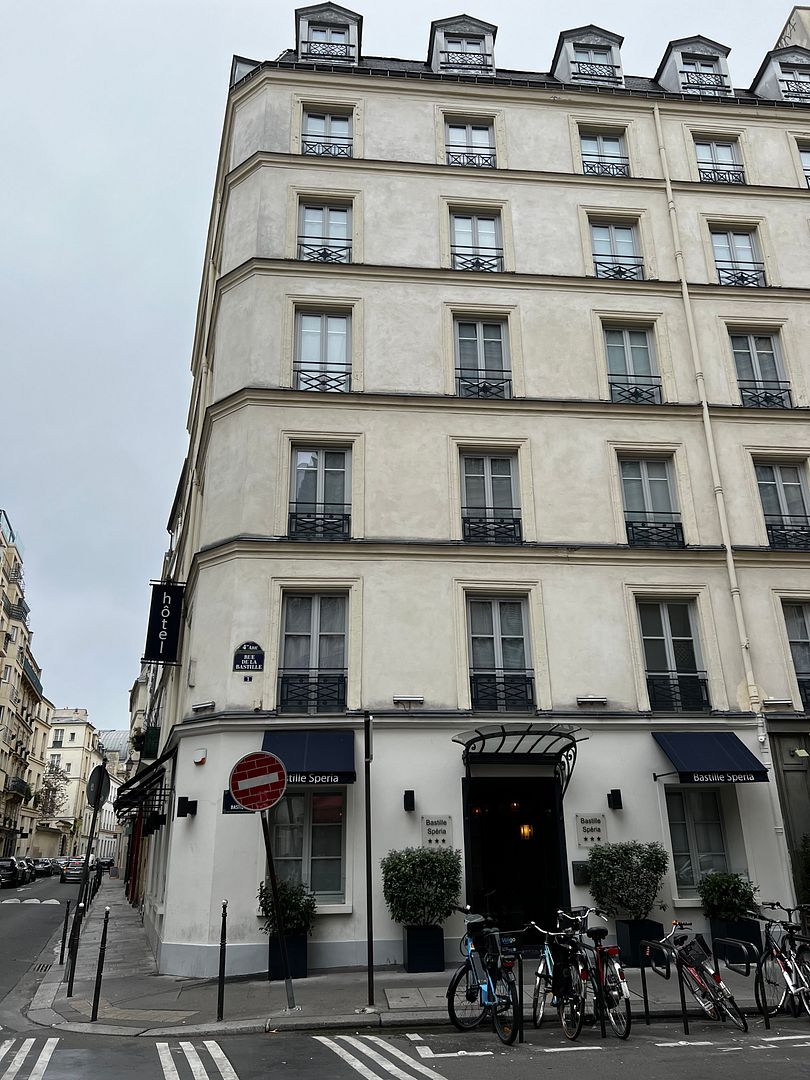 The Bastille Spéria hotel promises a warm welcome. Decked out in a contemporary decor, the hotel exudes a captivating warmth the moment you step through those doors. On the right of the entrance is a lounge area where guests can kick back and relax while reading newspapers, and
an adjoining business corner, which has a computer and printer which guests can use. A service of tea, coffee and goodies is available from 2pm - 6pm as well.

On the left of the entrance is the 24-hour reception desk and breakfast room with a gorgeous glass roof that allows daylight to stream in. There are 42 rooms, in 4 categories (Solo, Classic, Deluxe, Connecting room), spread over six floors.
We got a Deluxe corner room which sports a modern look with calming cool colours. My cozy and quiet room had 2 double-glazed windows which open up to different views of the streets. I really appreciated the blackout curtains!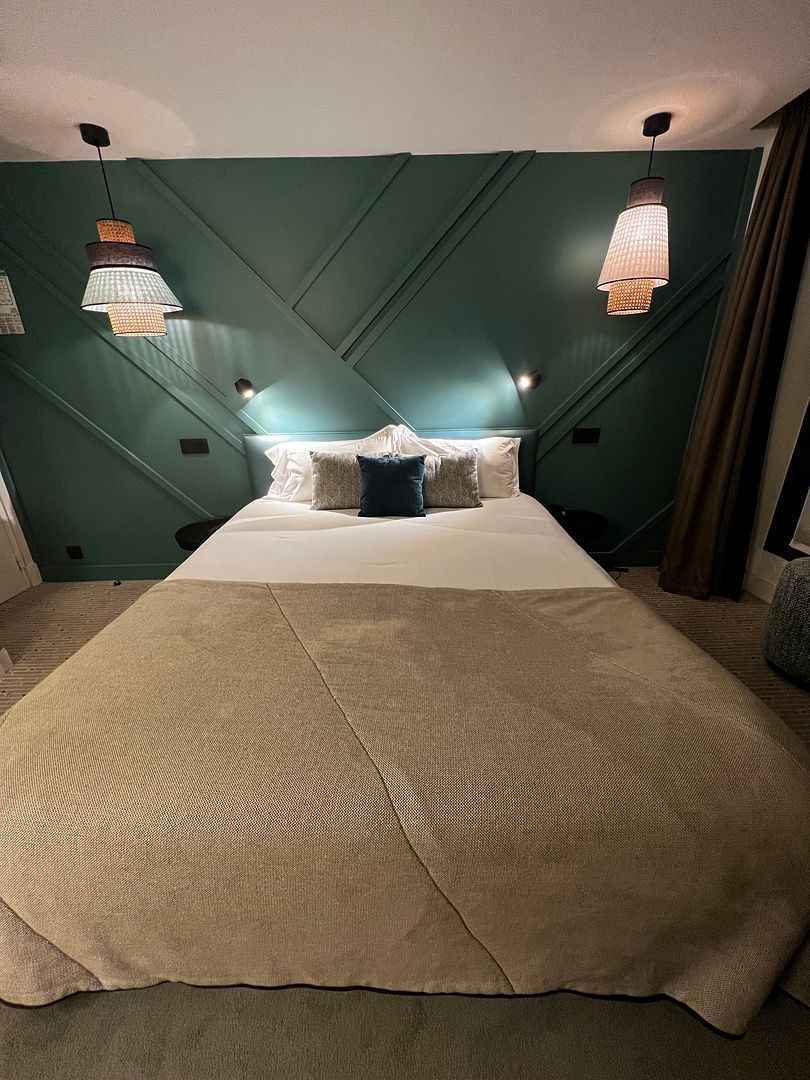 As expected, the bed was plush and comfortable!

The bathroom was very spacious and everything was neatly arranged and well-placed.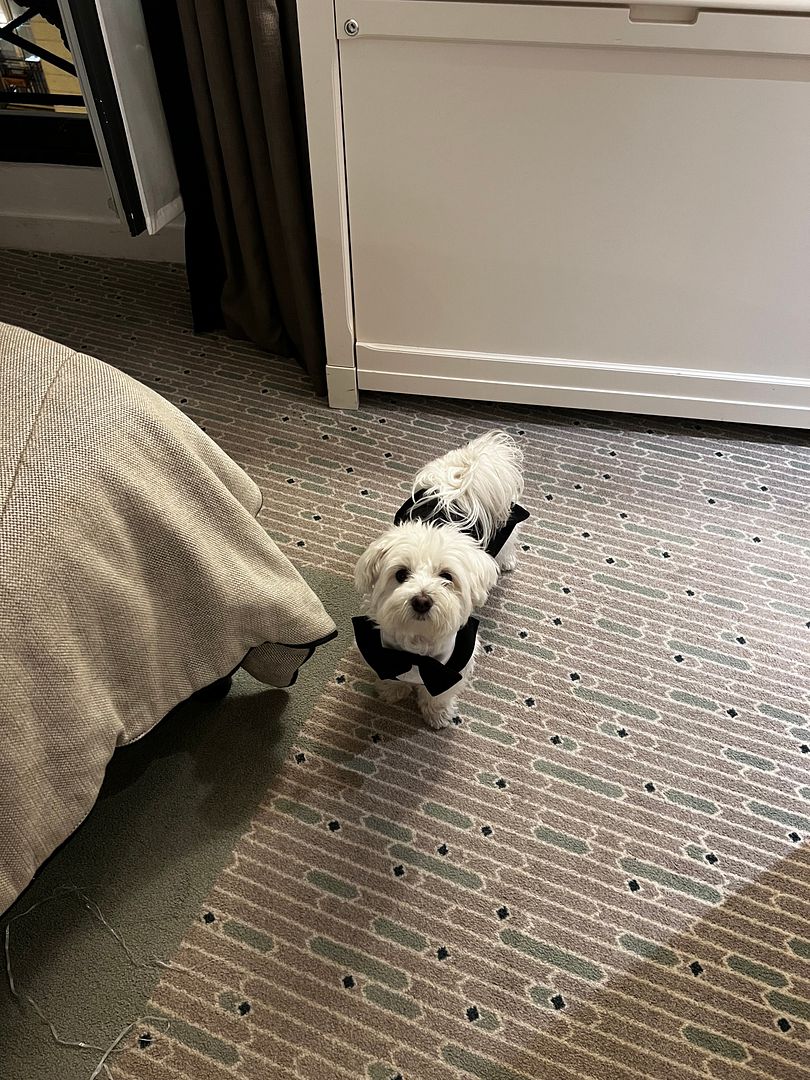 There's both heating and air-conditioning in the room.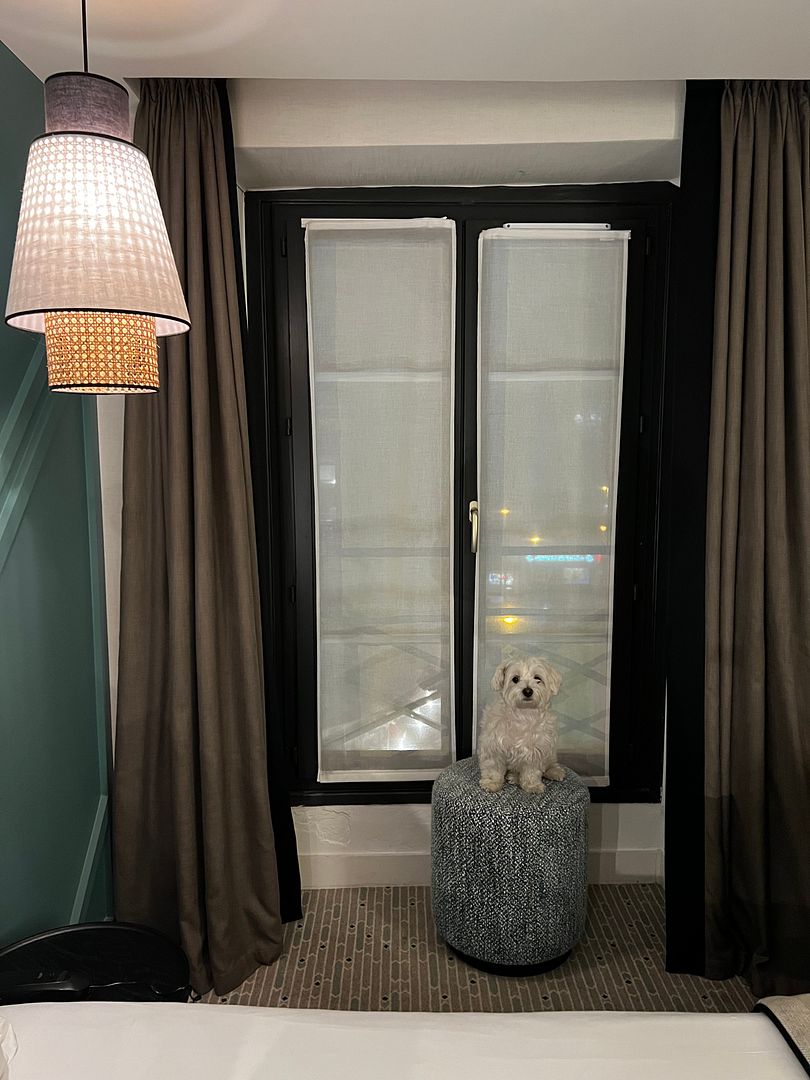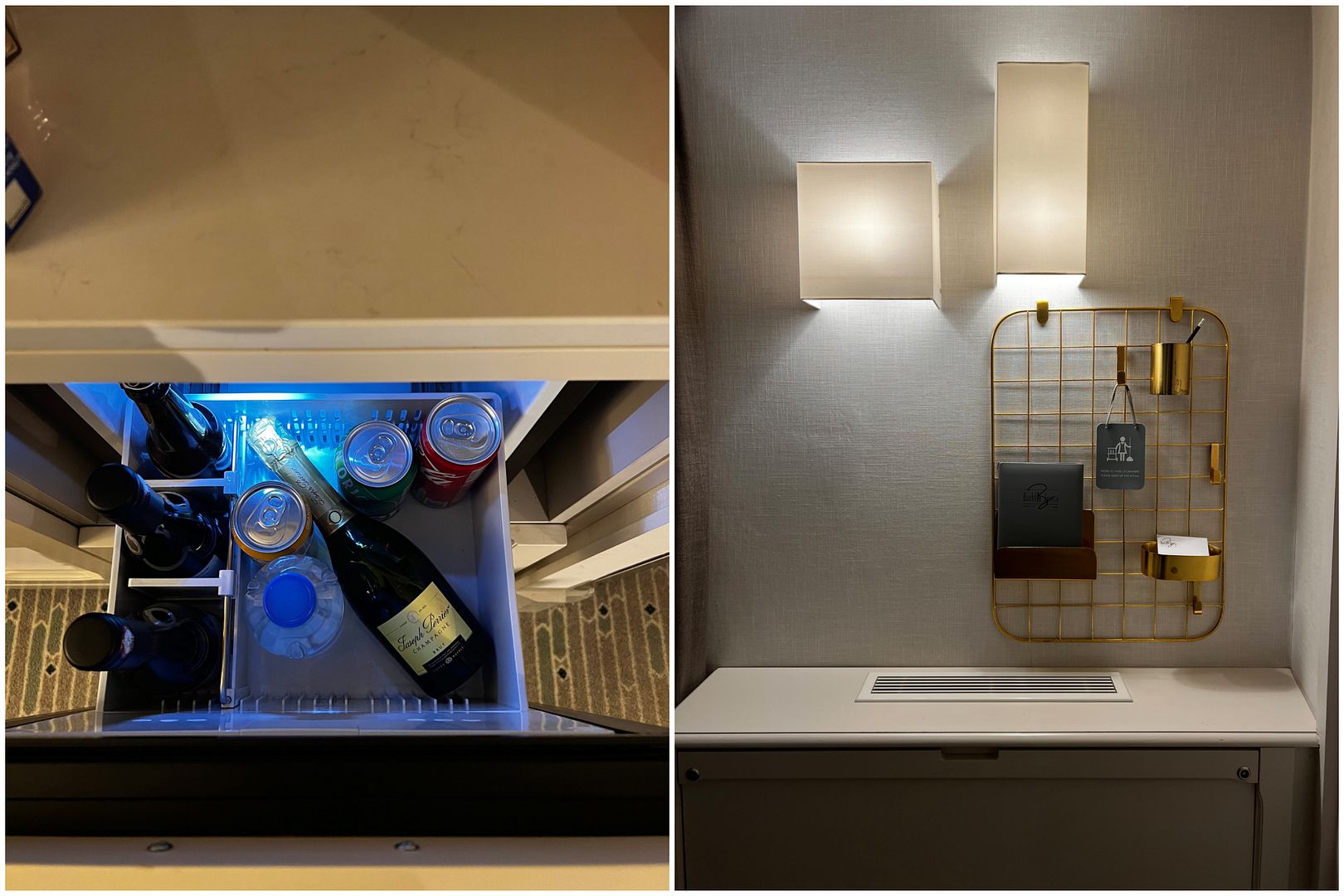 There's a well-stocked mini bar, and all you need to make a hot cup of coffee or tea.
From 7am to 1030am, guests can savour an enticing unlimited buffet breakfast(€13) in the breakfast room, or enjoy their breakfast in bed (not unlimited). Room service will send a fixed continental spread to your room if that's what you fancy, or you can plate your own breakfast and bring it up to your room(which was what I did).

c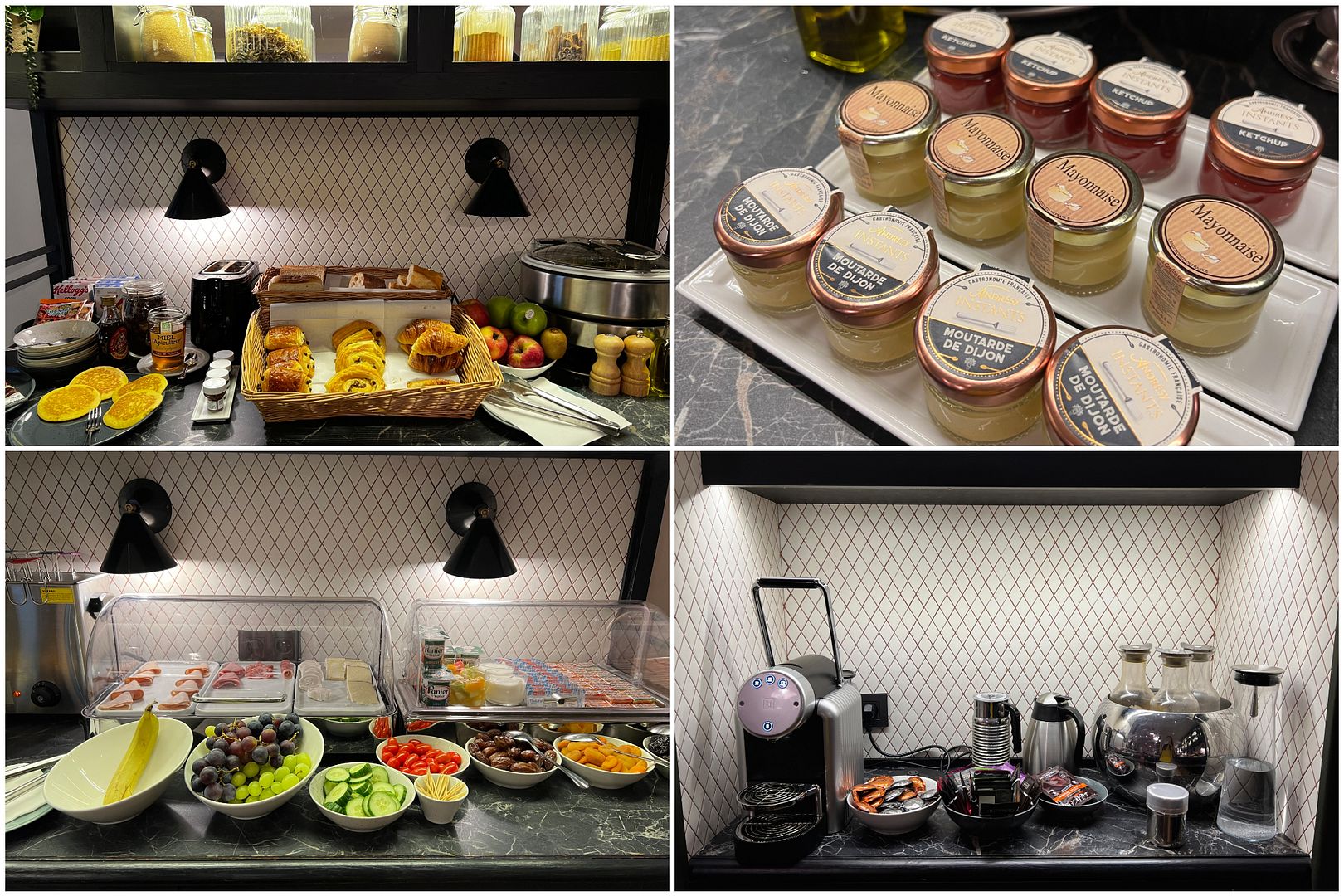 The breakfast spread comprises hot and cold drinks (tea, coffee, chocolate milk, fresh fruit juice); various types of fresh bread, pastries and cereals; a choice of jams, honey, butter and spreads; yoghurt, stewed fruit and fresh fruit salad, an assortment of cold meats and cheeses, and more.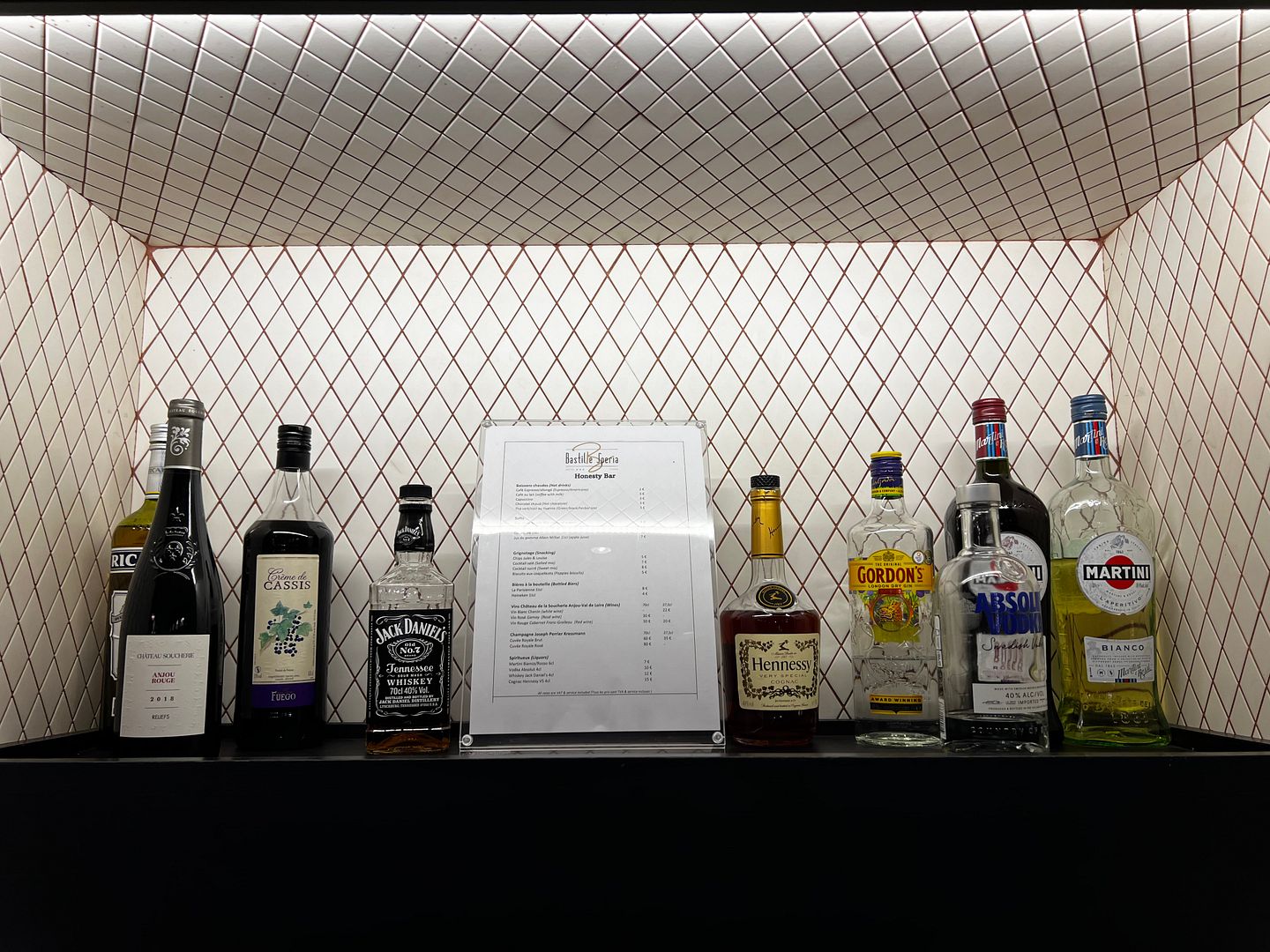 For those who desire a tipple or two, the hotel has an honesty bar which runs from 3pm - 10pm.
My breakfast in bed was a luxe affair that I was very proud of putting together! There's just something alluring about enjoying a delicious breakfast in bed, don't you think?

The Bastille Spéria hotel is dedicated to make your stay a particularly memorable and smooth one. The concierge service is able to book transportation for you, organise excursions and make appropriate suggestions according to your plans — think bateaux-mouches (river boats), Versailles castle, thematic tours, evenings at the opera, theatre, cabaret, restaurant, etc. Laundry service is available as well. Trust me, you will enjoy your stay here for sure!
Attractions :
If you love to walk, you can walk to many more key attractions from the hotel but here are the closest ones which you can get to within 20 minutes.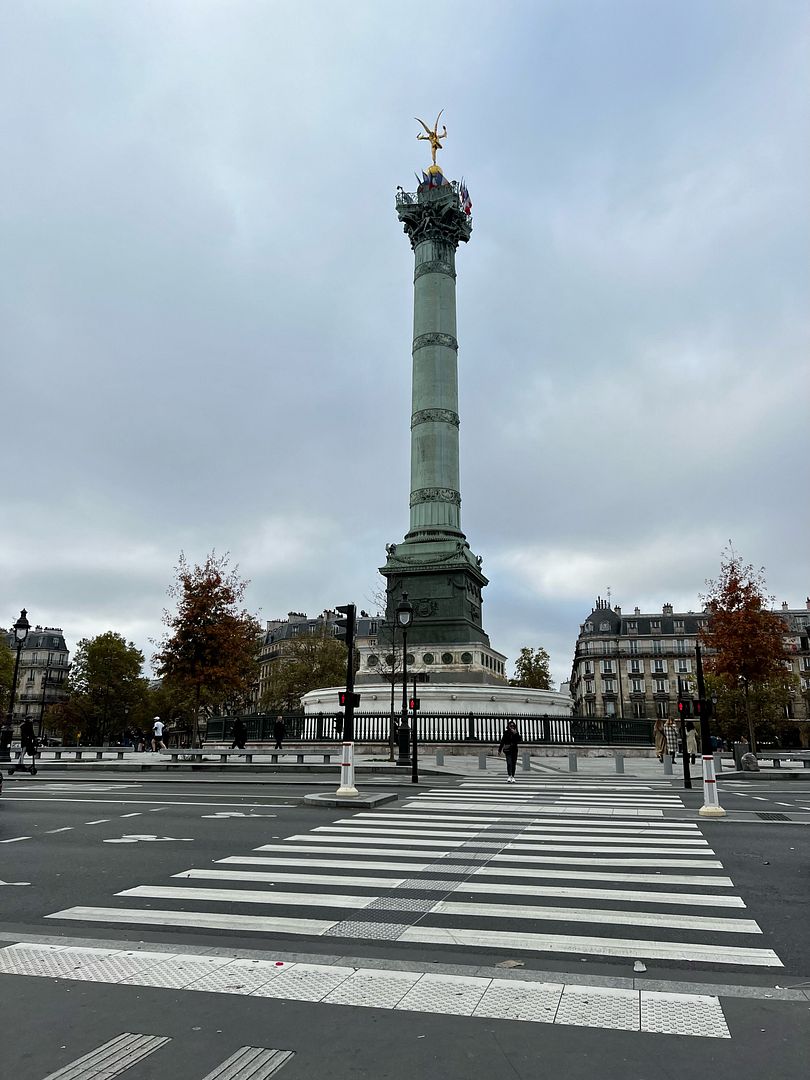 Place de la Bastille
Opera Bastille

Place des Vosges

L'hôtel de Sully
Victor Hugo's House
The Carnavalet Museum
The Hunting and Nature museum
The Cognacq-Jay museum
The Picasso Museum
The European house of photography
The Georges Pompidou Centre
Paroisse Saint-Paul Saint-Louis
Le Village Saint-Paul
Pl, de l'Hotel de Ville

Dog-Friendly Restaurants/Cafes :
Orgueil
Clamato
Septime
@unreve
Le Servan
Yann Couvrer Rosiers
Cafe Caractere
Terres de Cafe Paris Blancs
Accessibility :
Metro -
Bastille: lines 1, 5, 8
Bus -

Bastille: lines 20, 29, 65, 69, 76, 86, 87, 91
Aeroplane -

- Roissy-Charles de Gaulle airport: Air France bus direct to Gare de Lyon station (60 minutes) or RER B + underground line 1 (55 minutes)
- Orly airport: Air France bus direct to Gare Montparnasse station (45 minutes) + bus no. 91 (30 min)
Train

Hotel Bastille Spéria
Rue de la Bastille, 75004 Paris
Tel : + 33 (0)1 42 72 04 01