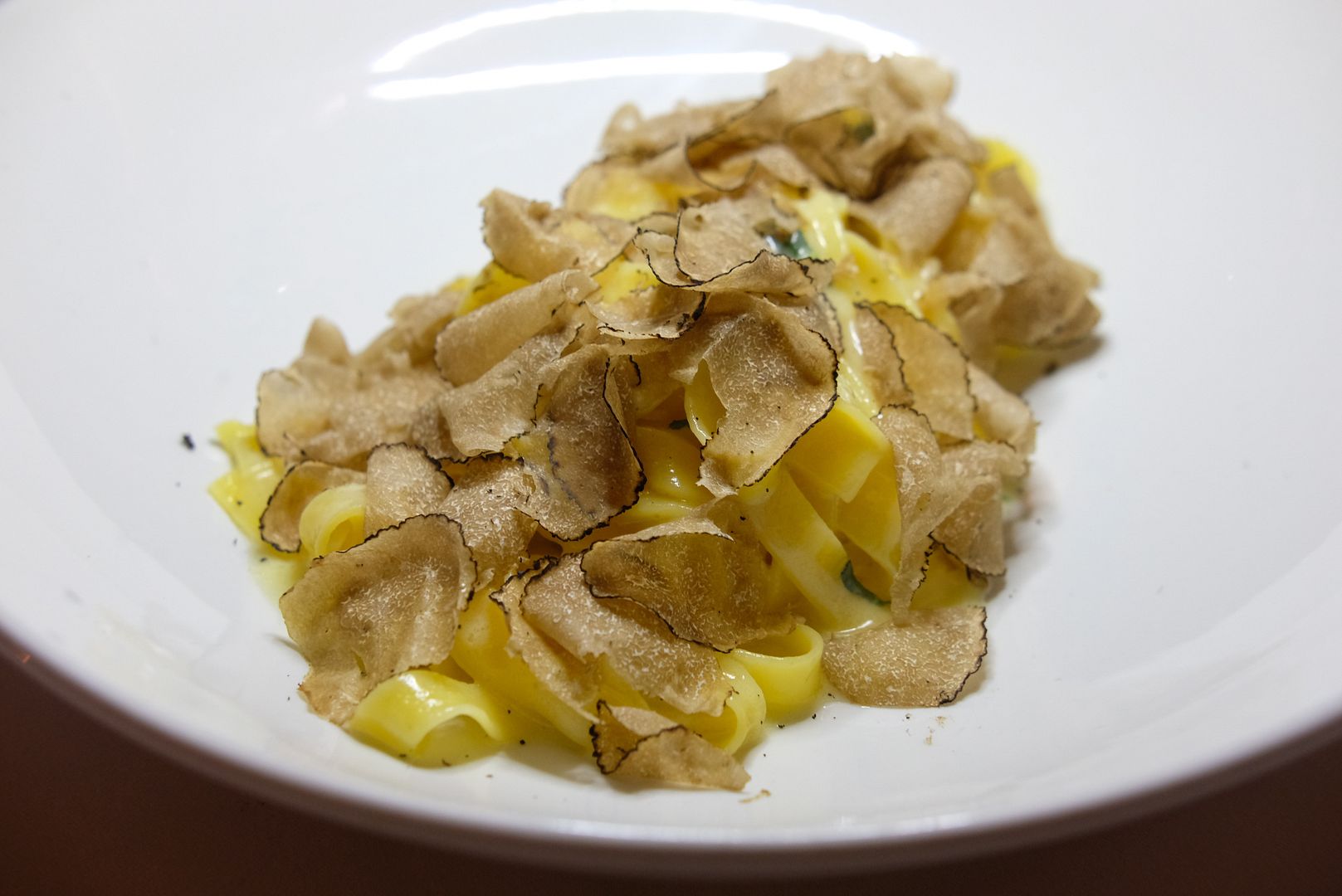 Sitting on level 3 of Grand Park Cityhall, Tablescape carries an old world charm. The elegant space, which offers respite from the hustle and bustle of city life, despite sitting right in the city, fills you with an indescribable warmth the moment you step in. Tastefully decorated with classy furniture, beautiful modern finishes, and Peranakan-inspired floor tiles, Tablescape brings together neoclassical formalism and contemporary touches to create a gorgeous dining setting that is perfect for a romantic dinner for two, a birthday celebration, and even corporate events.
New Executive Chef Armanda Aristarco sends out European classics with a touch of modernity. He uses not more than 4 ingredients in each dish — allowing the star of the dish to stand out as it should, and even the accompanying ingredients to shine.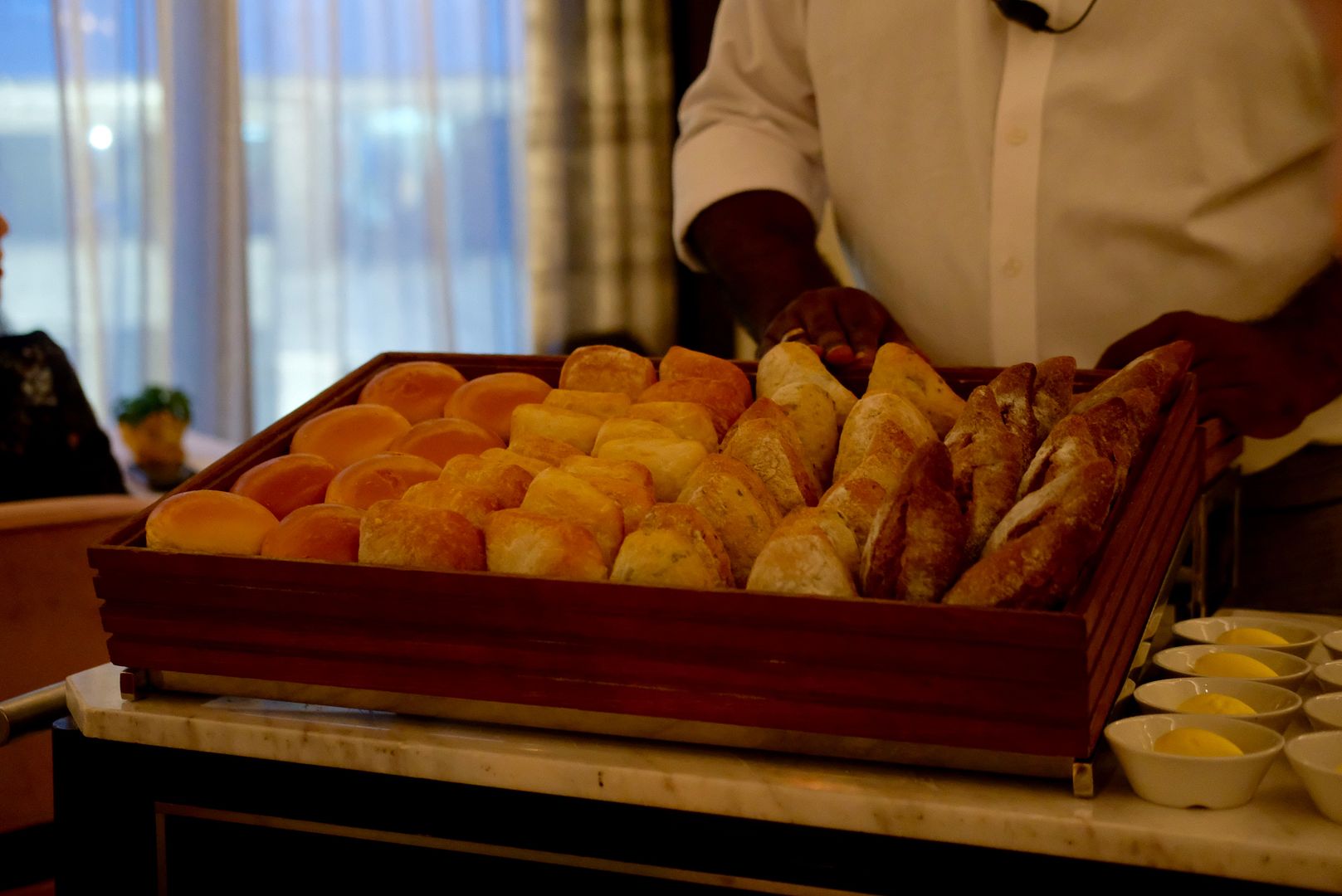 Before the meal officially begins, every table will be greeted by a bread trolley that is a dream come true for every bread lover. Look forward to enjoying 4 types of bread (from a rotation of 14) that's freshly baked in-house with house-churned butter.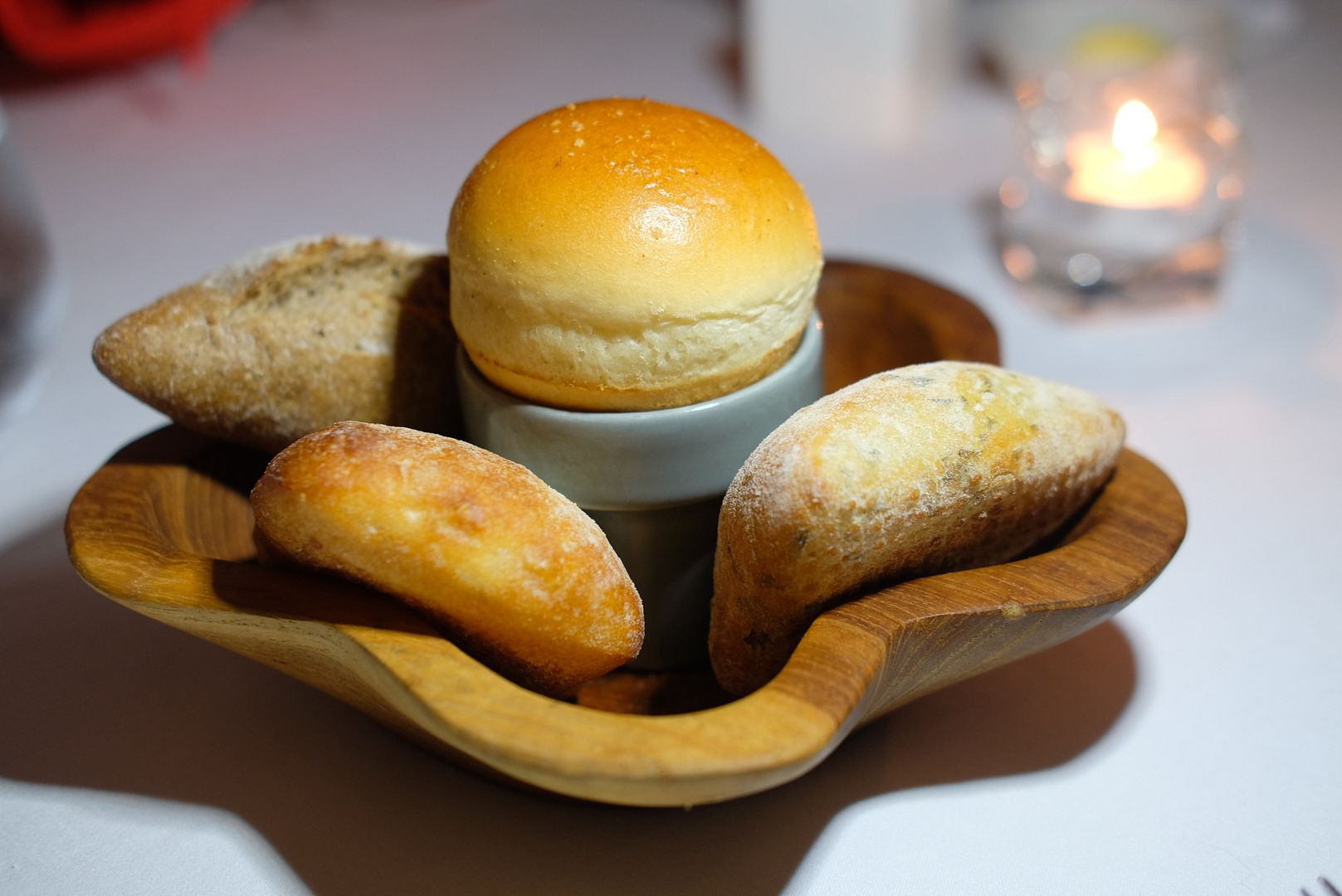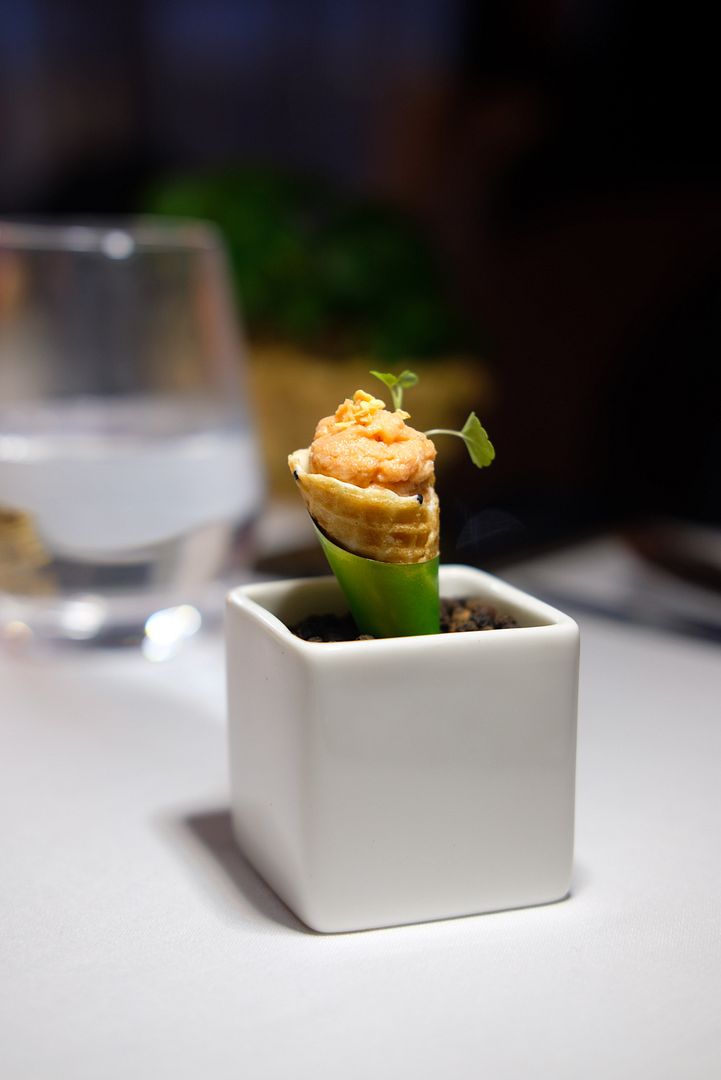 As if we were not already surprised by the bread trolley, Tablescape sent us an amuse bouche! The adorable little cone was filled with a chilli crab filling!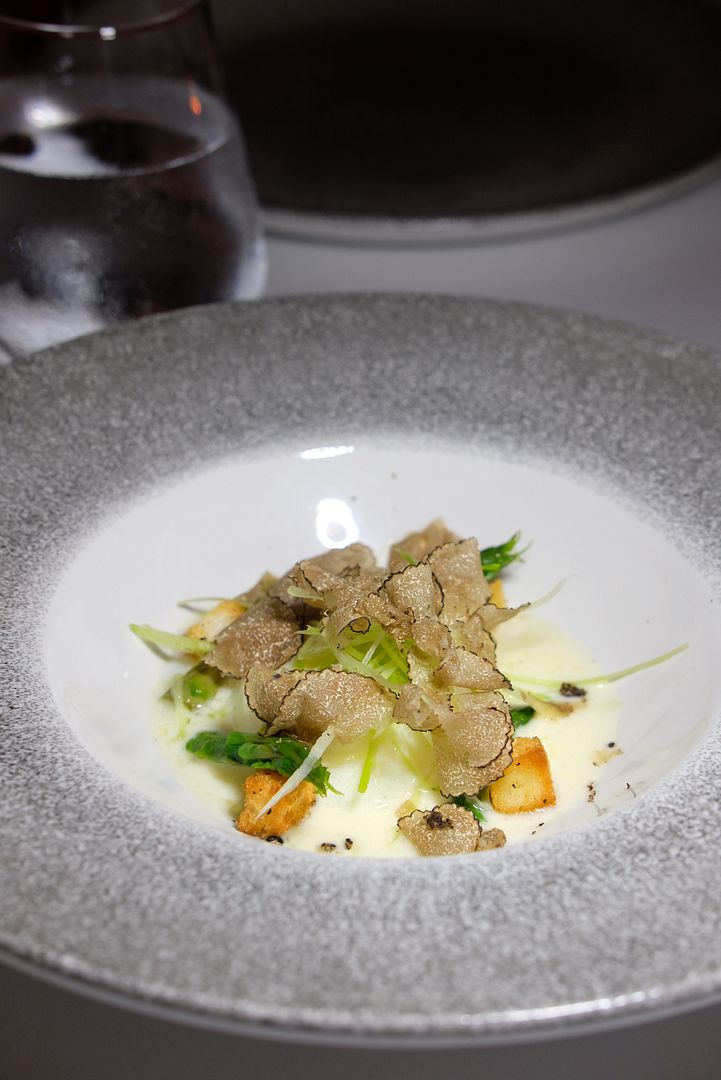 Before the first appetizer even arrived, I caught a whiff of truffle. I was taken aback when I was told that there's actually no truffle oil in this 62 degree celsius
egg($28)
dish at all! The smell of truffle was so pronounced that I was sure that truffle oil was incorporated. If you're used to pretty tasteless truffle, you have to visit Tablescape and enjoy their truffle dishes which are topped with fresh black summer truffles from Umbria, Italy. This unassuming egg dish is covered in a parmesan fondue that's made with Italian Parmigiano Reggiano that's been aged for 24 months, and topped with 2 textures of asparagus.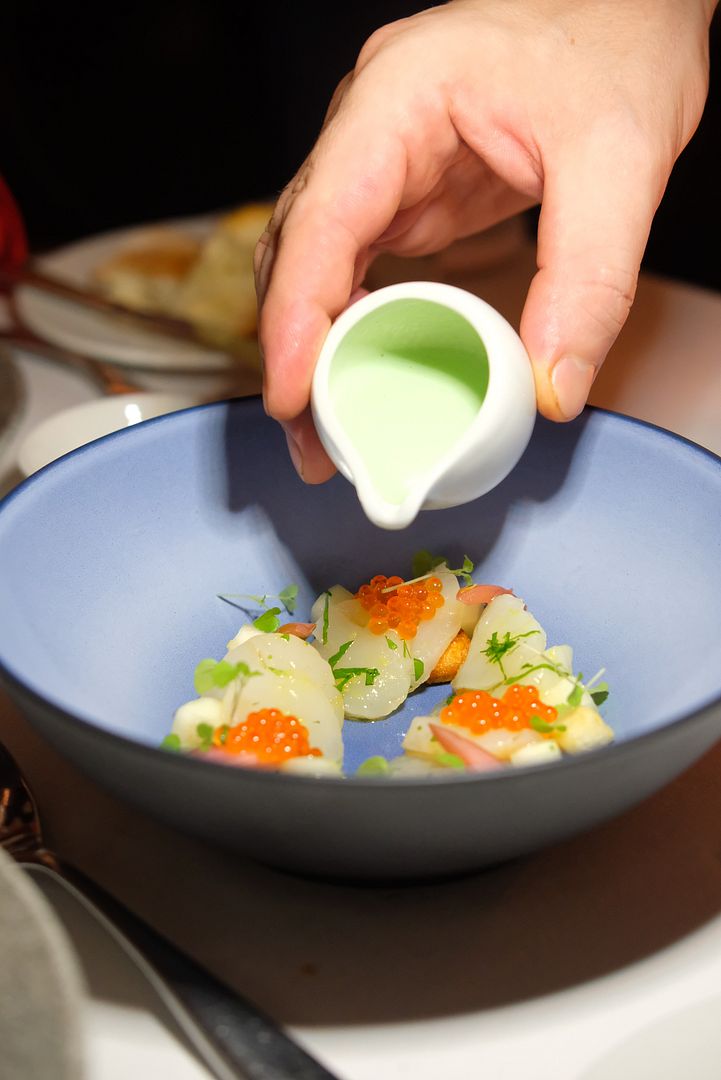 Tablescape sent out an aesthetically pleasing scallop dish that's simply adorned with croutons, salmon roe, pickled onions, and cucumber gazpacho. The freshness and sweetness of the lightly-seasoned raw scallops were adequately highlighted and I was pleasantly surprised by the cucumber gazpacho. Initially, I was worried that the strong taste of cucumber would overpower the natural flavours of the scallops, but its mild flavour, creaminess and smoothness actually complemented the scallops really well!
The
Black Angus striploin($20
) is served with a dressing made with shallots, pommery mustard and raspberry vinaigrette, two textures of pumpkin, and white pepper foam. While the beef was pretty decent, I felt that it lacked that addicting factor which makes me want to polish the entire plate on my own. Perhaps I was expecting a more intense umami.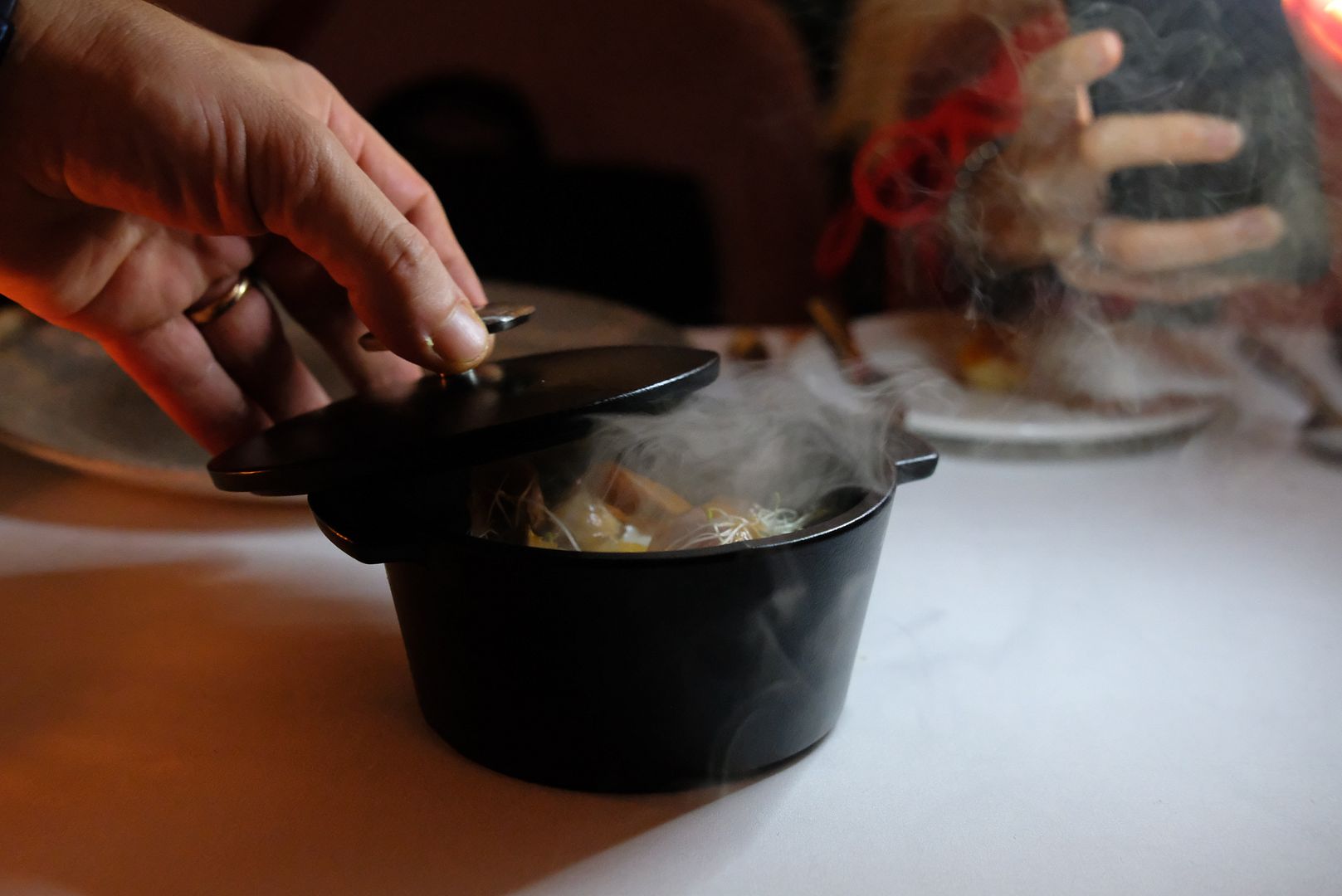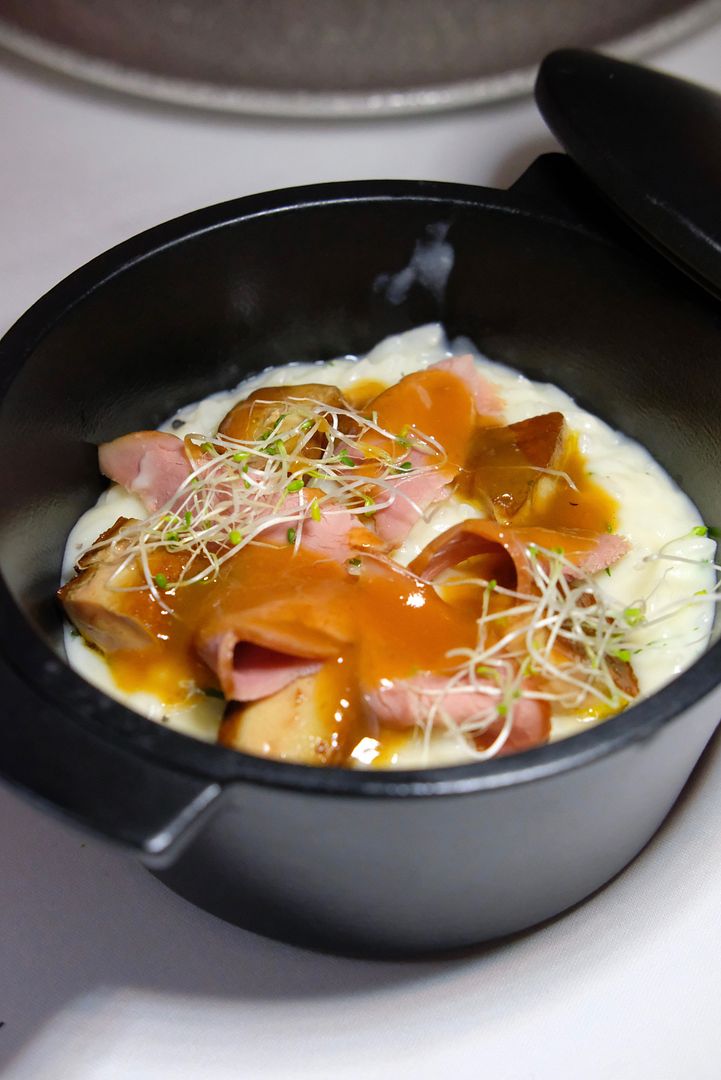 The
Risotto($38)
was the BOMB. When the cover of the unassuming black pot was lifted, a lovely smoky aroma wafted out. I immediately knew that this was going to be good! Raw rice is tossed in oil and shallots, then slowly cooked with a housemade duck stock which must be slowly added in scoop by scoop until the starch from the rice is released to produce a creamy risotto without adding actual cream. 2 scoops of cauliflower cream(made with no cream) are added into the risotto as well. The risotto is served with cubes of pan-seared foie gras, house-smoked duck that is smoked with wood chips three times, and duck jus. Can you believe that no cream was used? Every mouthful of this incredibly delicious risotto set off an explosion of flavours in my mouth. I don't think I've had such a unique and palatable risotto before. This is, no doubt, my favourite dish of the evening! No complaints, I loved every bit of it!
For the carnivores out there who always go for meat, you may want to give the
Iberico Pork Chop($42)
a try. The marinated iberico pork is grilled for 6 minutes, and served with pommery mustard sauce, sautéed vegetables and mashed potatoes. I thought that it could be a tad more tender and juicy, but the overall flavour was pretty good.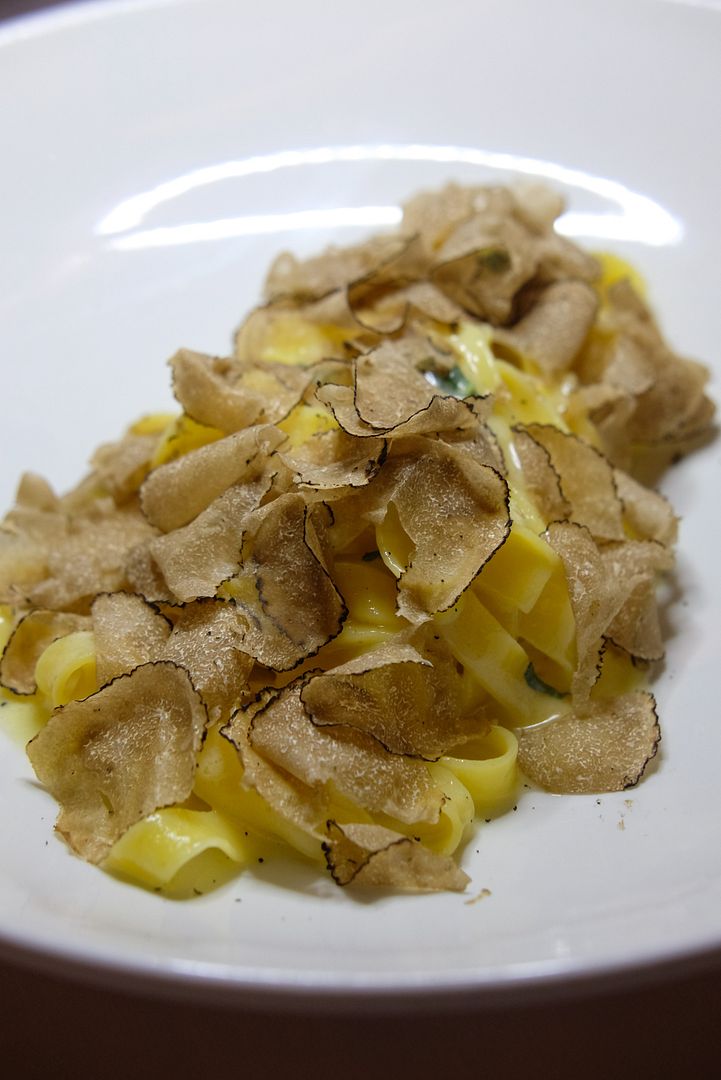 Another dish that stole my heart was the
Fettuccine($38
). A simple concoction of house-made egg pasta, butter, sage, and black truffle, the fettucine was executed to perfection. The pasta had the most flawless texture, and the amazingly fragrant dish was topped generously with black truffles from Umbria. It's rich, and indulgent, but definitely not overwhelming. If you're worried that the dish may get a little jelak after awhile, I'll recommend that you share this with a friend or two. Once again, Tablescape surprised me when they revealed the price tag of this dish. For a dish loaded with so much shaved truffles, you would think that it will be priced exorbitantly. But, it's only $38!! Super worth it, in my honest opinion.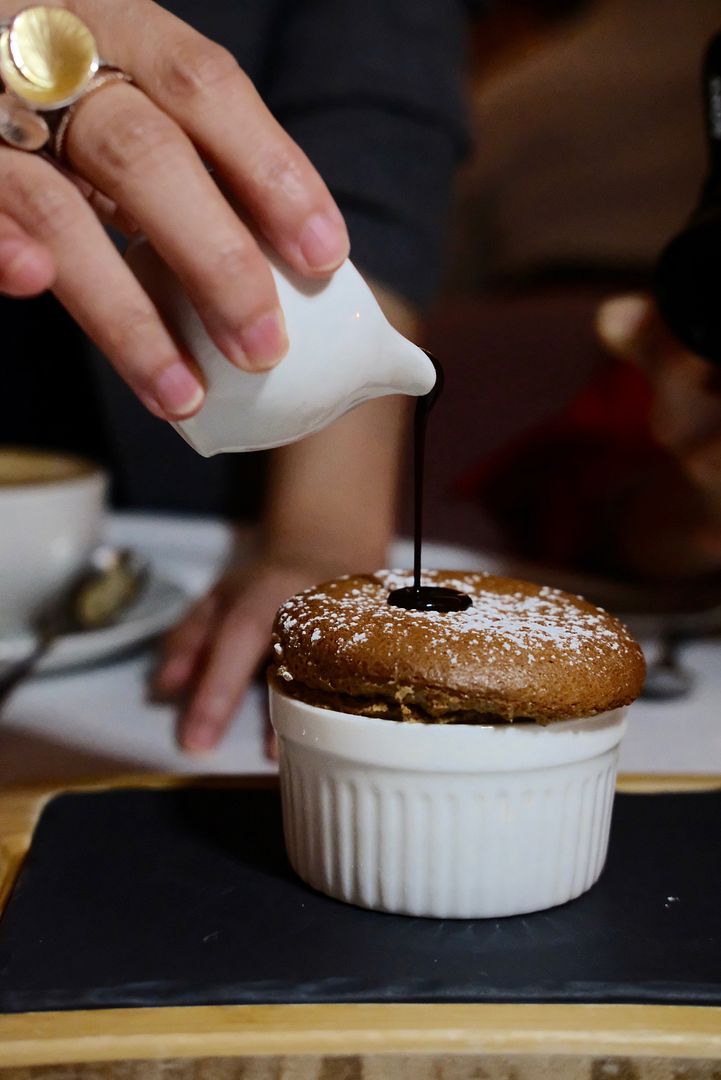 Time for dessert! I'll say go for the
Souffle ($16)!
We had the Valrhona Chocolate rendition and it was warm, fluffy, moist, sinful, and oh-so-good! I believe the Grand Marnier option will be equally yummy.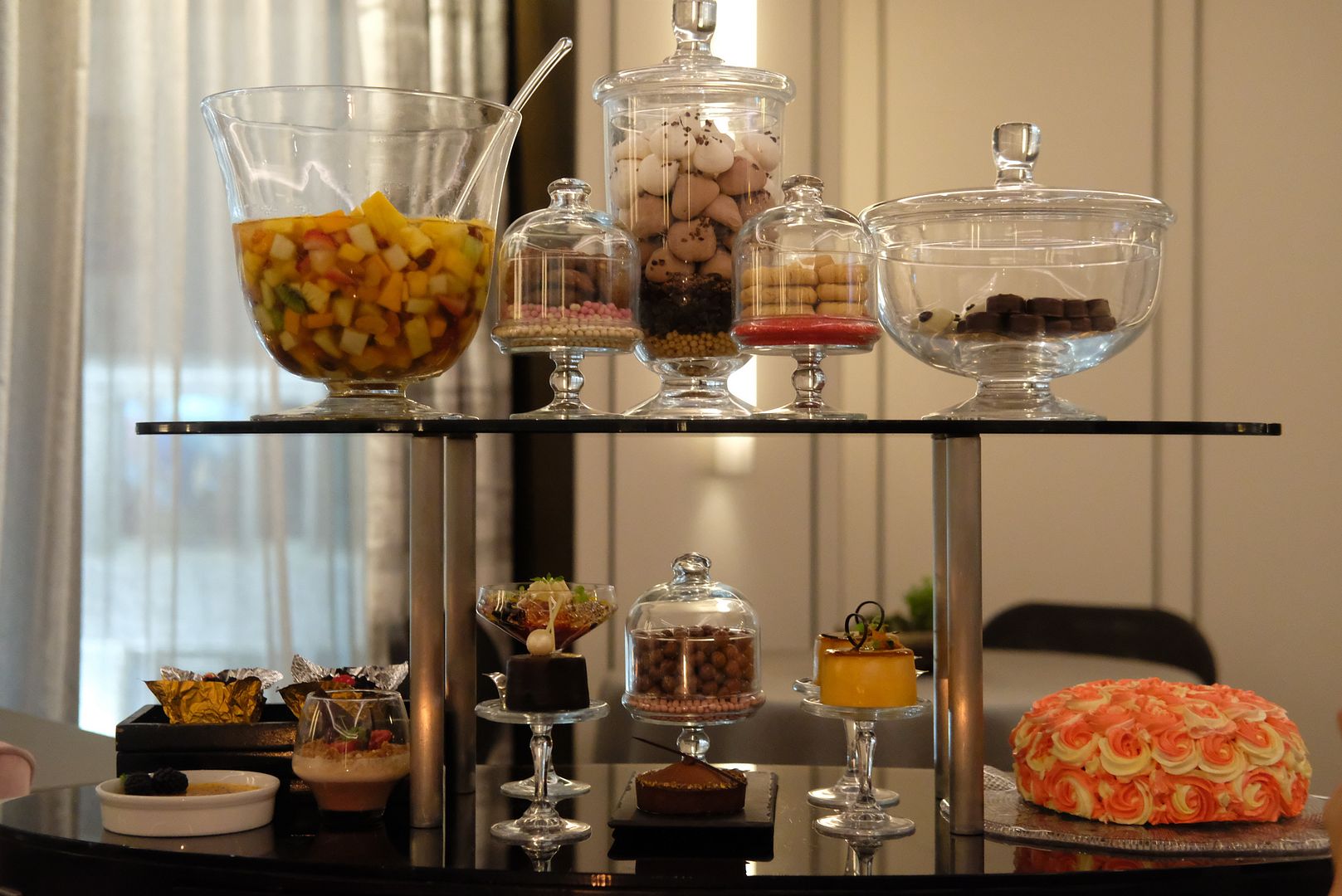 If you're looking for something lighter, you can have a look at the dessert trolley and pick something from the wide selection.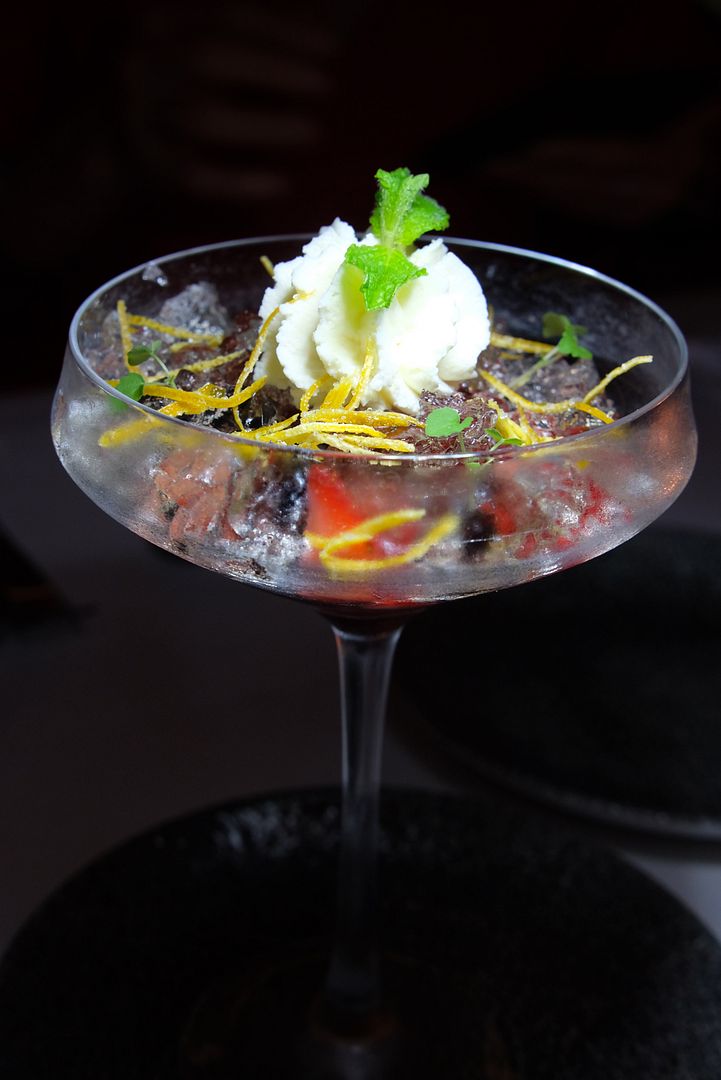 The Modern European restaurant is definitely doing something right. I've been recommending their fettuccine and risotto to everyone!
Grand Park Cityhall
10 Coleman St, Level 3, Singapore 179809
Daily : 12pm - 230pm, 6pm - 1030pm