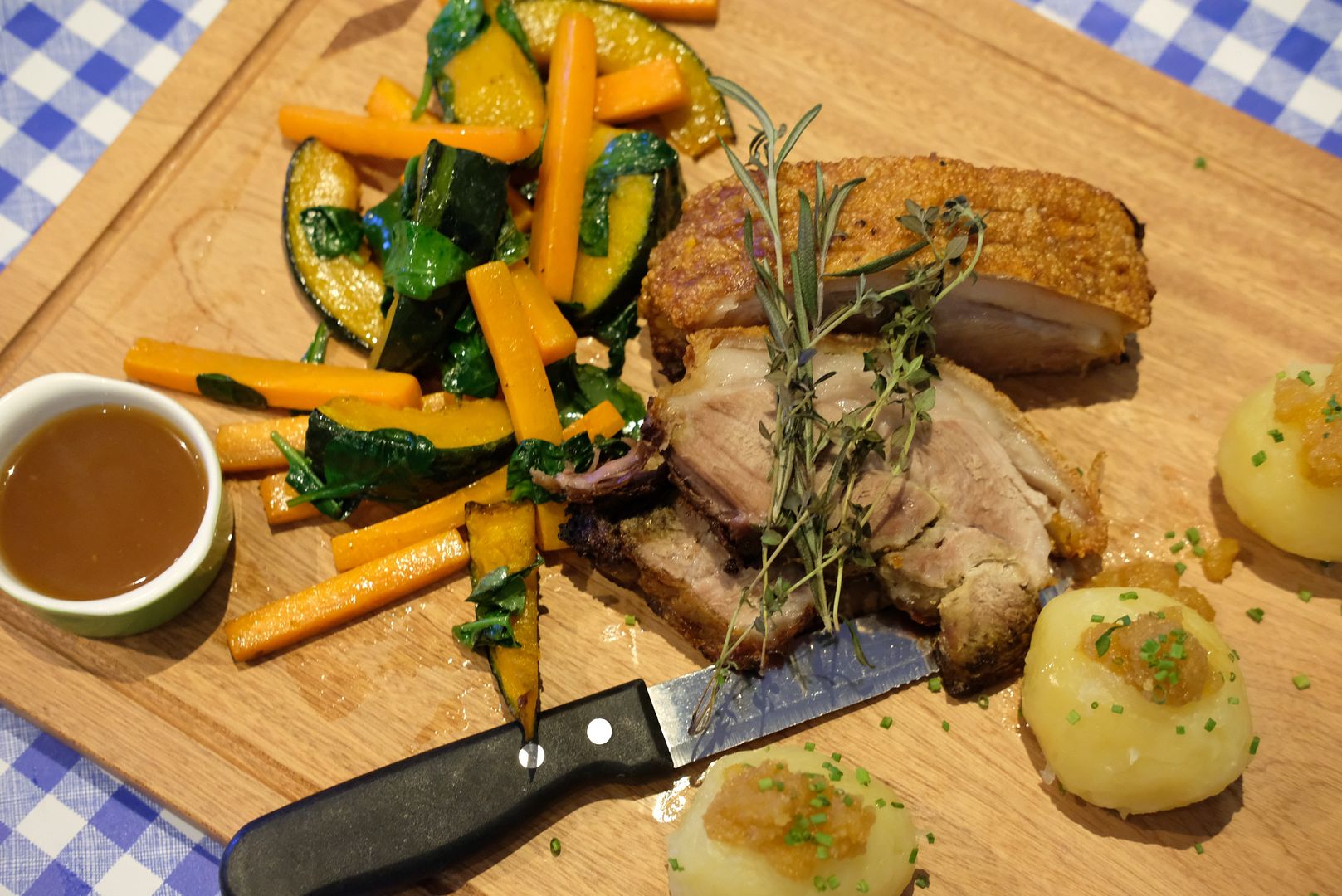 Brotzeit is synonymous with value-for-money hearty German fare and iced cold German beers. With the new appointment of Chef Lorenz Raich as the group's new executive chef, one can expect the food at Brotzeit to be elevated with a touch of finesse. Chef Lorenz has always worked in Michelin-starred restaurants or five-star hotels, so he definitely knows how to take things up a notch. Chef Lorenz joined the group in August and his first project is to roll out a curated Oktoberfest menu which will run till 25th October 2020.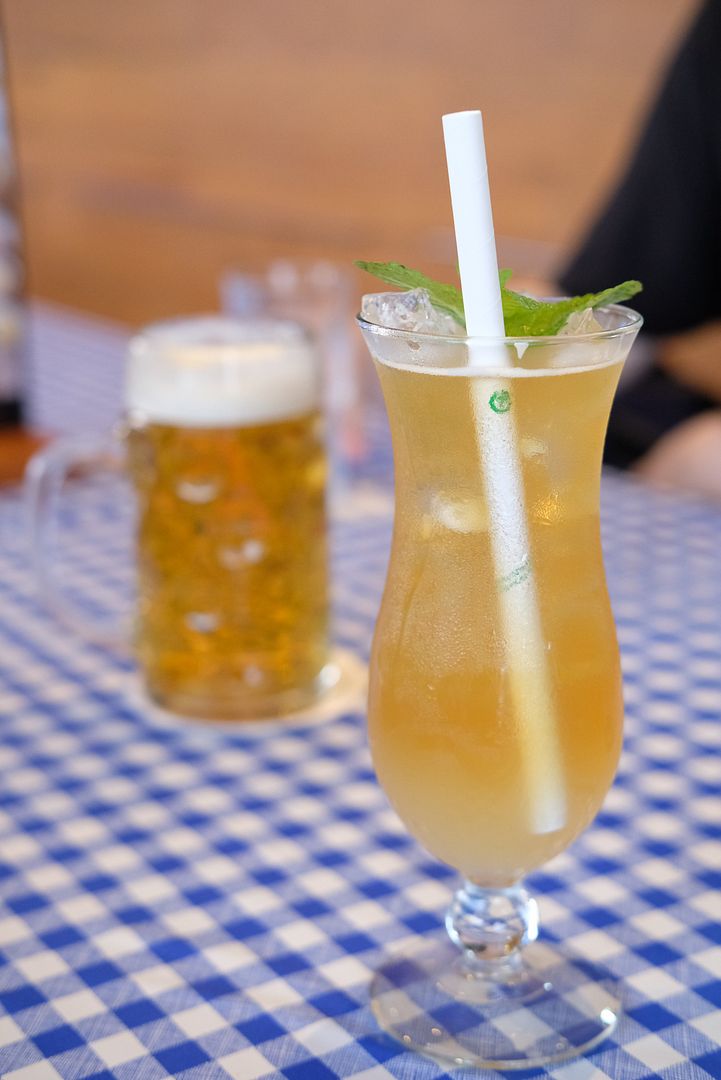 Only six breweries in Munich are allowed to serve Oktoberfest beer. And Brotzeit is the only restaurant to import and serve the Hofbräu Oktoberfestbier from one of the breweries! This beer has a history of 210 years!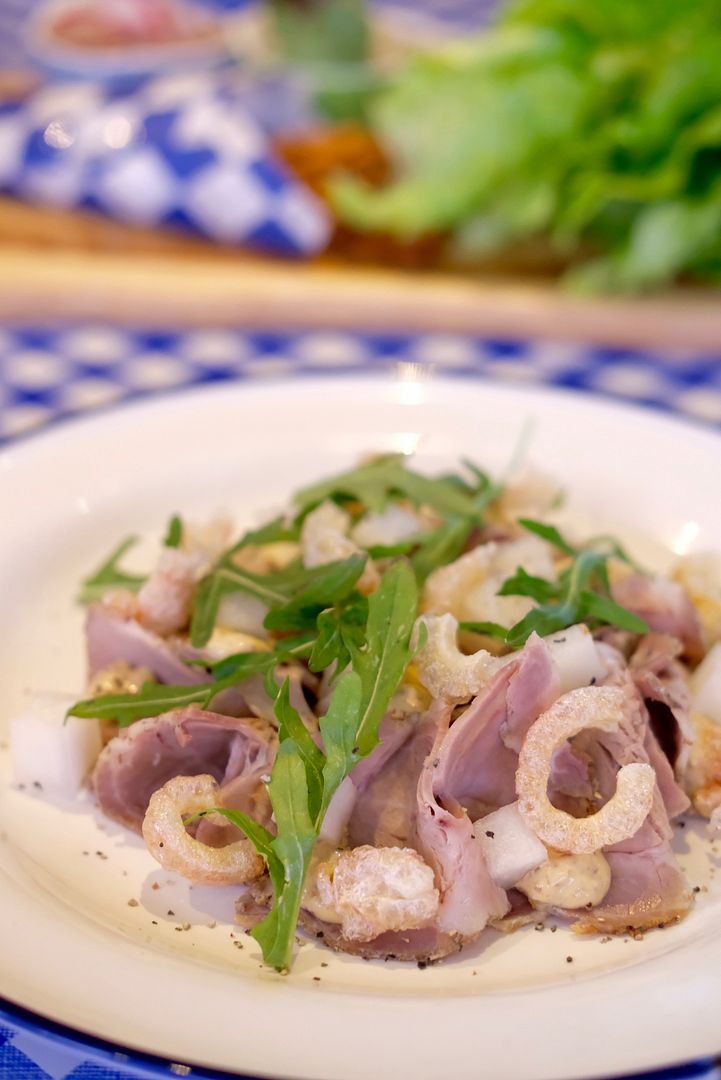 The Cold Roast Pork ($16) is a must order! In Germany, leftovers from Sunday roasts are used to make dishes such as cold meat sandwiches. This dish reminds Chef Lorenz of his grandma's cold roast meats with apricots. Pork collar is marinated overnight in Brotzeit's special 12-spice pork knuckle mix, slow roasted with lager on a bed of root vegetables, chilled, then sliced thinly. The dish is completed with mustard aioli, house-pickled daikon, crispy pork skin, rocket leaves and crushed black pepper. It might not look like much but it was quite a flavour bomb to me. The pork was yummy on its own but the mustard aioli lifted it, and the sourness of the daikon complemented the pairing perfectly. I would definitely order this again!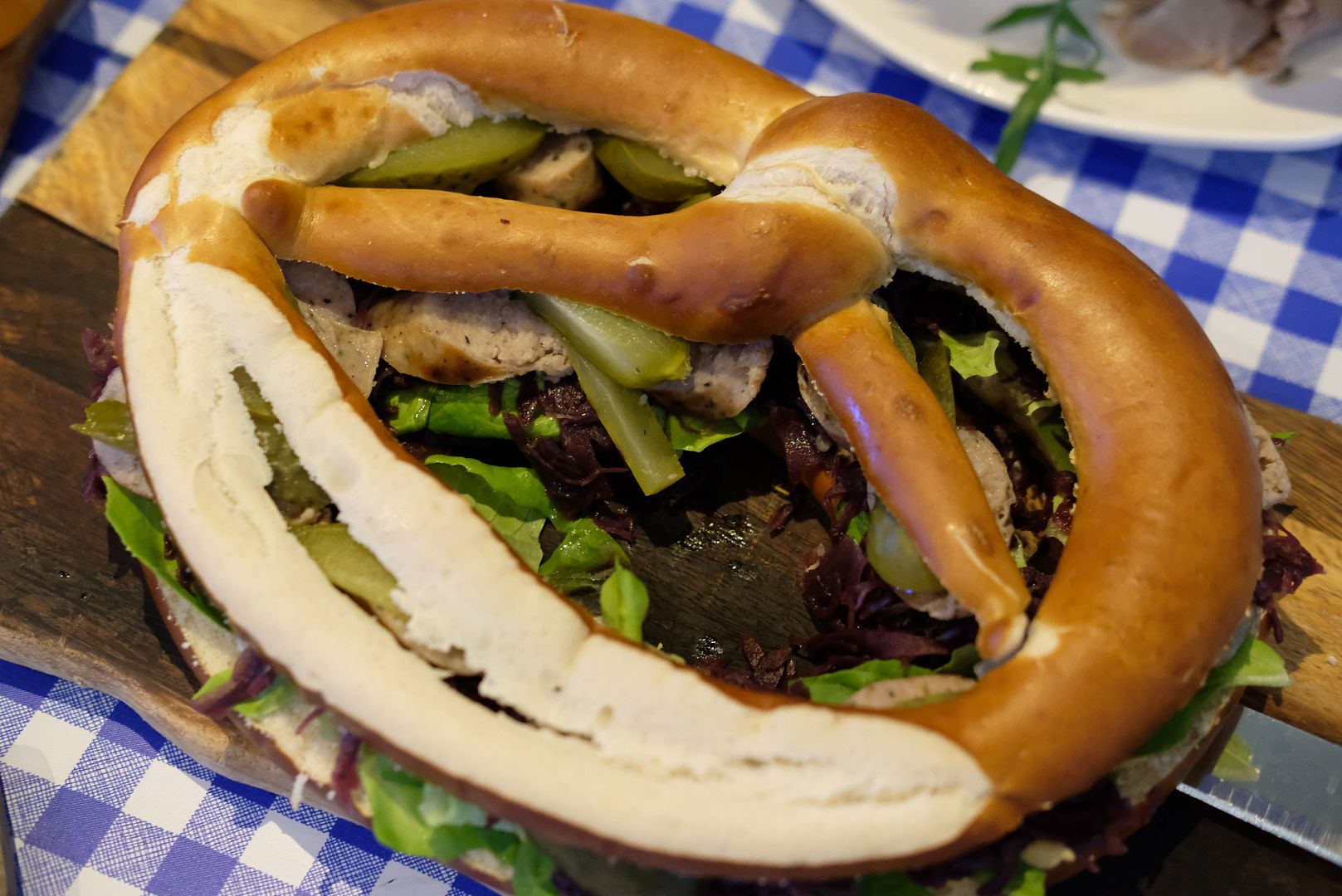 If you've been to the Christmas markets in Europe, you might have seen giant pretzels around. Brotzeit takes giant pretzels up a level by sandwiching it with Farmer's sausage hot mustard, lettuce, tangy red cabbage and pickles. The Giant Pretzel with Farmer's sausage($28) is good for sharing between 2-3 people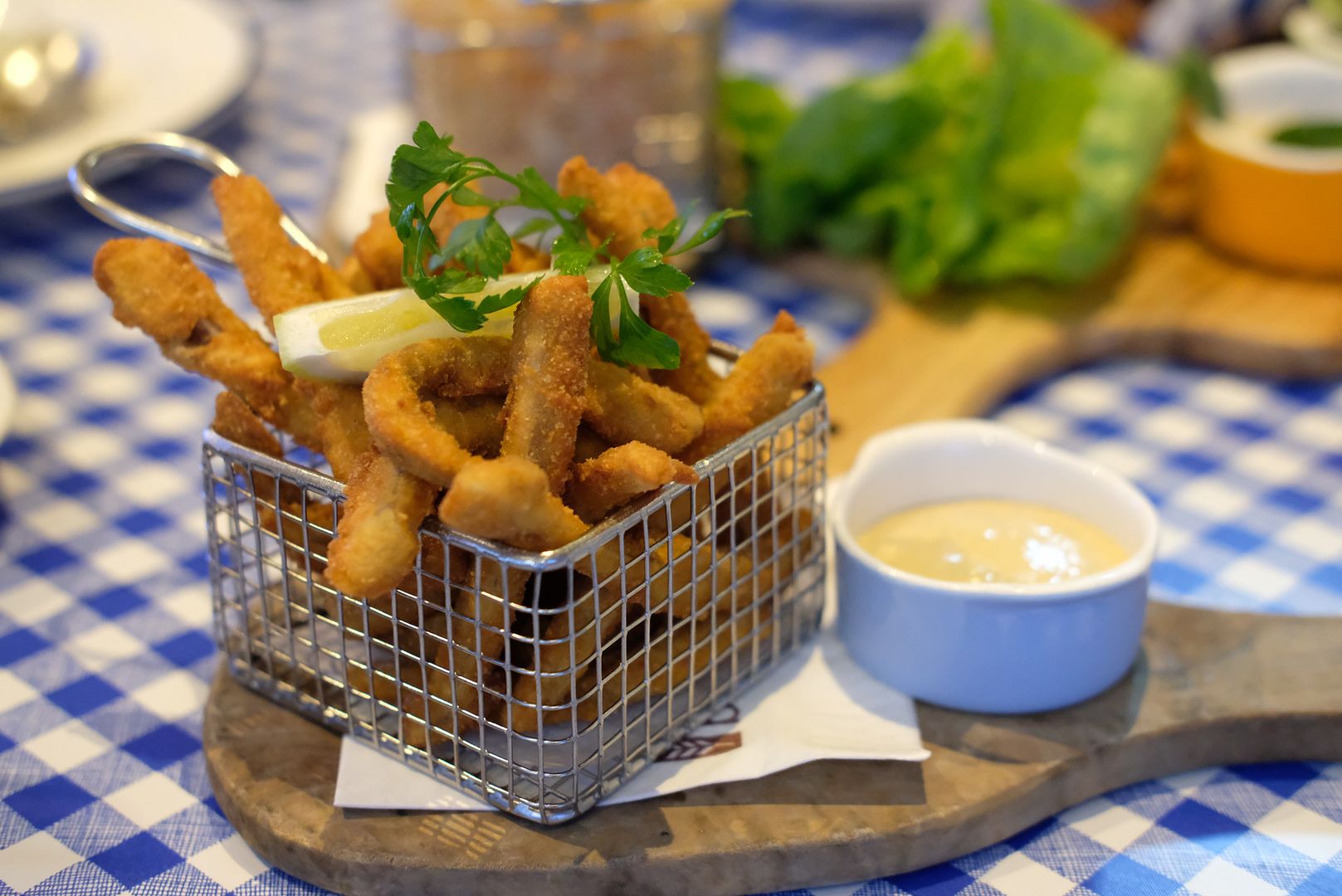 If you're looking for a little snack to kickstart dinner, go for the Crispy Fried Pig Ears ($12) which comes with a house-made mustard aioli. The pig ears have a natural crunch, and you can expect each bite to be accompanied by a crisp in the form of the thin batter that the ears are coated in. It's a delightful little appetizer that's great with a mug of iced cold beer.


Another snack that I will recommend is the Crispy Pork Cracklings ($6). Look forward to airy puffs of pork skin sprinkled with Brotzeit's 10-spice mix. This appetizer might look simple but the preparation process is actually very tedious. So, enjoy it while it's on the menu!


Designed for sharing, the Crispy Roasted Pork Shoulder ($45) takes centrestage together with hand-rolled potato dumplings and autumn vegetables. The pork shoulder is tied with a butcher string and marinated overnight with Brotzeit's12-spice pork knuckle spice mix, then lightly steamed and roasted until skin is crispy. The fatty pork shoulder which had a flawlessly crispy skin was definitely a sinful dish to dive into. I was pretty full by this point so I only ate 2-3 pieces. The vegetables will definitely cut through the fattiness of the pork shoulder, so have a mouthful of the Japanese pumpkin and carrots in between slices of the pork shoulder. While the potato dumplings were an interesting creation, I did not quite enjoy them as much as I thought I would have, especially when I love potato. The dumpling was quite chewy, but it was quite dry and didn't have much of a taste. But the pork shoulder was really good and my dining partners enjoyed the vegetables very much. Will still recommend that you get this to share! Very good value, if you ask me!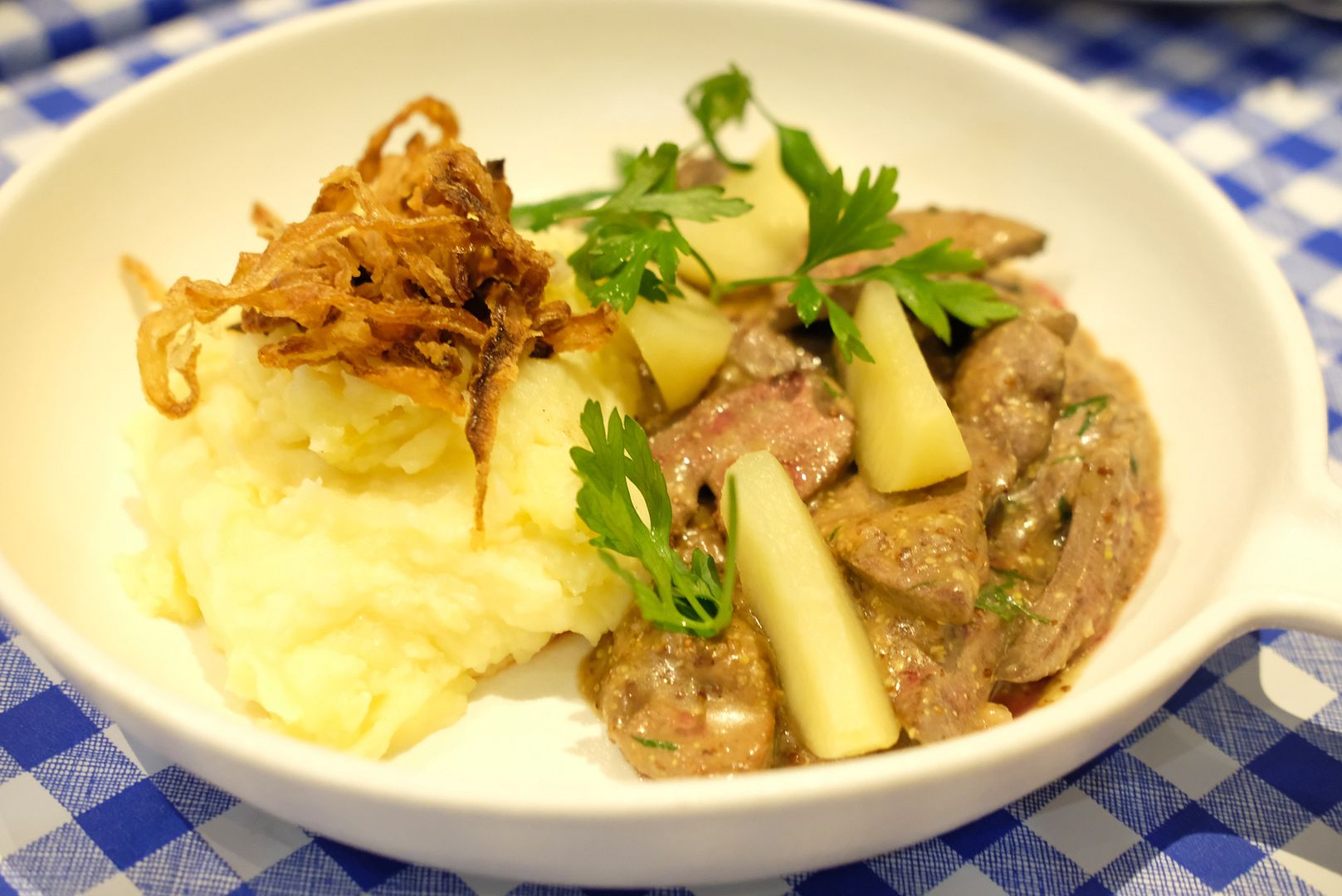 Roasted Pig Liver ($26) may seem like an odd dish. Most of us are familiar with pig liver in congee or in other Chinese dishes, but hardly do we come across liver on a Western menu. Chef Lorenz has done a wonderful job with the liver here. 180g of pork liver is seasoned and lightly coated with plain flour, then seared with yellow onions on high heat. The pan is then deglazed with pork jus, vegetable stock, butter, and wholegrain mustard, and the dish is cooked on very low heat till the liver reaches medium doneness. The distinct and characteristic taste of liver was very pronounced, and the liver had a lovely texture. I'm not a big fan of liver, and I kinda avoid it at all cost but I gave this a try, and it's strangely delicious. I had 3 pieces of it! I love the pairing of sweet Fuji apple slices and the liver, and absolutely enjoyed the mashed potato with fried onions! Even though the liver was cooked in mustard, I couldn't really taste much of it. Perhaps it's just supposed to lend an ever so slight touch to tame the natural taste of the liver. Liver is not a dish that everyone enjoys but if you love it, or don't mind it, you have to give this rendition a go.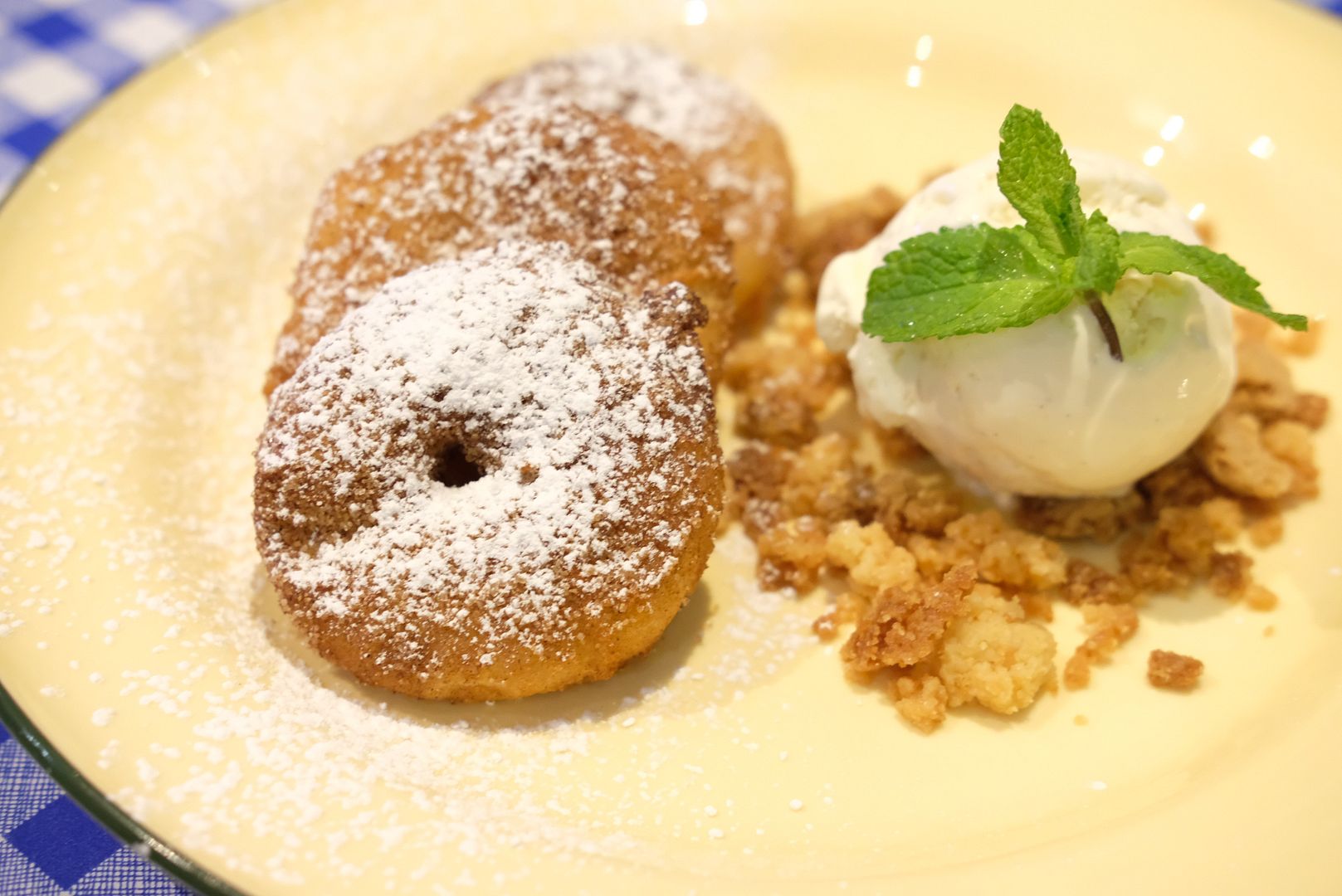 Time for dessert! Do these look like donuts to you? They are actually beer Battered Fried Apple Wheels ($11). Deceptively simple looking, these fried Fuji apple rings, which were light and non-greasy, were the perfect dessert to round off the meal. The apples were really sweet, and the batter was thin and lightly crisp. What a fantastic dessert! It doesn't look like much, but it definitely will please your palate!
Oktoberfest will be in full swing at Brotzeit from now till 25th October 2020. So, make a reservation as soon as you can if you want to get a taste of these limited edition dishes that are specially crafted for beer lovers' favourite festival!
1 Harbourfront Walk, #01-149