Avenue 87 is the newest kid on Amoy Street, and the brainchild of 2 Singaporean boys, Glen and Alex, who were born in 1987, and who grew up in Hougang Avenue 8 and 7 respectively. Hence, the name Avenue 87 seemed more than apt. With strong culinary backgrounds and stints at reputable dining establishments, the two came together again after their last working partnership at Tippling Club years ago. Even though Glen is based in Shanghai at the moment, he and Alex managed to work seamlessly together, virtually, to craft the modern Asian menu which is inspired by familiar flavours of childhood and their favourites dishes. The duo elevates local favourites with finesse and contemporary takes, while using ingredients from local and regional partners Are you ready to go on a nostalgic journey with Avenue 87?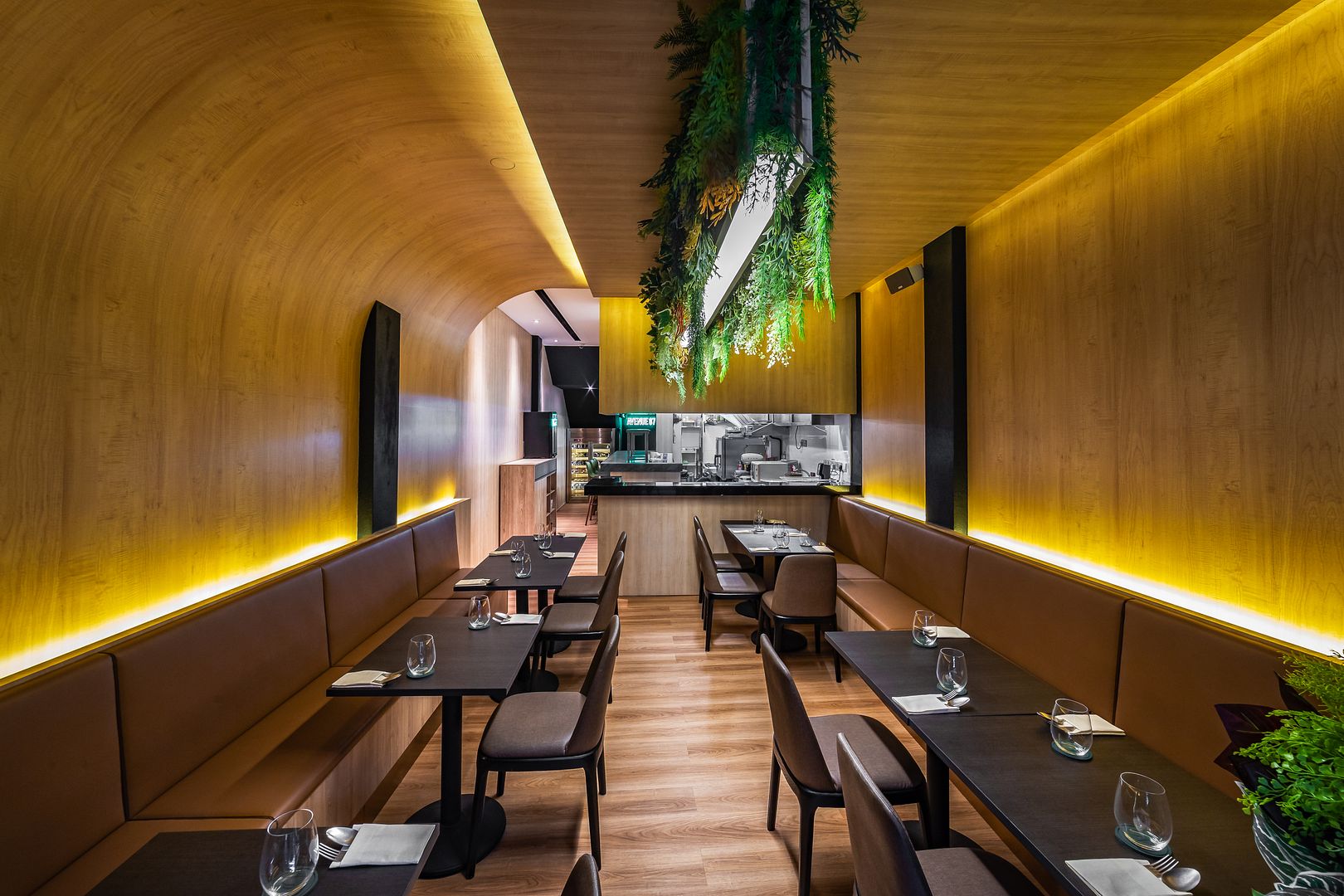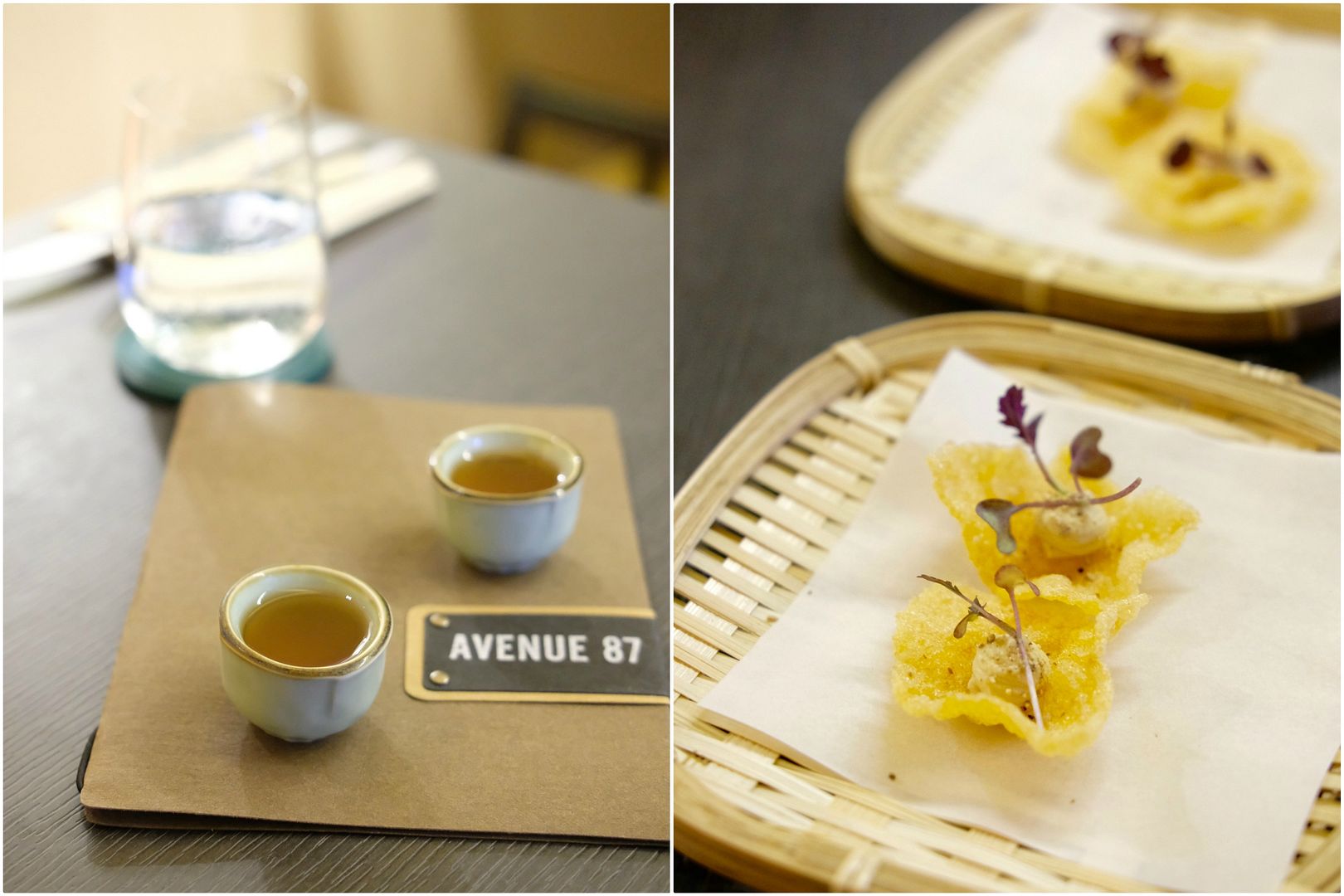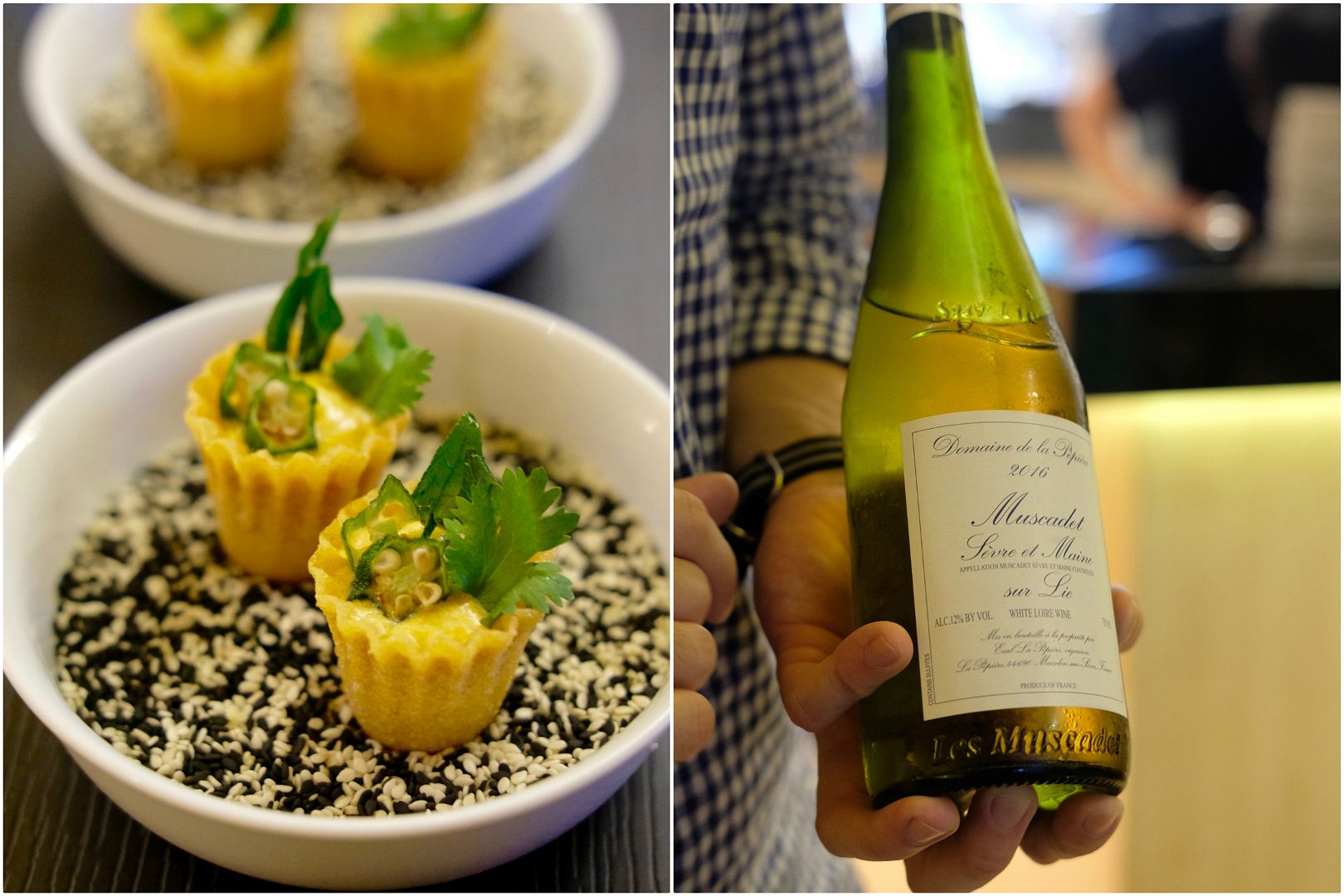 The 6-course menu ($98) with wine pairing ($50/3 glasses, $80/5 glasses) started with a tasting portion ofAVE87 Tea($5/hot, $7/iced), the restaurant's take on the traditional 8 Treasure Tea. Two snacks arrived shortly after. The deep fried Chicken Chips with sour cream and Mizuna Cress draws inspiration from how ikan keropok is made. It is a quick pop of light flavours that came together nicely. The second snack was Avenue 87's very unique meatless rendition of assam pedas that is inspired by the curry fish head they the duo always have at one of their favourite tze char haunts in Hougang. This bite-sized parcel packs aerated assam pedas, eggplant, lady's fingers, cherry tomato, and curry leaves. I really enjoyed it despite there being so much vegetables inside! The assam pedas was totally on point.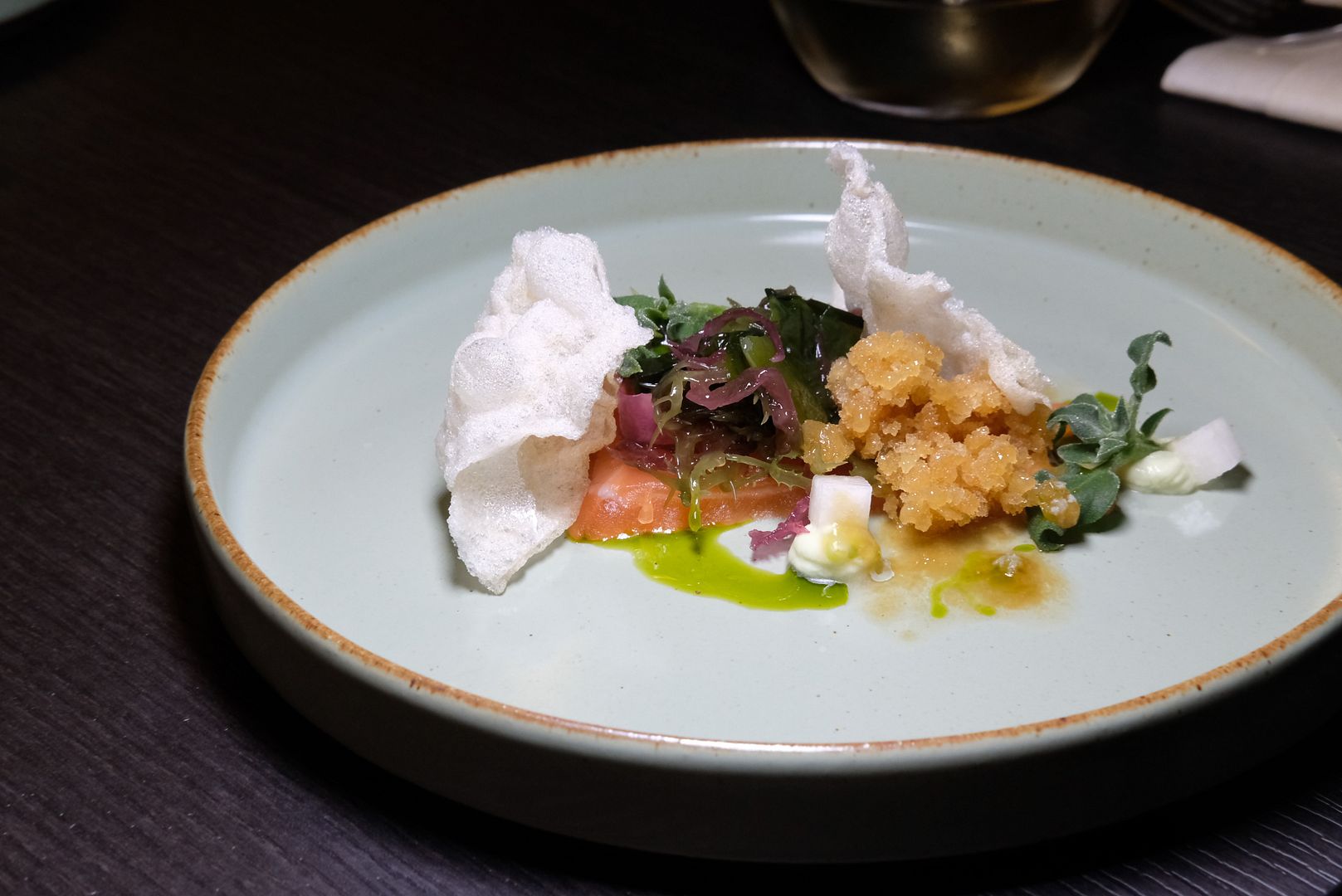 The first course arrived shortly after the first glass of wine did. The plate holds Fresh Norwegian Salmon sashimi, diced crystal pear, sour cream, ponzu-pickled wakame, soy wasabi granita, and Vietnamese rice paper crackers. There's alot going on, and while I found the textures and contrast in temperatures interesting, the dish was also at the same time a little confusing.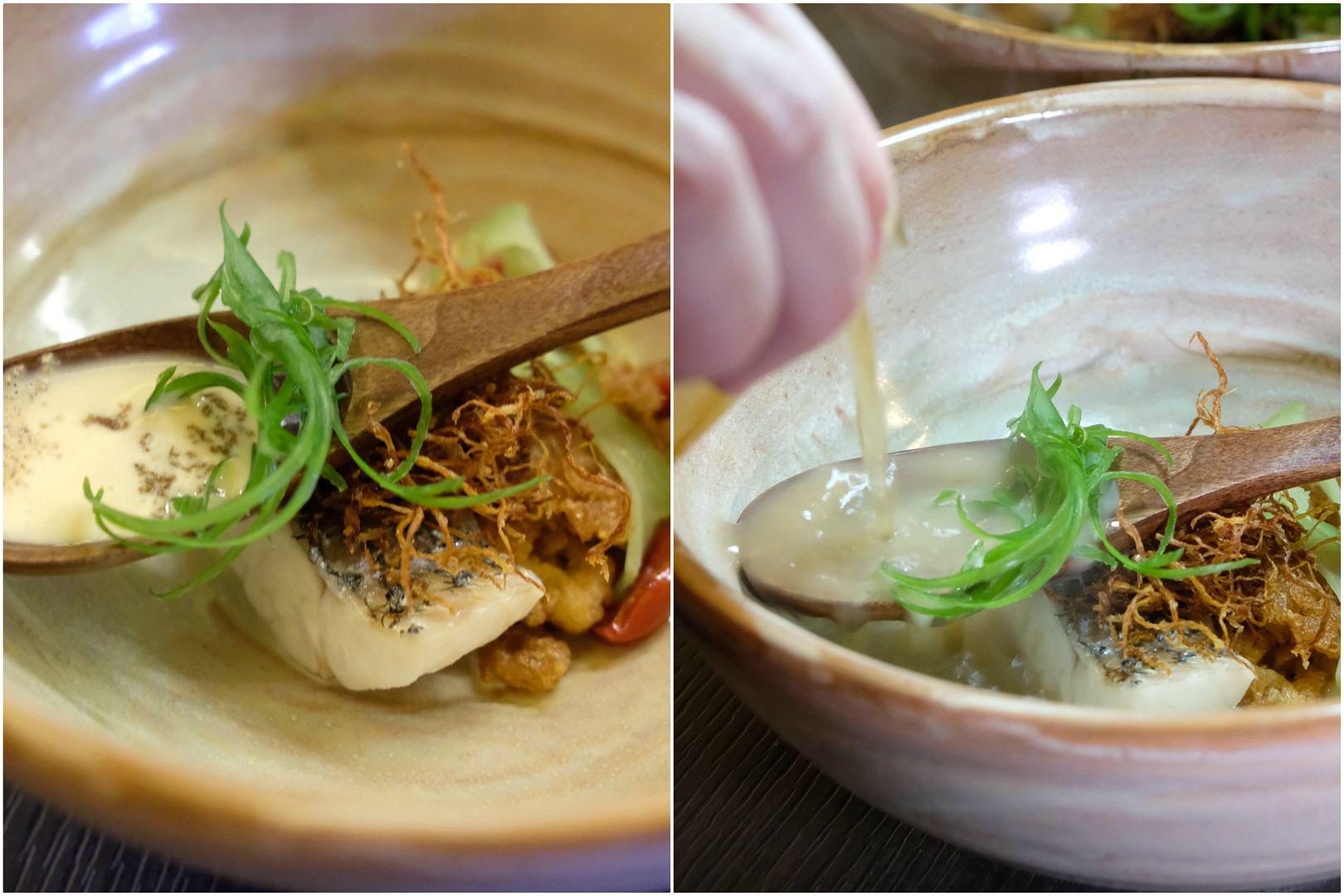 AHK Seabass was up next. Avenue 87's take on a comforting bowl of fish soup might look simple, but it's the result of tons of hard work and a laborious preparation process in which every component is made from scratch. During the recipe development process, Glen, who couldn't find sole fish in Shanghai, decided to use anchovies instead. He discovered that anchovies lent a deeper umami to the broth and the duo decided to stick to it. Sea bass from Ah Hua Kelong is served with compressed bitter gourd, semi-dried cherry tomato, deep-fried egg floss, and anchovy butter milk sauce in a spoon. The fish soup is poured into the spoon so that it mixes with the butter milk sauce, and flows into the bowl. As the server pours the soup gently into your bowl, don't be surprised if you catch a lovely fragrance coming from the soup. The soup smelled really good so I was expecting pretty strong flavours but the soup was light and packed with subtle savoury notes. This allows diners to pick up the freshness of the tender but firm seabass easily. Comforting, indeed.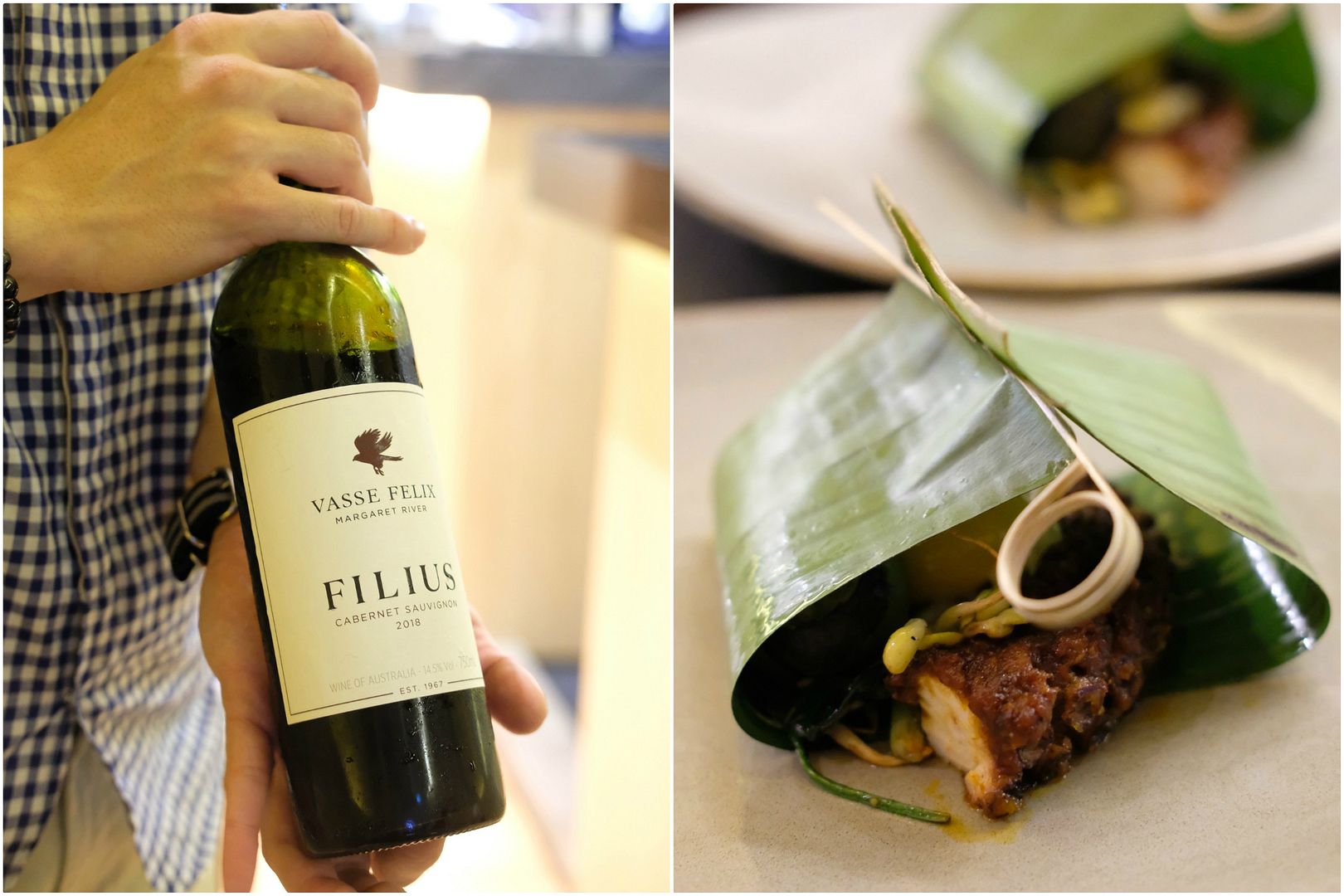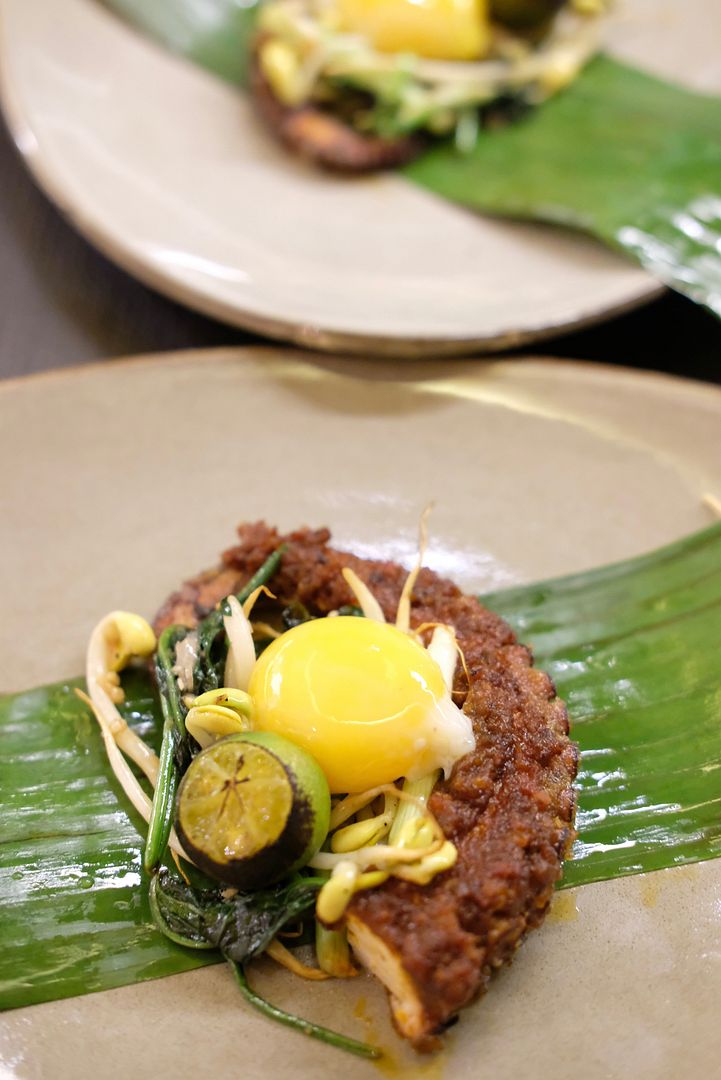 Gotta love the presentation of the grilled Octopus leg with a torched calamansi in a banana leaf! Glen and Alex love octopus grilled Spanish-style, and decided to combine it with Glen's mother's sambal recipe. Alex added the confit egg yolk, which he felt rounded the spiciness of the house-made sambal and brought together all the flavours and textures in the dish. This, I completely agree with. The sambal was a tad too spicy for me but spreading the egg yolk over the meaty and crunchy octopus leg made it more manageable and even tastier. The stir-fried market greens vary from time to time, but Alex knows Glen actually hates beansprouts and decided to add it to irk Glen (sounds like something I will do, so I approve of the action, not the taugey). I enjoyed listening to the stories behind the conceptualization of each dish because the two chefs really have great camaraderie and it seemed like they had a lot of fun in the process!

The chefs understand that not everyone is a fan of lamb. Hence, I was presented with the option of switching the lamb to beef rendang. However, I was told that the lamb is outstanding. So, despite my major dislike for lamb, I stuck to it. And boy was I glad that I made this decision! You can look forward to a beautifully-executed Vietnamese-style marinated Australian baby lamb rack generously drizzled with locally sourced stingless bee honey sauce, and grilled Thai eggplant. The lamb was truly remarkable — it was tender, juicy, and was pan seared and baked to perfection. It was seriously good! That characteristic lamb taste wasn't too strong, and was complemented perfectly by the honey. This dish which is inspired by memories of Alex's holidays in Vietnam and his enjoyment of the local street food is a real stunner. I'm sold!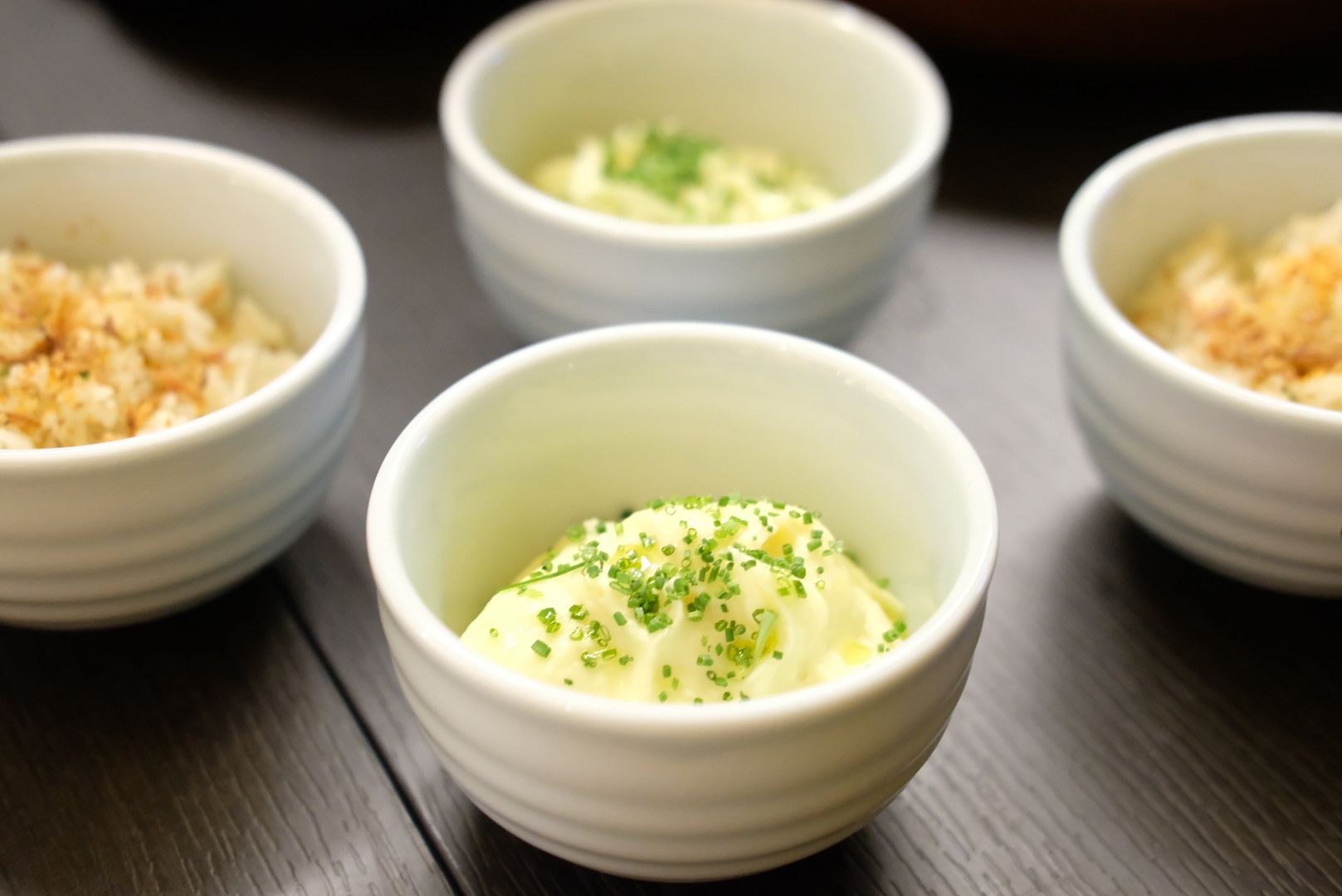 The fourth course comes with a choice of egg fried rice or garlic potato mash. If I was alone, and could only choose one, I would really deliberate over this for a long time. I love rice and potato!!! Thankfully, I had company so I got to try both! I especially enjoyed the smooth potato!


Before we moved on to dessert, we had a little pre-dessert made up of Greek yoghurt mousse, house-made granola, red dragon fruit and red-spiced honey.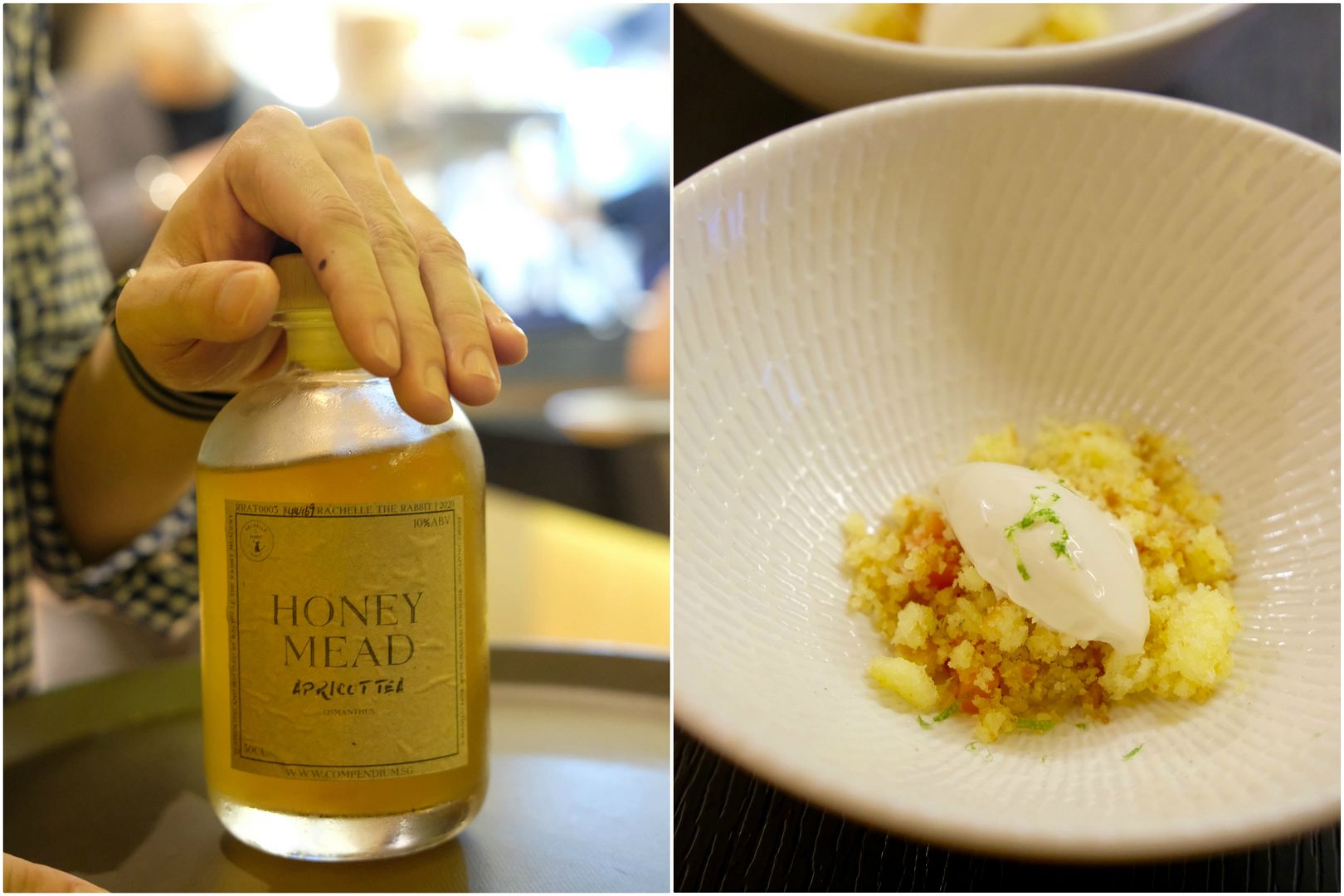 The beverage specialist, Si Hao, did an excellent job with the wine pairing. And this Honey Mead Apricot Tea was my absolute favourite. This dessert is like a little tropical fruit cake. There's Coconut icecream, pound cake crumble, papaya and caramelised pineapple.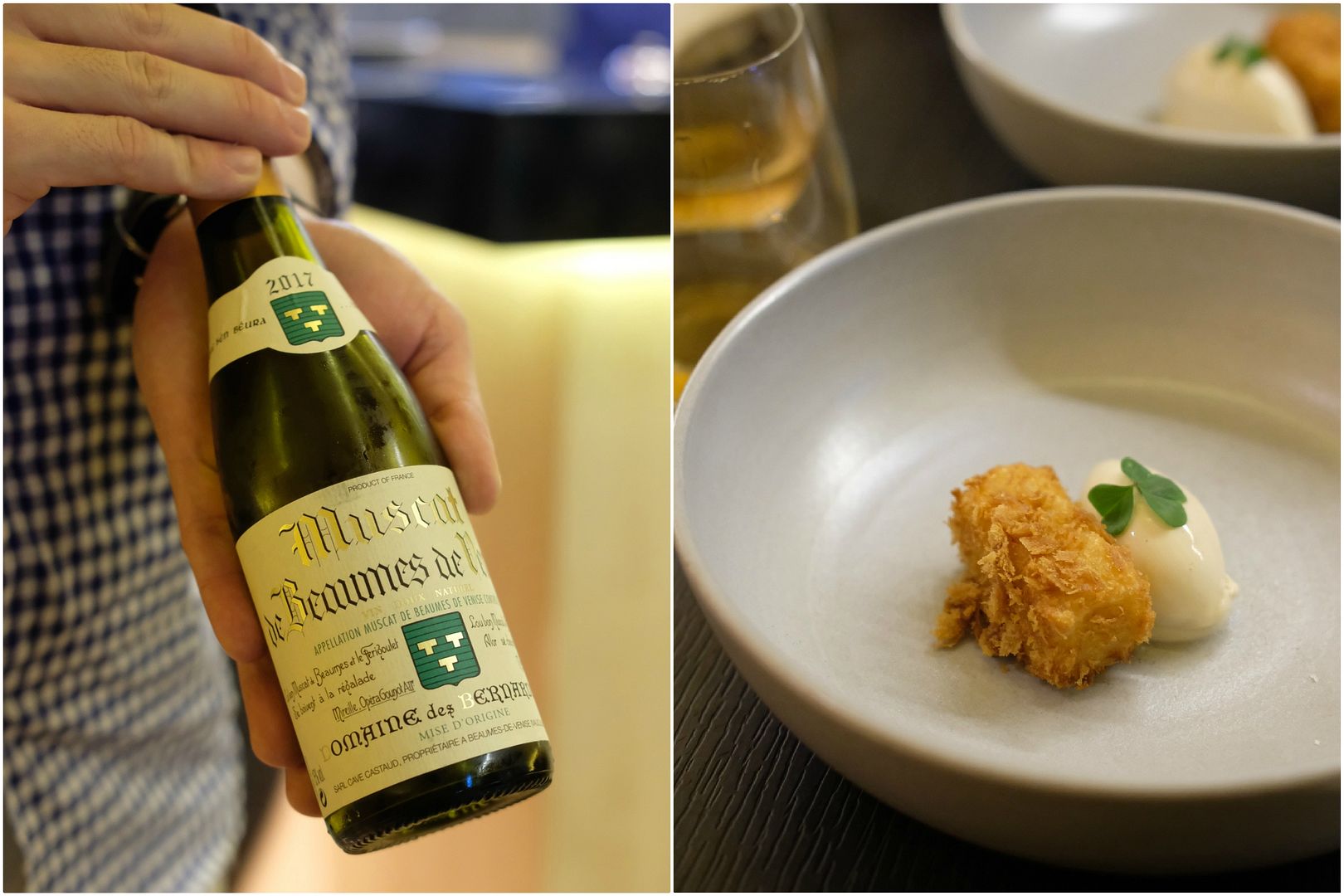 And the final course of the night was an adorable and delicious package called Pisang No Goreng. Alex had been thinking of the concept of this dish since his days in culinary school. Sink your teeth into a brilliant coconut custard wrapped in a thin crisp golden batter that's accompanied by a scoop of house-made banana ice cream and a splash of gula melaka. I can easily finish at least 3 portions of this! The meal concluded with a tasting portion of Lotus Root Tea($4/hot, $6/iced).
If you're looking for a fun modern Asian meal, pop by this space and support our two homegrown stars who head a stellar team of young Singaporeans!
Monday - Friday : 1130am - 230pm, 530pm- 10pm