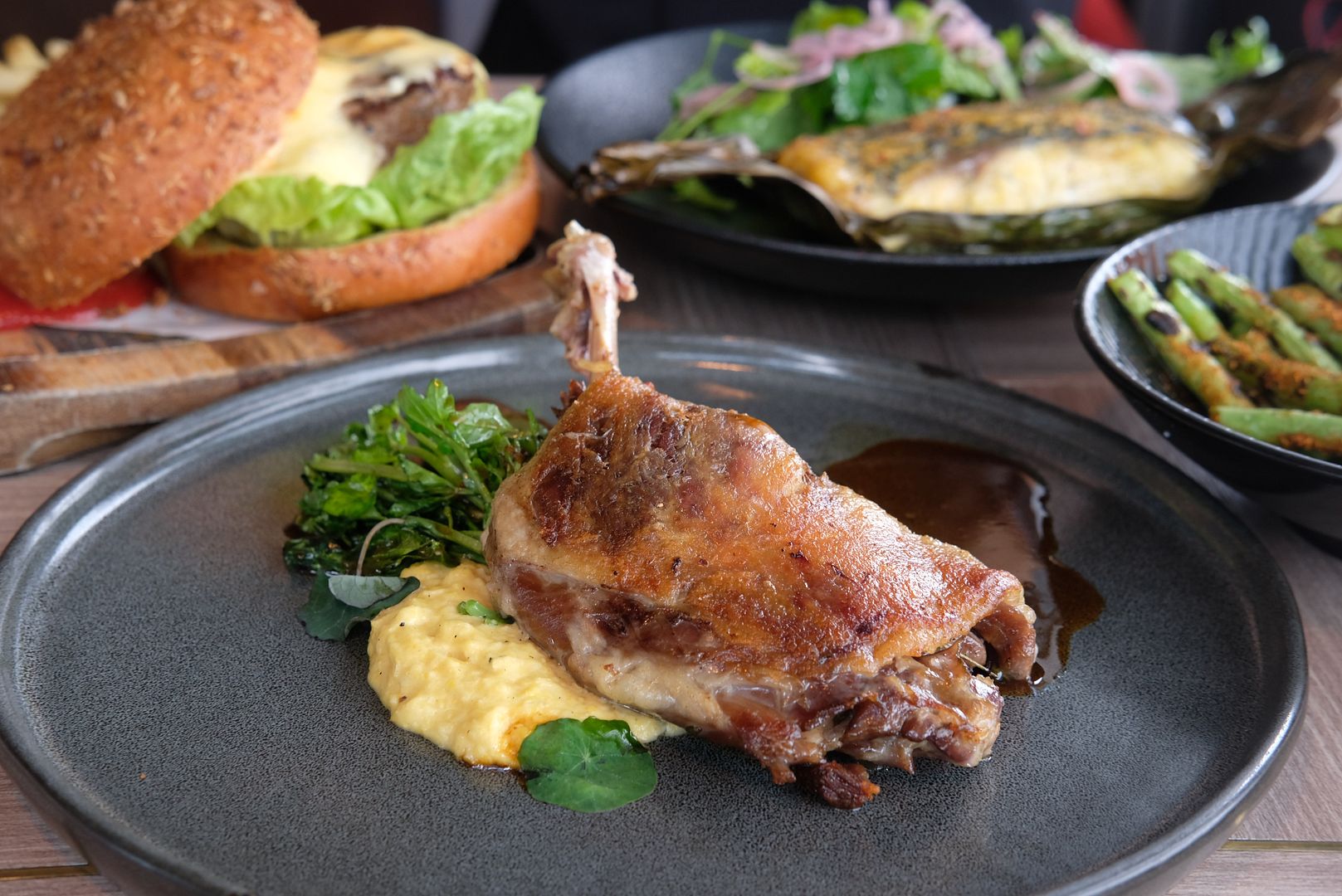 Perched on level 33(of course) of MBFC, LeVeL 33 is the world's highest microbrewery. Setting up of this place was a real tough job because the giant tanks required for the brewing of the beer couldn't fit into the elevators. Imagine the amount of work needed to lift numerous tanks up by cranes to the 33rd floor! Talk about dedication! Apart from brewing their own beer, the brewery does pretty solid food, and might possibly be best known for its spectacular view of the Marina bay area, where crowds most often gather for fireworks display come New Year's Eve or National Day. LeVeL33 is also known for their value-for-money Executive Set Lunch which runs from Monday to Friday.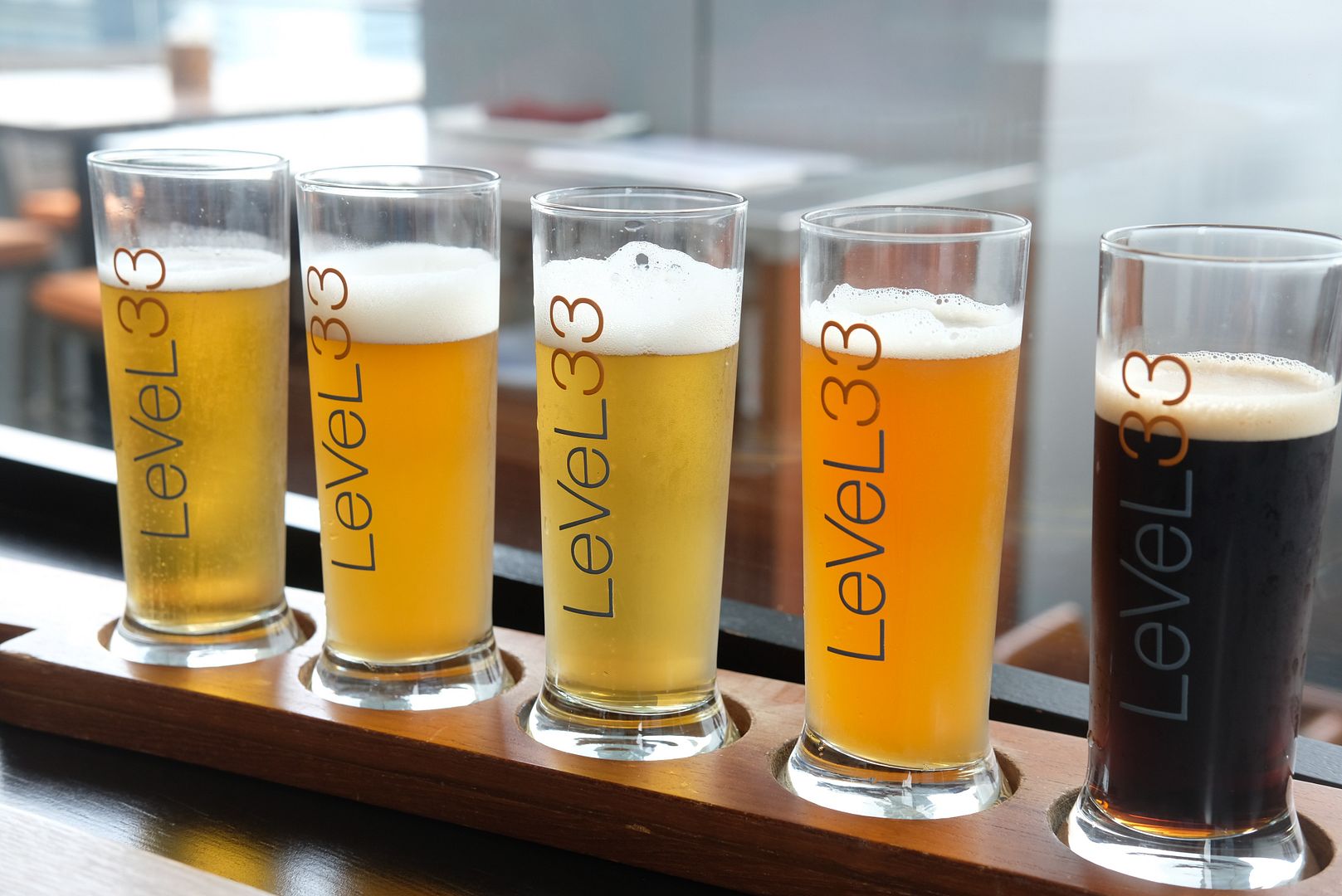 Of course, you can't visit LeVeL33 and not try their beers right? Well, to be frank, I really hate beer so I wasn't very keen but decided to try the Beer Tasting Paddle($23.50) which offered 5 0.1L glasses of different beers. This is perfect for those who can't decide what to get, because everything looks good! I thought the 33.1 Blonde Lager was not bad. I actually finished it! The 33.9 Wheat Beer was decent as well. I didn't quite fancy the rest as they were heavier in their taste profiles but my dining partners sure enjoyed their beers.

The Executive Set Lunch ($42) comprises a raw bar plated buffet appetizer selection and a main course of your choice.
Raw Bar :

- green leaf, pasta and vegetable salads such as rocket, romaine, potato and beetroot salads
- seafood such as mussels, clams, salmon gravlax, fresh prawns, and peppered mackerel
- cold cuts such as spicy salami, speck, pastrami, chorizo and blackforest ham
- cheeses such as brie cheese, cabra al romero (rosemary coated goat cheese) and murcia al vino (goat cheese washed with red wine)
- fresh fruits such as orange and watermelon.

Main Course :
Classic Brewery Burger & Fries
Fish & Chips
Steak +$5
French Duck Leg Confit + $3
Halibut
Tomato Concasse Stew
Really good value for money if you ask me! You can stuff yourself silly with a great selection of appetizers before your main course even arrives. There's just no way that you will leave LeVeL33 hungry or displeased.

House-baked sourdough bread with roasted yeast butter is served on every table upon seating. The bread and butter is a winning combination for sure!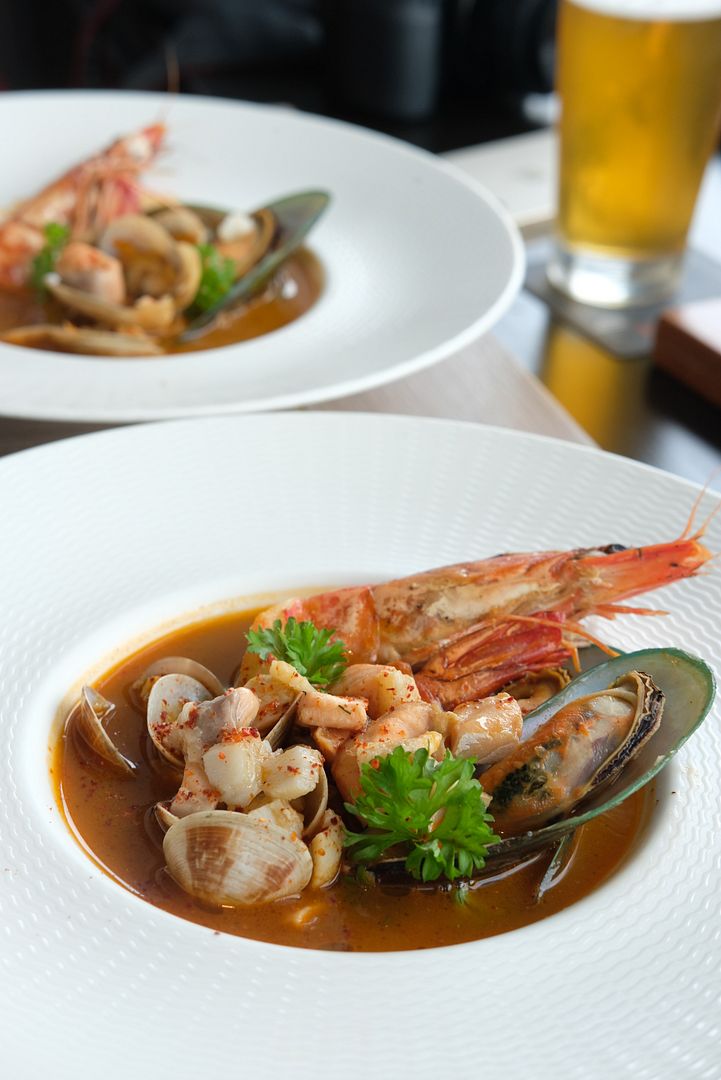 I'll strongly recommend that you get the comforting Ah Hua Kelong Seafood Bouillabaisse($9) which is packed with the natural sweetness and brininess of fresh local seafood. The broth is made with fish bones, shellfish, prawns heads, clam meat, vegetables, mirepoix, leek, orange skin, tomato paste and white wine (a classic addition). It's pretty addictive and I would have wiped up all the soup with the sourdough but I was already getting quite full before my main course even arrived. The soup promises a generous serving of seafood, so it's a pretty huge bang for the buck, if you ask me.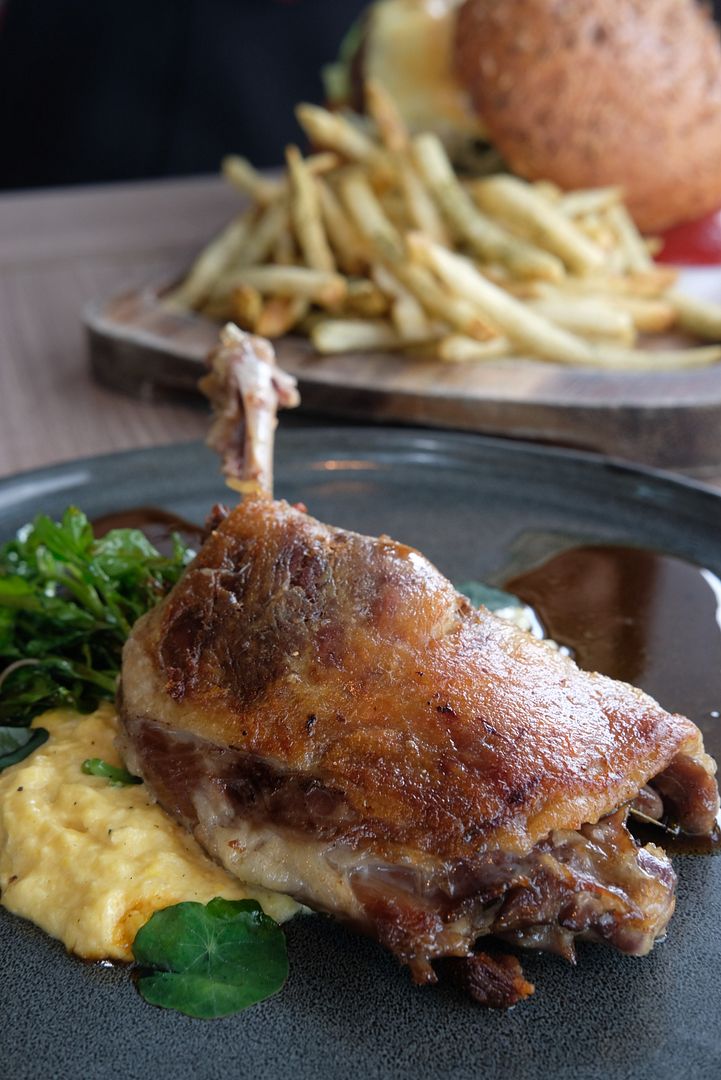 Armed with a lightly crisp skin, the French Duck Leg Confit which is marinated overnight and confit in duck fat for 3 to 4 hours rested neatly on a bed of smoked sweet corn puree, and is accompanied by pan-fried watercress, sautéed white pearl corn, and Brandy jus. I thought the duck leg could have been a tad more tender, and juicier though. Yellow corn is charred over Binchotan grill, then blended into a purée to yield the incredibly sweet corn puree that won me over instantly.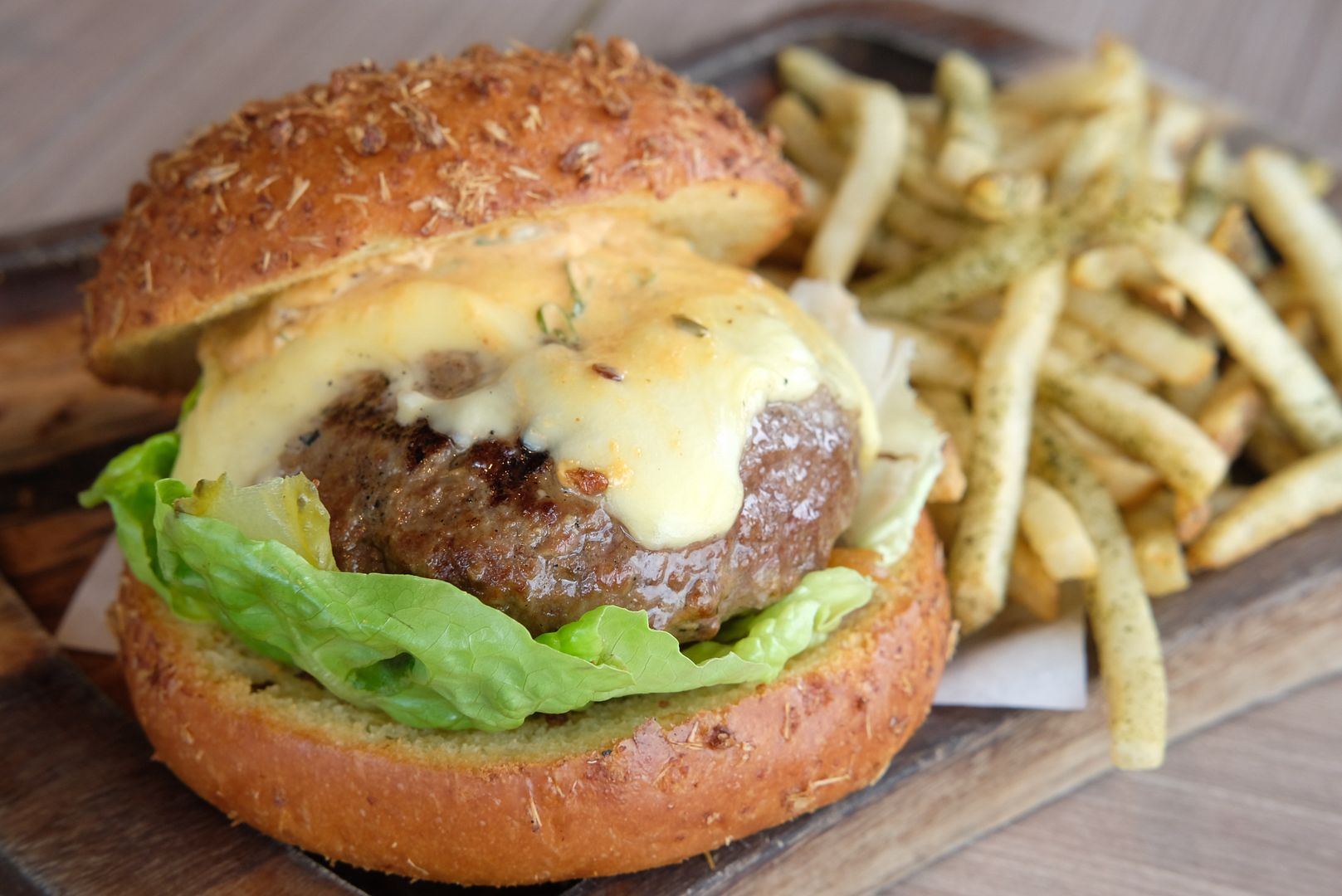 The Classic Brewery Burger & Fries is probably one of the top 2 most ordered mains here. The other would be the Fish & Chips. I really had a hard time deciding which to go for because both options were calling out to me, as always. In the end, we got the burger because I was told that the crispy beer malt artisanal brioche bun is excellent. Breads and buns are my weakness, so how could I say no? The bun was indeed soft and buttery and I love that it's speckled with beer malt so there's a little play in texture. Cooked beautifully to a medium, the Wagyu beef patty was juicy and had a pretty good bite. And hey, they don't just serve regular fries, they serve seaweed fries yay!

And if you're up for some vegetables, you might want to consider the Grilled "Ugly" French Beans ($8).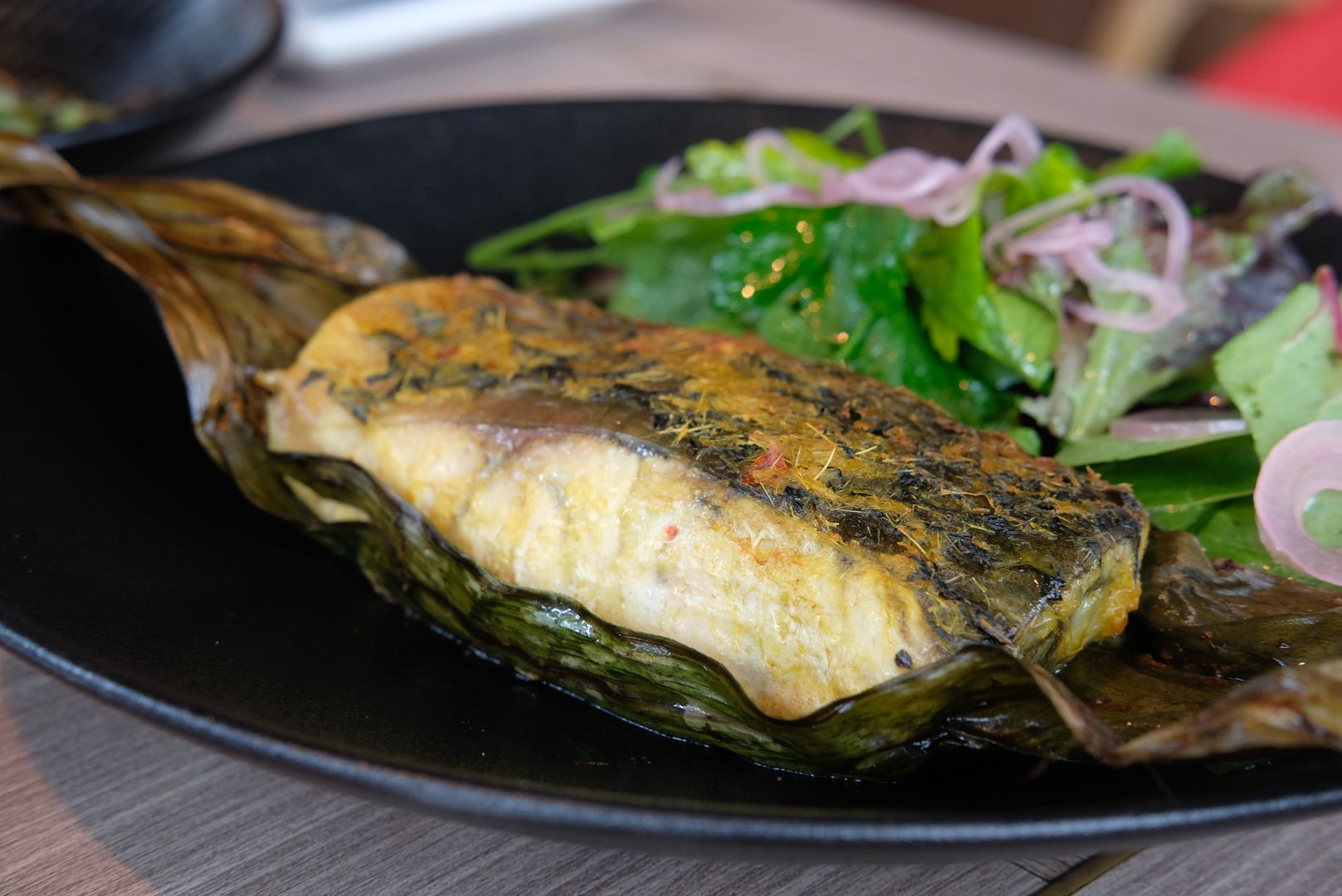 We managed to try the Local Barramundi from Kuhlbarra ($36), which is available on the dinner menu. Inspired by Singaporeans' favourite grilled stingray, the fresh barramundi is marinated in turmeric, lemongrass, chilli and fish sauce for 24 hours and wrapped in banana leaf before being grilled. You know you can't go wrong with fresh good quality seafood. And LeVeL33 sure did the barramundi justice by letting its pristine flavours shine. The thick slab of fish was perfectly cooked, and I love that the sweet juices of the fish just ooze out in every bite. So good.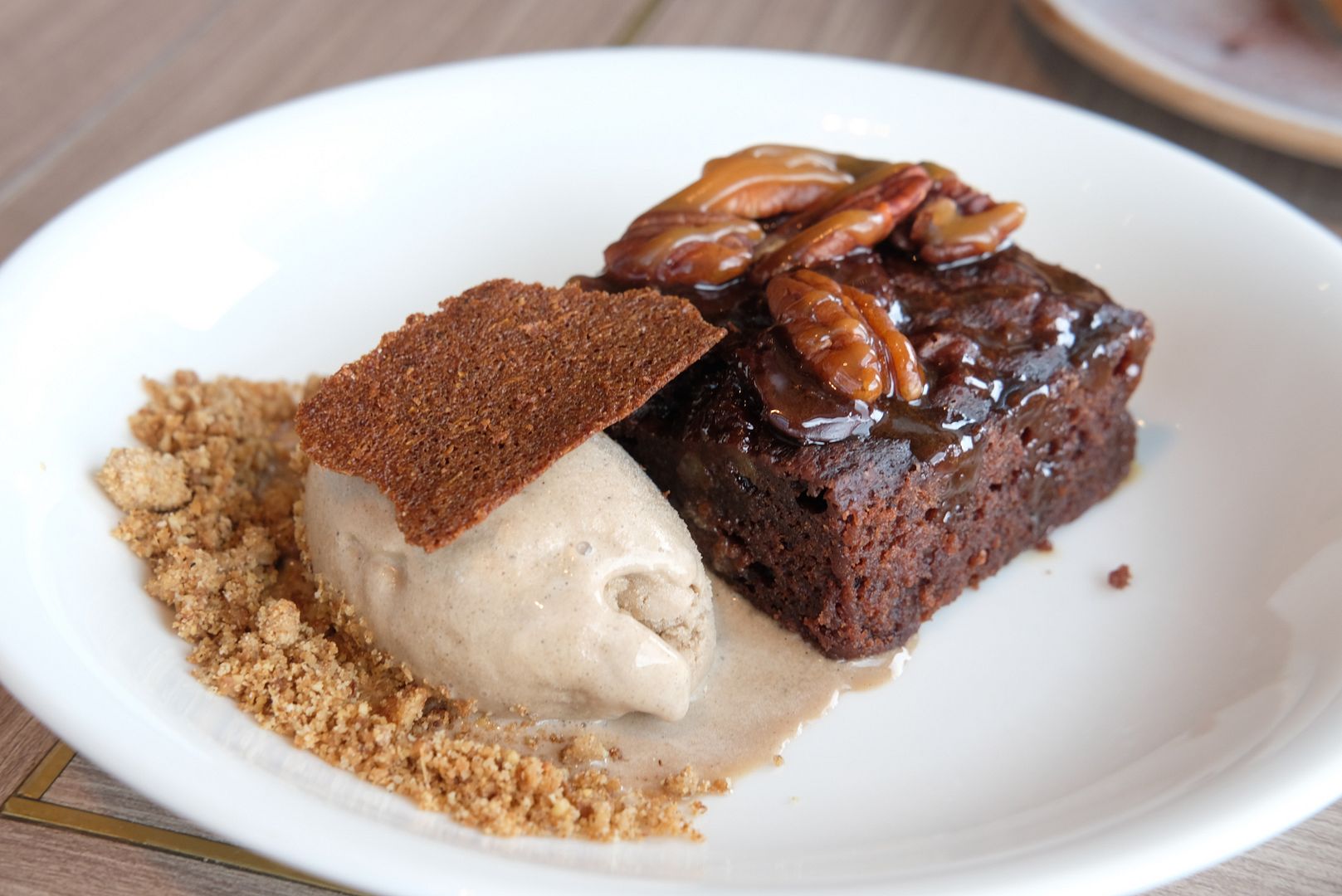 The Gluten free Pecan Brownie($12) is served with brown butter ice cream and topped with spent grain tuile. The brownie wasn't too dense, and was very enjoyable with the brown butter icecream which contains beer malt. I liked that the spent grain tuile added some texture and crunch. Even though I was already super full, I was still stuffing this down!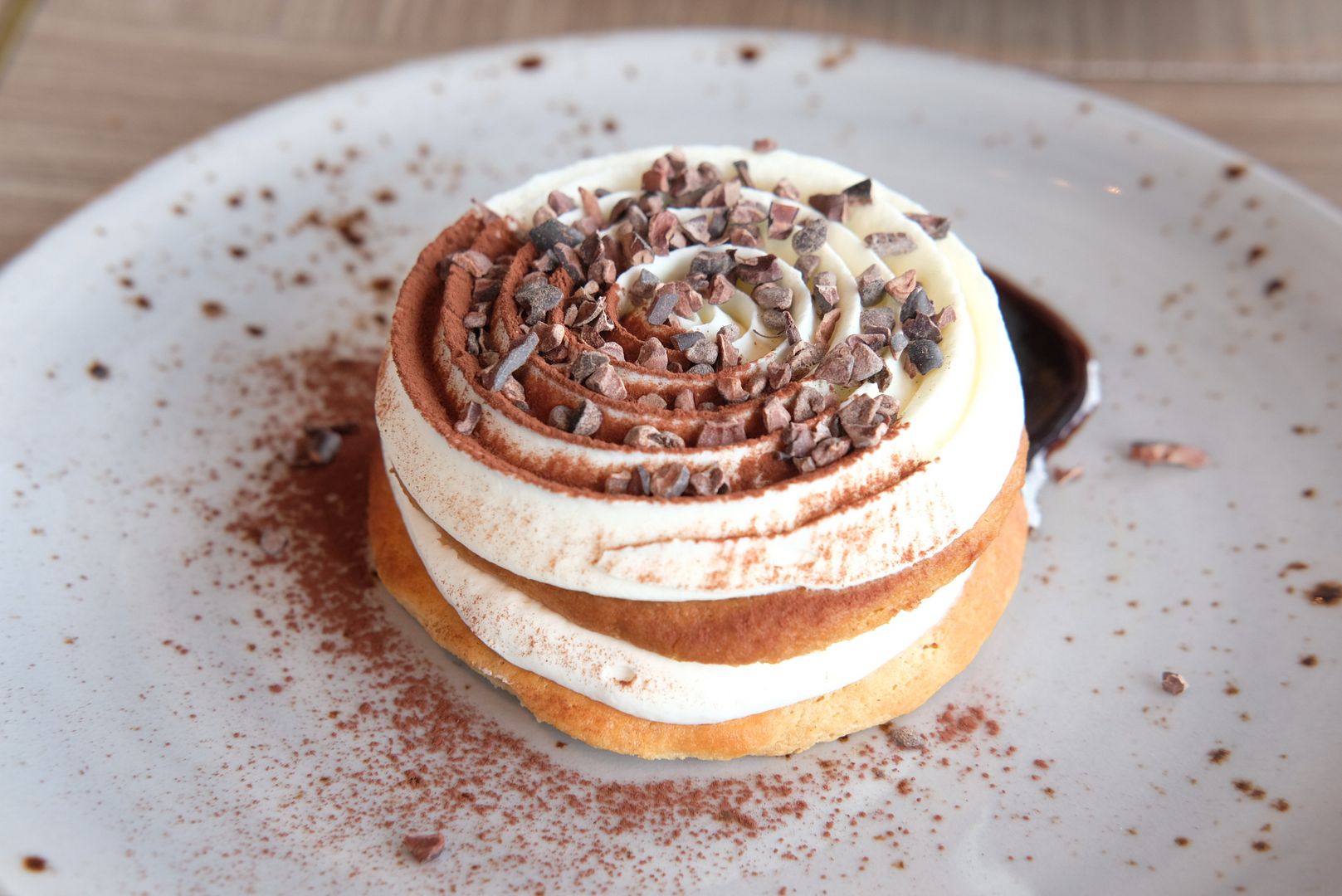 The Tiramisu($12) features mascarpone cream and ladyfinger sponge soaked in coffee liquor, cocoa nibs, cocoa powder, and a caramel sauce made with LeVeL33's house-brewed stout. While this was an interesting take on tiramisu, I didn't think that the flavours were pronounced enough, or came together well enough, to instinctively strike me as a rendition of tiramisu. I much preferred the brownie.

The spacious restaurant has a private dining room that's great for private events and corporate functions, and an alfresco area that's widely popular as it gives diners a bird's eye view of the bay area. Just imagine having an ice cold beer, and just taking in the wondrous sight. Be it day or night, the view is just as breathtaking. The Executive Set Lunch is really attractive, so I'm not surprised to see the place packed when I was here for lunch. If you haven't been here, I hope the executive set lunch is reason enough for you to come by!
P.S : LeVeL33 just turned 10, and they have debuted their special anniversary beer — The Hoppy 10 — which is available both for takeaway and for drinking in-venue.
All draft beers (including the Hoppy 10!) are going for $10++ all day from 8 to 14 December!
8 Marina Boulevard #33-01
Tower 1 Marina Bay Financial Centre,
Singapore 018981
Daily : 1130am - 1030pm