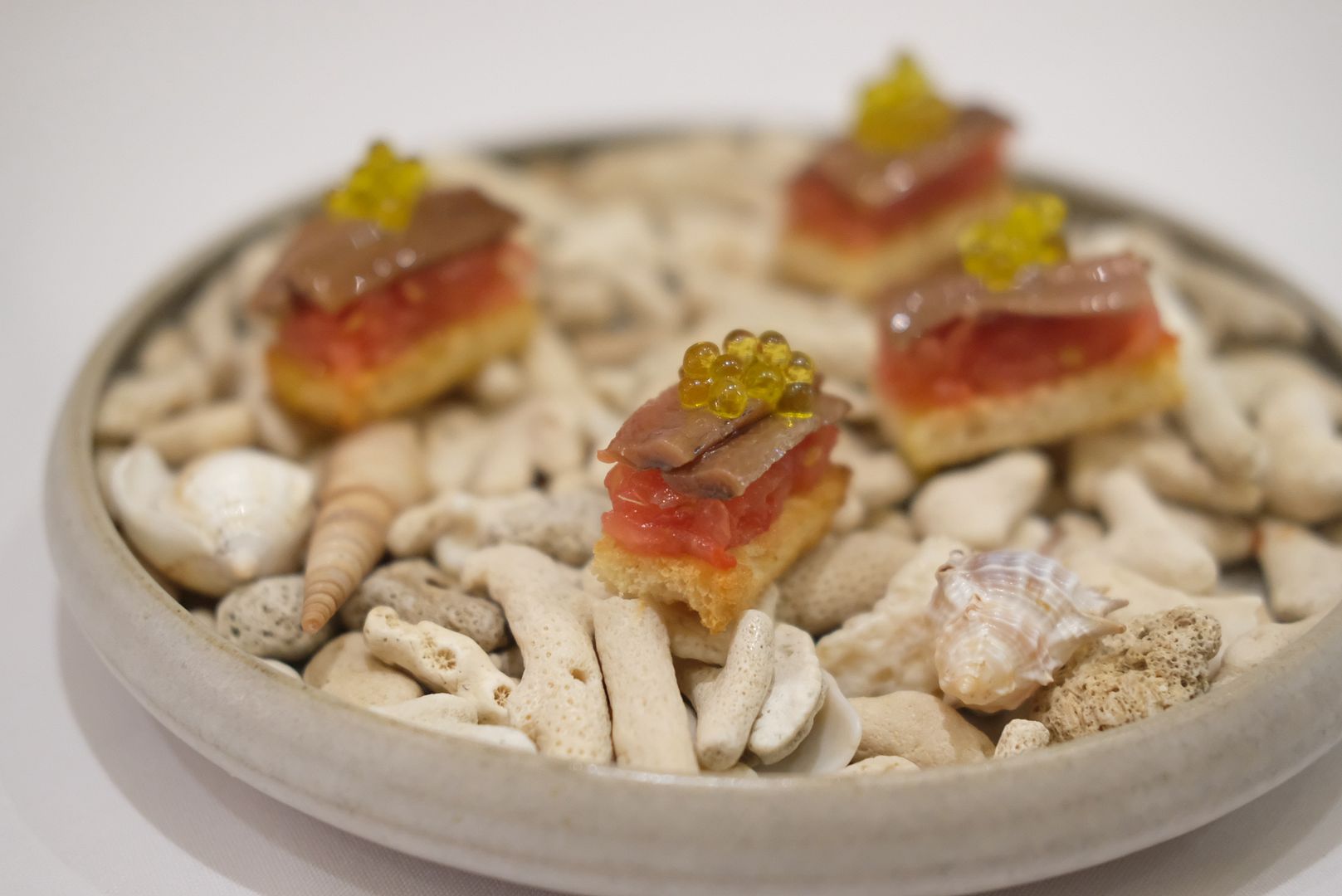 One-Michelin-Starred Basque Kitchen by Aitor has been on my to-dine-at list for the longest time so when we were planning for our Christmas dinner, I suggested coming here. We made a reservation about a month in advance. Then, the a la carte and usual dinner menu were still available on the site. However, on the day of our visit on 22nd December, we were told that only the festive menu is available. We were taken aback because we were not informed of this, and did not plan on spending $218++ or $278++ pax for dinner. We had wanted to try the signature txuleta and other a la carte dishes, and were even considering the $148++/pax menu. This came as quite a rude shock to us to be honest but since we were there, and had already paid a $200 deposit, we had no choice but to continue on with dinner.
The entire table has to pick the same menu. So we went for the $218++/pax Gastronomic menu (which didn't even have the signature txuleta...) We were served a welcome drink — a nice glass of champagne — before a selection of snacks arrived. We were pleased with the snacks as they were all quite delicious and each little parcel was packed with big flavours. The snacks definitely set our expectations high, as we anticipated a fantastic meal.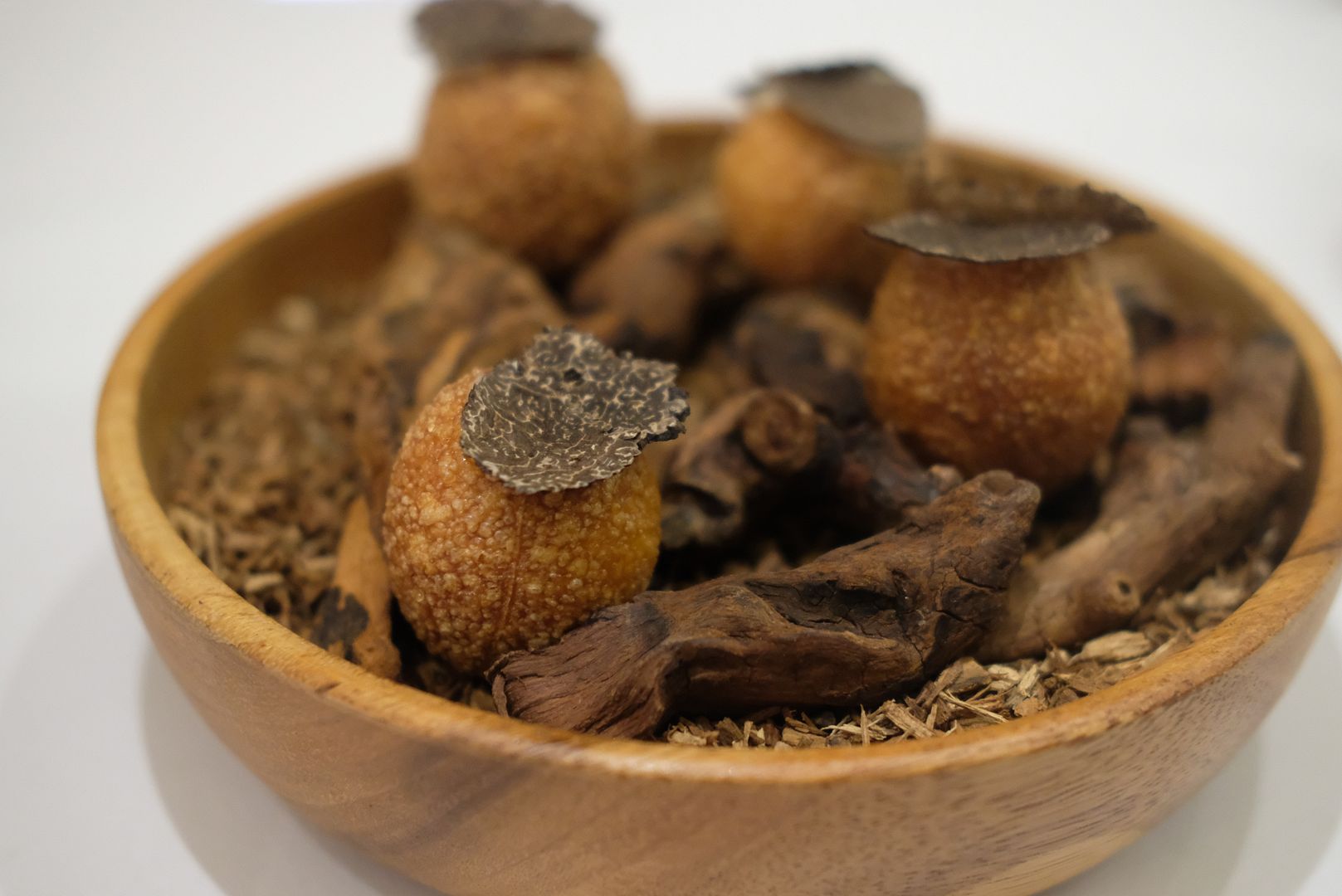 The next item to grace our table was freshly baked bread and the signature smoked butter that Basque Kitchen by Aitor is known for. The fragrant smoked butter was crazy addictive and I swear I could eat the butter just on its own.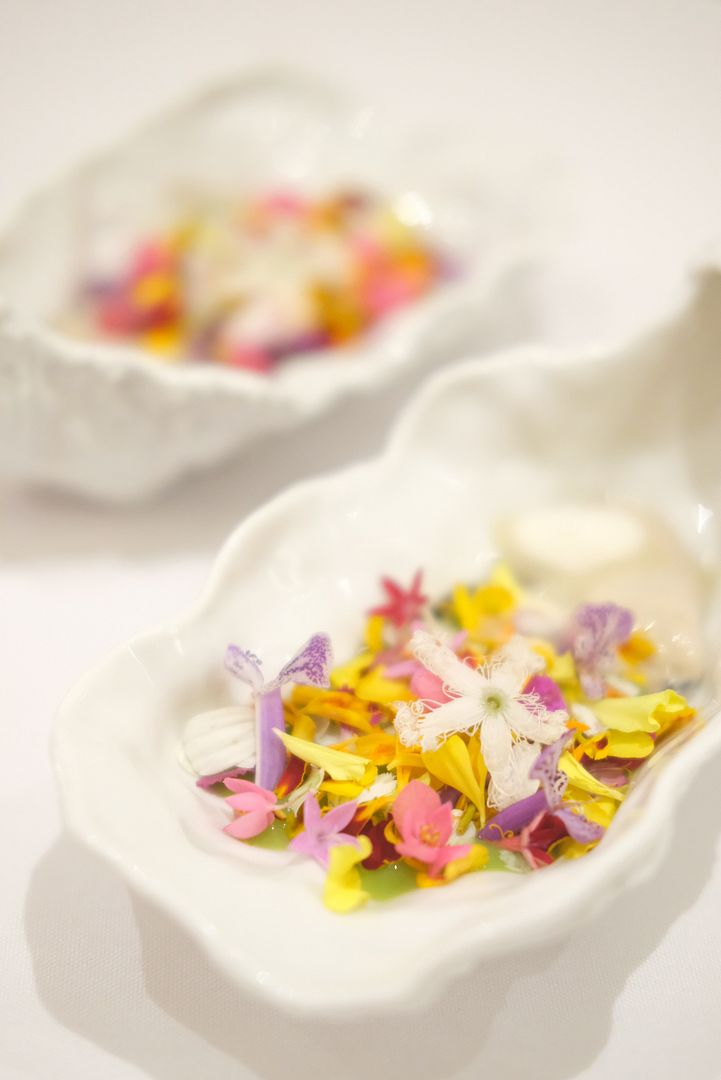 A pretty little treat for our first course. Here's a plump Sakoshi bay oyster dressed to the nines with mixed flowers. While it's fresh and juicy, paired with a refreshing cucumber, jalapeno & piparra gazpacho, and topped with a heavy dollop of yuzu snow, there was nothing particularly outstanding about it.

They have an alternative for those who don't take oysters — cured hamachi.



Artichoke borigoule, Jamon gelle, garlic flower
Possibly the most interesting dish on the menu —
sea anemonie rice
! This green ensemble features bomba rice, sea anemonies, ice plant, and plankton aioli. It was our first time having sea anemonie! I definitely enjoyed the fried sea anemonie which was a little crisp, and a little chewy.

I wasn't surprised to see monkfish on the menu since it was in season then. The "Donostiarra" style charcoal-grilled monkfish was clean tasting, succulent, and firm, and topped with a thin slice of creamy ankimo which had its natural flavours partially masked or played down by the sauce gently poured over. Pretty decent dish.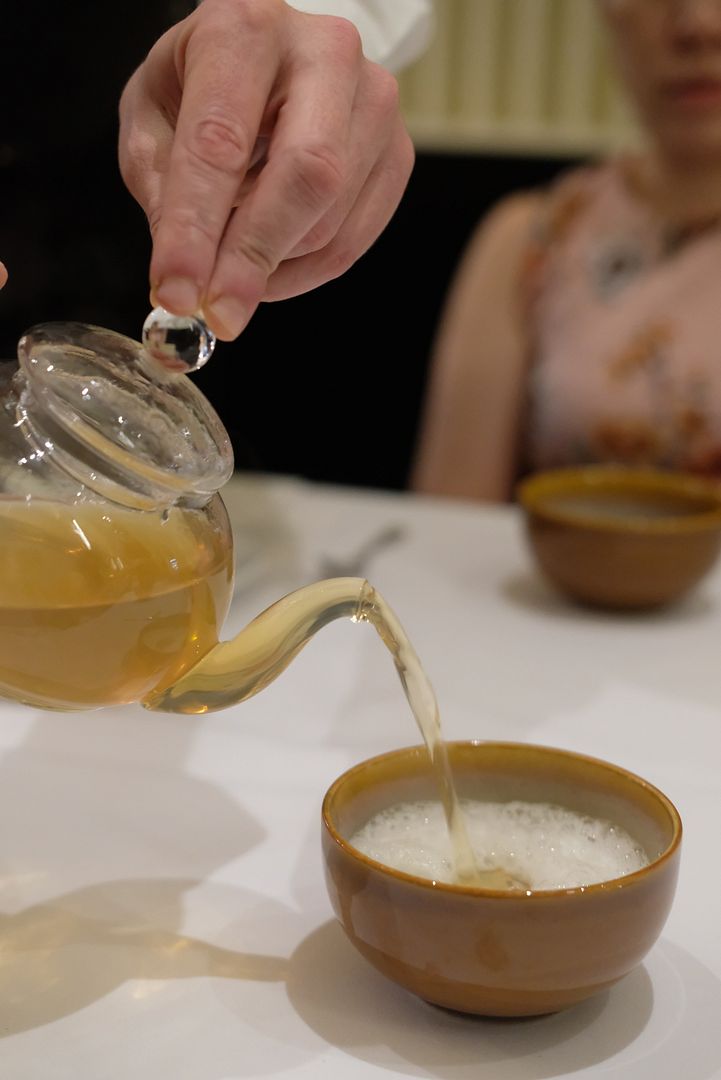 A little bowl of blue mussels and razor clams was brought to life by a generous pour of mussel consomme. Packed with umami, the dish was light but savoury and highlighted the brininess of the molluscs.


Beef and foie gras are both my weaknesses, and together, they are always a winning combination in my books. Here we have A5 Japanese Omi Wagyu tenderloin, doused in jus, adorned with a rich piece of foie gras, and crowned with shaved winter truffle. While the tender beef and buttery foie gras were both done well, this highly popular pairing did not elicit a wow from any of us. It was pretty good, but not Michelin-starred standard good.

The Cherry & Chocolate was built with chocolate mousse, earl grey granita, and cherry compote. Looking like a dish with just separate ingredients haphazardly thrown together, this dessert was not what we were expecting to round off a $218++/pax one-Michelin-starred dinner. I was disappointed and felt like I could get a better plated dessert at pretty much any fine-dining restaurant in Singapore.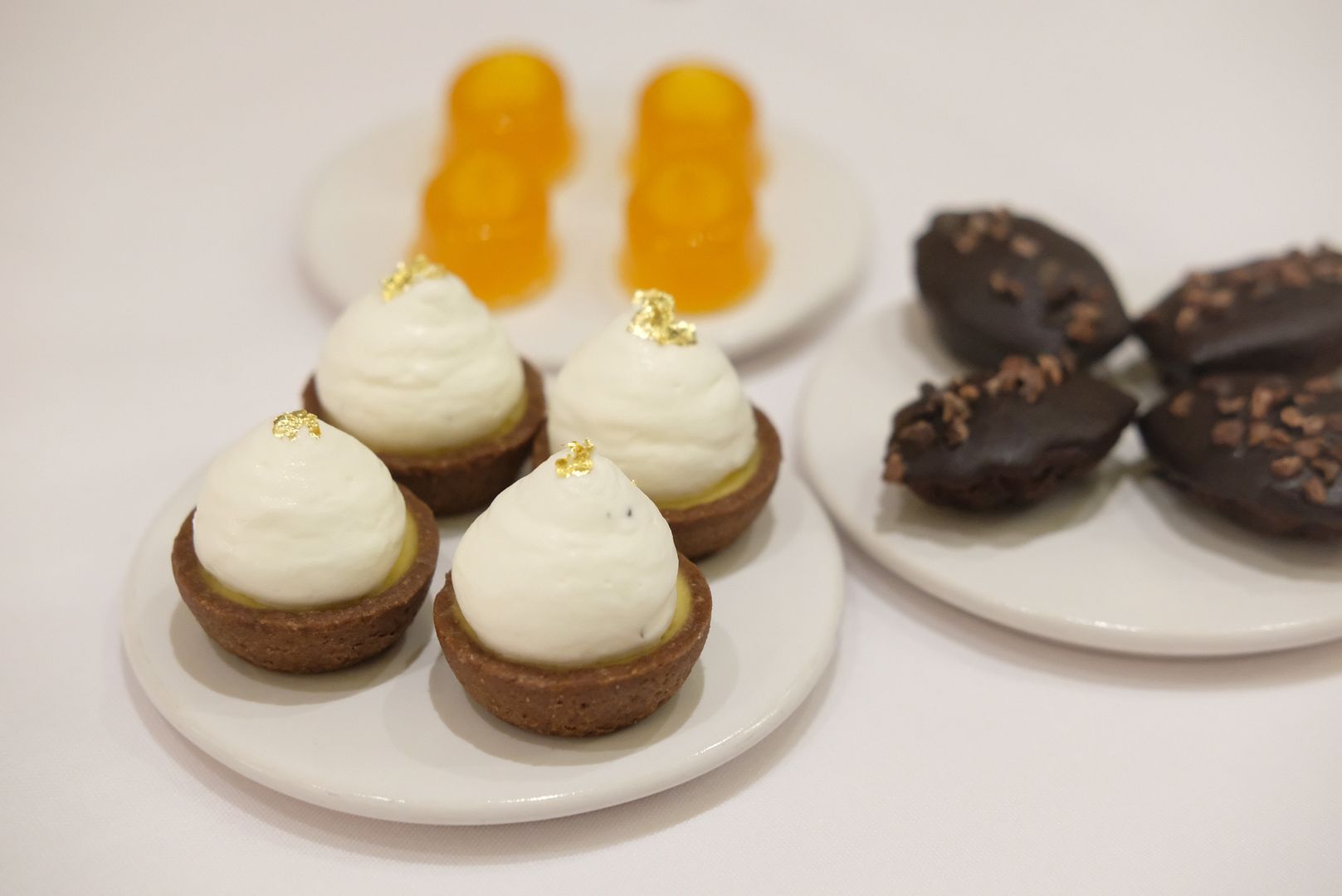 Adorable petit fours arrived shortly after. This, apart from the bread and butter, was the highlight for me. I loved the Calamansi Tarts, Chocolate Madeleines and Passionfruit Jelly.

All in all, the snacks and the petit fours were good, and the bread and butter were exceptional. For the various dishes, there was nothing that we found outstanding or particularly memorable. I would love to try their lunch menu which is apparently real good value for money but if you ask me if I'd dine here on special occasions again, the answer is a definite no. It's sad that we didn't get to try the signature txuleta despite paying quite a hefty sum per pax, but it's even sadder that the dishes on offer fell short of our expectations, especially for a Michelin-starred establishment.
Service was good, even though the wait between each dish was quite long.

The restaurant is in the midst of moving out from their original location at Amoy Street, and will be reopening at The Fullerton Waterboat House.

3 Fullerton Road, #02-01/02/03
THE FULLERTON WATERBOAT HOUSE