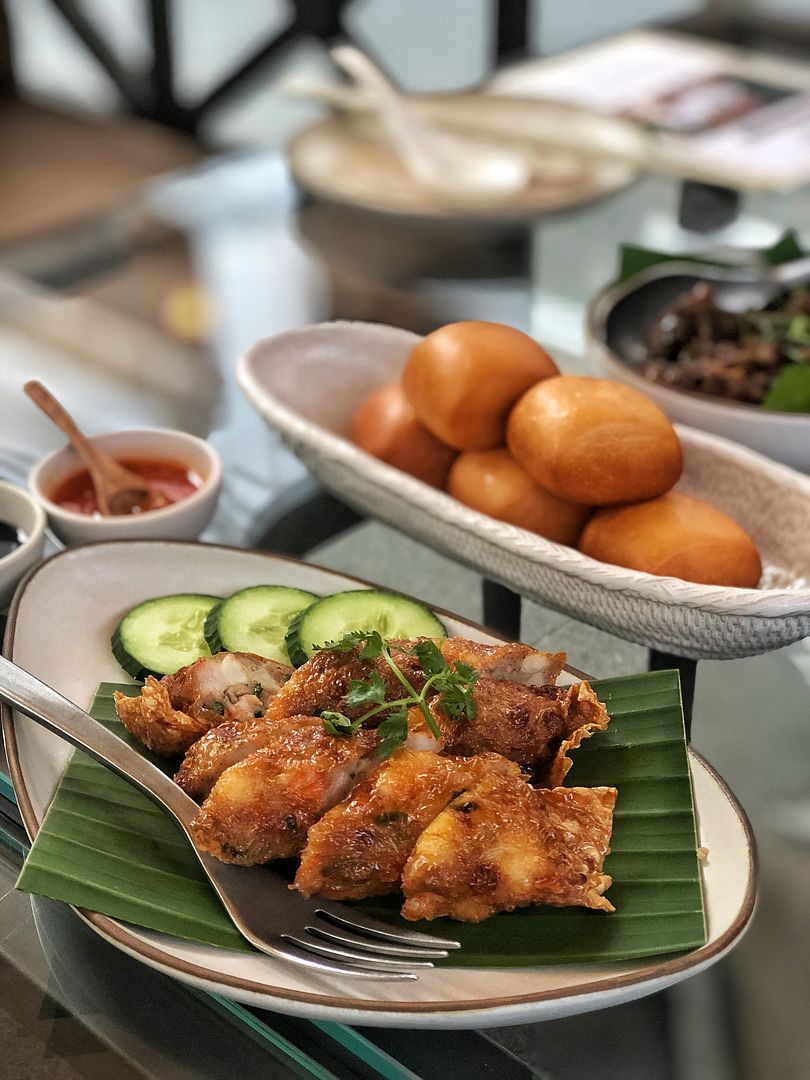 Are you on the exceedingly long waitlist for an almost-impossible-to-score seat in PasirPanjangBoy's private diner? Well, this piece of news might be music to your ears then! Raffles Courtyard is celebrating Southeast Asia's rich culinary heritage with a series of unique collaborations with home chefs behind popular private dining experiences in Singapore. And kicking off the heritage experience with scrumptious Peranakan fare is

local chef duo Tinoq Russel Goh & Dylan Chan(PasirPanjangBoy). Ardent fans can have a taste of PasirPanjangBoy's signature dishes, right in the heart of Singapore at the iconic Raffles Hotel, from 12 March to 11 April 2021.
Dressed fabulously, and rocking glam heads of pink, the funky duo takes pride in making everything from scratch, even the spices used. Tinoq, who grew up in Pasir Panjang, picked up techniques and unique culinary skills from people he's met all around the world, particularly in China where he was working as a make-up artist. With a gift for doling out perfection, the maestro promises impeccable Peranakan dishes and hearty multi-racial specialties whipped up with the aid of partner Dylan, who Tinoq trusts wholeheartedly with the challenging task of taste-testing.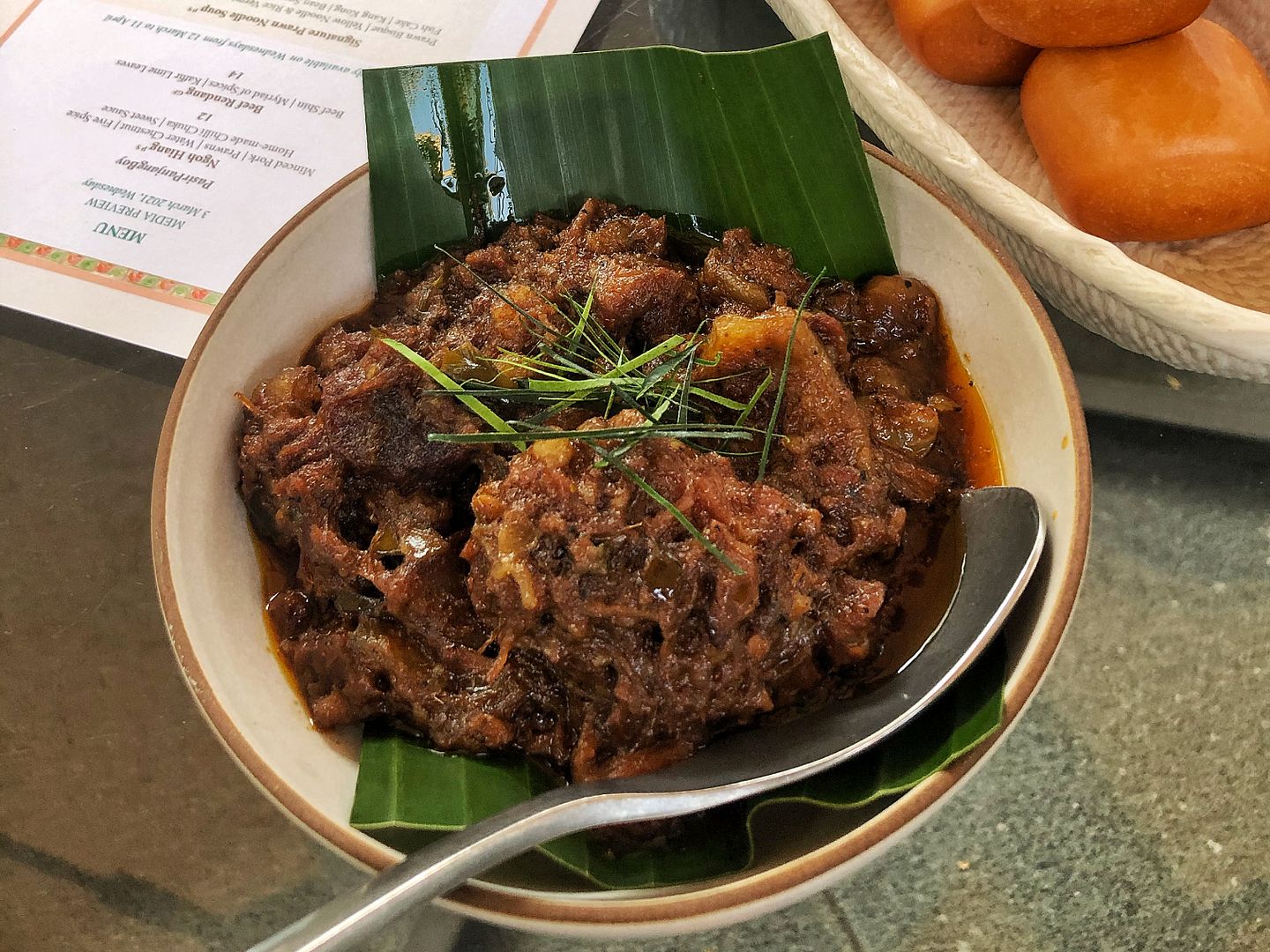 First up, we tried the Beef Rendang($14). Beef rendang and fried mantou might come across as an unusual pairing, but you'll be blown away by how well this combination works. The crisp and fluffy mantou was not oily at all, and went hand in hand with the tender and tasty beef rendang. To be very frank, I'm not a fan of beef rendang. It usually has a really strong taste that I dislike, and also the spices tend to be very pronounced and overwhelming. So imagine my surprise, and joy, when I had a bite of the beef rendang which was absolutely delicious, and nothing like what I've ever tried before. I took just a small spoonful at first, and went on to finish almost half the bowl. So good!

Next, we had the Ngoh Hiang ($12). According to Tinoq, some places use too much flour in their ngoh hiang, while some places grace their ngoh hiang with too heavy a sprinkling of five-spiced powder, and others don't prepare the skin well so it's usually oil-soaked. As you can probably guess from what Tinoq has shared, and how particular he is, he is dedicated to crafting flawless ngoh hiang that's void of those less-than-desirable traits. True enough, the plump ngoh hiang features a thin crisp jacket that's wrapped around a juicy and chunky meat filling punctuated by the crunch of water chestnuts. Even the five-spiced powder use is made by the good folks. The duo uses really good quality pork, and they don't mince it like most places do, so the texture is quite different from what you would get elsewhere, but it's the good kind of different. Paired with the addictive homemade chilli chuka, and sweet sauce, the ngoh hiang was a star in every right.
Available exclusively only on Tuesday and Wednesday, the Signature Prawn Noodle Soup ($18) is not to be missed. Armed with a rich and robust prawn bisque that is laced with a hint of belachan chilli powder, the bowl comprises yellow noodle, rice vermicelli, beansprouts , prawns, pork, fish cakes and kang kong. You will definitely find the irresistible and incredibly well-balanced broth addictive. While the portion of noodles is on the smaller side, it actually is just nice when complemented by the ngoh hiang and beef rendang. So, go on ahead and grab The PBB Bundle($38), which consists of the ngoh hiang, beef rendang and prawn noodles, if you're here on a Tuesday or Wednesday. I would say that a PBB Bundle and an additional bowl of prawn noodles are good for a party of 2.

So, of course, while you're here, you can't miss Raffles Courtyard's attractive happy hour which runs from 5pm-8pm daily. You can look forward to $10++ wines, house pours and draft beers, and $15++ cocktails. Don't forget to get some of their signature Southeast Asian delights such as Gado Gado($12), yummy boneless Har Cheong Gai($12) and aromatic Salted Egg Squid($15) to go along with your drinks.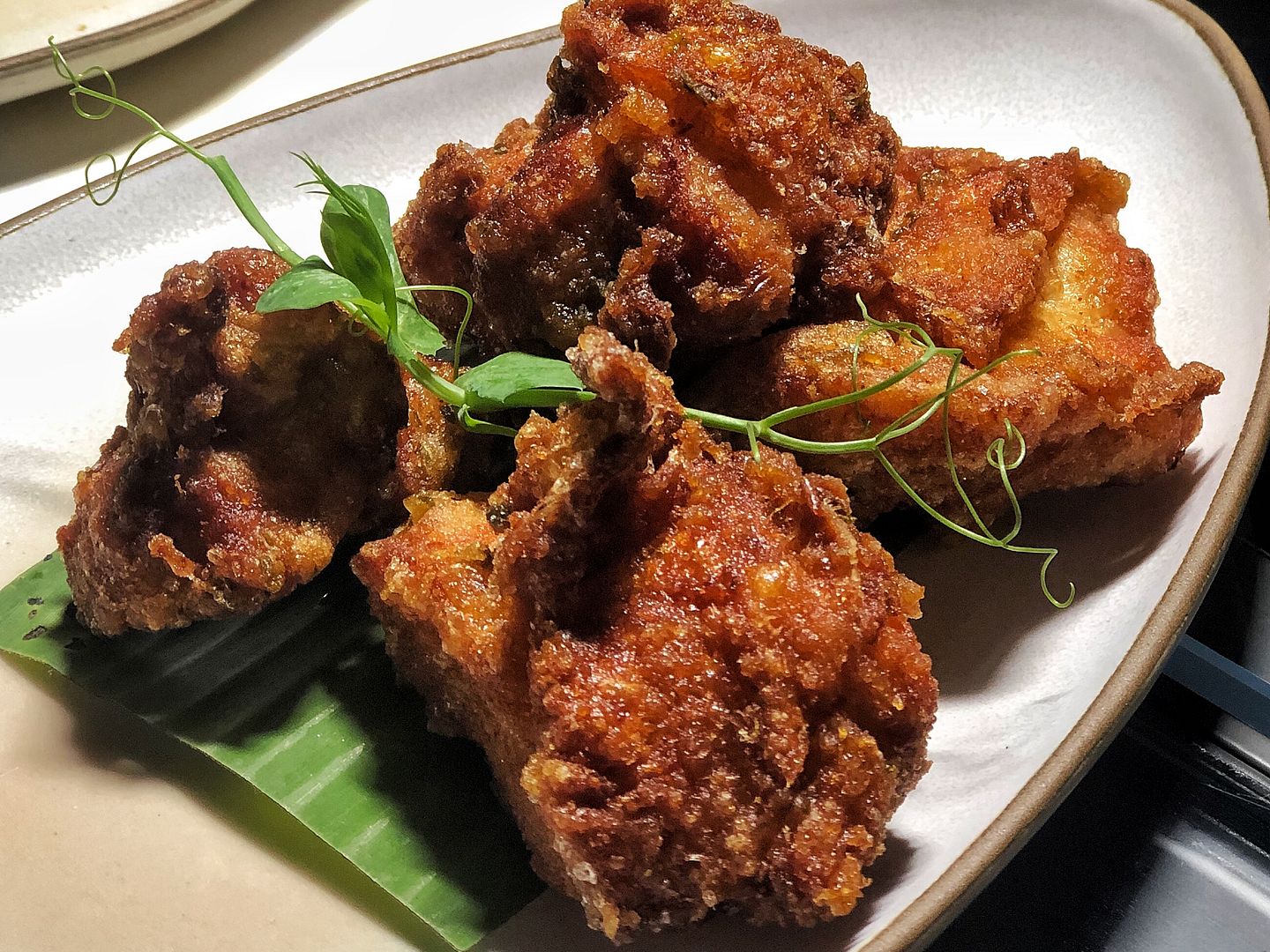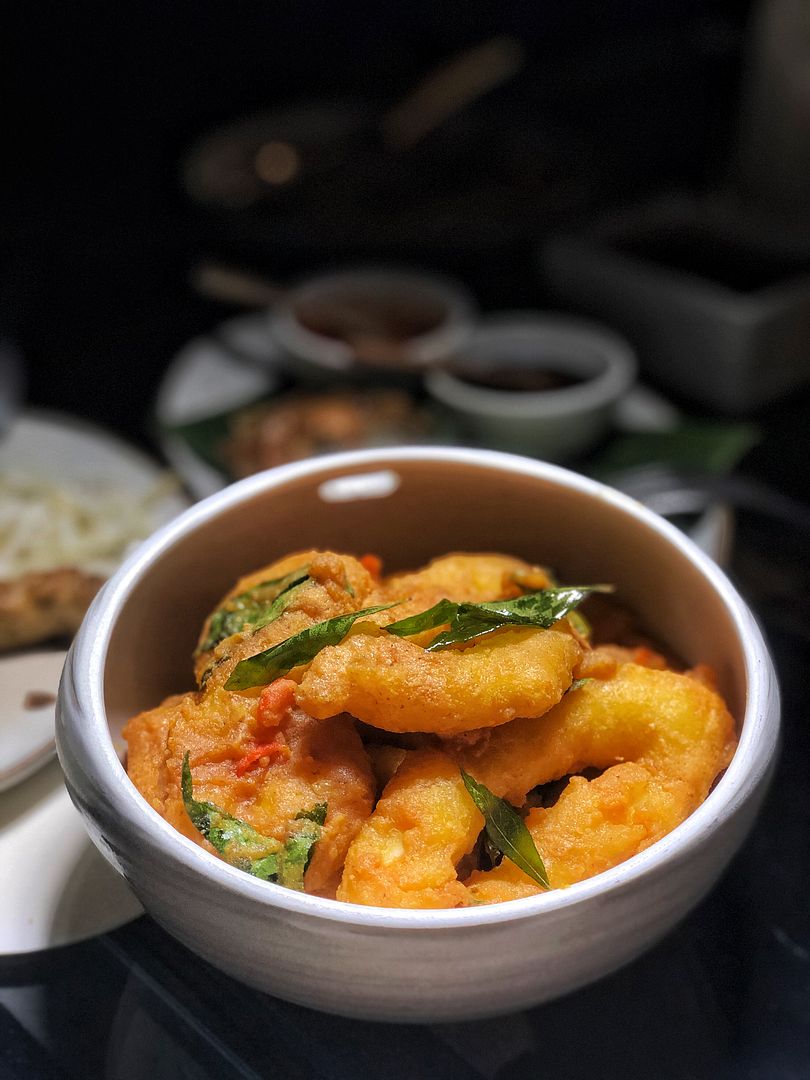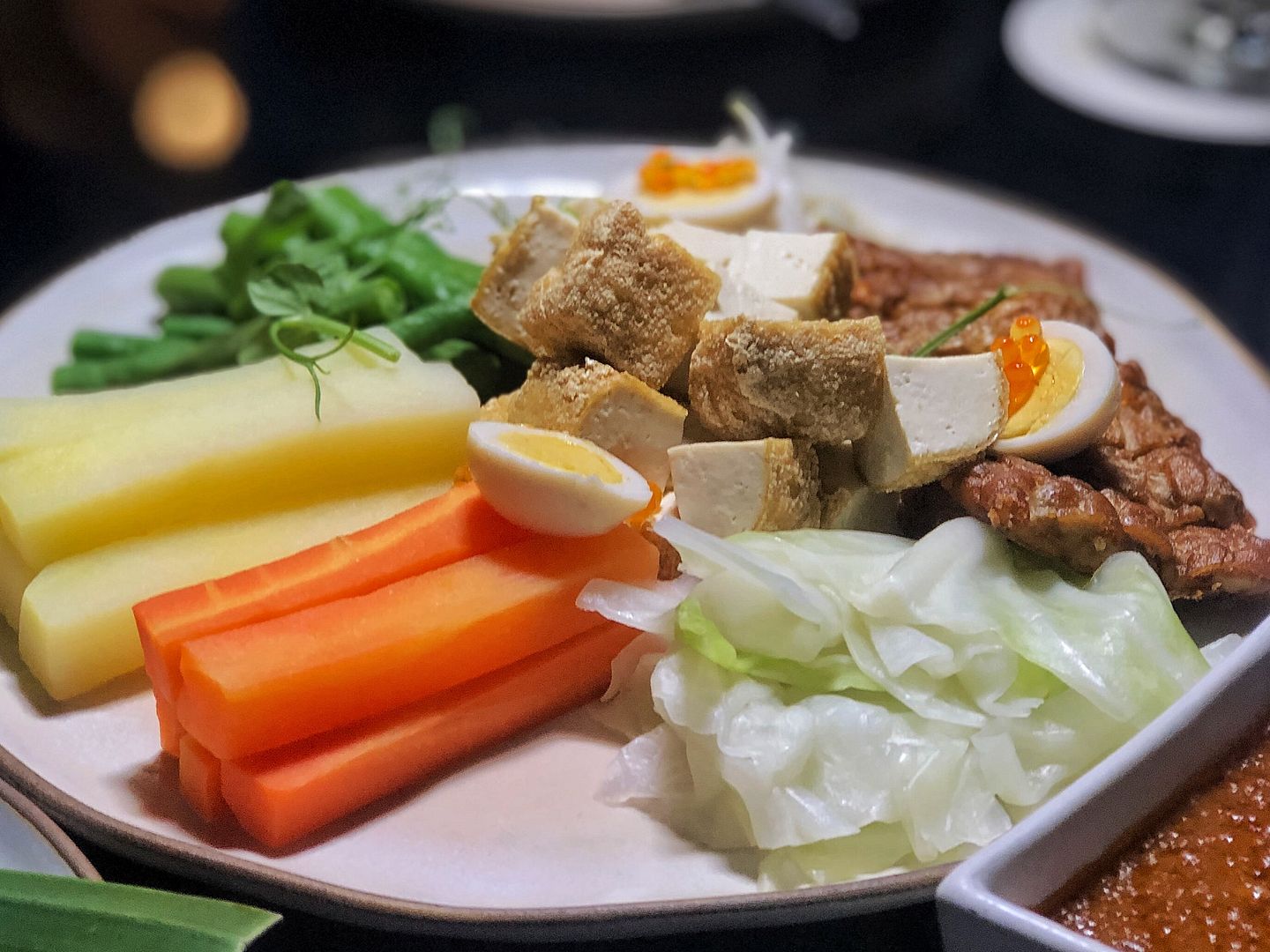 I was really impressed with the food that PasirPanjangBoy and Raffles Courtyard have curated for this collaboration, and I can totally see why the PasirPanjangBoy's private diner is perpetually fully booked. Trust me, you wouldn't want to miss this one-month only collaboration! I'm also really looking forward to the collaborations that Raffles Courtyard has in the pipeline!
1st Floor Raffles Arcade, Singapore 188719
Monday - Friday : 3pm - 10pm
Saturday - Sunday : 930am - 10pm