Taking over the spot that Ding Dong occupied for years is Nixta, a new upscale Mexican grill and Bar brought to you by the same folks behind the well-loved Blue Label Pizza. While the restaurant has been around for a couple of months, little has been spoken about them online, and they don't even have a geotag on Instagram! We discovered it a few months ago as it caught our eye as we were just strolling past. We browsed the menu then, and made a mental note to return some day. And here we were.
At first glance, the prices seem really steep. With the Fajitas coming in at $95 and the 1.2kg Nixtahawk priced at a whopping $185. We were expecting to spend a bomb here but we were in for a pleasant surprise when the bill arrived.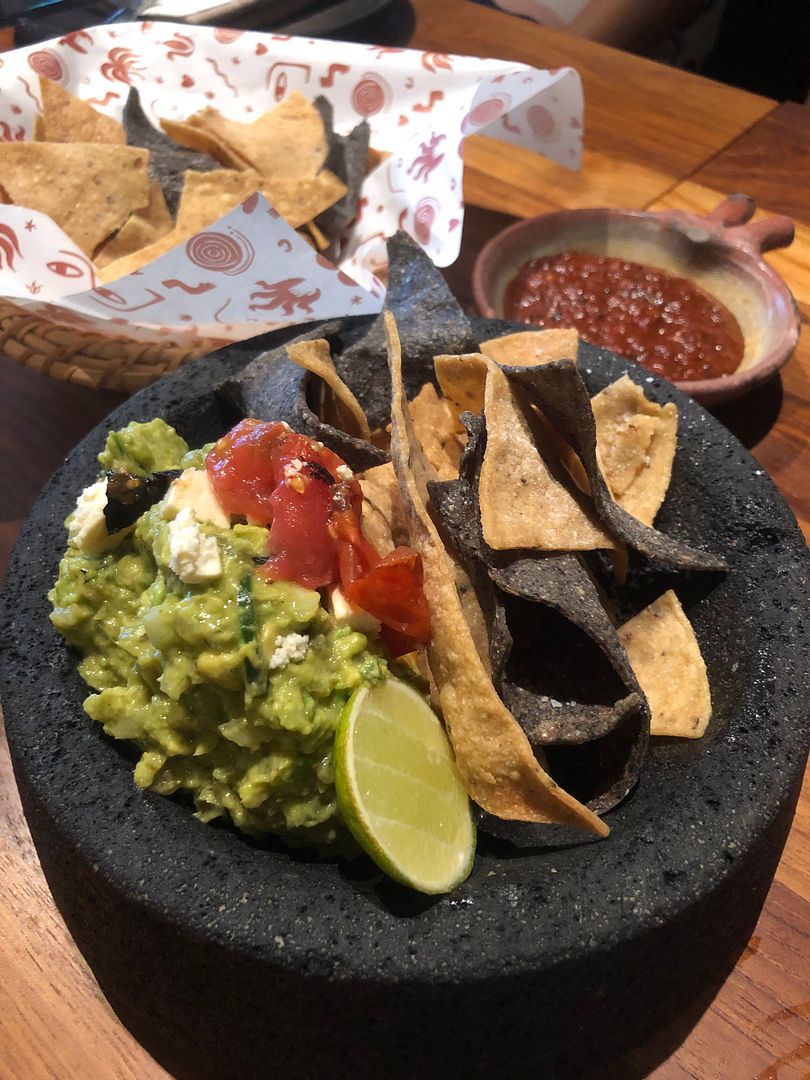 We started off with the Guacamole Nixta($20) which is accompanied by quite a healthy helping of crunchy chips. It's hard to go wrong with guacamole, and Nixta's version is jazzed up with Feta cheese. We thought that the guacamole was well-seasoned, and just about the perfect way to kickstart our meal.


The server recommend the Tlayuda de la Casa($20), essentially a Mexican pizza topped with roasted corn, fresh Mexican cheese and aromatic herbs. You can add on Maine lobster meat for $20 but we didn't go for it. The roasted corn pizza was an absolute delight to tuck into. The corn was sweet, and it went hand in hand with the gooey melted cheese. The flavours of both the star ingredients were pronounced but not overshadowed by the other, and the crisp and light base was just the icing on the cake. A dash of lime just made it even more delicious. Our party of 5 enjoyed this very much.
The Kurobuta Pork Belly Al Pastor($52) was a visually pleasing treat with pops of vibrant colours all around. Pick up a piece of the warm corn tortilla, slather some pastor sauce on it, and pack it generously with the tender and lightly crispy pork belly, shaved onion salad, and pineapples, and you're all set for big bursts of flavours. It can be a little spicy(actually I was the only one who found it spicy), so I believe it must be more than manageable for most.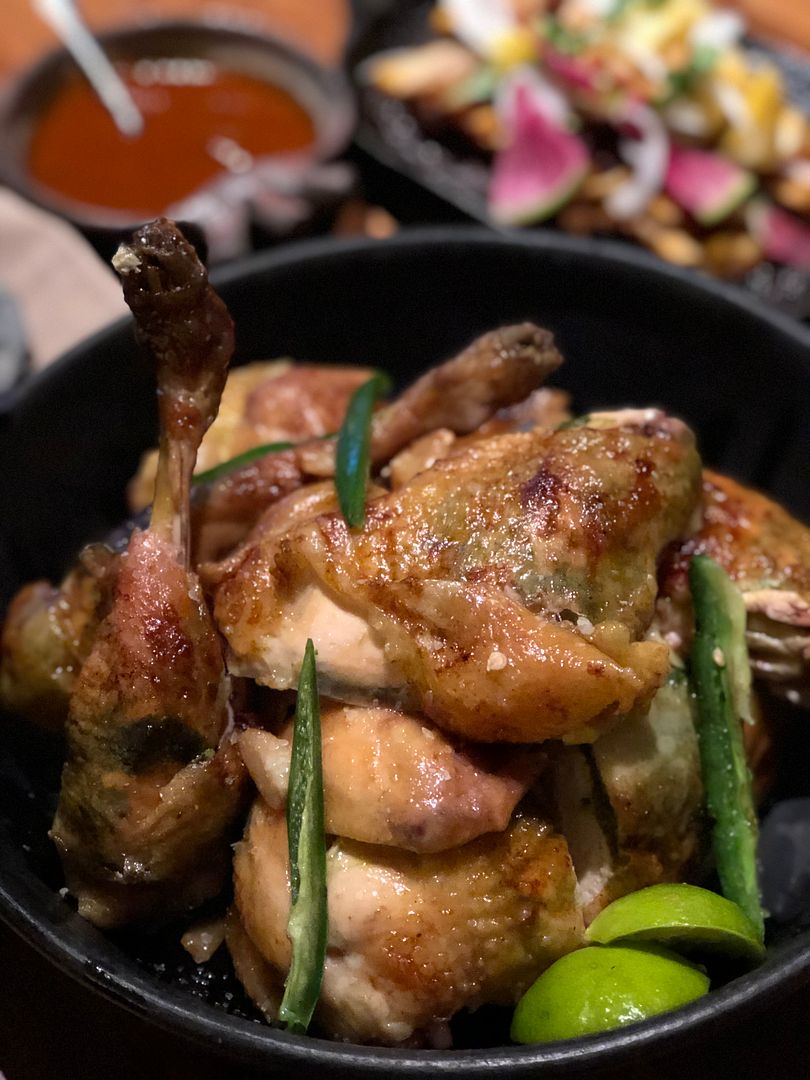 We decided to order the Nixta Signature Spit & Herb-Roasted Chicken($65) which was a 1.4kg beauty that's tender, juicy, and incredibly filling. The well-executed chicken was easy to cut into, and I like how flavourful it was, and the little explosions of juices hidden within the meat. Unfortunately, some parts of the chicken skin was more roasted and crispy than others, and that's probably my only gripe (because I got the part with pale skin that wasn't as flavourful and crisp).I actually preferred the chicken to the pork, which is very rare for me since I don't even fancy chicken. I would actually never order a chicken dish in a restaurant, but this was pretty good. The chicken is good for 4-6 pax so make sure you bring your pals along for this!

The highlight of the meal for me was undeniably the Churros ($16) which sure is a good looker! I was taken aback by how big it was, given its very affordable price tag. I was grinning from ear to ear while I was taking photos of it because I was beyond excited to dive into it! The churro was clean-tasting (oil must have been fresh), crisp, light, and fluffy. If I were to describe my perfect churros, this might just be it. With a gentle dusting of cinnamon sugar, the churro was best paired with the rich dark chocolate sauce on the side. The lighter brown sauce is hay's milk cajeta (like goat's milk caramel). It was curiously watery so I think that the consistency can be improved. But other than that, this was perfection in my eyes. I would totally come back just for the churros!

It's the first time that I didn't pick a beef dish. I would always order beef but it wasn't so convenient for our dining group that day. But I will definitely be back to give the Fajitas and Nixtahawk a go someday! The final bill was just $203 and we were all stuffed to the brim. Even considering the fact that we didn't go for the big ticket items, I wasn't expecting to spend less than $60 per pax so I would say it's surprisingly affordable. given the standard and portion.

Service was pretty good, and we liked that the servers took time to briefly run through the dishes whenever they were served.
If you're looking for the best churros in Singapore, you have to make a trip here
16 Amoy Street, Singapore 069936
Monday - Wednesday : 12pm - 3pm. 6pm - 1030pm
Thursday - Saturday : 12pm - 1030pm