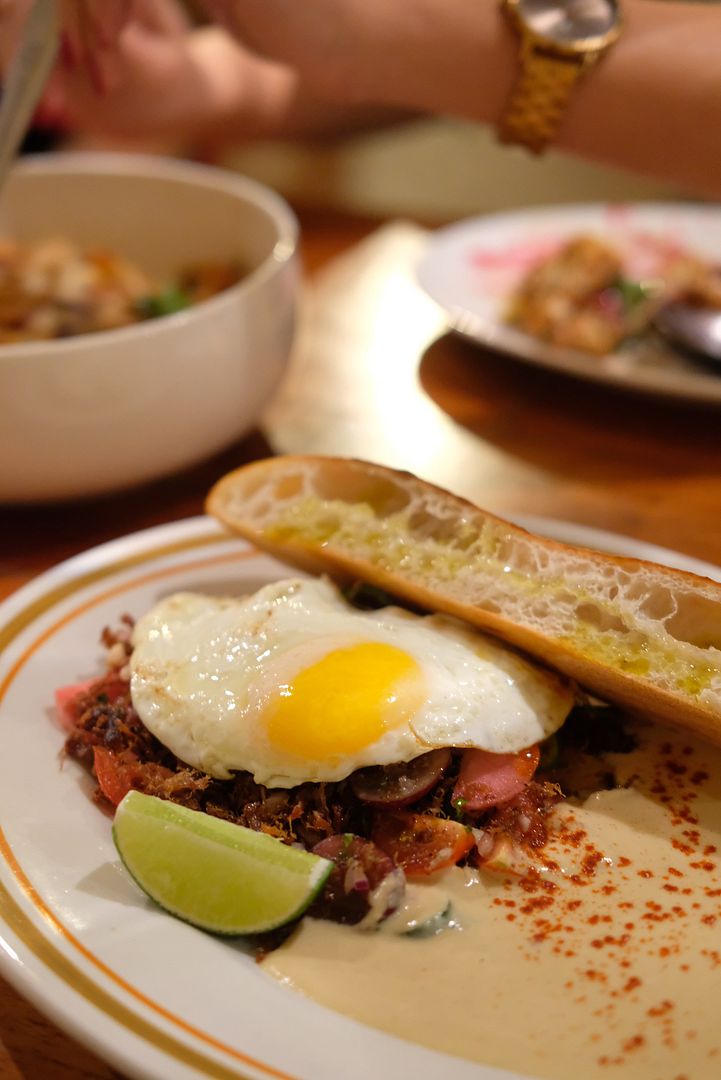 I first visited the funky Artichoke back in 2010, the year that they made Sculpture Square their home. I fell in love with their meat candy, which I made multiple return trips for. Fast forward a couple of years, I still visit every now and then for brunch. Strangely, I've never been here for dinner. And I never knew how much I was missing out on until my recent dinner here, which was kind of mind-blowing to be honest. I guess there's a reason why this 9-year-old outfit by Chef Bjorn Shen is #stillnotdead.
Artichoke is always evolving, but some things about this eclectic joint doesn't change. I love that the place still looks almost like how it did a long time ago, just armed with more funny stickers and mismatched decor.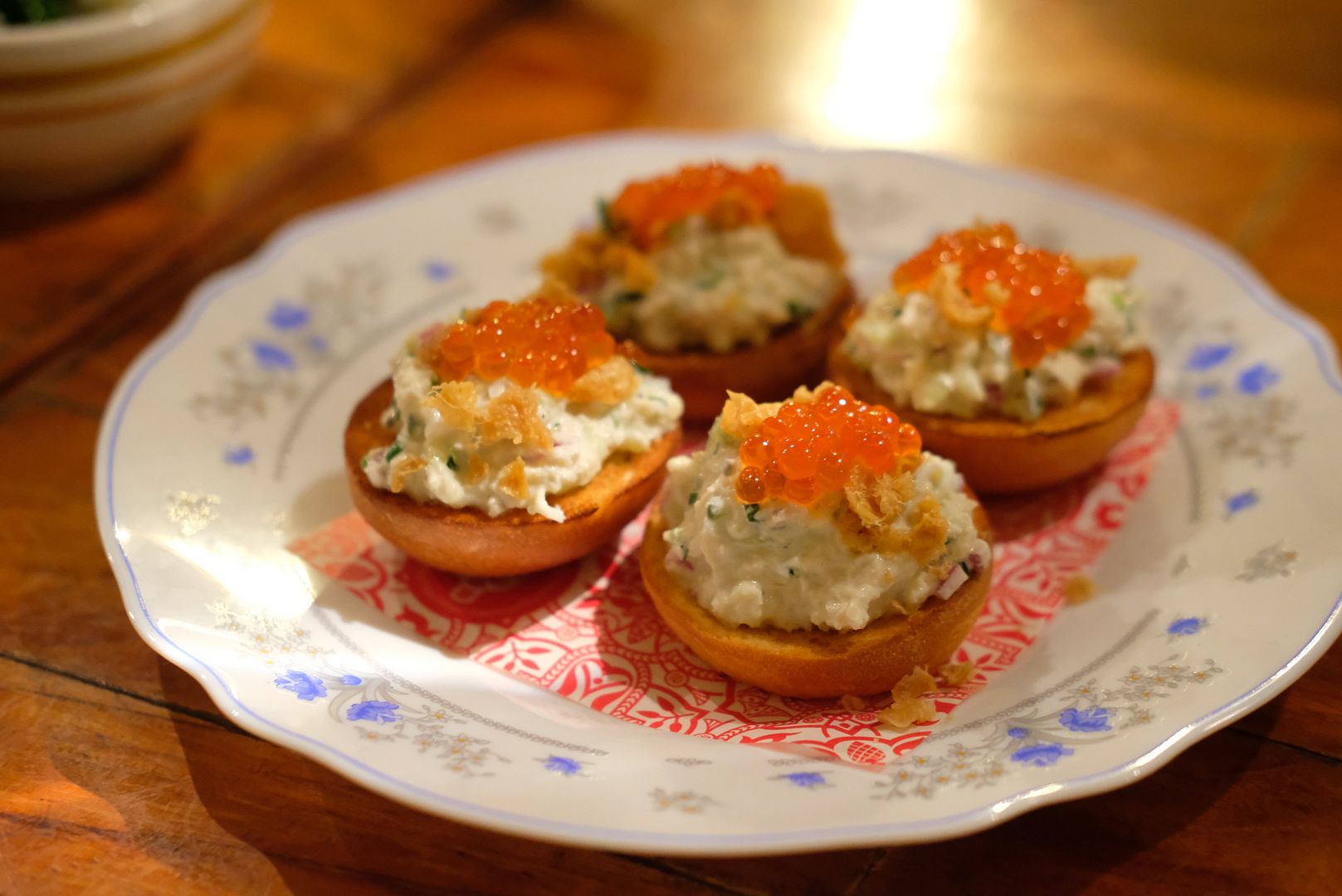 We should always start our meal right, and here's how you do it at Artichoke — with their
Crab Toast($16/2 pieces)
. It's a pretty little dish for sure but don't spend too long snapping photos because it should be eaten as soon as possible! Blue swimmer crab meat is mixed with Greek yoghurt, mayonnaise, chopped chives, chopped and degorged cucumber, then generously piled on fresh housebaked brioche. It is then served open-faced with deep-fried chicken skin and garnished with Ikura. What a treat!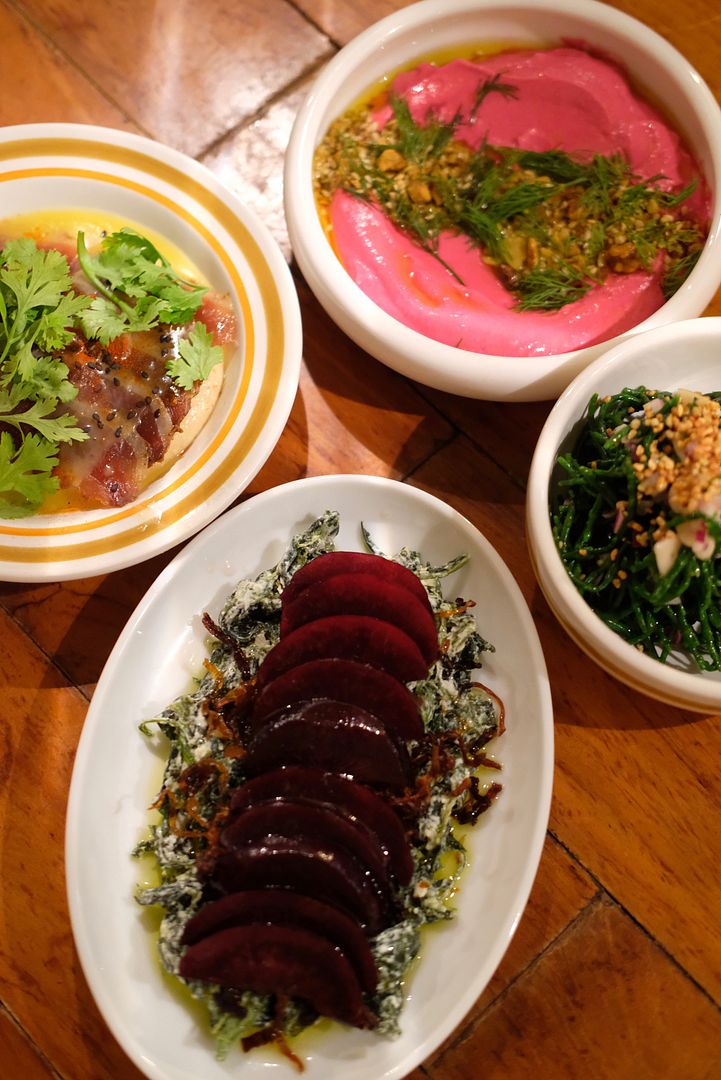 There were a number of dishes which had ingredients that I don't eat (eg : almost all vegetables). But I tried everyone of them, and I was pleasantly surprised by how much I actually enjoyed them. The
Hummus & House-Cured Duck Basturma($14)
is a must-try who all who love hummus. Artichoke's hummus is prepared with whipped creamed tahini, lemon juice and garlic, then blended with blanched chickpeas, cumin and Cobram Estate olive oil. You need at least a bag of Turkish Bread($4.50) to mop up all of that hummus! The
Sea Asparagus($12)
is a common mezze dish in the Middle East. Artichoke dresses its crunchy sea asparagus with shallot oil, black pepper, diced shallots, pickled garlic, a splash of housemade pickling liquid, a dollop of labneh and crispy fried buckwheat. I was hesitant to try this but the sea asparagus was really fragrant and so yummy with the labneh(cheese made from salted strained yogurt).
The pink dish is the
Beetroot Barani($12)
. I wasn't too keen on it as well but the beetroot cream cheese blend was actually so yummy? The thick concoction is sprinkled with a 3-nut dukka made with pistachio, almonds, walnuts, cumin, and coriander. You need another bag of bread for this for sure. I can't believe Artichoke has made eating vegetables easy peasy for me. Eating beetroot and sea asparagus, who am I??? Unfortunately, this dish would be gone end of October but you still have TWO more days to try it!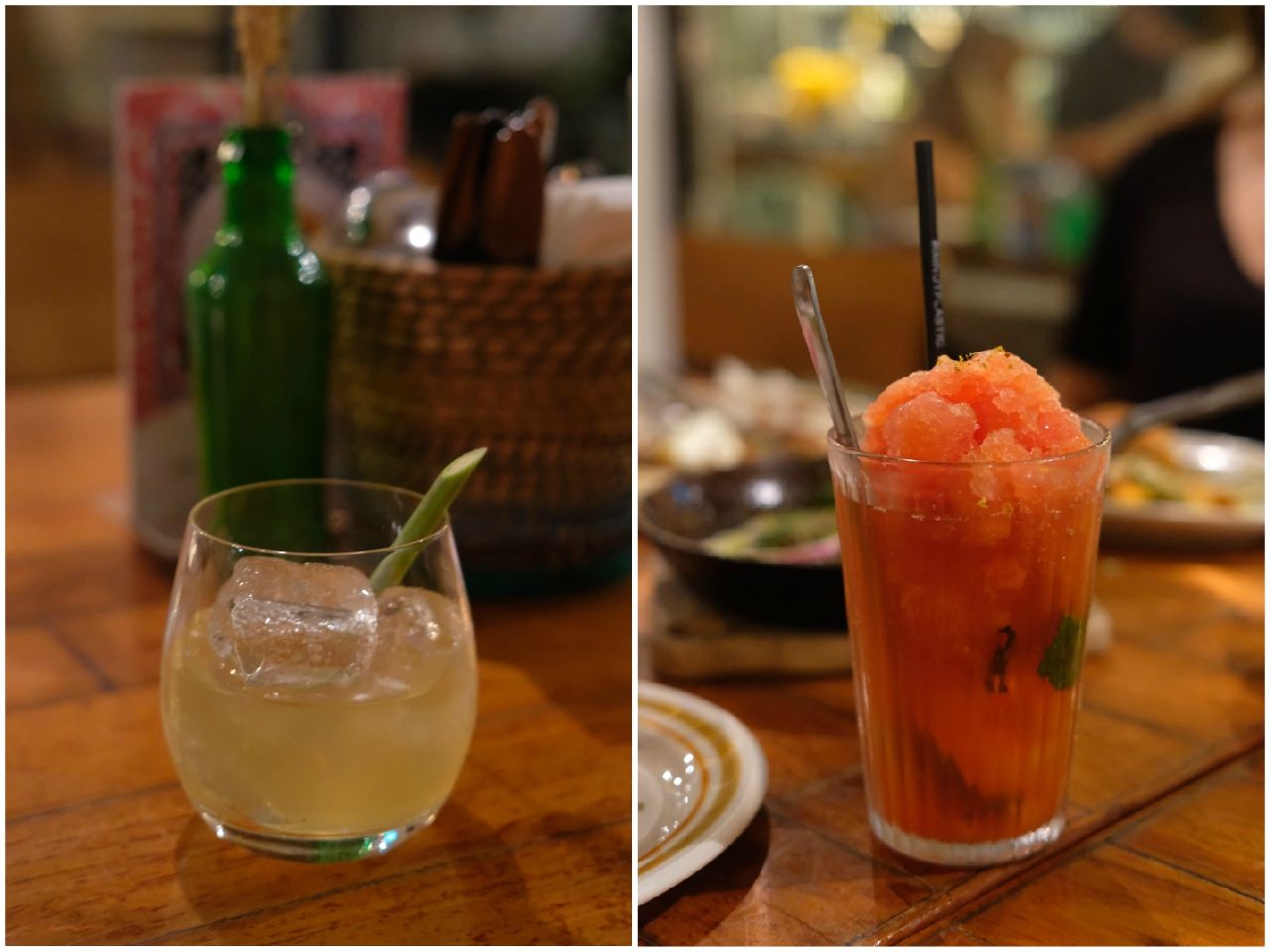 The flavours of the food here are by no means mild and light, and that's how I usually like the food. I enjoy rich and intense flavours. So if you need a palate cleanser between the dishes, take your pick from Artichoke's extensive beverage menu. From cocktails and wine to legendary soda and iced teas, Artichoke has something for everyone. I especially enjoyed the Bloody Palmer($6) which comes with an aromatic Turkish tea and blood orange granita! The legendary soda piqued my interest and I found it to taste a little like icecream soda with a hint of strawberry. No one knows what's in it!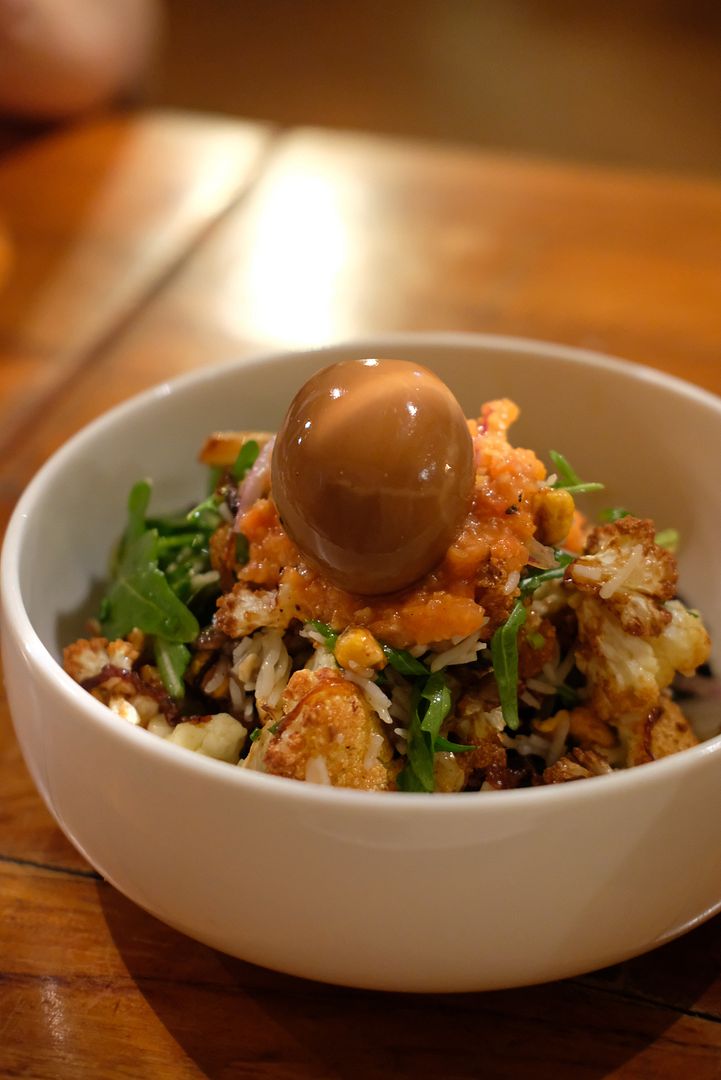 So, as I was saying.. Artichoke made eating veggies a piece of cake for me. Did I also mention that I probably ate more vegetables in this one seating that I did in like years? The
Cauliflower Kushari ($24, weekend brunch only)
looks like a mish mash of alot of ingredients, and it is. But it's a delicious mess. Deep fried cauliflower is brilliantly put together with onions, lentils, mint, puffed corn and fragrant basmati rice, then tossed in shallot oil, and seasoned with salt and amba (similar to mango chutney). It sounds like a lot is going on, but every bite was so gratifying. Much texture, much flavour, very yums. I loved the inclusion of puffed corn! I had a second serving of this and everyone was pointing out how I was finally eating my vegetables. Oh Artichoke, what have you done to me?
The
Cuttlefish Sharwarma($25)
definitely warrants a try. Unlike your usual meat sharwarma, this rendition employs sashimi-grade cuttlefish that's marinated in Artichoke's special shawarma blend and shallot oil, and evenly cooked through over a mangal grill. It is then completed with a special dressing of schmaltz (chicken fat), large limes and soya sauce. This was really tasty. It got a little salty after a few pieces though, so you may like to alternate among the dishes (I'm assuming you would have ordered a couple, because you'd be a fool not to).
Artichoke's menu changes regularly but one thing that has most certainly stayed the same is the
Green Harissa Prawns($38)
. Well, it doesn't take a genius to know why — this is disarmingly delicious. The grilled prawns are drenched in a deep rich green sambal cream that's made from rocket, mint, parsley, coriander, spring onion and green chilli. Once again, I would never have thought I'd one day be ingesting any of the listed greens, much less all of them in one go. The crunchy and firm prawns were just heavenly, and I could have easily finished that sauce with more bread. Except that by this time, my dress which was tight at the waist area was about to burst.
So, if you've followed my food journey long enough, you would know that I don't take lamb. But well, Artichoke has even made me eat vegetables, so I had no doubt that their lamb dishes would make me a convert as well. And boy, did Artichoke ace this
Lamb Ali Nazik($34)
which was just exceptional. The grilled lamb was so tender and flavourful. And the best part? The little chunks of lamb were sitting in a pool of sizzling butter. If you thought that the lamb was great on its own, wait till you get some of that butter and yogurt, and have them all together. It's an absolute umami bomb. DIVINE.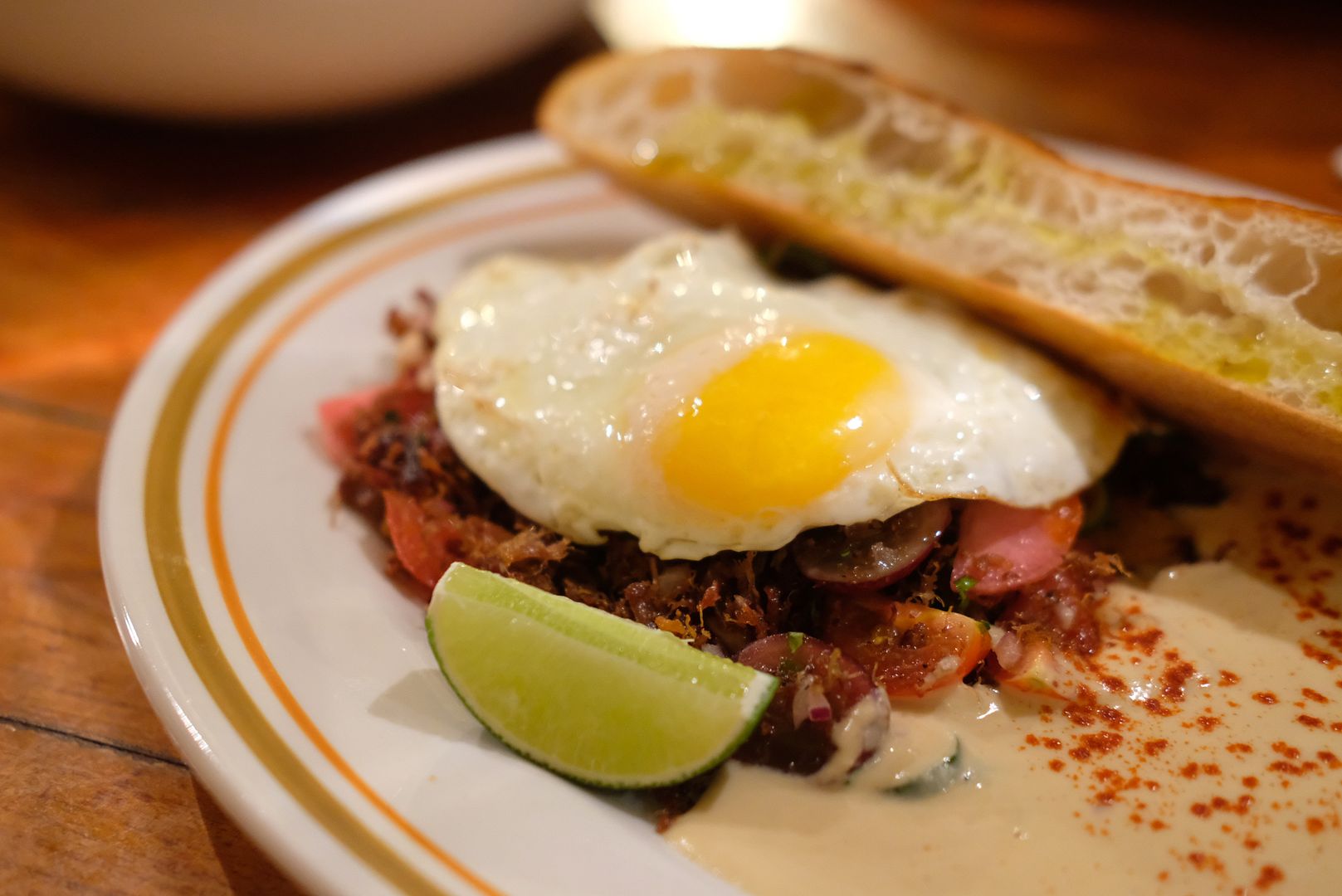 New on the menu, the
Crispy Lamb Floss($28, weekend brunch only)
is inspired by adobo flakes from Philippines. This ensemble of braised lamb shank that has been shredded and fried till crispy, thinned down hummus, sunny side up, and turkish bread toast, is a hearty brunch dish that's perfect for sharing, or just for one hungry soul to wolf down. I like that grapes have been incorporated, as the sweetness and coldness really kept things refreshing. There's a lot of flavours going on, and I am very confident that you'll enjoy this tremendously.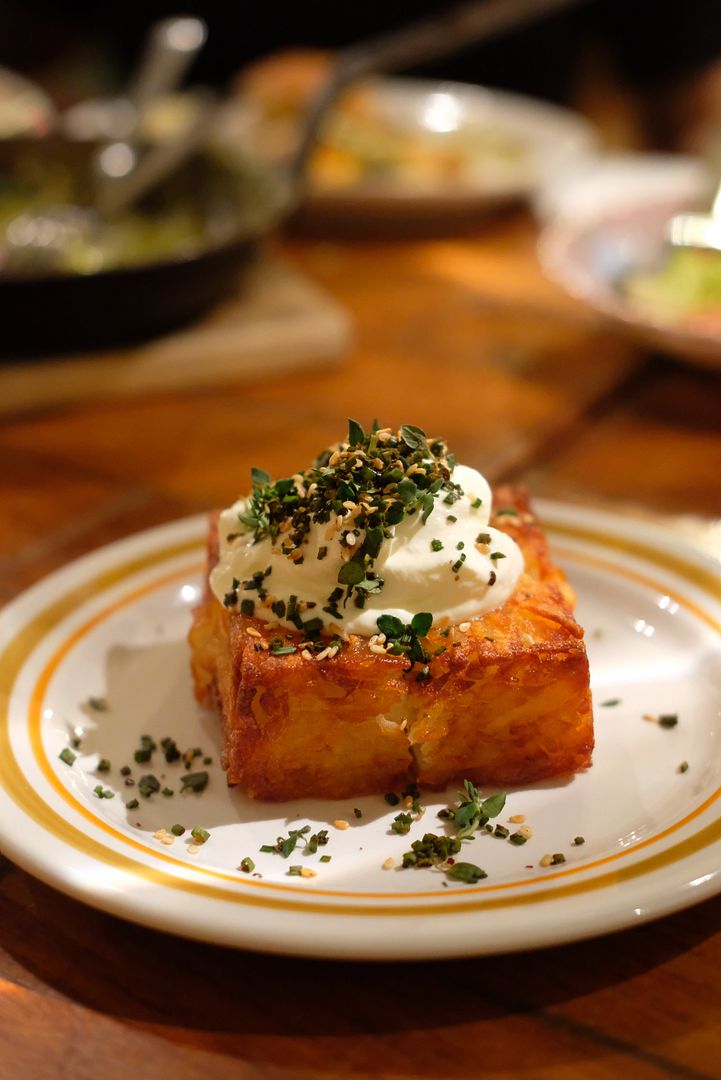 Just when I was about to pass out from being too full, I was offered potato, and I said yes in a heartbeat. Fried
Housemade Hashbrown($14)
with sour cream? I'm already sold. But hey, it really tasted awesome. And needless to say, the glutton in me finished it.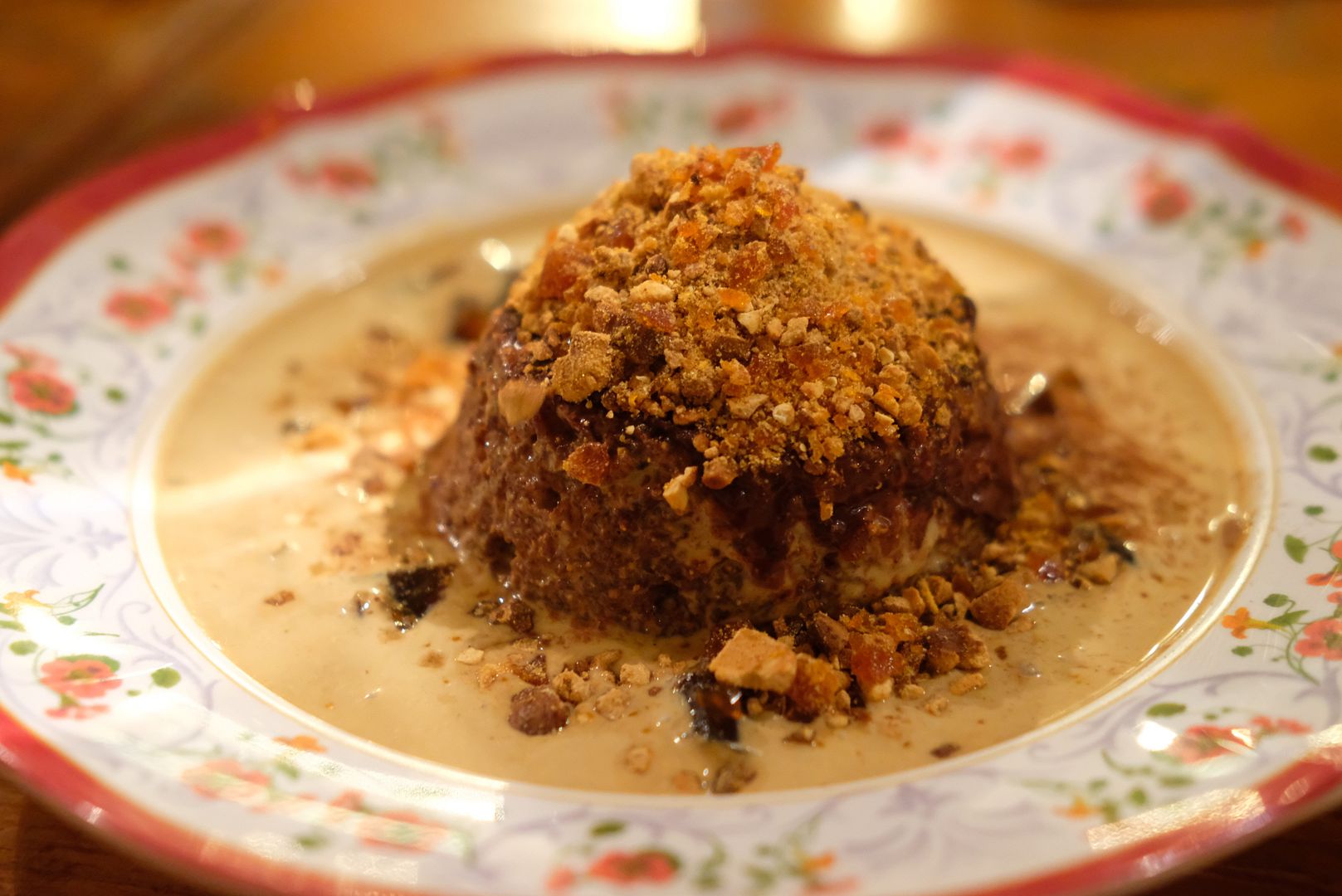 It's time for dessert! This real dense
Date Pudding($16)
is nothing like your basic sticky date pudding. Get a big spoonful of pudding, some smoked milk, crunchy cashew caramel, and coffee jelly, and pop it into your mouth. You'll find an explosion of rich and deep flavours that will leave a lasting impression and make you change the way you look at date pudding forever. This was my favourite dessert of the three, and I loved every bit of it.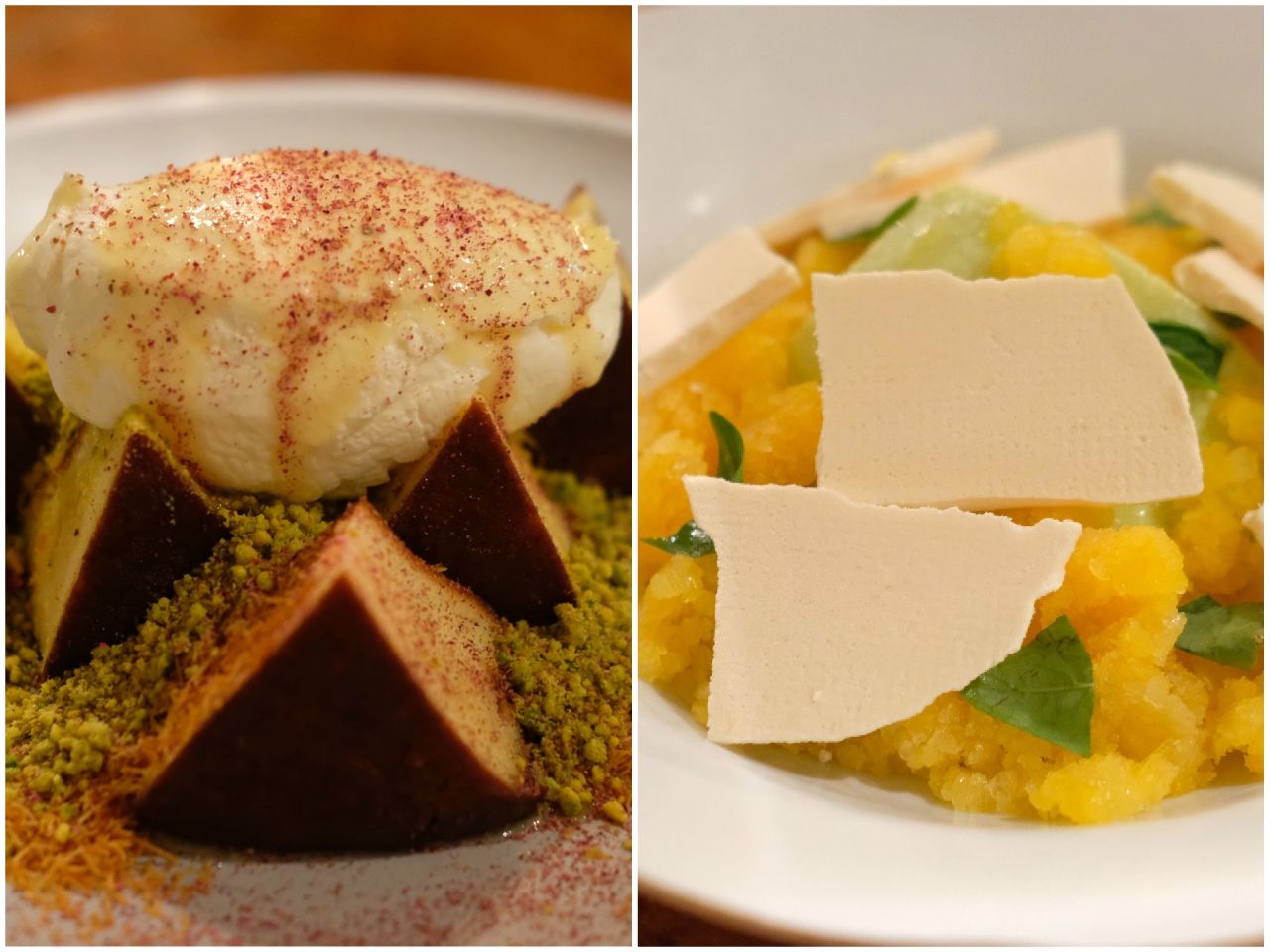 The
Baklava Cheesecake($22)
features triangles of cheesecake, pistachio, cream, honey, and rhubarb. The cheesecake is light, so if you prefer something that's not too heavy, I'll recommend this dessert. If you're one who always opt for something cold and icy, or extremely refreshing, after a meal, the
Malabi($16)
is tailored for you. Expect a creamy avocado pudding that's surrounded by passionfruit ice, and topped with meringue and basil.
I've been raving about the food at Artichoke ever since my visit, and I'll definitely be back soon!
161 Middle Road
Singapore 188978
Tuesday - Friday : 4pm - 945pm
Saturday - Sunday : 1130am - 245pm, 4pm - 945pm