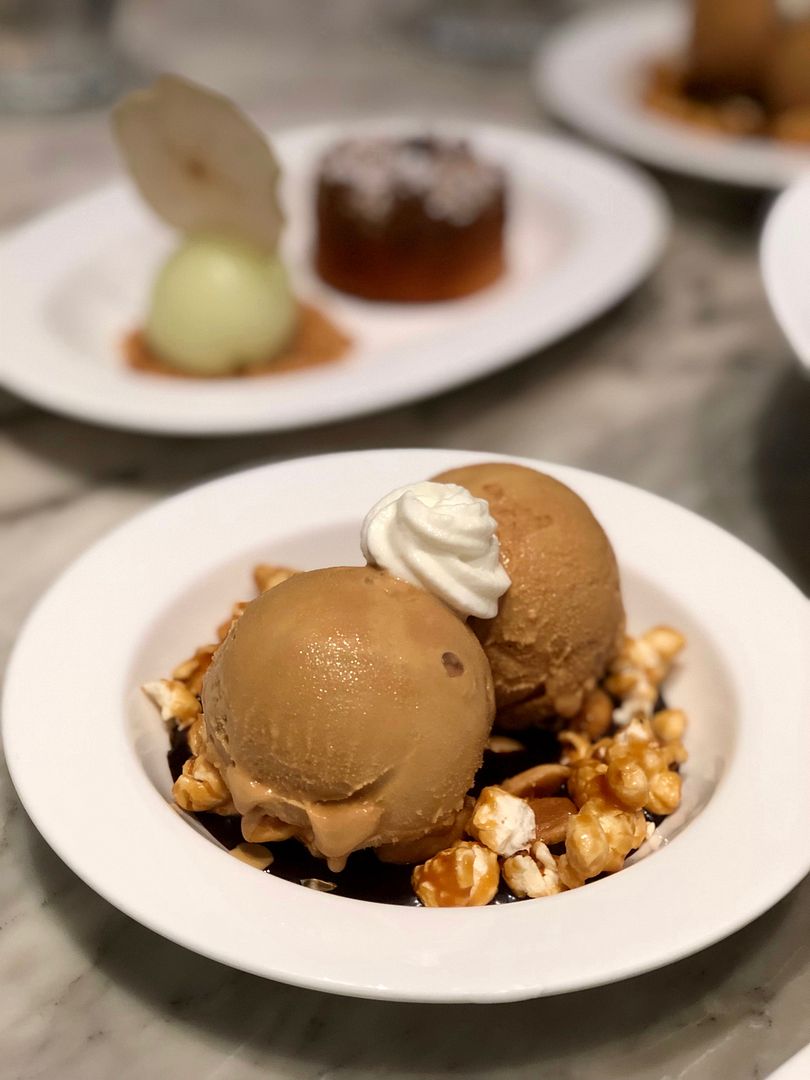 The Dempsey Cookhouse and Bar has been popular since the very day they opened their doors, and for good reason. The gorgeous space is perfect for girly brunch dates, and romantic dinners — truly a venue for all occasions. Having been to The Dempsey Cookhouse and Bar when they first opened, I have fond memories of this place and even fonder memories of their Salted Caramel Icecream which, needless to say, left a lasting impression. This time round, I'm back to check out their weekday set lunch menu. Do I have to tell you that I was beyond excited?
I love coming to Dempsey because it is tucked away from the hustle and bustle of the city, and it offers free parking! Dempsey is no stranger to pretty spaces and renowned restaurants but if you're thinking of visiting on a weekday afternoon, I'm pretty sure that there's no prettier restaurant that promises such an exceptional weekday lunch menu.
Opt for a 2-course lunch at $38 or go for the 3-course lunch at $42(inclusive of coffee or tea). Well, it's quite a no-brainer, isn't it? A la carte options are available as well.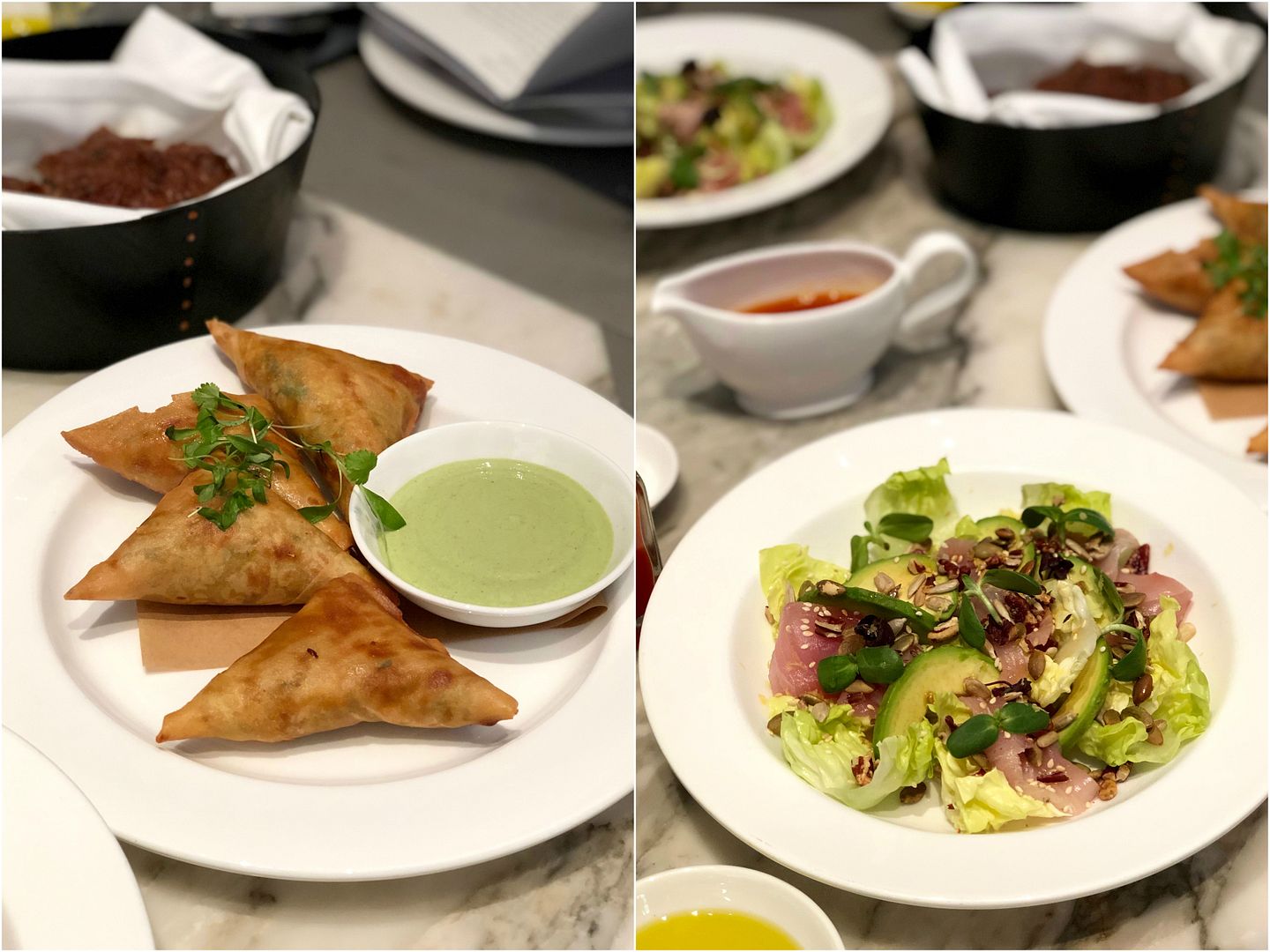 Begin your meal with the crisp and generously-filled
Spiced Chicken with Cilantro Yoghurt Dip
or the
Hamachi Salad with Avocado, and Soy Chili Dressing
(+ $5). I was initially quite hesitant about trying the cilantro dip but it paired really well with the spiced meat in the samosa that I couldn't resist going for a deeper dip the second round! While I didn't enjoy the vegetables, I really fancied the fresh thinly-sliced Japanese hamachi loin which was dressed with a unique and tart dressing. Super appetizing!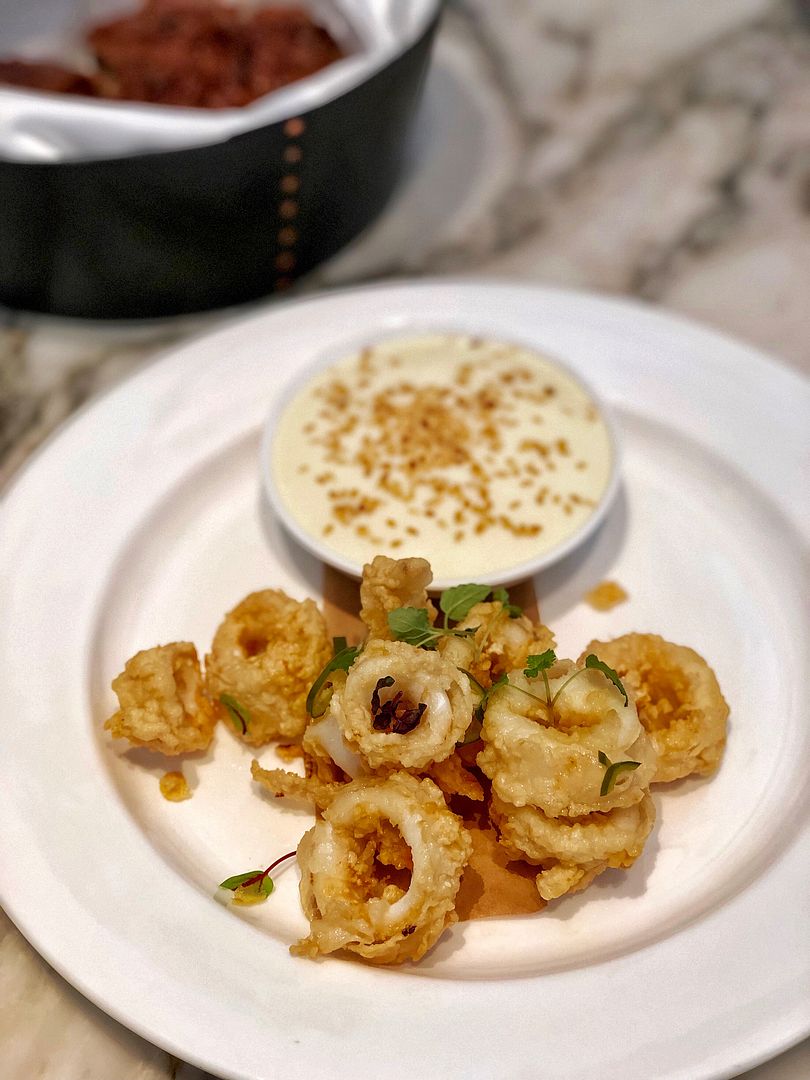 My favourite appetizer has to be the
Crispy Calamari with Yuzu Dipping Sauce
. Fresh local squid is precisely cut into the same thickness before they are fried. Armed with a lovely crisp, each calamari carried the fragrance of toasted sesame seeds, and tasted even better with the light and airy yuzu foam that's made with dashi, egg yolks, yuzu juice, lime juice, grapeseed soil and kosher salt. This was incredibly delicious and I'll highly recommend that you pick this to kick off your meal! If these 3 options haven't excited you, they have 4 other appetizers on the menu!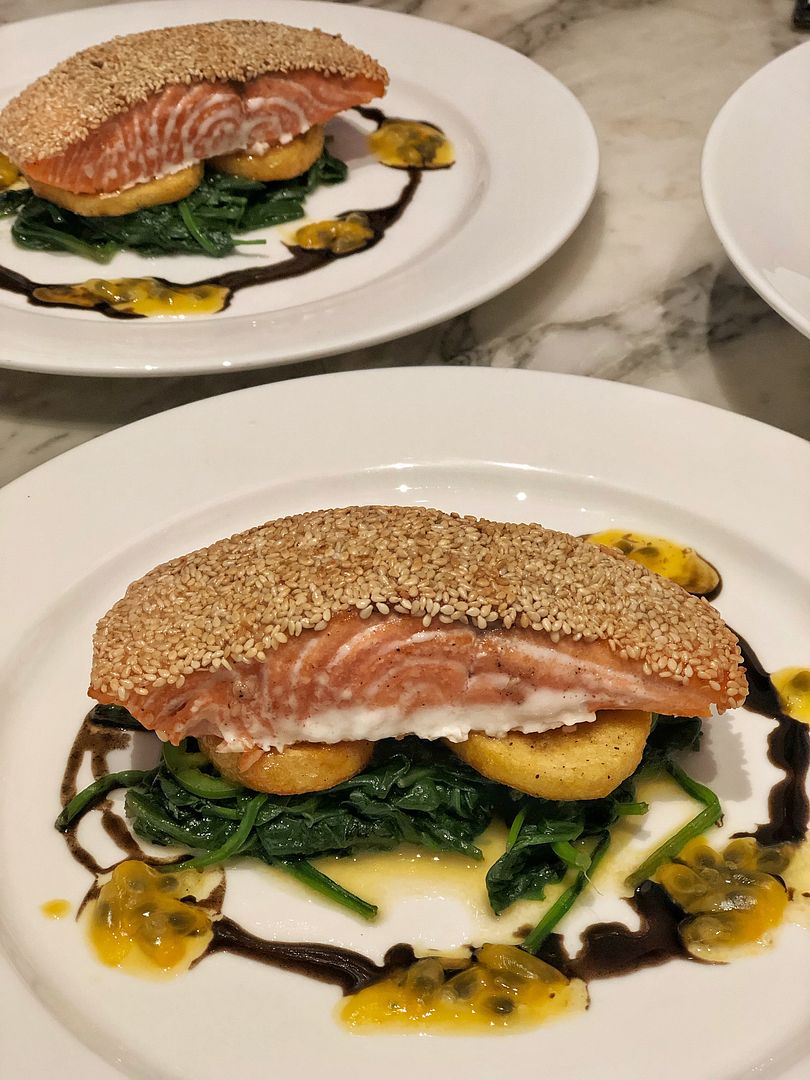 An impressive selection of mains await and there's something for everyone! My top pick is the
Sesame Crusted Trout with Sauteed Potatoes, Spinach, Black Olives and Passionfruit
. The slow-baked trout was cooked to perfection, with a slightly pink centre. It is brilliantly paired with Idaho russet potatoes that have been baked and deep-fried. The addition of olives and passionfruit puree injected a refreshing touch of sourness to the fish and kept every bite as tasty as the last.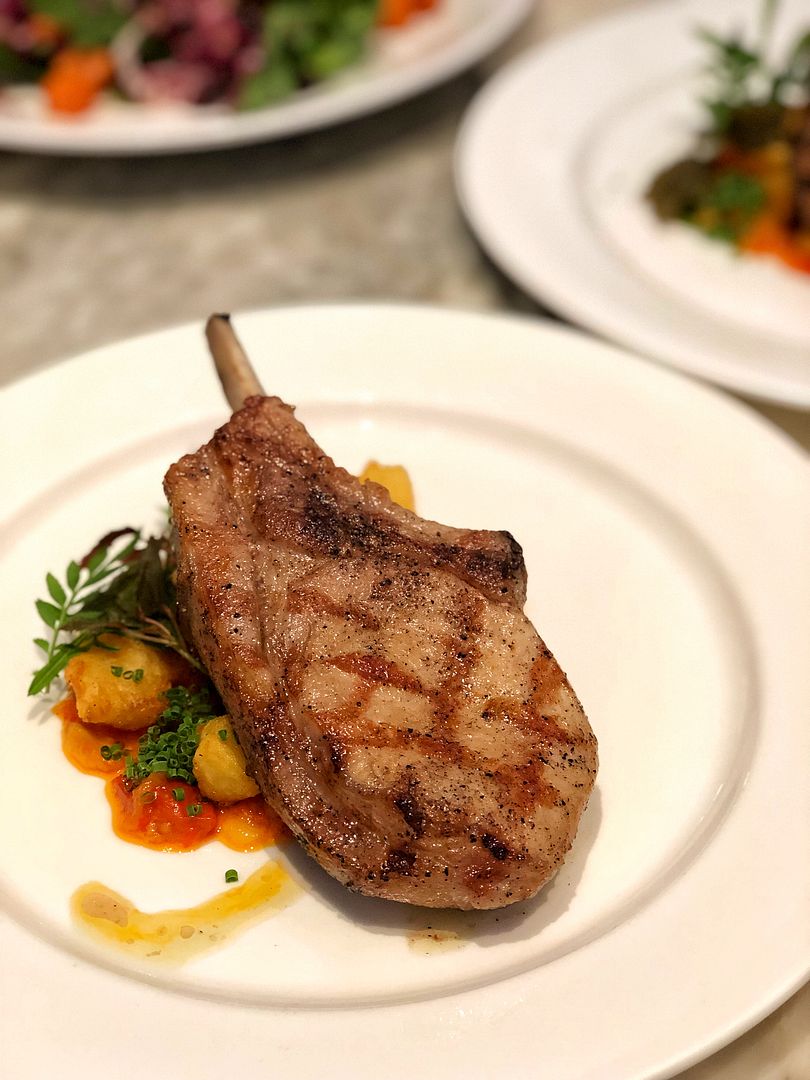 My second favourite of the lot is the
Grilled Pork Chop with Piperade and Crunchy Potatoes (+$8)
! I love a good pork chop and the Borrowdale free range Pork from Australia did not disappoint one bit. The pork chop was of a good thickness, and it was flawlessly cooked! It was wonderfully seasoned, tender and juicy. If I wasn't in such a nice place, I might have picked up that whole slab and start gnawing on it to make sure that I pick every morsel of meat off the bone! The roasted potatoes were the icing on the cake, and I do love my potatoes so this is a winning combination for me.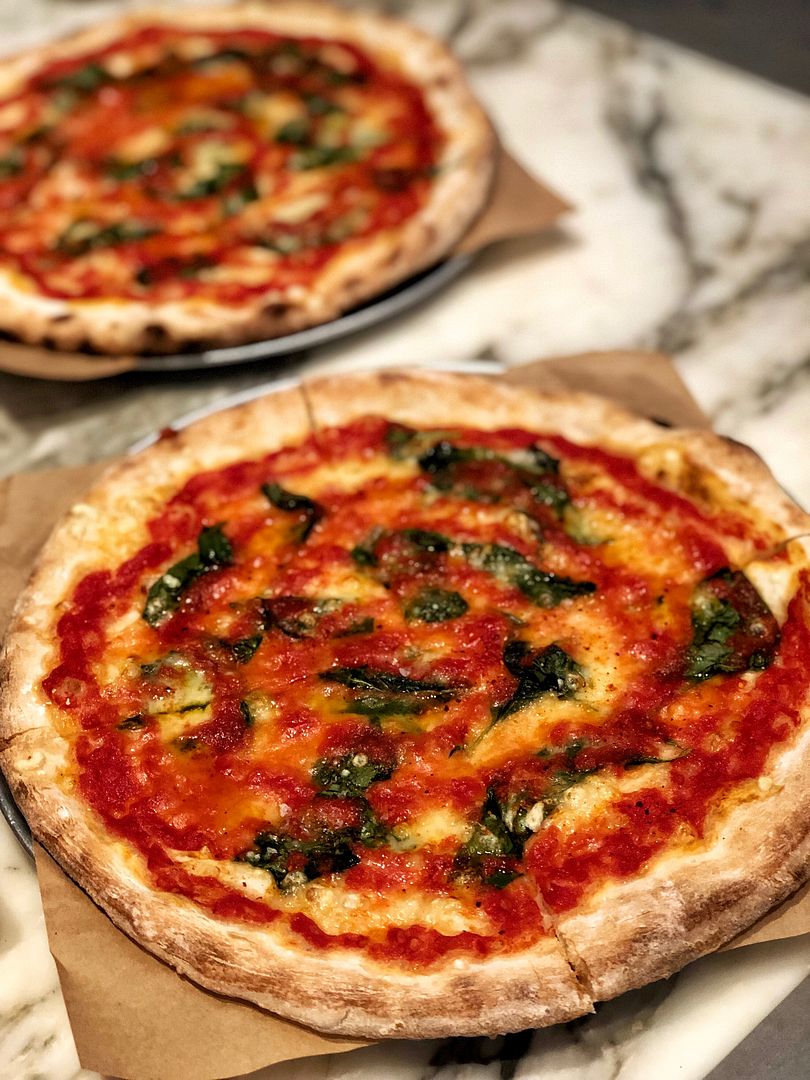 Pizza fans must not miss the house-made
Tomato, Fresh Mozzarella, Chilli and Basil Pizza
! Everything is made in-house, and the pizza is baked in a wood-fired oven that uses apple and cherry wood. The dough was amazing, with a slight chew and subtle aroma, and the combination of all the fresh ingredients just can't go wrong!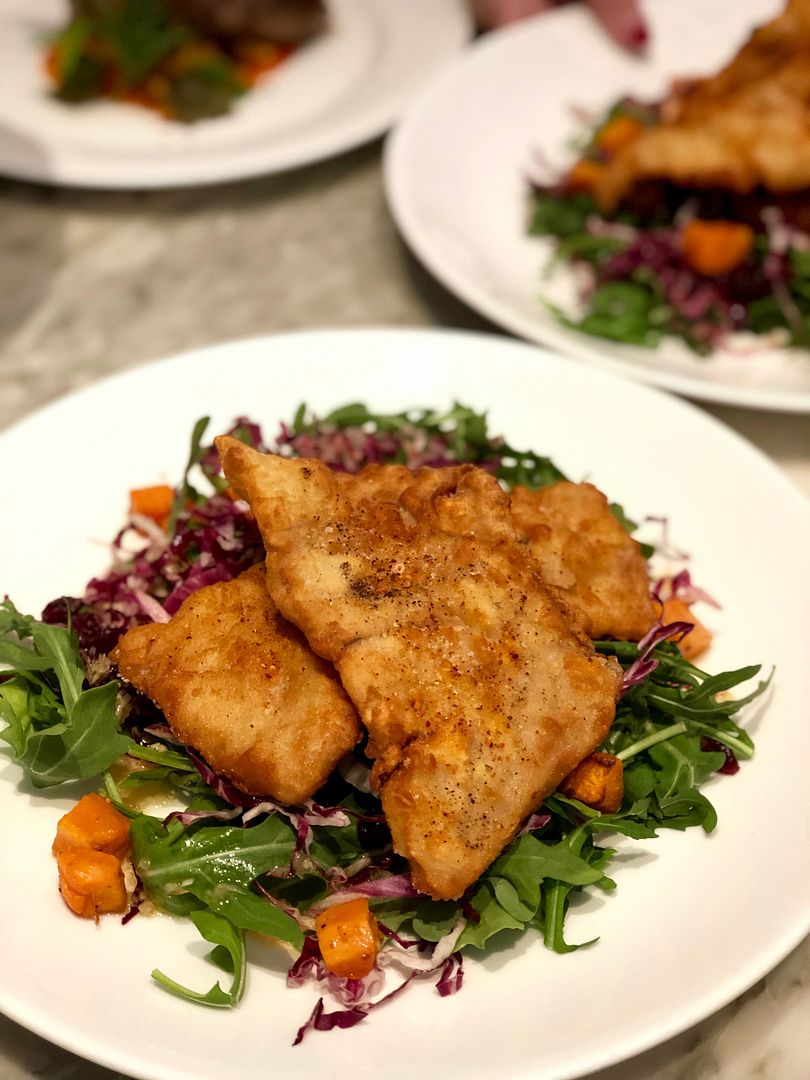 Haven't had a good
Veal Milanese
in awhile? You can get your craving satisfied at The Dempsey Cookhouse and Bar! Australian veal is pounded thin and battered with flour, egg whites and panko breadcrumbs, and then deep fried. The beautifully-cooked veal is placed on a bed of arugula, radicchio, dried cranberries and sweet potato cubes. The veal had a great texture and you will find yourself chomping it down happily. The pool of vegetables which glistens from a dressing of apple cider, ginger, shallots, salt and olive oil, will keep your palate refreshed as you wolf down the rest of the veal.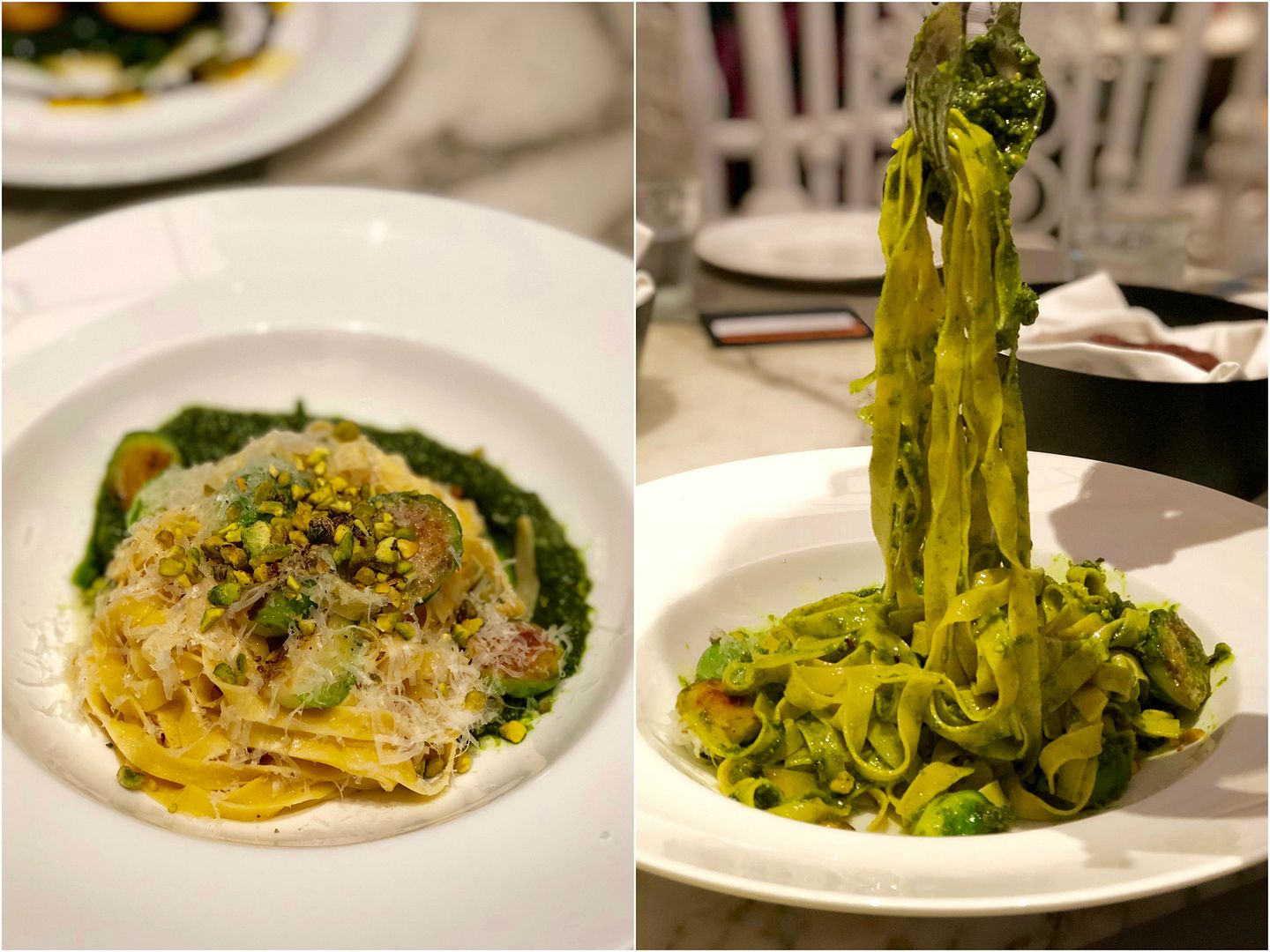 Pasta lovers will fall head over heels in love with the Fresh Tagliatelle with Pistachio Pesto and Roasted Brussels Sprouts. Fresh pasta that's made by hand daily with an aromatic pistachio pesto? Even a carnivore like me couldn't resist this dish!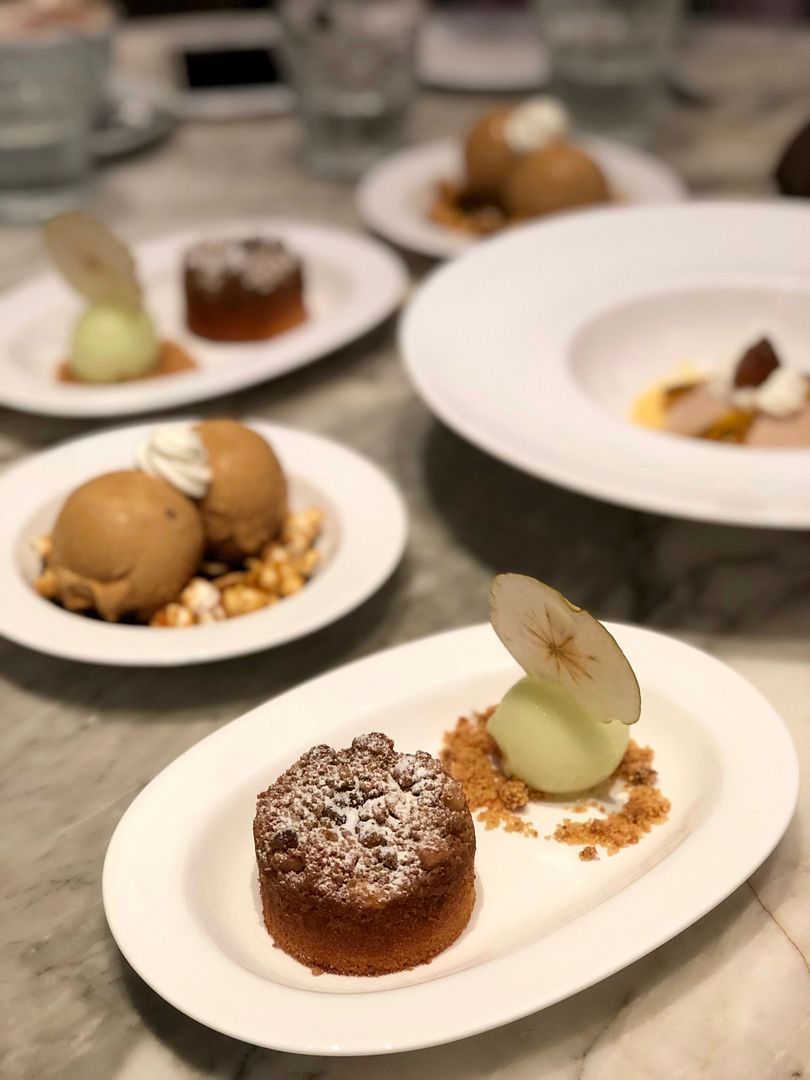 Yay, it's time for dessert! The
Salted Caramel Ice Cream Sundae
which features two scoops of housemade salted caramel ice cream, caramalised peanuts, popcorn and whipped cream in a bowl with gooey hot fudge is just about the best thing here at The Dempsey Cookhouse and Bar. Trust me, you will be hooked on the very first bite, and you won't want to share! If it happens to be a rainy afternoon and you're looking for something warm, the
Cinnamon Apple Cake
which has a core of Granny Smith apples with Calvados apple liquer, butter, golden raisins and green apple puree, will tickle your fancy. Every mouthful of the soft and warm cake was just so good! The cake is served with green apple chip and a scoop of awesome green apple sorbet.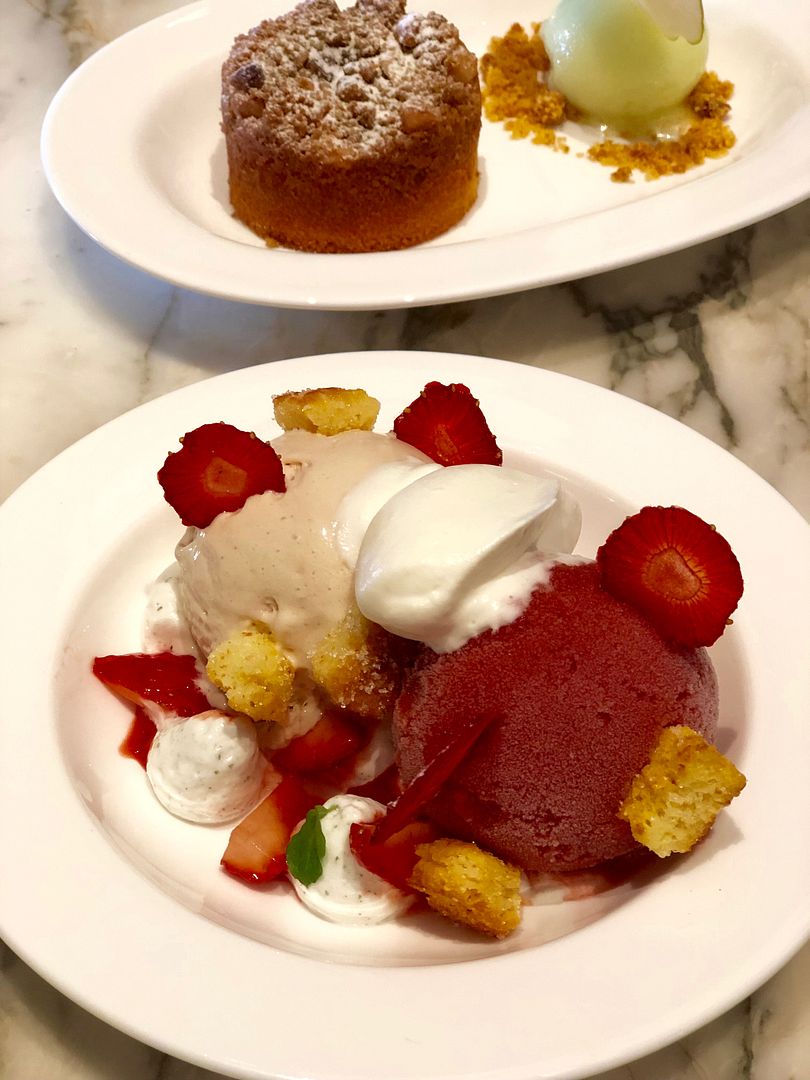 The
Strawberry Sunday with Kaffir Lime Meringue
showcases the versatility of strawberries. It is an ensemble of strawberries in 5 different ways — strawberry icecream, strawberry and red wine sorbet, strawberry jam, dehydrated strawberry chips and fresh strawberries! This earned lots of praises from everyone and will certainly please all who love the fruit.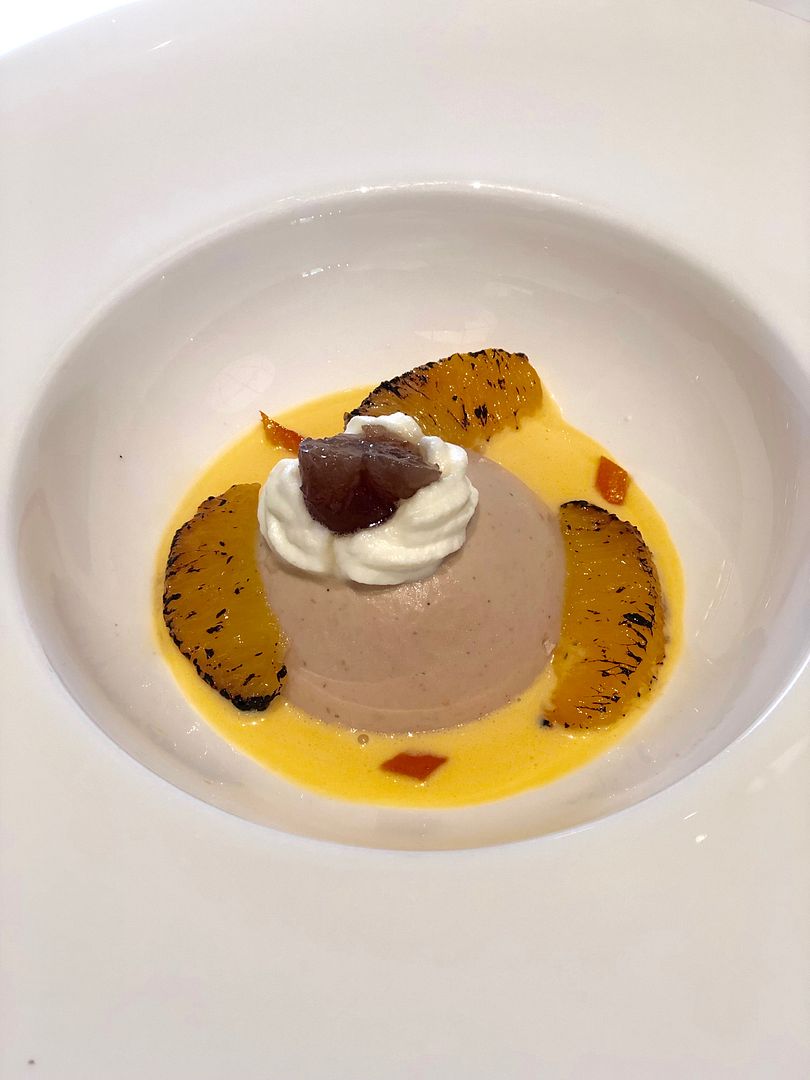 Seasonal ingredients take centrestage in the contemporary Asian-inspired European fare which Chef Jean-Georges Vongerichten is known for. And this is best embodied in Chef's Chestnut Panna Cotta with Mandarin Orange Coulis. East meets West in this tasteful dessert which brings two strong tasting elements together harmoniously!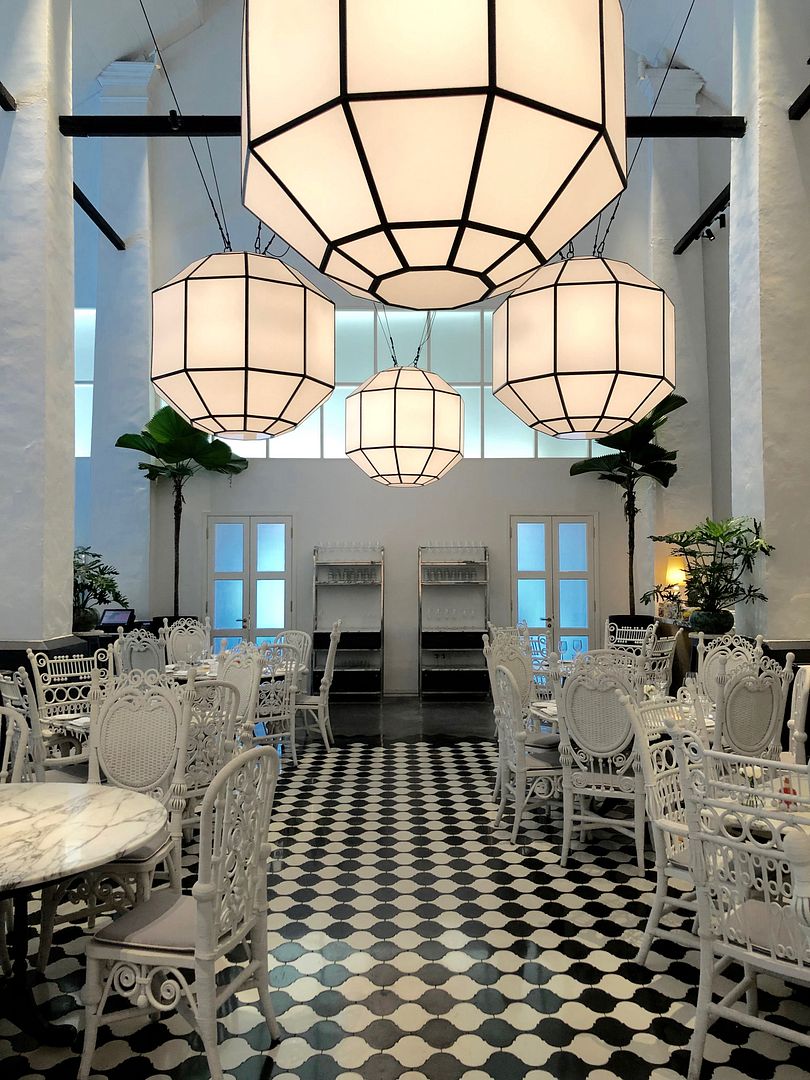 The weekday lunch menu at The Dempsey Cookhouse and Bar changes frequently so be sure to refer to their website for the updated menu before you head over!
17D Dempsey Road, Singapore 249676
Monday - Thursday : 12pm - 3pm, 6pm - 12am
Friday : 12pm - 3pm, 6pm - 1am
Saturday : 1130am - 4pm, 6pm - 1am
Sunday : 1130am - 4pm, 6pm - 12am