Butcher's Block is known for its wood-fired meats and grills, and an impressive selection of wines that's been hand-picked by an expert sommelier. Crowds flock here for a lovely dinner set in a beautiful dining room dressed in the most gorgeous shade of blue. But do you also know that Butcher's Block is also open for brunch on weekends as well? At the helm of Butcher's Block is Chef Jordan Keao, a talented chef who was formerly cooking up a storm at Burnt Ends.
He has breathed new life into the weekend menu with palate-pleasing brunch favourites cleverly amped up with international flavours.
Are you ready to see what's in store?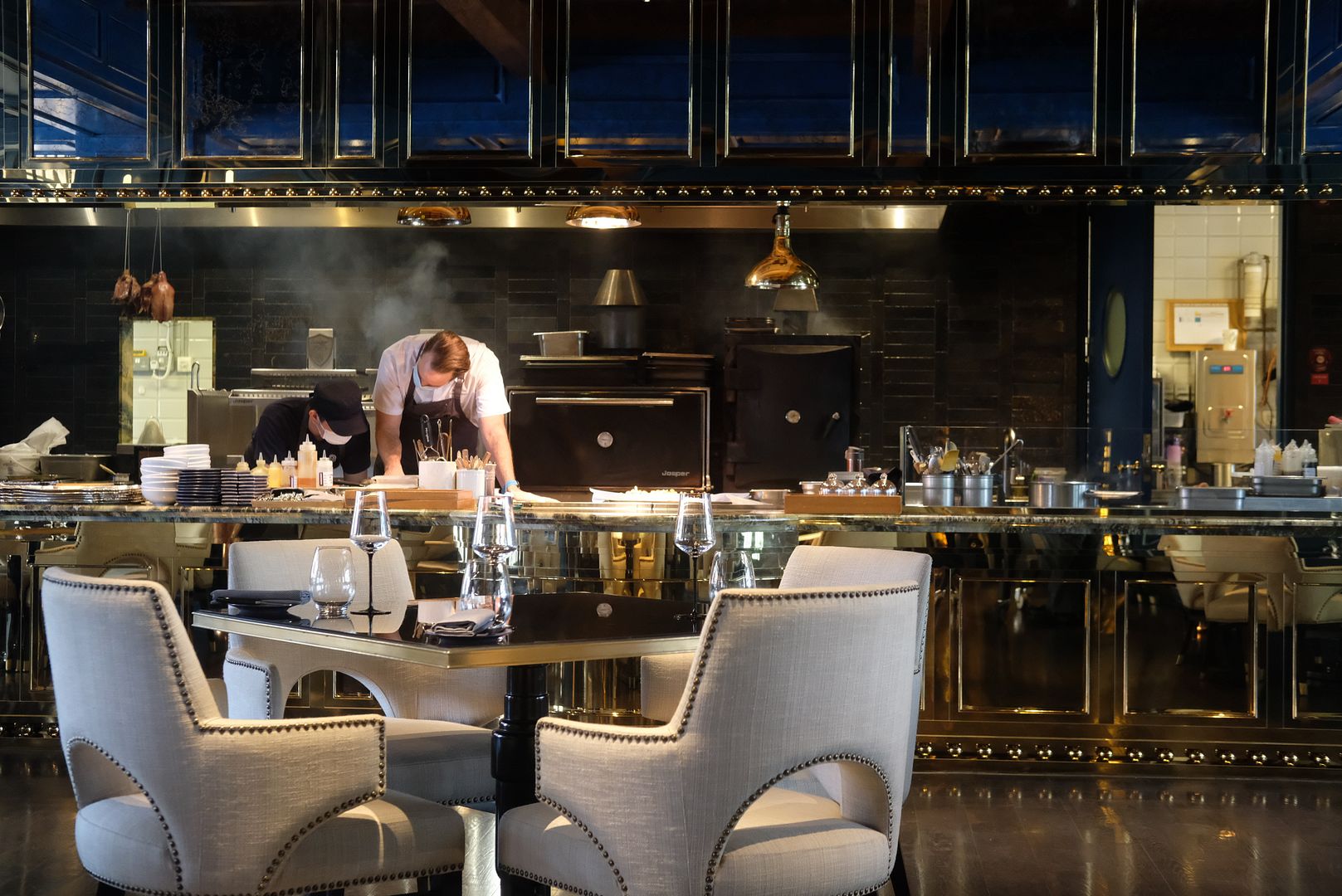 Starting the day right, we had slices of freshly baked bread with house-made shio kombu butter which was incredibly addictive. While the bread and butter probably wasn't supposed to be the highlight of the meal, they were so good that I had 4 pieces of bread and all the butter before our first course even arrived. The butter is to die for!

While I was silently savouring the breads, the sommelier introduced the first wine that we would be having that afternoon. We were in for a boozy treat as we kicked off Butcher's Block Weekend Brunch Sommelier's Selection($88/guest) — a 90-minute complimentary flow of curated wines handpicked by the sommelier — with a tasty NV Brut Blanc de Blancs.
What better way to officially start an indulgent Saturday brunch sesh than with a platter of fresh l'Antilope Normandy Oysters($6/oyster)? Yum.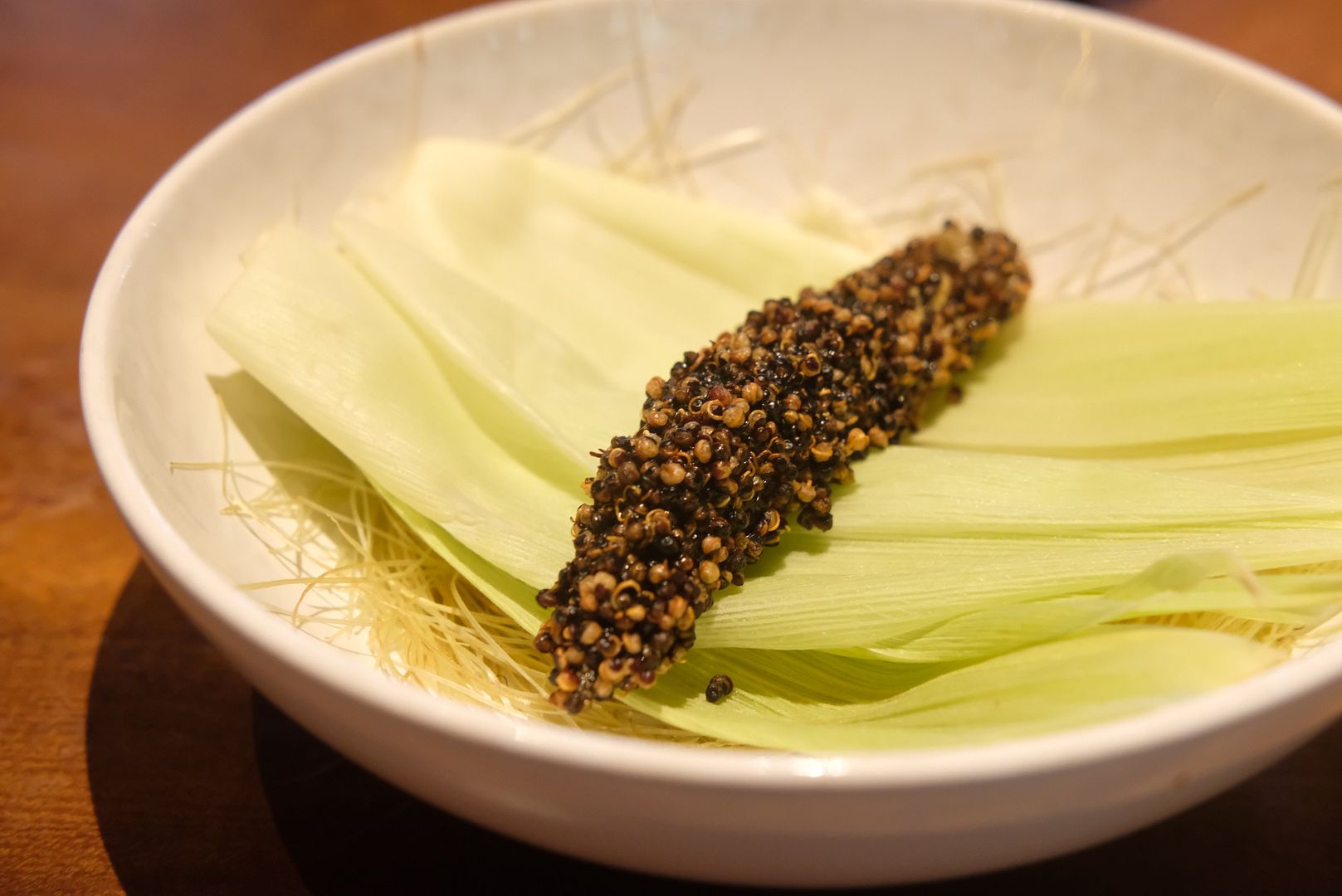 The Baby Corn($11) changed the way that I will look at corn for the rest of my life. While most of us enjoy a good corn on the cob with copious amounts of butter, I'm sure most of us have never come across a corn this delicious. Prepared with preserved black beans and crispy quinoa, this baby corn is a flavour bomb not to be missed!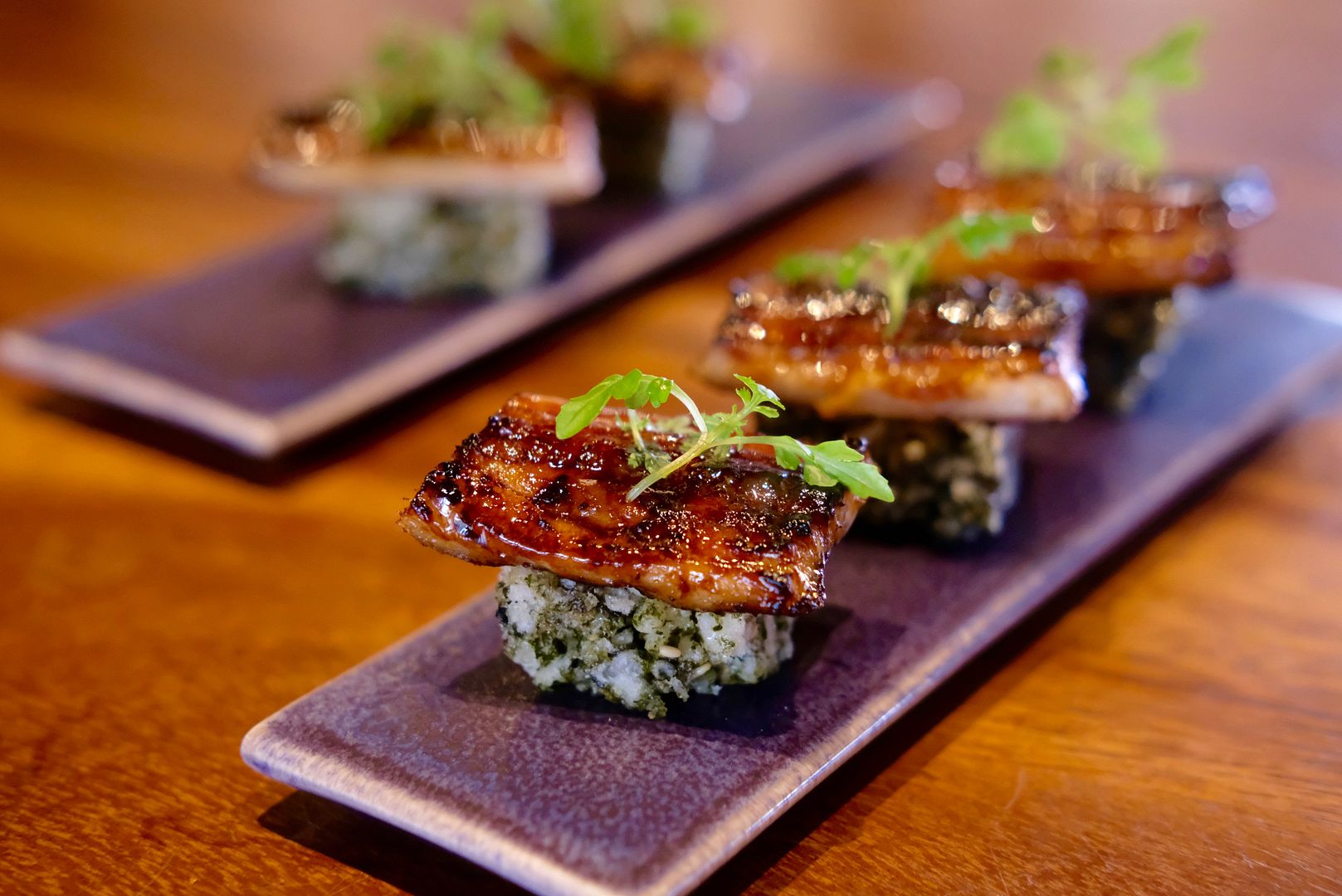 The Smoked Unagi ($15) with nori rice cracker was a clever pairing of sweet and savoury flavours. I enjoyed the little crunch of the cracker!
Wagyu Sukiyaki ($32) is always a good idea, especially when it comes with a smoked egg yolk. Expect exceedingly tender melt-in-your-mouth wagyu beef slices draped in a sweet and flavourful marinade!

The white wine was really delightful as well. Do you see how the name of the wine is written on the base of the wine glass? The wine glasses at Butcher's Block are all customized so that words can be written on them — no more confusion (mixing up of glasses or mixing up of similar looking wines). Smart!
Taking centrestage is the Lobster Bao with smoked trout roe ($58) which interestingly features a charcoal black "bao". Sandwiched between the soft bao that's armed with a light crisp is a cold creamy mix of plump lobster garnished with smoked trout roe. It tasted just as good as it looked! Also, I especially enjoyed the side of well-seasoned potato wedges which had a thin crisp skin, and fluffy middle.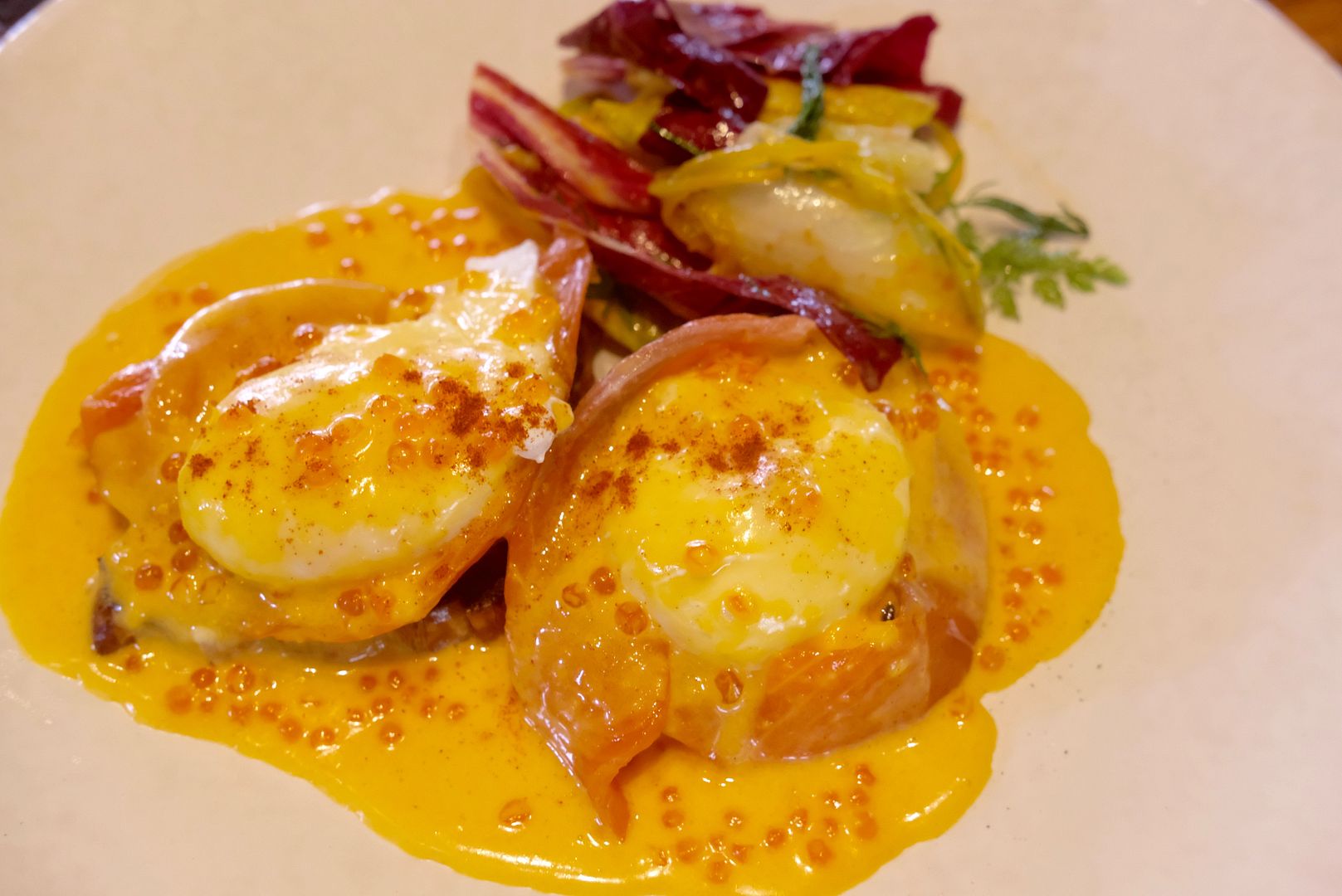 A classic that will never go wrong —Smoked Salmon Eggs Benedict ($25). After all these years, we still love ourselves a good eggs ben. There's just something about an oozy egg yolk that gets me every single time. Paired with savoury smoked salmon, a generous sprinkling of ikura, and a beautiful hollandaise sauce, this brunch favourite will not disappoint.
The Korean BBQ Sando ($58) might be a playful spin on the well-loved Japanese sandos that Singaporeans go crazy over, and it sure is a brilliant one! The bread was well toasted, and had a lovely crisp, and the meat was marinated to perfection, carrying nice smoky hints. This was one of my favourite items, no doubt!
My favourite brunch item of the lot has to be the Croque Madame ($25) with Joselito Iberico(18 months). Have you seen a prettier croque madame? I love the luxe twist that Chef Jordan has injected to this iconic French breakfast item — just look at the amount of iberico! It's a tasty mix that I would definitely return for. Just thinking of the explosion of flavours is making me drool right now.
I'm not a fan of French Toast but Butcher's Block's French Toast ($19) with Salted caramel was one of the better ones I've had in a long time. This rendition is not the typical thick toast with a super pillowy soft middle, but it had just the right thickness for me(I find thick toasts too difficult to cut through). It also had an even custard-y texture throughout (instead of the core just being white bread as seen in thicker toasts). Drizzled generously with a house-made salted caramel sauce and topped with fresh berries, the French Toast will make your day!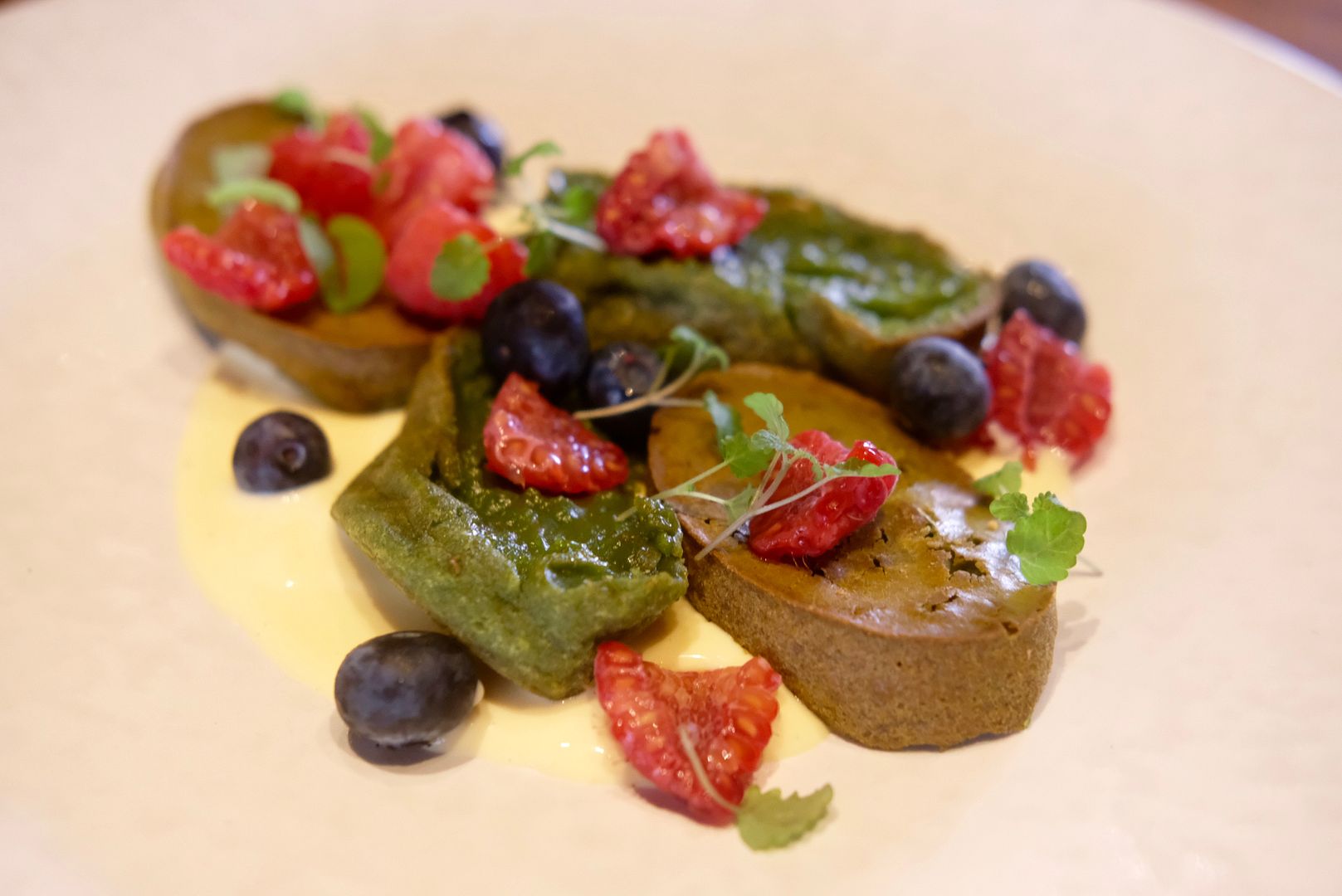 The desserts here are pretty unconventional so if you're in the mood for some unique innovative sweet treats, do give them a go! The Baked mochi with citrus anglaise ($12) sees baked chewy ingots paired with a white sauce laced with bright citrusy notes. It's pretty good but if you're in the mood for something light, I'll recommend the Burnt citrus sorbet with coconut pudding ($11) which promises light refreshing flavours complemented by a curious umami from the blanket of powder, and tangy notes from the berry compote hidden in the middle.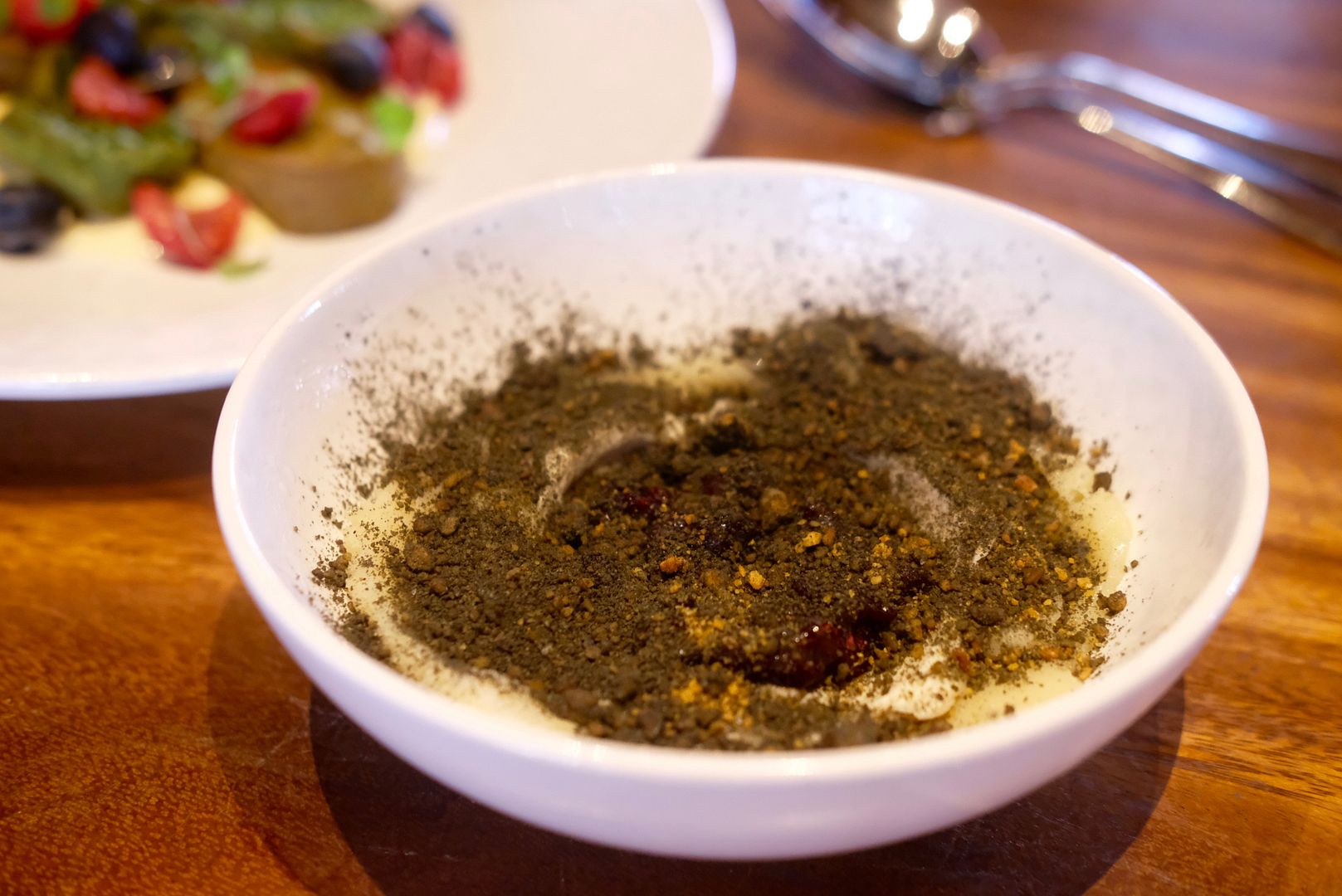 You can look forward to wallet-friendly and delicious brunch fare, great ambience, and impeccable service at Butcher's Block always. Would really highly recommend that you pop by for brunch!
Raffles Hotel Singapore
328 North Bridge Rd, 188719
#02-02 to #02-07, Raffles Arcade
Wednesday - Friday : 6pm - 10pm
Saturday - Sunday : 12pm - 230pm, 6pm - 10pm