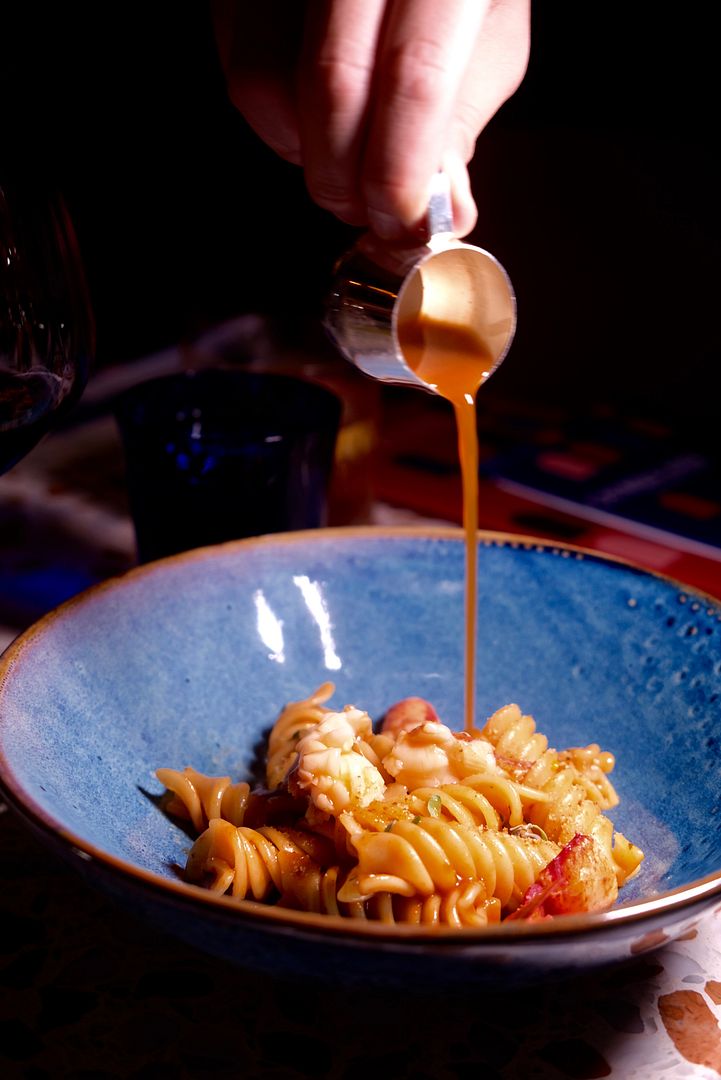 When BBR by Alain Ducasse first opened its doors at Raffles Hotel Singapore back in 2019, I was beyond excited. After trying the food and drinks for the very first time there, I was obsessed. I couldn't even get a reservation after the opening night. Unfortunately, shortly after their grand opening, covid hit and the spacious and beautiful restaurant had to close. It's been more than a year since and the restaurant has recently reopened as OSTERIA BBR by Alain Ducasse, focusing on ingredients sourced from the Italian Riviera.
I was like an excited little girl, full of anticipation, as I walked through those grand doors of OSTERIA BBR again. The space looks almost the same, with slight changes to the furniture. Many of us would not know this but the original BBR(Bar & Billiard Room) opened 125 years ago. The current restaurant retains some of the original structures and tiles, and is jazzed up with contemporary finishings that are more than aesthetically pleasing.
As you enter BBR via the entrance near the grand lobby of Raffles Hotel, you'll find yourself staring at a fully-stocked bar and comfy plush seats that will call out to you. You just can't not grab a drink, can you! With an unbeatable happy hour that runs from 3pm - 8pm daily(what!!), BBR is set to become the most popular bar in Singapore. There's just nowhere else in Singapore that you can enjoy a $16 cocktail in such an upscale setting, especially on the weekends. Best happy hour in Singapore? Checked. Also, my eyes went wide when I heard that they have a special promotion where guests can enjoy a platter of 6 fresh oysters and a bottle of prosecco for just $88. Alright, alright, I'm sold!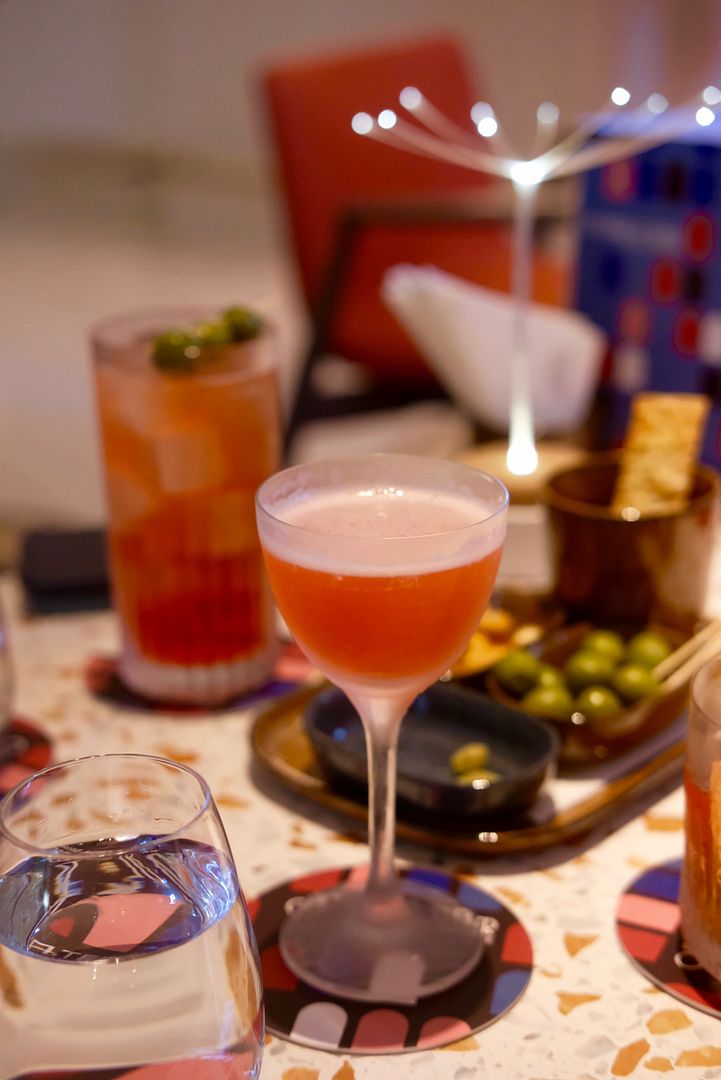 I started the evening with a Campari Shakerato($16) and some snacks, before we moved into the main dining room and sat at a table which had a nice view of the open kitchen — the perfect centerpiece.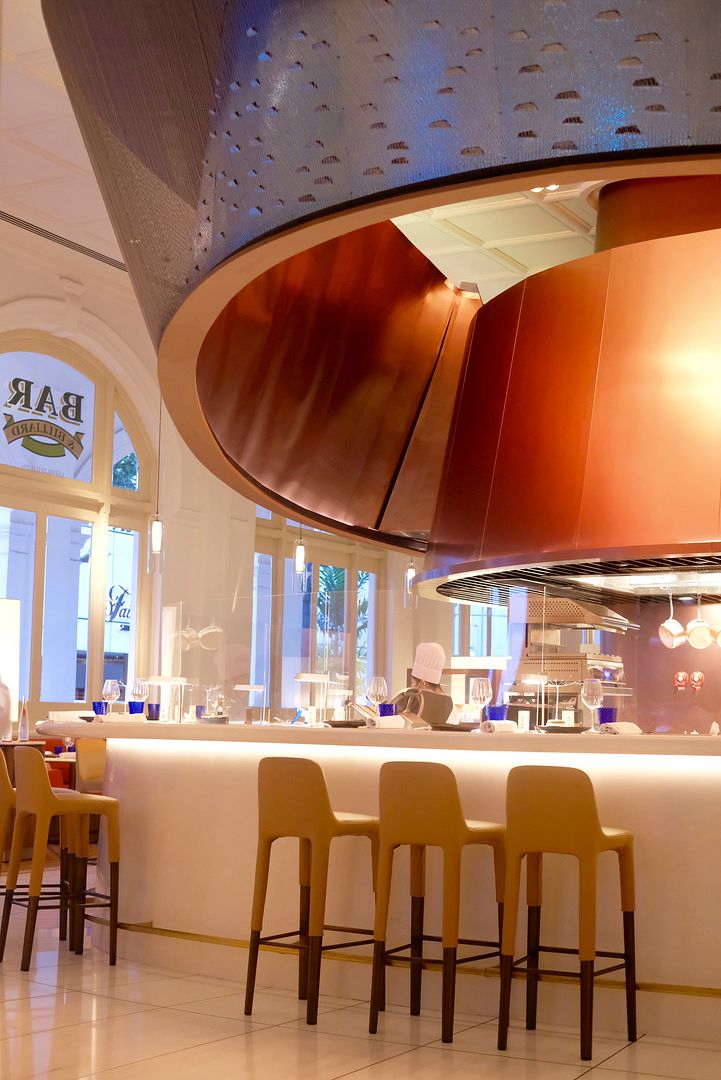 If you look through all the menus available, you might be just as surprised as I was at how reasonably priced everything is. Pizzas from $28, pastas and risotto from $32? I couldn't even believe my eyes. And knowing the standard of the food here, I was blown away by how incredibly affordable the dishes are. Their set lunch menu is also unbelievable — 2 courses for $36 and 3 courses for $42. And the best part? It's available even on Saturday! Unbeatable value seems to be a strong theme here at OSTERIA BBR, and this fine establishment just keeps surprising me! I also browsed the Menu Tentazioni, a tasting menu offering 7 of OSTERIA BBR's signature dishes($108/guest). Wow. Armed with an extensive wine list curated by dedicated expert sommeliers, OSTERIA BBR is all set to take your taste buds on a gastronomic journey where diners can experience the best food and wine pairings.
In true Raffles Hotel fashion, we started off with a glass of their signature bubbly, which I'm in love with, some freshly baked breads that we had extra servings of, and an adorable amuse bouche that exploded with a warm burst of flavours.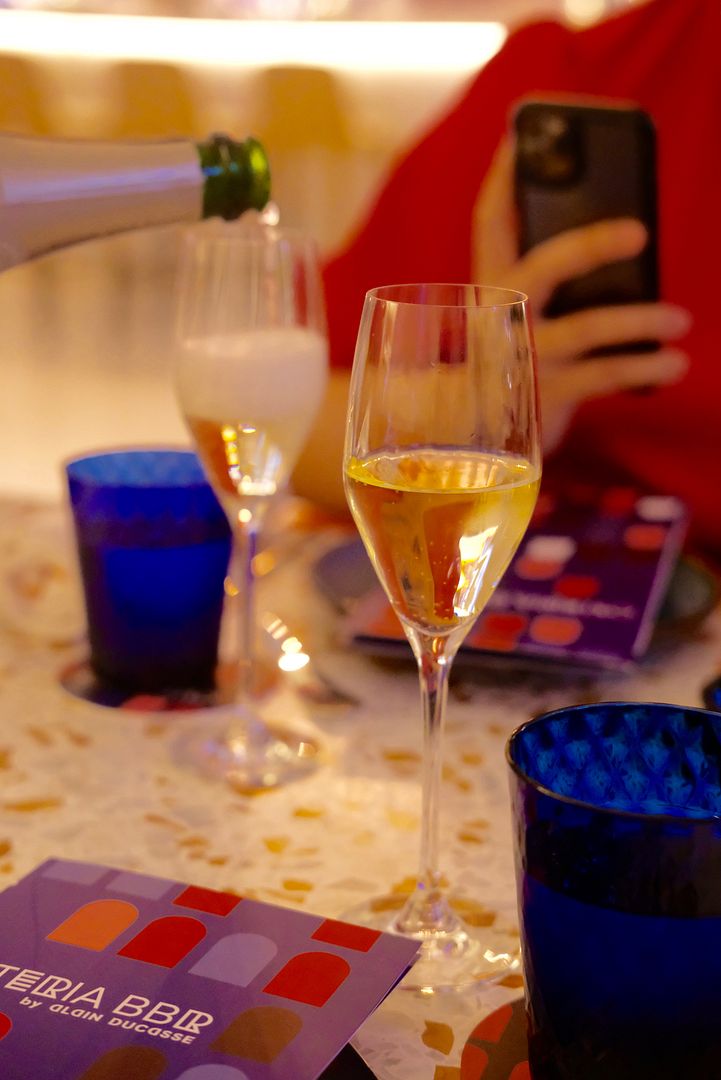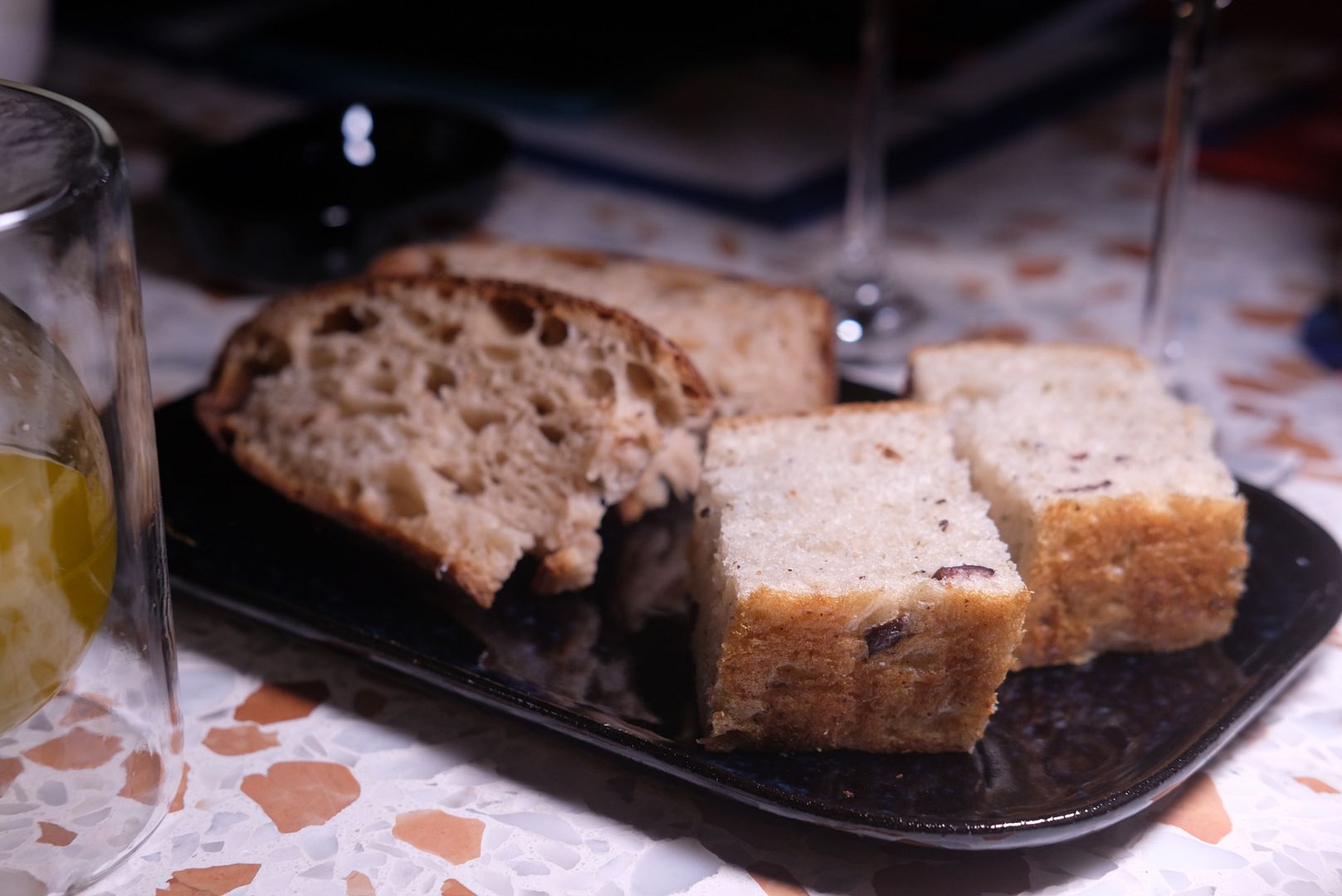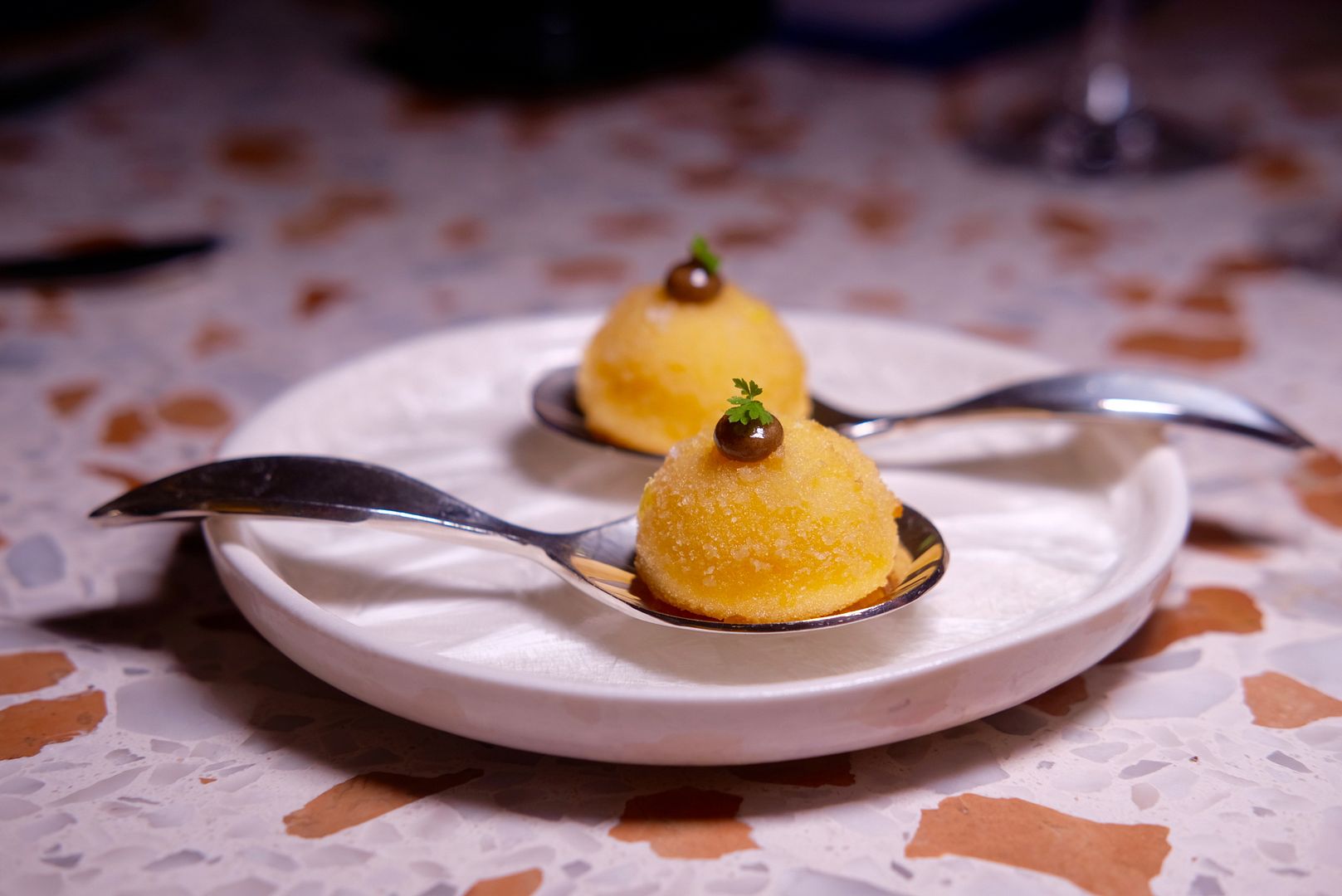 The first course was marinated mackerel paired with red chicory condiment and thin slices of roasted zucchini. The mackerel was seasoned to perfection — the distinctive strong flavours of mackerel were accentuated by the savoury notes of the marinade. It was an appetite-whetting bite-sized treat that I most definitely wouldn't mind more of.
What arrived next knocked my socks off. The opulent Mazara del Vallo Red Prawn Tartare was an immaculate work of art that was constructed with fine jelly, a ring of firm succulent prawn tartare, a blob of creamy buffalo mozzarella, and a neat blanket of Kristal caviar. To say that every bite was outstanding and addictive would be an understatement. The exquisite ensemble was a sweet symphony, and the umami packed in every mouthful had me grinning from ear to ear, and quietly screaming praises inside. Is this heaven on earth? This is truly a masterpiece that will impress even the most discerning of diners. So, so good!

The pristine freshness of the marinated seabream was curiously highlighted by a touch of sourness in the amalfi lemon cream. However, biting into the zest of the lemon elicited a strong characteristic bitter taste which I felt was too overwhelming as the bitterness lingered and overpowered the mild natural flavours of the fish.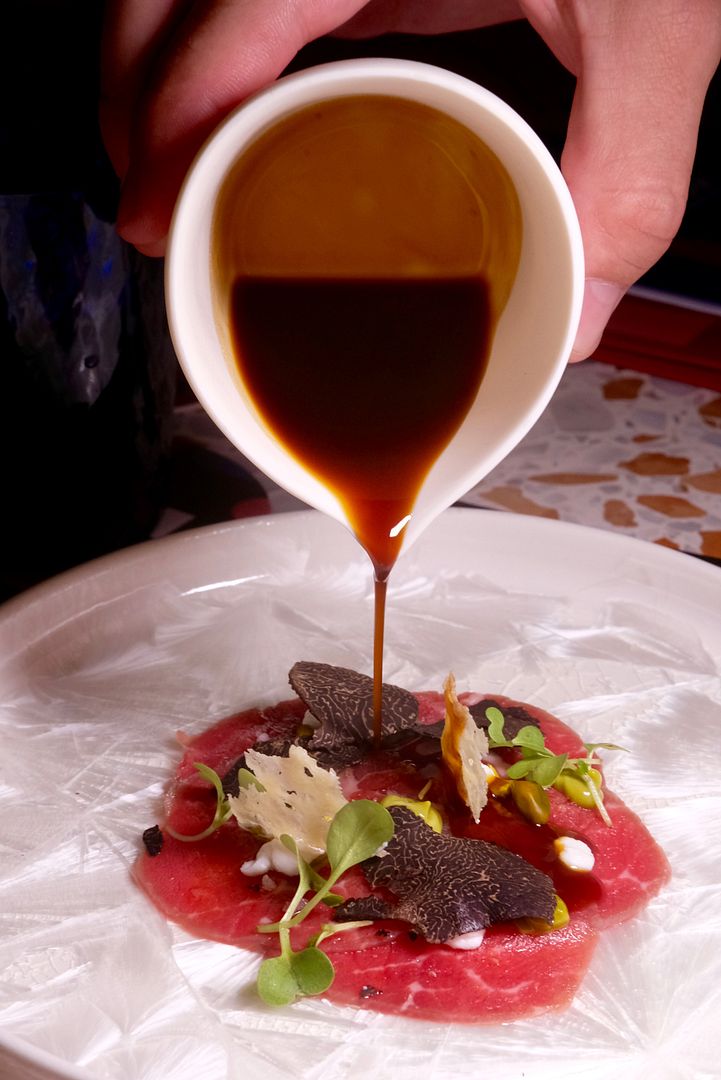 Now, another dish that left a deep impression — John Stone 28-day Dry Aged Beef Carpaccio. Wafer thin slices of tasty beef carpaccio is cleverly complemented with pistachio cream, Italian buffalo ricotta, wild herbs, and fresh black truffle shavings. A qglance at the ingredients may give the impression that this dish is built with strong-tasting elements and certain components might be lost in the midst of all that's going on. However, it was just about the opposite. Every ingredient held its own, and each of their distinct flavours was clear as day. Yet, the flavours harmonised flawlessly with one another, creating a glorious gem of a dish that absolutely shouldn't be missed. I especially adored the nutty hints of pistachio, and the creaminess of the ricotta that added so much finesse to the dish!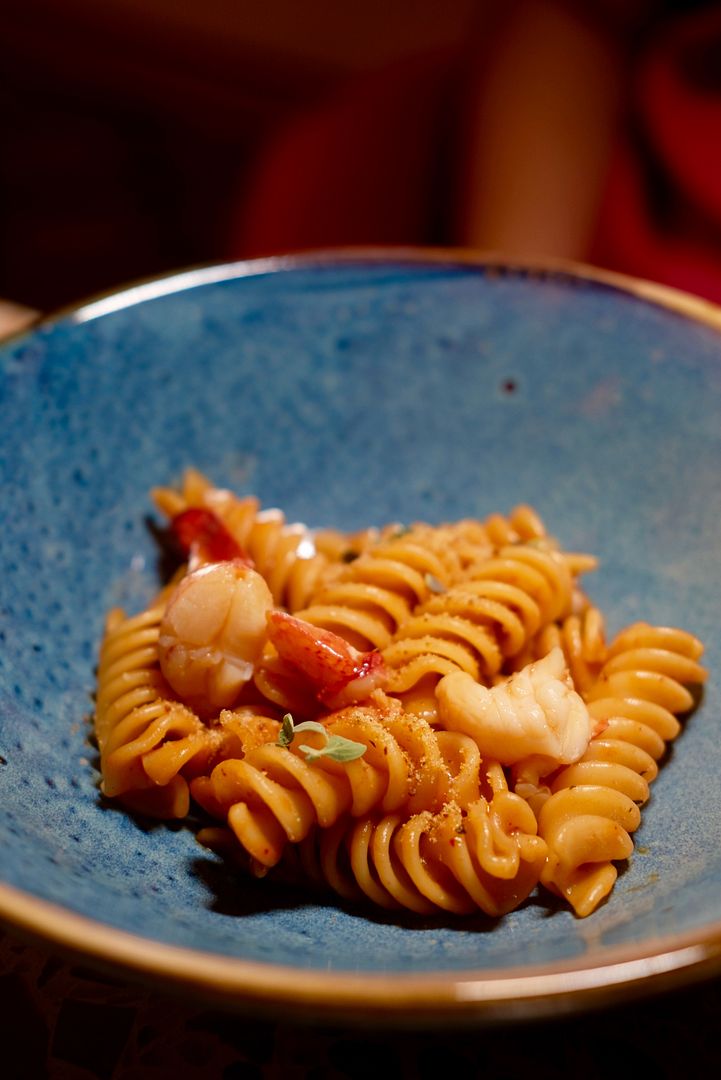 One of the highlights of the evening was undoubtedly the Eliche di Gragnano pasta with lobster, citrus, and roasted eggplant. While some Singaporeans may find the texture of the pasta a tad hard, it's actually the perfect al dente texture, and I loved it to bits. Such lip-smackingly good pasta is really hard to find in Singapore, and it stole my heart from the very first bite. This is my second time having it, and I'm a hundred and ten percent certain that it won't be my last. I almost concluded this paragraph without even talking about the meaty and briny lobster (that's how good the pasta was, it made me almost forget about the star ingredient!) The juicy lobster is not just thrown in as an expensive ingredient to elevate the dish, but its oceanic umami went hand in hand with the bright citrusy notes, and also provided a textural contrast to the springy pasta. You can't leave OSTERIA BBR without trying this!
While I enjoyed all of the wines served that evening, I was particularly blown away by the Barbera D'Asti red wine. When it comes to wines from the region of Asti in Northwest Italy, I'm most familiar with moscato. So seeing that this bottle came from the same region, I expected an enchanting sweetness in the wine. Not only did the wine surprise me, especially when I'm usually not big on reds, it won me over in an instant, and emerged as my favourite tipple of the evening. I have almost certainly never preferred a red wine over a delicious glass of champagne, ever, and this is that once-in-a-blue-moon occurrence that I will forever remember.

Another stunner that almost stole the entire show was the 'Crazy Water' Sea Bass with Clams in Light Tomato Broth. Just look at those plump clams! Carrying a fresh taste of the ocean with them, the unforgettably delightful clams injected a lovely burst of savouriness to the wonderfully clean tasting, remarkably smooth, and impeccably cooked sea bass. The team has done a great job shining the spotlight on the exceptional quality of the fish, and allowed us to fully relish the brilliance of the seafood selected. The tomato broth was laced with a sour tinge that was appetising and it even pushed me to try the soft vegetables(that I never eat) which had soaked up the broth! I'm not sure if you've noticed but there's something really unique resting atop the thick slab of sea bass — fish scales! Instead of discarding the scales, chef has turned it into a nice crunchy topping that was very enjoyable. I had 1.5 portions of this because my dining partner couldn't eat anymore, and I gladly polished the plate clean on his behalf!

Homemade Strawberry Sorbet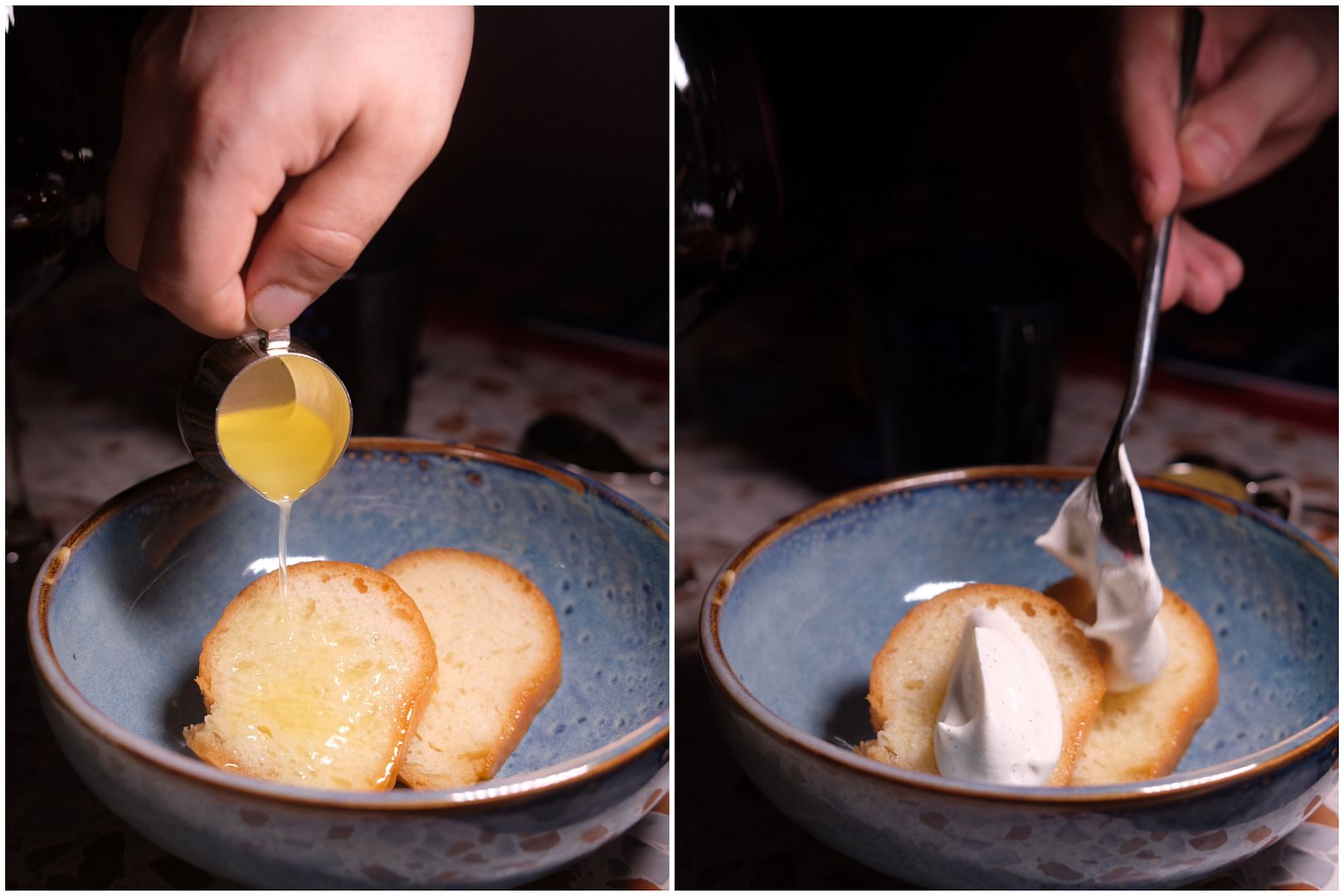 Before the Signature Baba even got to our table, I was going on and on about that fluffy whipped cream which I can wolf down just on its own. Drizzled with some limoncello, the soft and moist bread might be good enough for many, but it's perfection when paired with a generous dollop of fragrant whipped cream. Great creams make all the difference.
Some petit fours to round off a splendid meal. Really love that chocolate that's made in Paris!
The meal was nothing short of magical for me, and I really had a very memorable evening here. Apart from the dishes leaving lasting impressions on me, what stuck with me was the unbeatable value that OSTERIA BBR is offering. I would never have thought that dining at a restaurant by Alain Ducasse, one of the top chefs in the world, at the iconic and luxurious Raffles Hotel, would be a wallet-friendly affair. And yet, OSTERIA BBR pulls out all the stops to make sure that their prices are accessible. Raffles Hotel has made a loyal fan out of me. Awesome daily happy hour deals and exclusive pop-ups at
Raffles Courtyard
, a spanking new brunch menu at
Butcher's Block
, alluring Chinese cuisine at
yì by Jereme Leung
, authentic Indian food and unique collaborations at
Tiffin Room
, flawless French fare at
La Dame de Pic
, and unbelievable value at OSTERIA BBR — can one really be surprised that I'm an ardent fan, though?
Raffles Singapore
1 Beach Road,
Singapore 189673
(Located next to the Main Building)
Thursday to Monday :12:00pm to 2:30pm, 6:00pm to 9:45pm
Bar: 12:00pm to 10:00pm
(Happy Hour from 3:00pm to 8:00pm)

Closed on Tuesdays and Wednesdays
Open on Public Holidays