South Melbourne Market has been around since 1867. It is not as popular with the tourists as Queen Victoria Market is, but it definitely is way more popular with the locals. If you visit on the weekends, you'll notice that almost every store has a long queue — people buying meats or fish, local produce, fresh pasta, or cooked food. Of the two markets, I prefer South Melbourne Market as it is not as touristy, and the food is generally cheaper. You can get a variety of cuisines, and you can definitely get your marketing all done in one place. Apart from getting groceries and their stomachs filled, visitors can have their hair cut, nails done, brows threaded, and even take home art pieces, handcrafted soap bars, fashion accessories and tableware.
1) Aptus Seafood
Everyone goes crazy over fresh seafood at markets. I'm sure that's the first thing that most people look forward to before they go to a market like South Melbourne Market. Aptus Seafood sits in the middle of the market, and is no stranger to crazy crowds. The long tables beside the stall offer different sauces for diners to add to their fresh oysters. The oysters here are more delicious, and cheaper than the ones that you'll find at Queen Victoria Market. You can get a dozen of oysters for just $18. I love the Coffin Bay and St Helens oysters!
You can also get fresh salmon (sashimi grade), trout, marinara mix, cooked prawns and all kinds of fish and seafood. The fresh XL King Prawns from Queensland are amazing.
Tip
:
get a slab of sashimi grade salmon (about $9) and ask the staff to "sashimi" it.
They will slice the fish for you and you can enjoy it on the spot with soy sauce and wasabi. Don't get the pre-packed ones!
Also, don't try the uni here.
The ones still in the husk actually tastes like detergent and leave a really bad aftertaste. People who have never tried uni will be tempted by the $9.99, sometimes even $5, price tag and then swear off uni forever. Good uni doesn't taste like this, I promise. If you want uni, it's better to have it in Singapore or Japan.
2) Oyster Bar by Aptus Seafood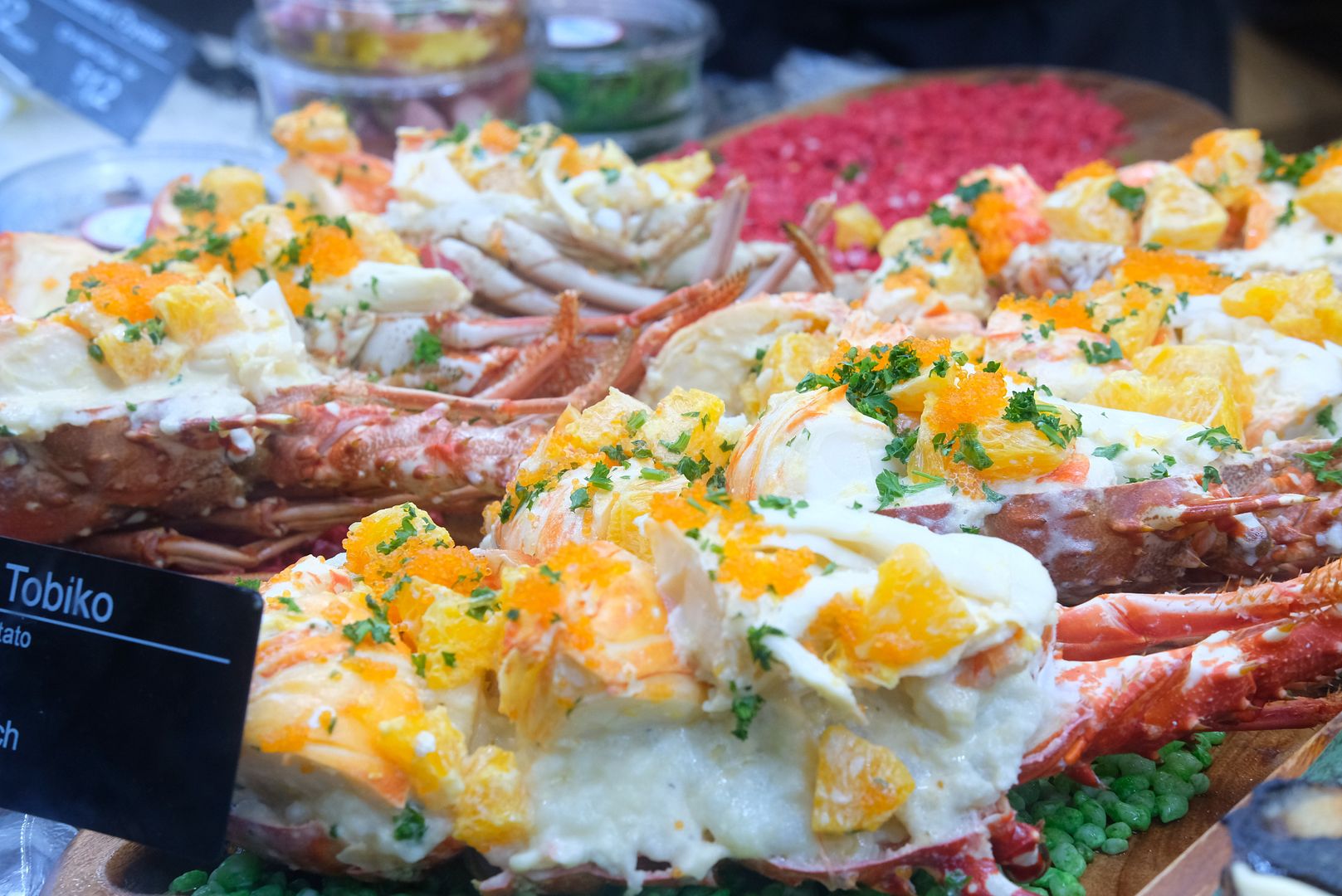 Just right next door to Aptus Seafood, the oyster bar is where you can get oysters (of course), and cold cooked seafood dressed with condiments. Expect lobster topped with tobiko, scallops with trout and yuzu mayo, and more.
3) Seafood Grill by Aptus Seafood
The name says it all. Seafood Grill specialises in grilled seafood. Cooked salmon, grilled scallops, and burgers can be procured here.
4) Agathe Patisserie
One of the most renowned patisseries in the whole of Melbourne, Agathe is beset by long queues all the time. Their croissants are possibly the best, better than Lune Croissanterie's in my opinion, and even the madeleines that are fresh out of the oven are delicious. There are tons of pastries for you to try, and you'll definitely be spoilt for choice.
5) Simply Spanish
Paella is also another highlight at markets. And the paella at Simply Spanish hits all the right spots for sure. Nothing fancy, just good tasty paella here. Simply Spanish sits on the perimeter of the market, right in the middle of a row of restaurants.
6) Padre Coffee
There are a number of coffee shops in South Melbourne Market. I've tried Clement and Padre and I much prefer Padre's which is creamier, smoother, and less acidic. Be prepared to wait a long while for your coffee, because the cafe is constantly packed. Unfortunately, their chai latte was a letdown. We bought 2 cups and they tasted more like milk with a very subtle hint of chai.
7) Proper & Son
South Melbourne Market has no lack of eateries but Proper & Son has gotta be one of the more popular places to grab a bite or a cuppa joe. The Marketeer ($10.50) is quite a good breakfast item to start your day with. Proper & Son is located in the food hall.
There are smoothies, cupcakes, cheeses, free range meats and eggs, and tons of produce that you can bring home too. If you're visiting Melbourne, skip Queen Vic Market and come straight here! There are plenty of cafes around(Market Lane, Good Egg, Stokers, Dead Man Espresso etc) too and you can even grab a cake or two at the famous Bibelot or Chez Dre, which is just round the corner. The summer night market will be on every Thursday from 530pm sometime in Jan, so mark your calendars!
South Melbourne Market
322 Coventry Street
Wednesday, Saturday, Sunday : 730am - 4pm
Friday : 730am - 5pm
---
Love, K