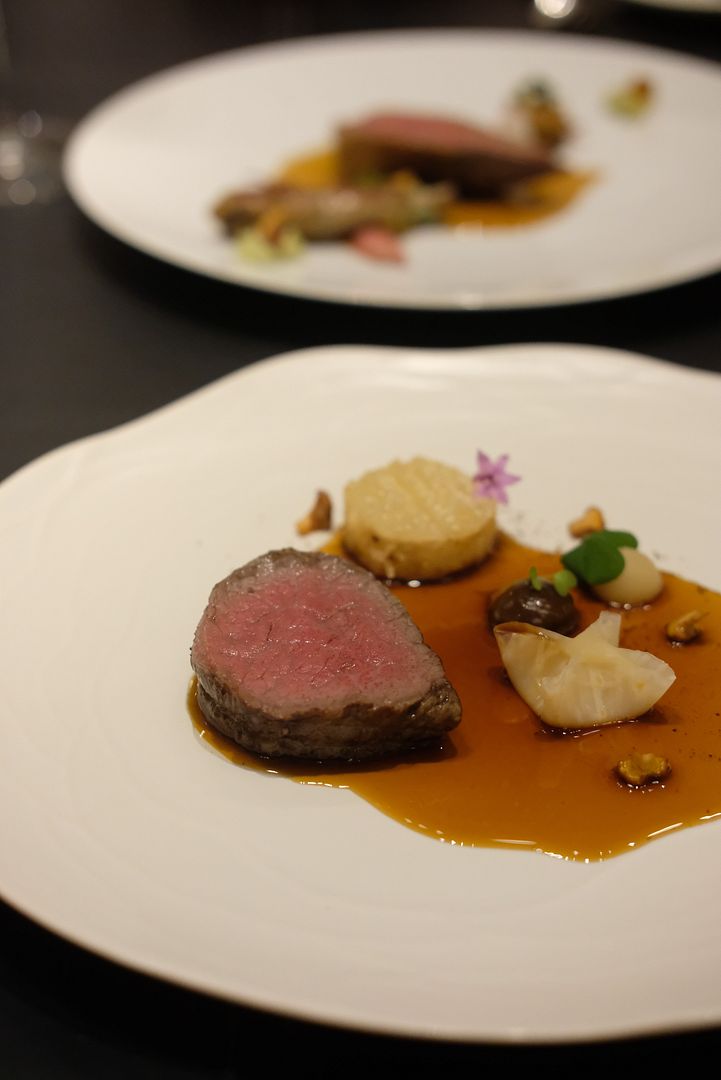 Dressed in beautiful hues and lovely shades, and basking in a warm glow and evening light, the stunning La Dame de Pic dazzled me with its beauty. The restaurant exudes such a comforting charm that makes you feel right at home, even with its fancy get-up and tableware. I knew, from the moment I stepped in, that I was in for one of the most unforgettable meals and nights of 2020, and my life. Helmed by Three-Michelin-Starred Chef Anne Sophie Pic, the only Asian outpost of her collection of restaurants has been making waves ever since its opening at the grand Raffles Hotel Singapore. Now is the prime time to visit, as they have just brandished refreshed menus that comprise exquisite summer creations crafted with the finest seasonal produce.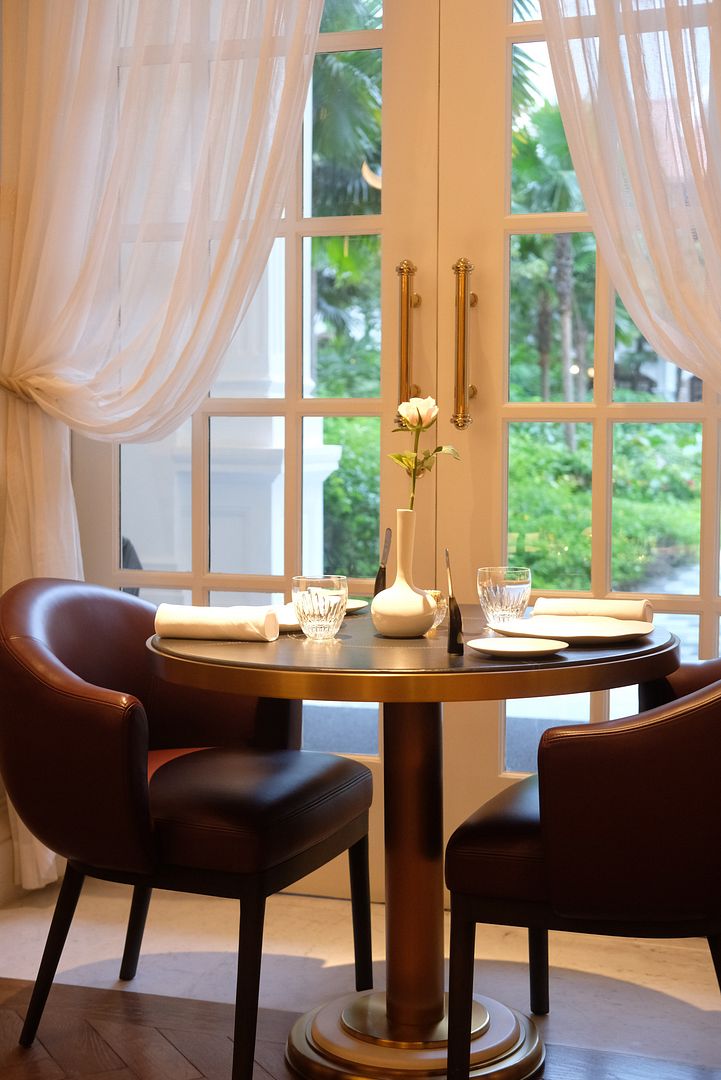 We had the
Experience Menu ($248++)
with wine and sake pairing
($158++)
. I will highly recommend that you go for the wine and sake pairing. Not only were the drinks really good, they all paired superbly with the dishes.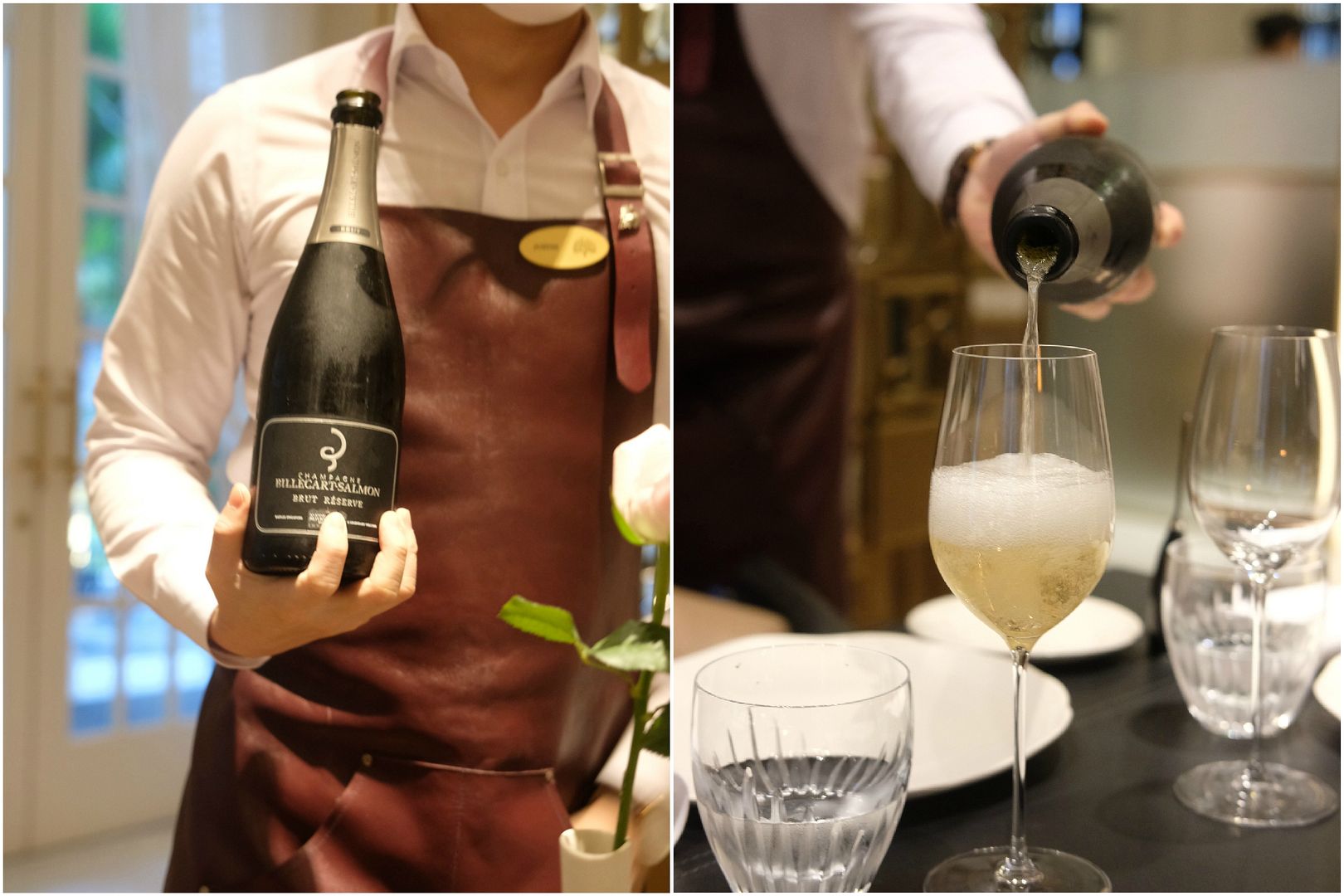 Champagne is always a good idea, right?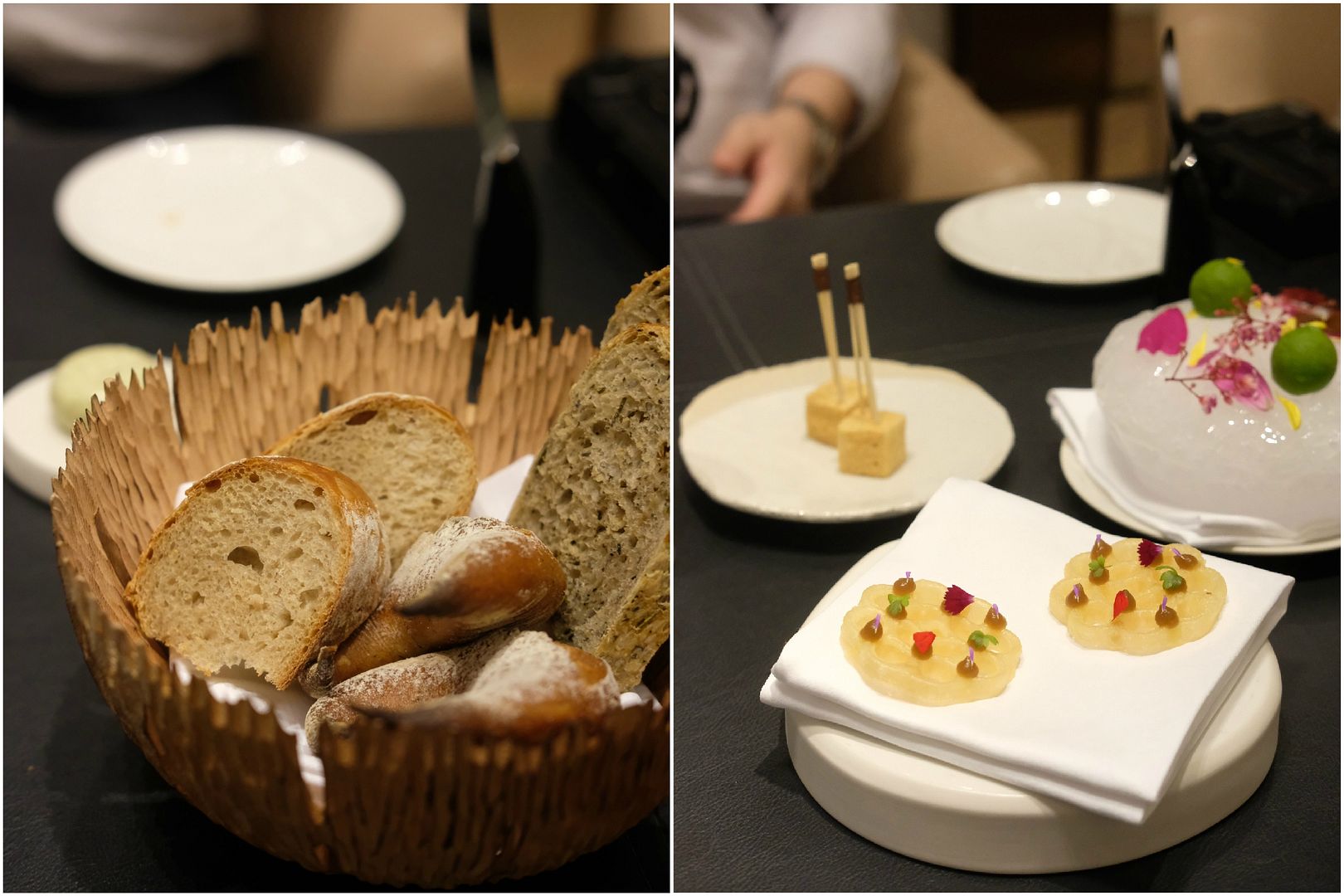 Freshly baked in-house, the breads were so delicious, and even better with the unique melitot pepper butter. A myriad of snacks were served prior to the amuse bouche, and they were all intricate bite-sized morsels — honeycomb shaped cracker with mushroom reduction, lemon and ginger gels, which had a pleasant balance of sweetness and savouriness; peanut marshmallow dusted in roasted peanuts(reminiscent of muah chee); refreshing yuzu bon bon which cracked open with a burst of yuzu juice, pastis and coffee (I love that it looked like limes). If you've notice, these creations have local influences and I actually really like the yuzu bon bon item which looked like a shaved ice dessert that usually requires us to squeeze a dash of lime over.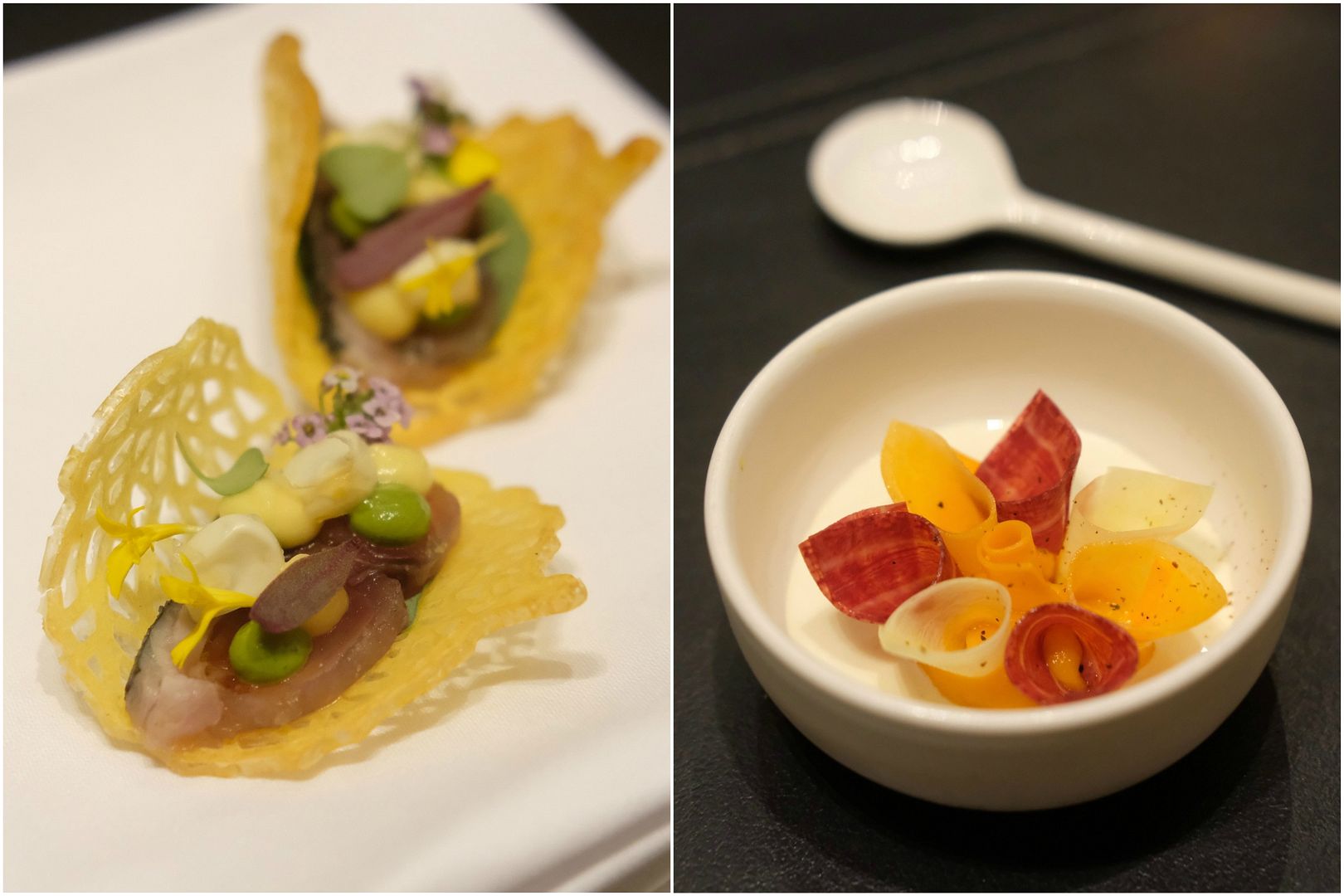 The corn tacos with mackerel was, no doubt, my favourite snack. It featured a sweet ponzu glazed barbecue mackerel, pistachio pesto, sweet corn puree and pickled corn kernel. I didn't expect a burst of umami to be complemented so flawlessly by a light sweetness. It was then, that I realised that La Dame de Pic has mastered how to pair delicate flavours together perfectly, while letting each individual flavour profile shine, and leaving none overshadowed. It was truly eye-opening, and I know that the rest of the meal was just going to get better. We haven't even started on the first course yet, and I was already so very impressed!
The amuse bouche saw carrot shavings dressed in a peppercorn vinaigrette, accompanied with carrot puree, carrot jelly and osmanthus yogurt cream. I don't eat vegetables so this wasn't really my cup of tea.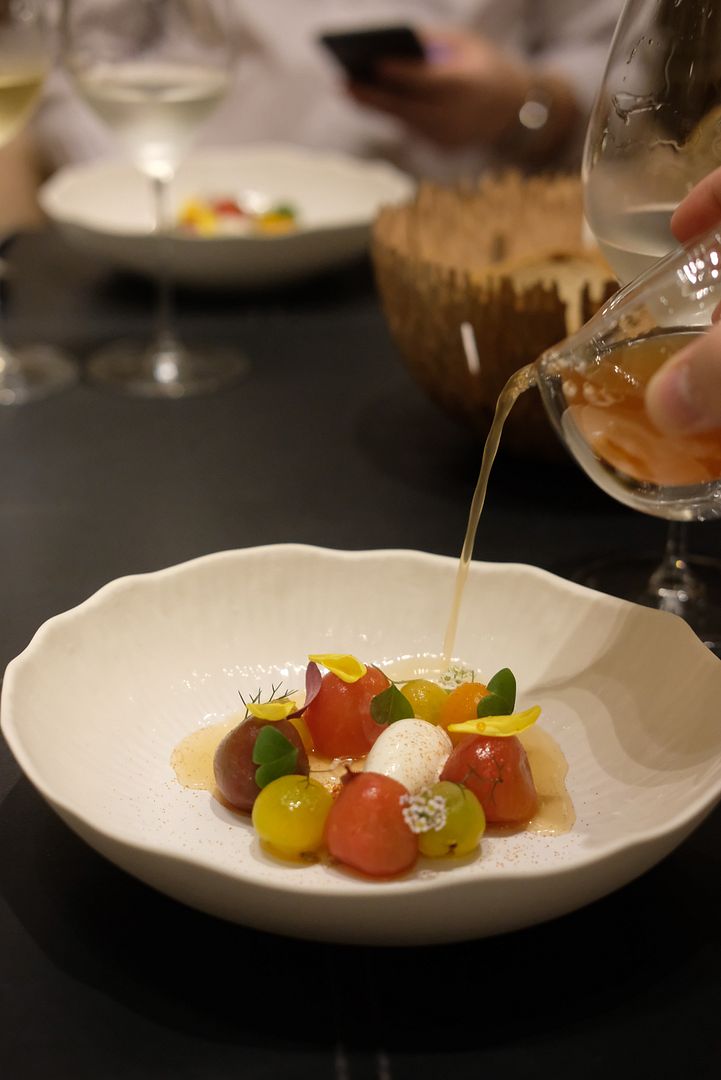 The first course was Tomato Myriad, a colourful medley of sun-ripened tomatoes that are in season. While I didn't eat the tomatoes, I really enjoyed the lovely elderflower infused burrata icecream. My dining partner, Derrick, happily finished my portion of tomatoes, on top of his!
One of the most, if not the most, famous dish at La Dame de Pic has to be the signature
Berlingots
which are pasta parcels packed with French cheese fondue. I love the bright pop of pink which is the work of beetroot. I was amazed by how technical this dish actually is. The pasta is thin, but firm, and is filled with a heavy core of cheese. So for them to boil these adorable packages without the pasta breaking, or the cheese exploding out definitely requires alot of skill and technique. Each pyramid gently revealed a warm, creamy, and delicious cheese centre which interestingly, was made even better by the addition of crunchy almonds and sunflower seeds. I had my doubts about the pea broth infused with herb of grace, which Chef Anne Sophie discovered at a local market in Chinatown, but the earthiness and slight bitterness that the broth imparted to the dish really elevated it. I savoured every bite slowly because this was just phenomenal.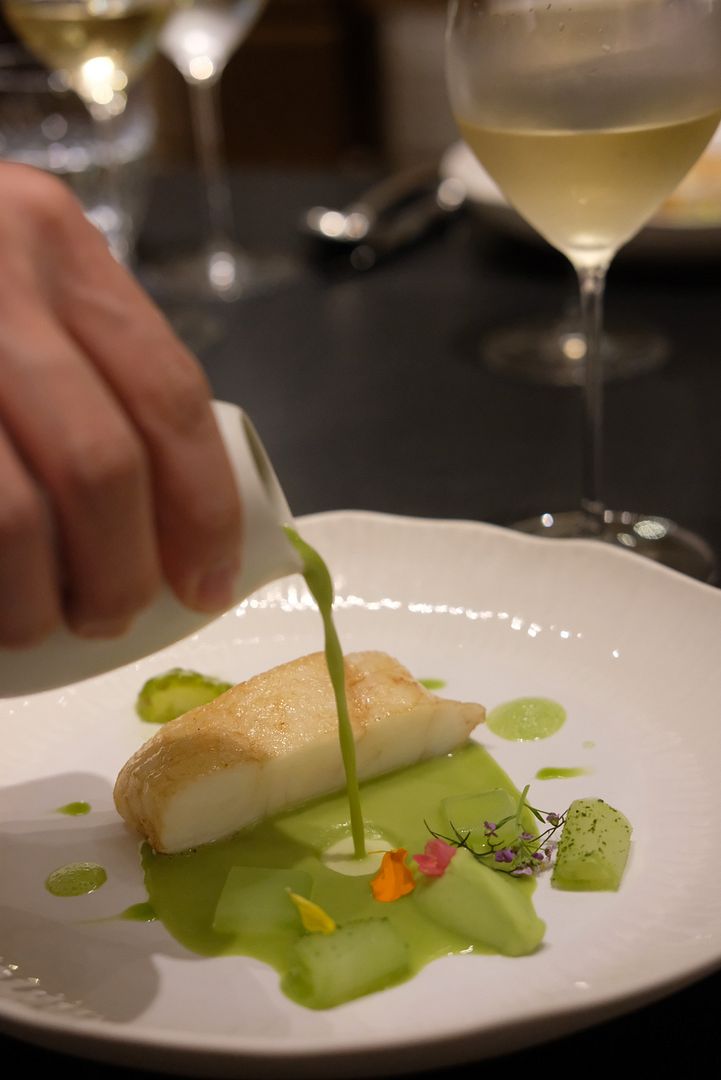 Next, we had the
Turbot from Brittany
cooked meuniere style. The fish was, as I had anticipated, executed to a T. The texture was simply impeccable. I was eating the fish without the broth initially, but after I tried it with the light zesty broth of green zebra tomato and galium odorant with fresh verbena, I wiped up almost all the broth by making sure every side of every chunk of fish was coated as generously with it. The broth accentuated the pristine flavours and sweetness of the fish, and this dish left an indelible impression on me.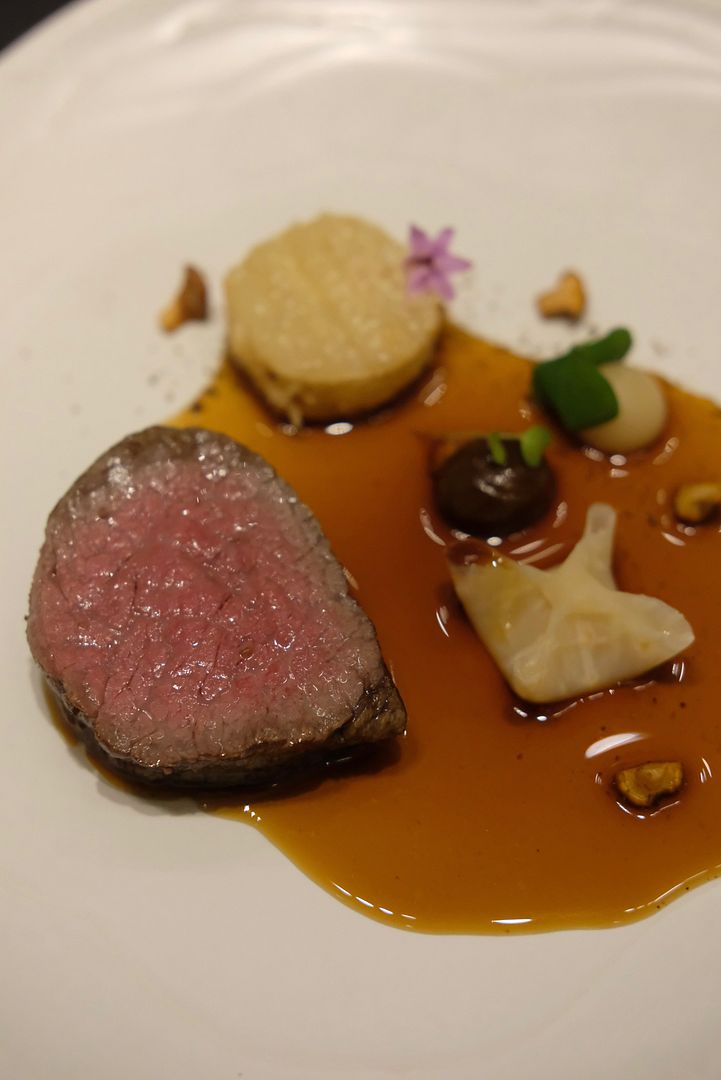 For our fourth course, we had a choice of
Saga Wagyu Beef
or The Pigeon from Bresse. I love pigeon but I certainly love my beef more. Hence, I opted for the beef. Marinated with Kampot pepper, sobacha, cocoa nibs, and sake, the saga beef is cooked over coals. Needless to say, it was succulent, juicy, and magnificent. Together with the beef jus which lent a subtle savouriness, and the black garlic mayonnaise, the beef was disarmingly delicious. Can I have another portion, pretty please?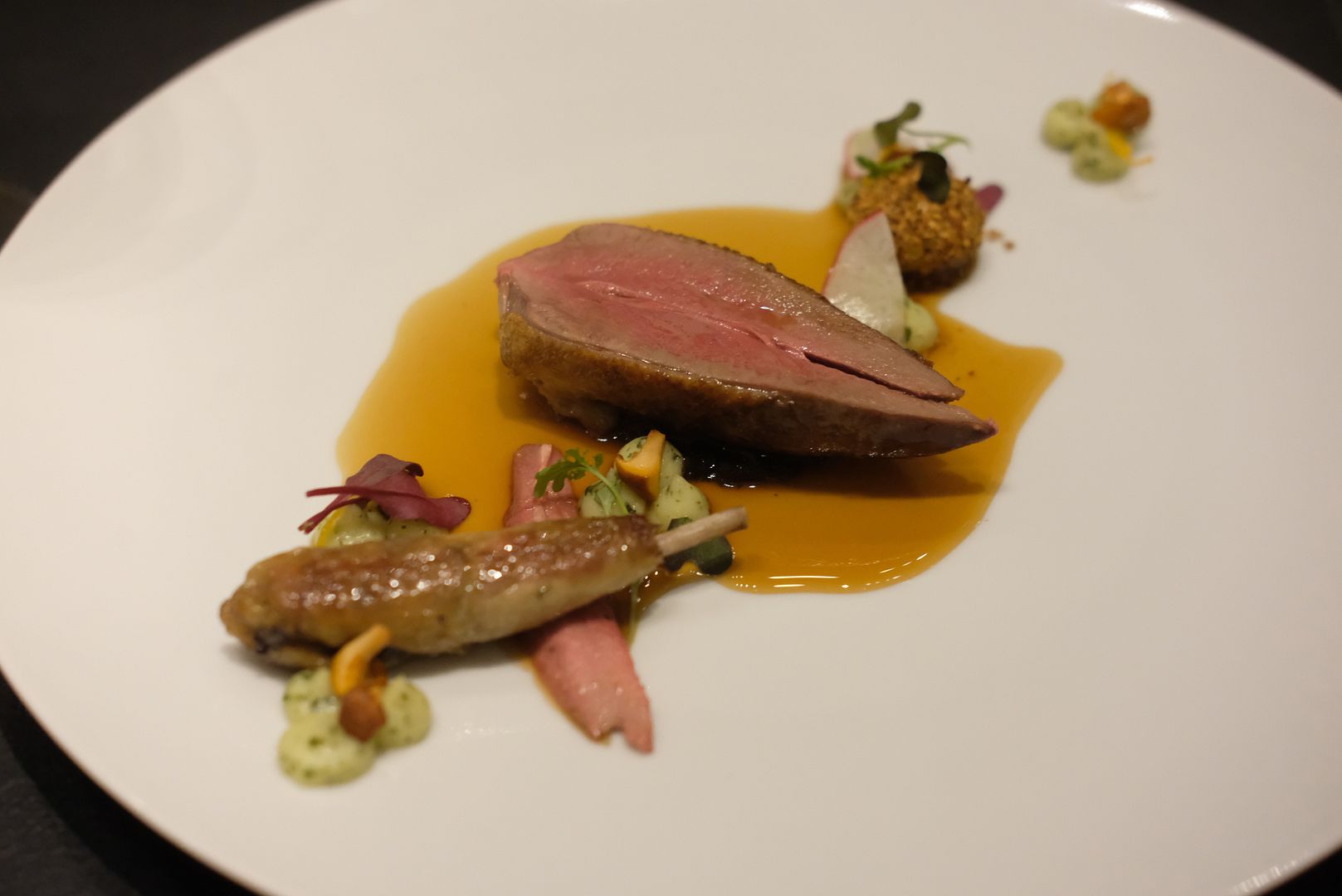 I had a bite of
The Pigeon from Bresse
, which is roasted on its chest. The slab of pigeon sat comfortably in a lightly smoked broth infused with Madagascan vanilla, roasted barley, Phú Quốc pepper and kumquat. For those who love rich and strong-tasting meats, like I do, you will relish the pigeon. It was tender enough and was packed full of that distinct characteristic pigeon flavour that I can never get enough of. That robust flavour was just so captivating. The dish is completed with Tsukudani and seaweed mashed potato. I know it's a tough call between beef and pigeon, but I guess you and your dining partners can always share!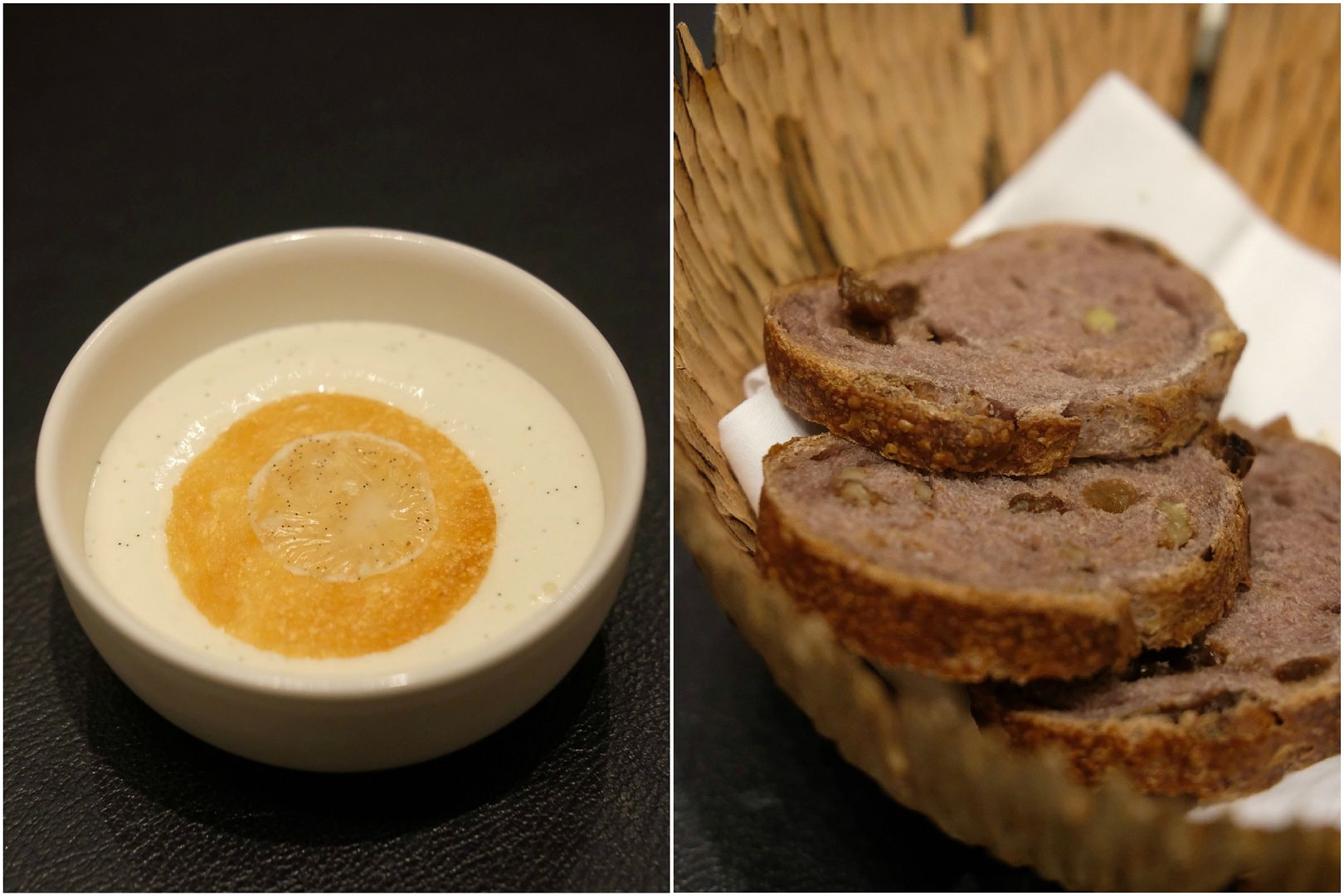 I was pretty full by the time I was done with the fourth course. I had so much good wine, and so much good food, and I already had one foot in food heaven. Then, the Brie de Meaux Cheese with Vanilla made an appearance. I've never been a huge fan of cheese, or rather, I'm not a fan at all. But this little bowl of wonderful creamy goodness had me going "this is so good" non-stop in my head. It was not too rich and held just the right balance of sweetness and savouriness, as with all other dishes at La Dame de Pic —perfection. We were then served some red wine bread, which was really yummy, in preparation for the cheese trolley.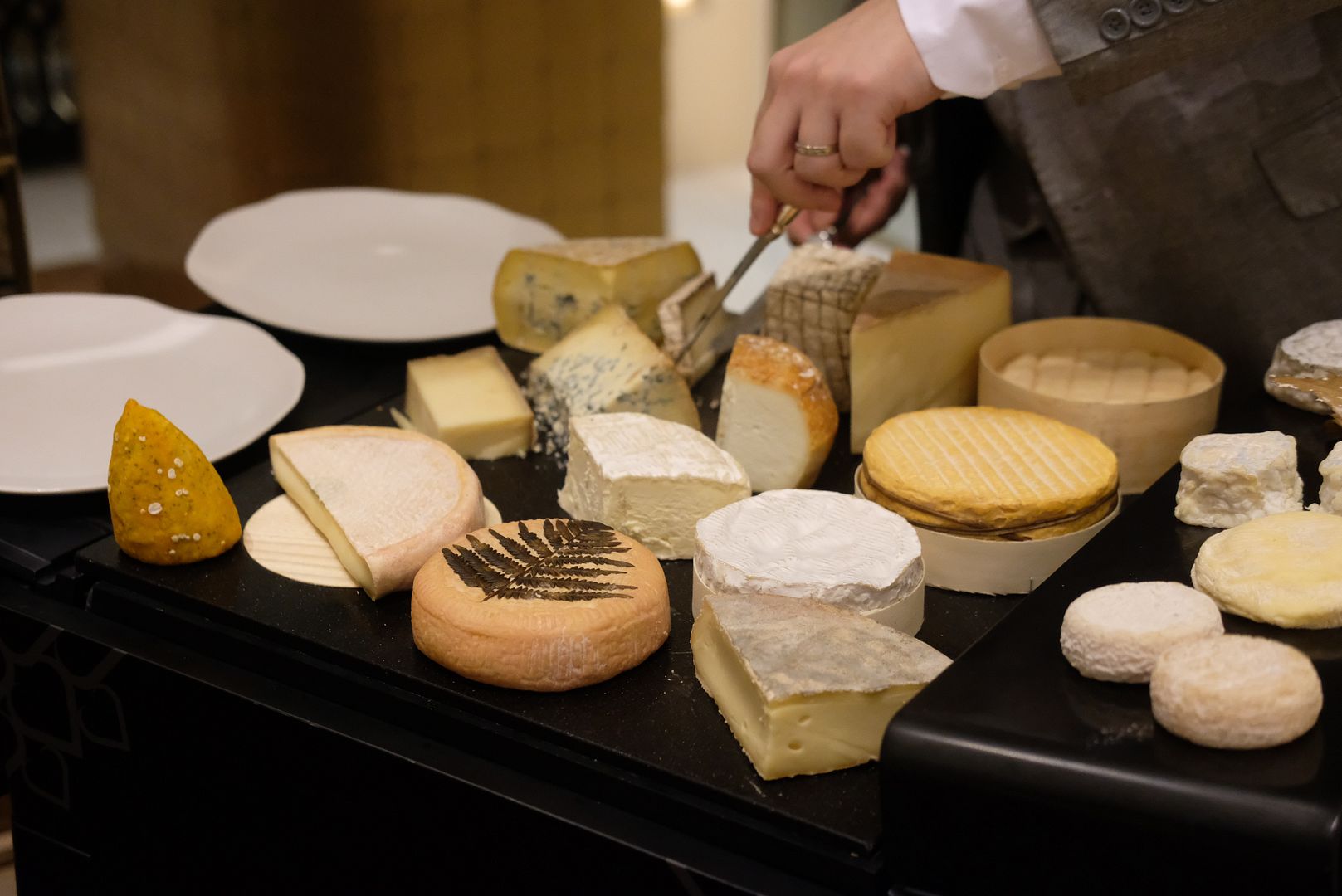 Cheese Trolley (+$38++)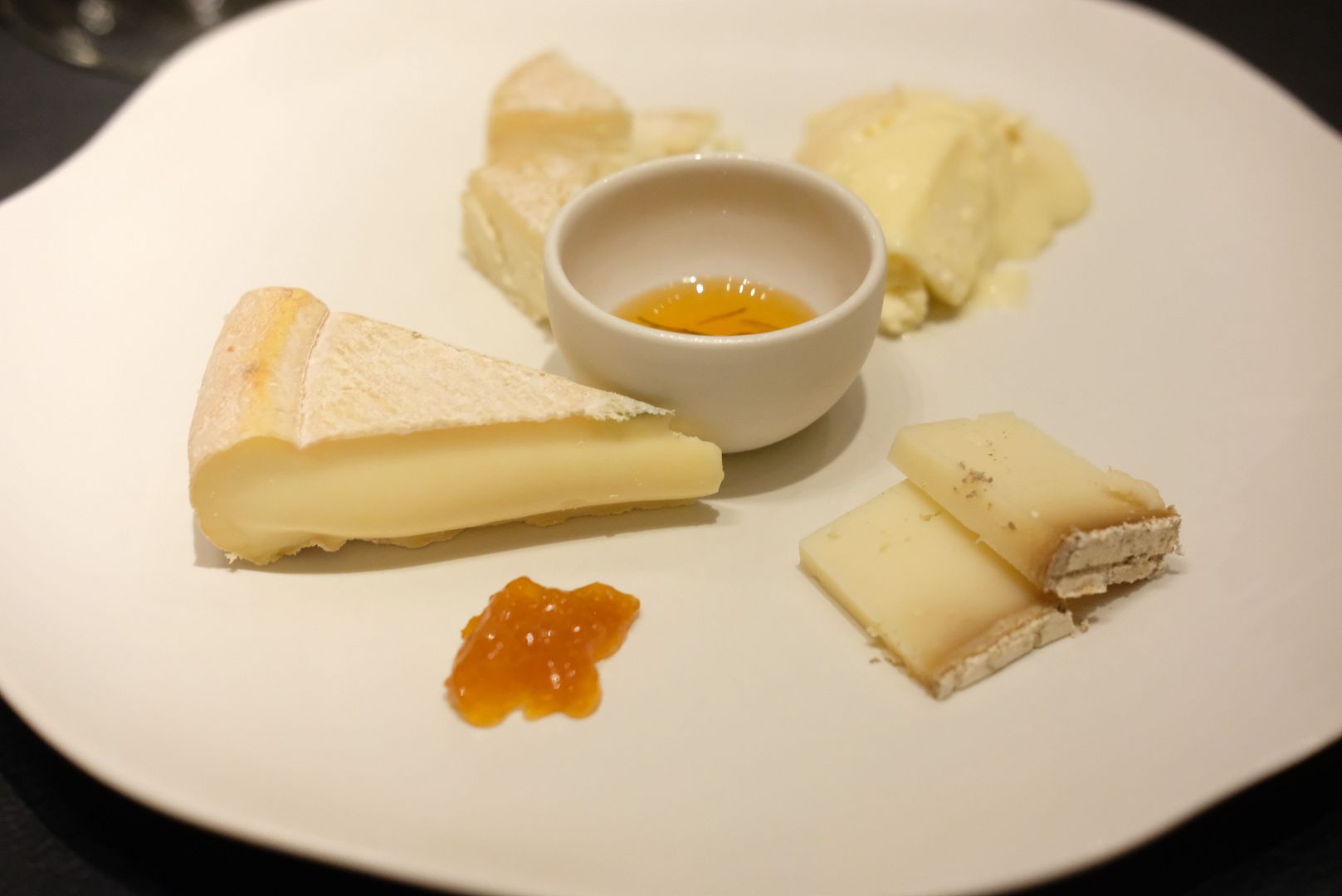 I don't know when's the last time I had so much cheese. Oh, probably never. But I had so much of the cheese on this plate. I like that the selection brings you through a journey, where you get to taste lighter cheeses, smoked ones, and really strong ones. The cheeses were really great, especially with the honey and red wine bread.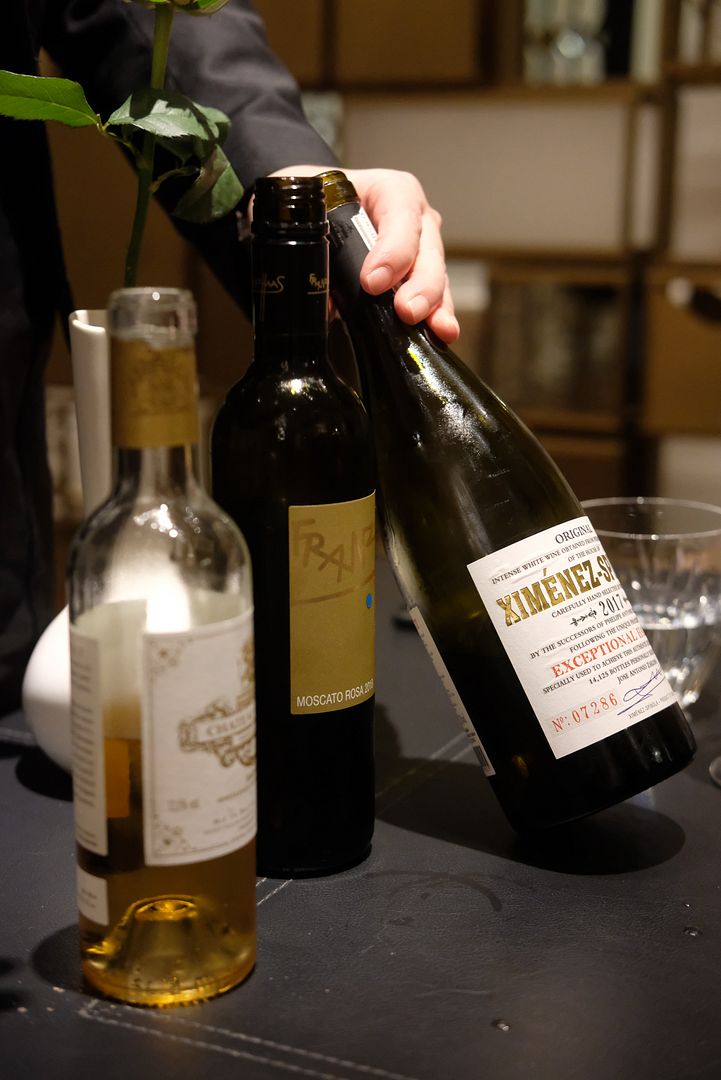 A refreshing apricot sorbet with pistachio crumble to flag off the start of dessert.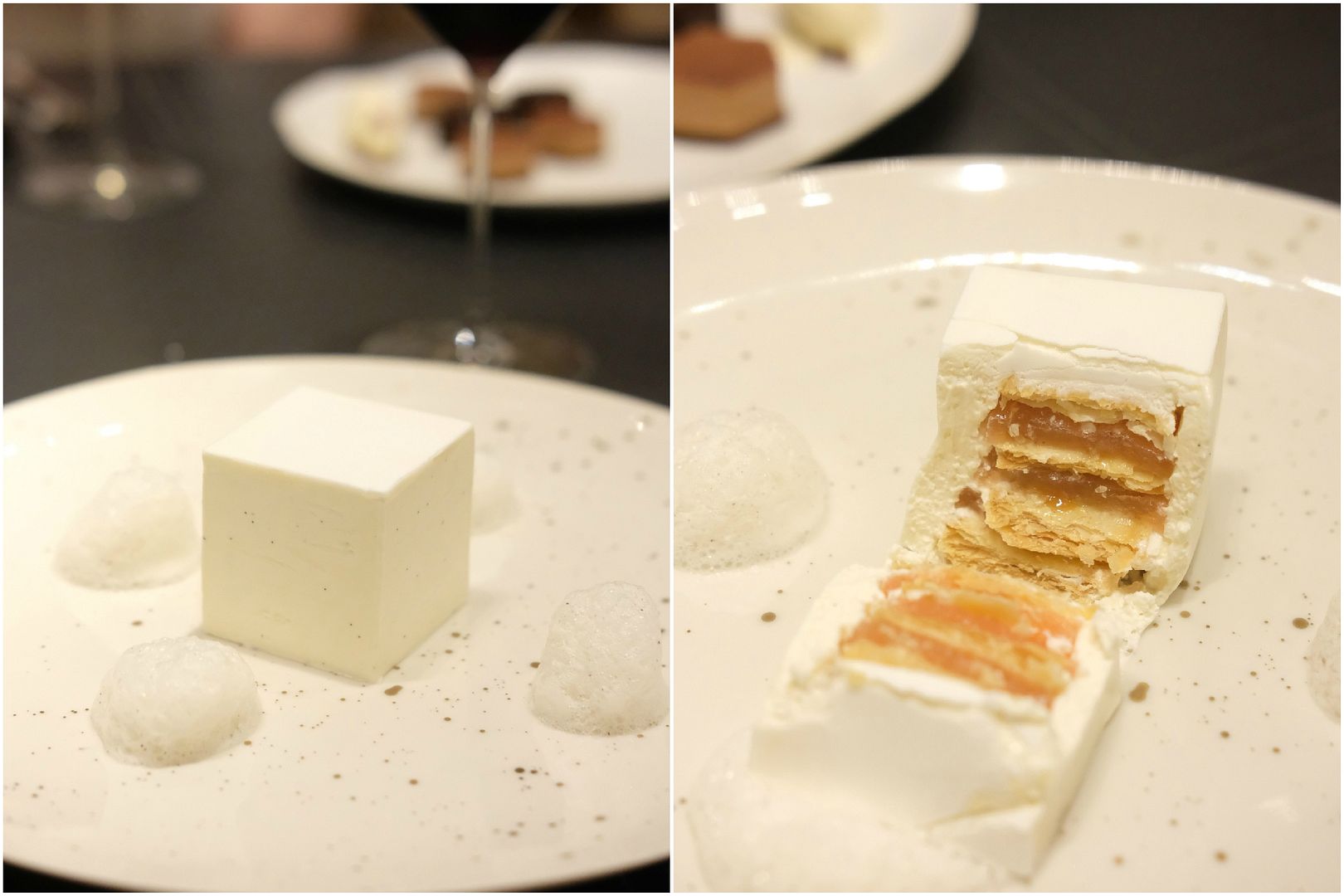 A mainstay on the dessert menu is the luxurious
White Mille Feuille
, that's draped in a ginger flower light cream. Gently push your fork through it, and you will unveil a layered grapefruit confit centre. Expect a beautiful symphony of flavours as the fluffy ginger flower cream holds its own against the citrusy grapefruit. It's a great choice if you feel like having something light and fruity.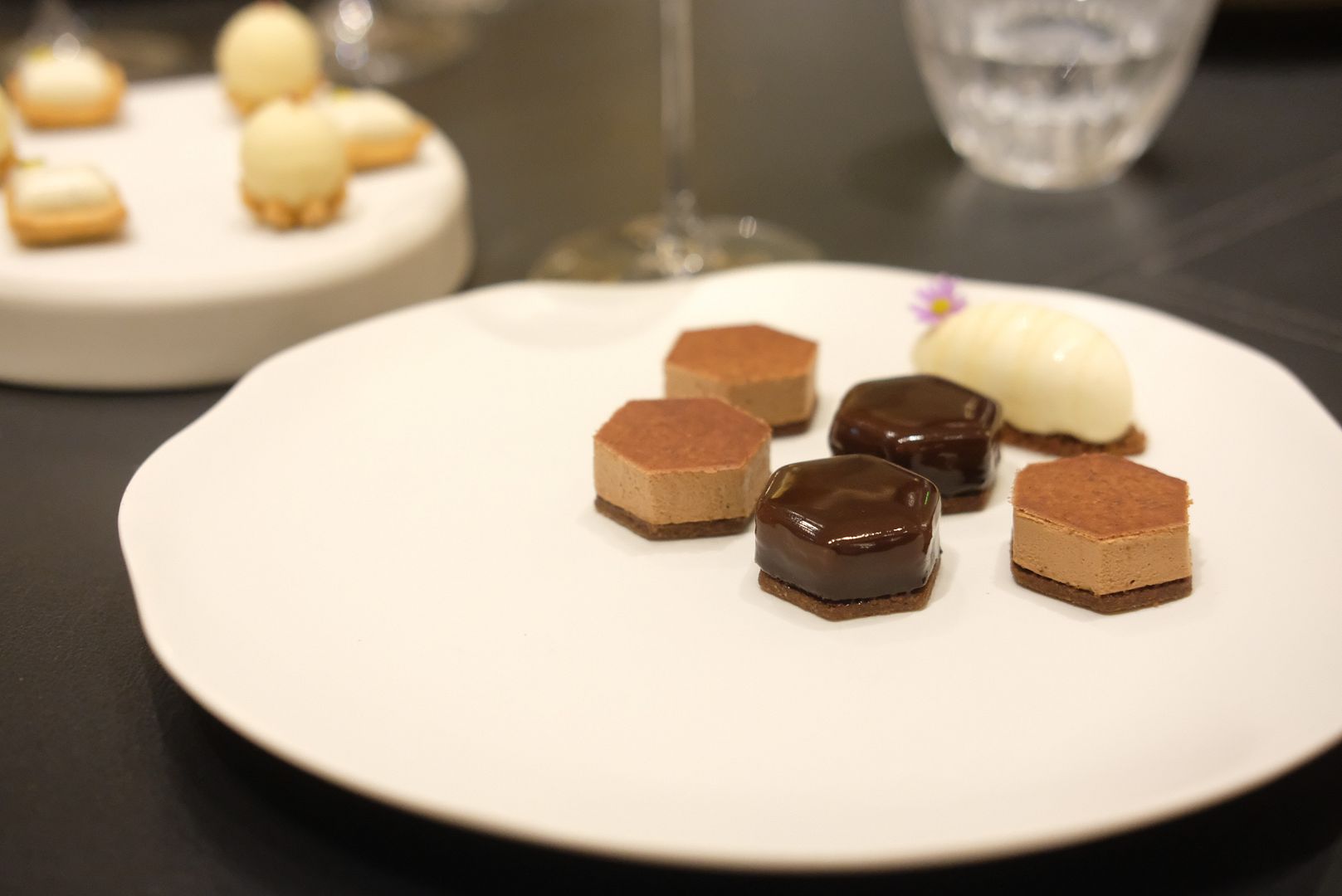 As someone who prefers chocolate and richer flavours, the
Alpaco Chocolate
with hojicha and cubeb pepper light mousse and longan honey icecream is a dream come true for me. The decadent chocolates were velvety smooth and had me hooked from the very first bite. I loved that the icecream balanced out the richness of the chocolates, and provided a subtle sweetness.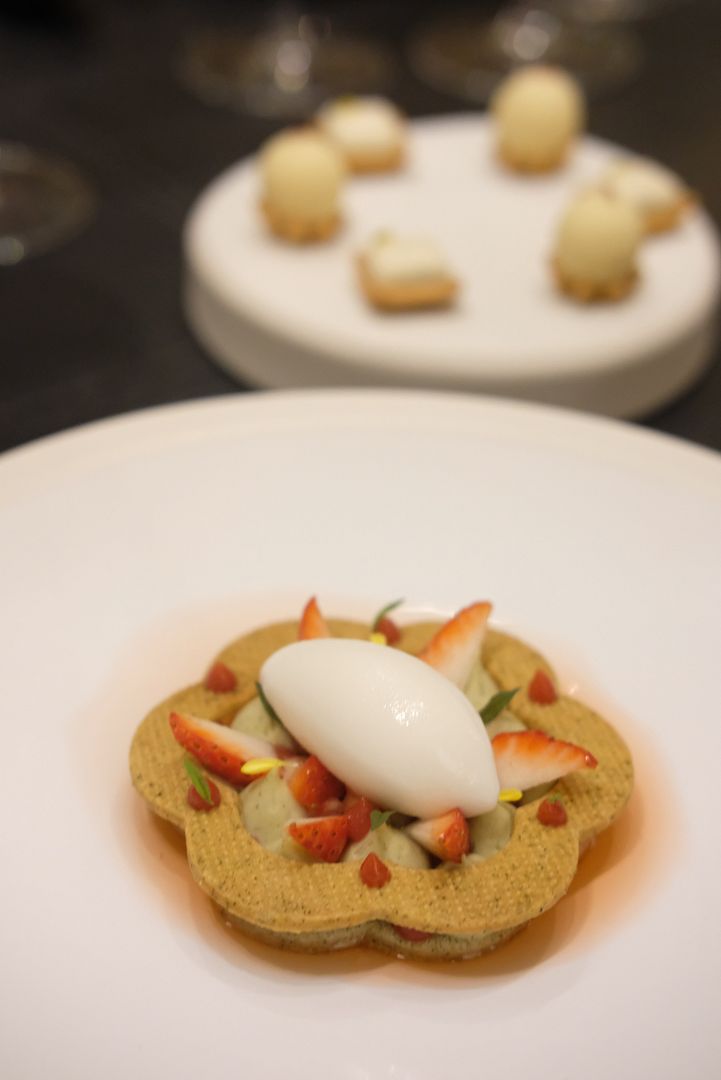 The
Gariguette Strawberry
is a work of art. I didn't try it but genmaicha and strawberry seems like a perfect match in heaven, doesn't it? The adorably-shaped dessert is topped with a scoop of coconut and lemon verbana sorbet.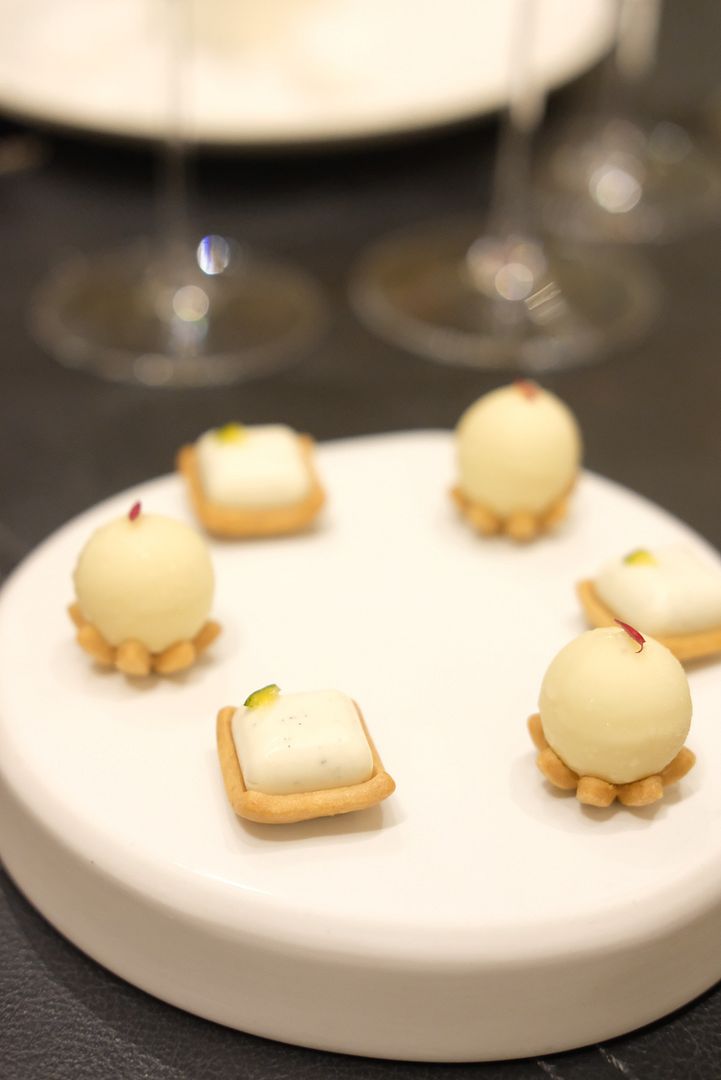 And finally, and sadly, we reached the end of our meal, with a display of petit fours that are armed with a buttery crisp crust that I loved, and a cup of coffee or tea to round off the night on a dreamy high.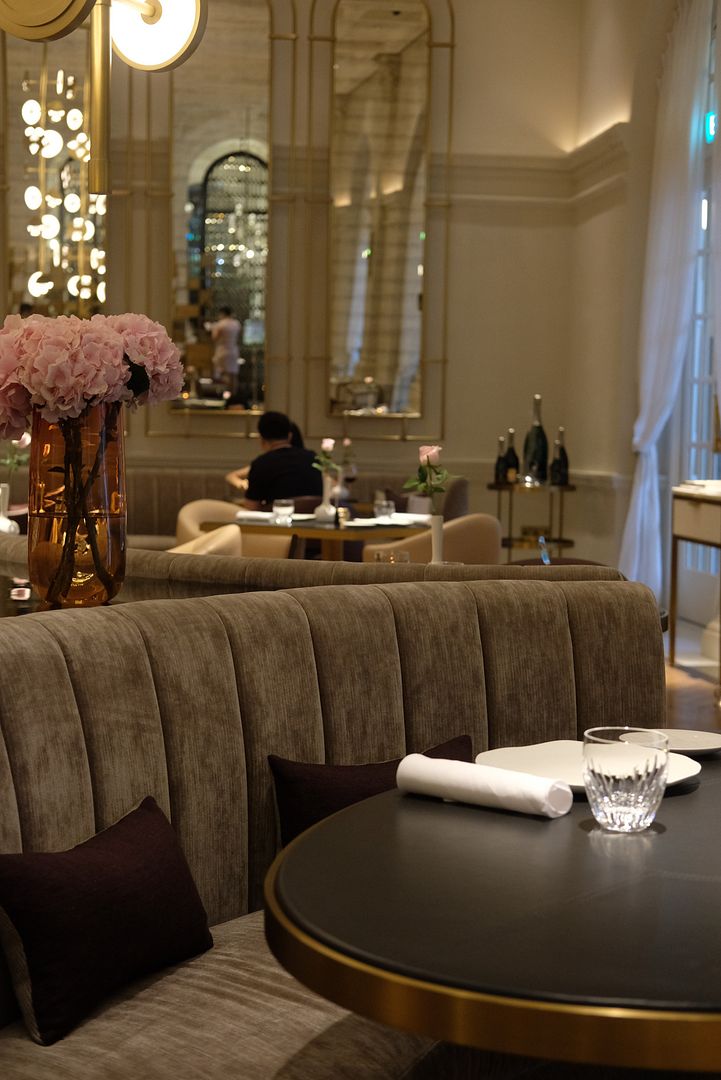 What a spectacular meal we had. I'll be talking about La Dame de Pic for a long time to come. If you're looking for a restaurant for a romantic date or to celebrate a special occasion such as Christmas or Valentine's Day, you won't be disappointed at La Dame de Pic.
Raffles Hotel Singapore
1 Beach Road, Singapore 189673
Wednesday - Thursday : 630pm - 845pm
Friday - Saturday : 12pm - 145pm, 630pm - 845pm
Sunday : 12pm - 145pm