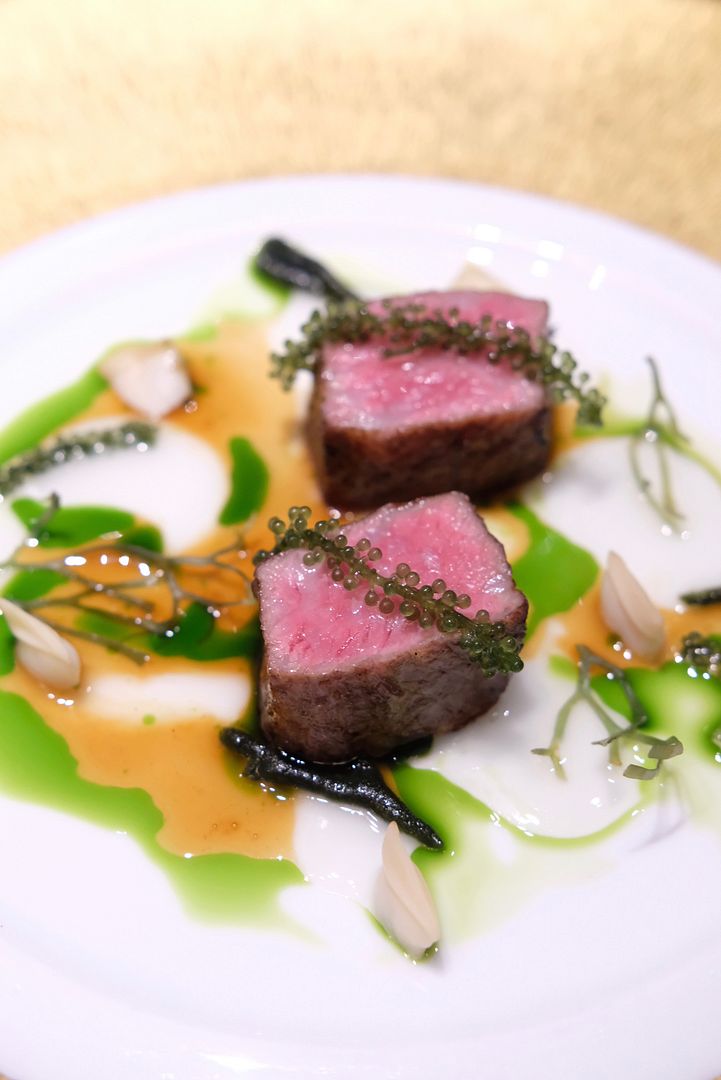 Named after our city's area code, Table65 is a one-Michelin-starred outfit helmed by
Michelin-starred Dutch chef Richard van Oostenbrugg at Hotel Michael in Sentosa. A young restaurant with a Michelin star? Table65 is definitely doing something right.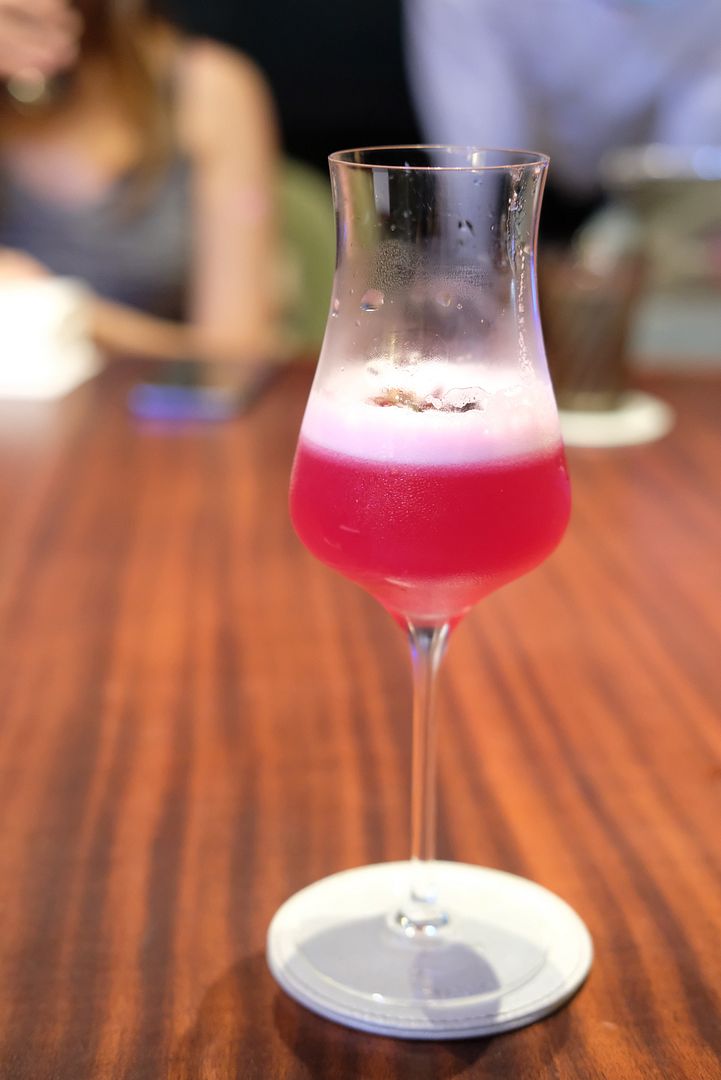 We started the evening with a sweet cocktail that's wonderfully refreshing.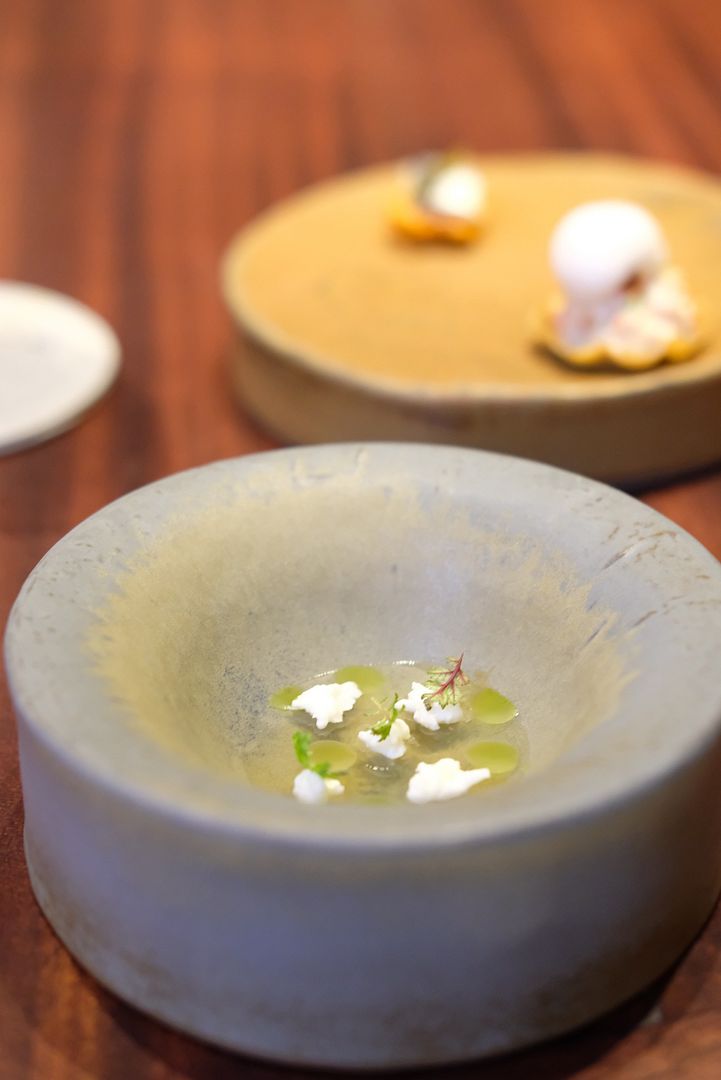 The five-course dinner ($148) is really value for money, especially when the mains cost about $78. The meal kicked off with a trio of amuse bouches.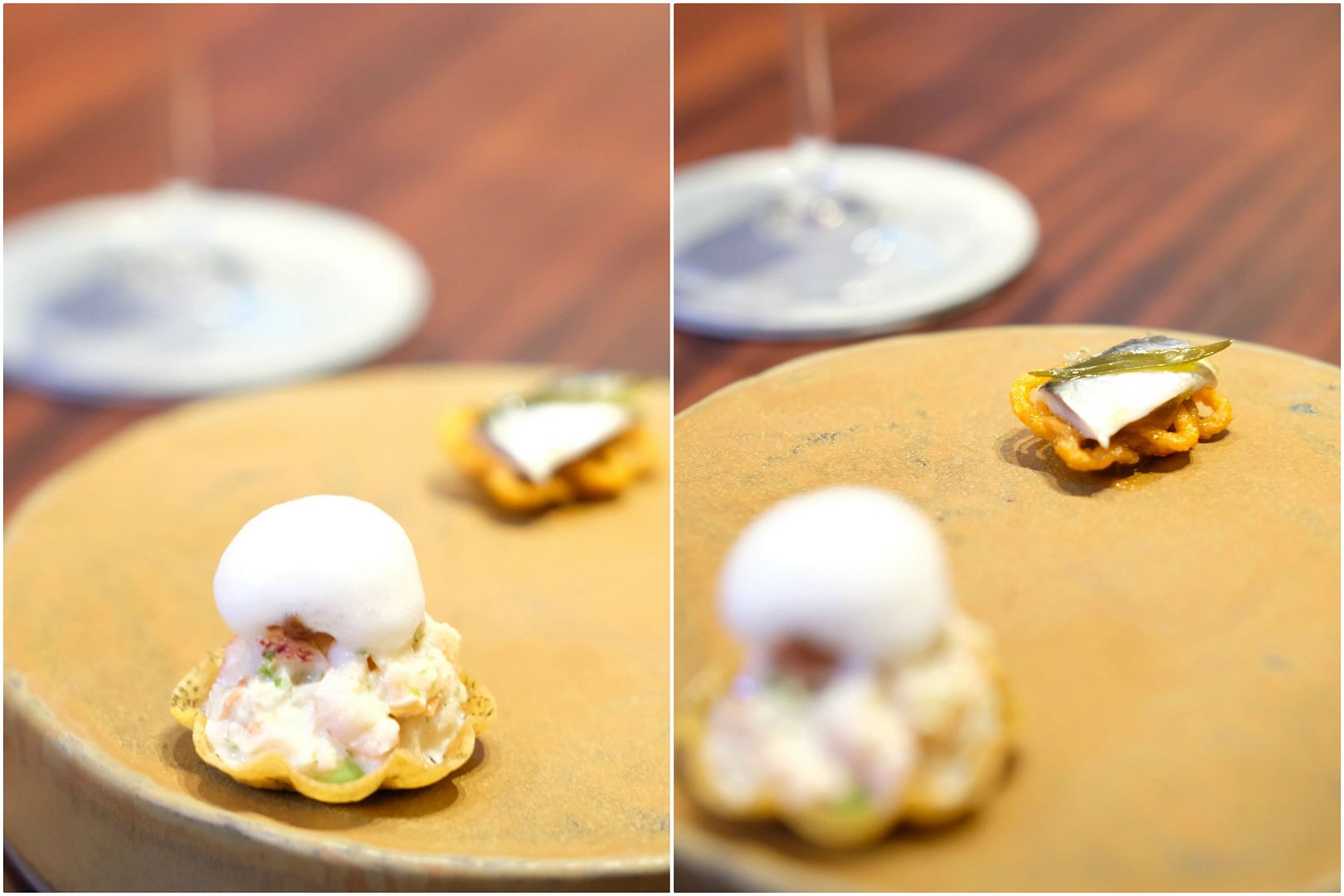 The nori tartlet with lobster salad, and marinated sardine were both incredibly appetite whetting. They had a good contrast of textures and were both bold in flavour.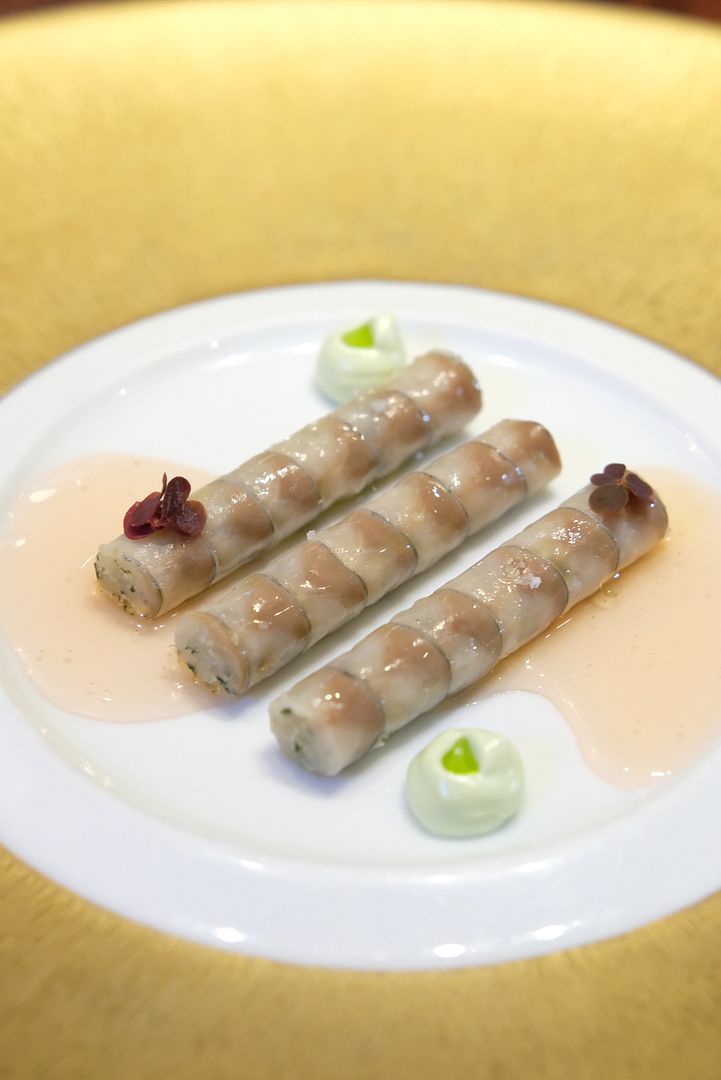 Here we have three neatly packed rolls featuring mackerel cured in kombu salt, and quinoa royal, resting in a tomato and strawberry broth, with a touch of yogurt and tarragon emulsion on the side.

I found it a tad surprising that bread was served after the first course instead of before, but that's completely okay. The warm bread with butter was certainly a popular item. We all couldn't keep our hands off it and everyone was shyly pushing the last portion around when we all secretly wanted it.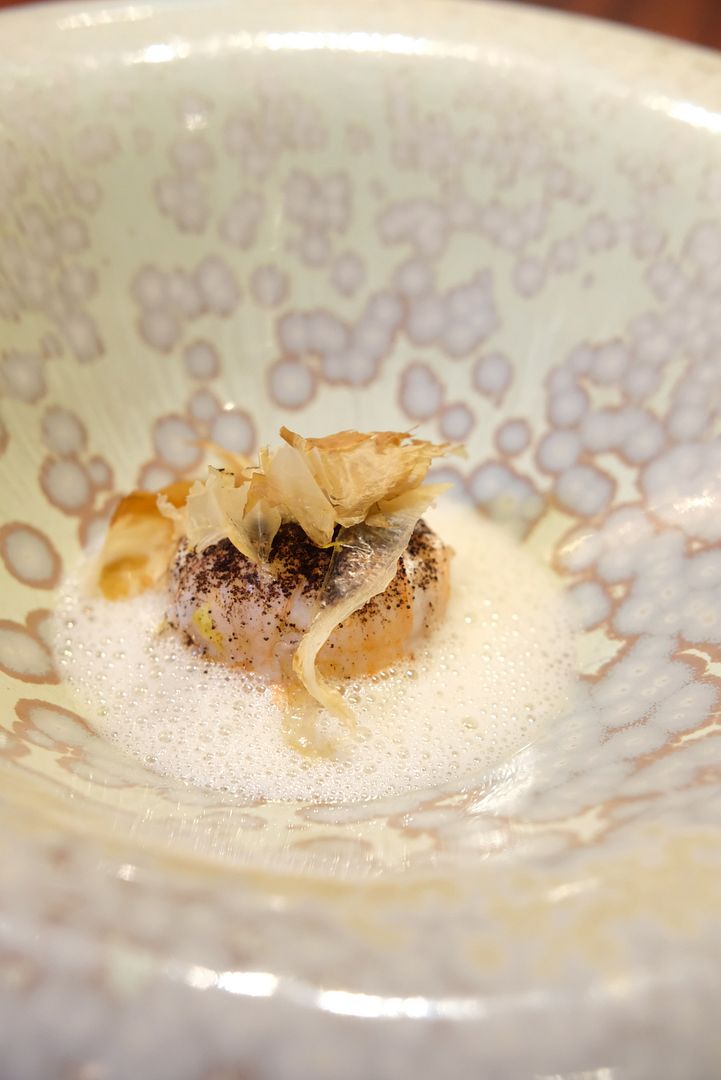 Lobster, which is one of the key ingredients, wasn't available on the day of our visit so the awesome team replaced it with a meticulously-crafted Mozambique langoustine dish which was exceptionally savoury and addictive. That dashi was to die for! I worked my way through this slowly, gingerly slicing into the langoustine, and using it to wipe up as much of the sauce as possible. Absolutely delicious, especially when each mouthful is studded with tiny bursts of umami from the sprinkling of katsuobushi.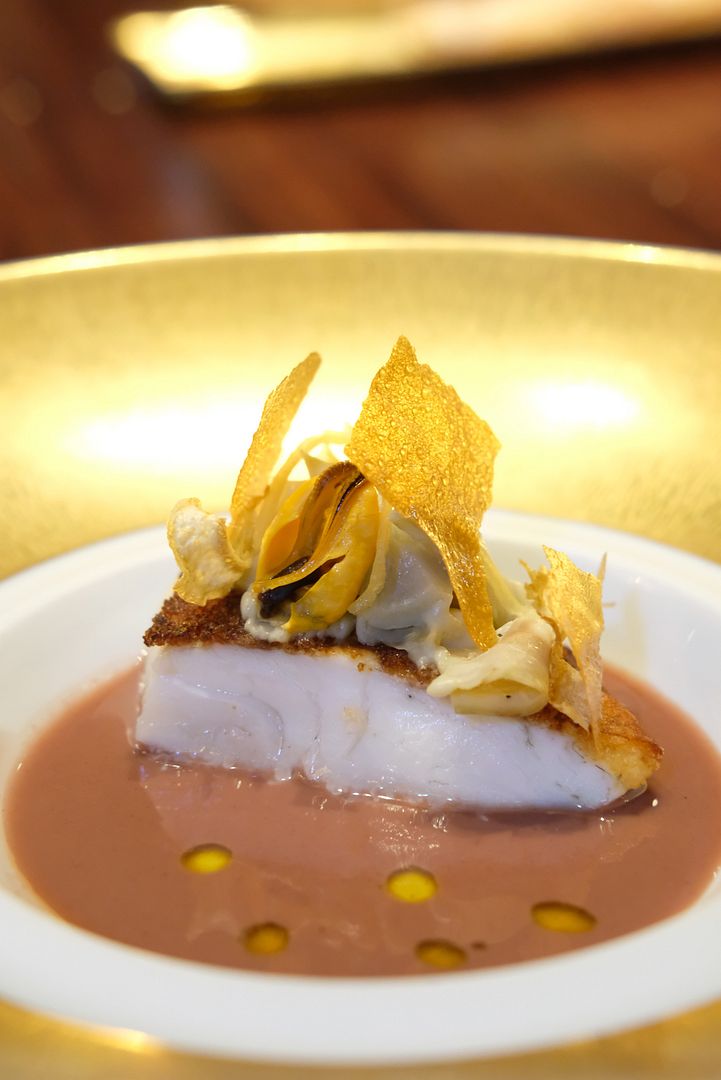 Baked to perfectly on sourdough, the silver seabream with artichoke sat pretty in a Bordelaise sauce. The firm and tender sea bream carried a lovely sweetness that lingered on my tongue. The fish rocked a thin and crisp skin, on which lay pieces of artichoke. I thought the luscious sauce was intricate and elaborate. It held a complexity and robustness that didn't in any way overwhelm the star of the show, but accentuated the natural flavours of the pristine seafood. I'm sure you guessed it, I was scooping up the sauce fervently, leaving no drop behind.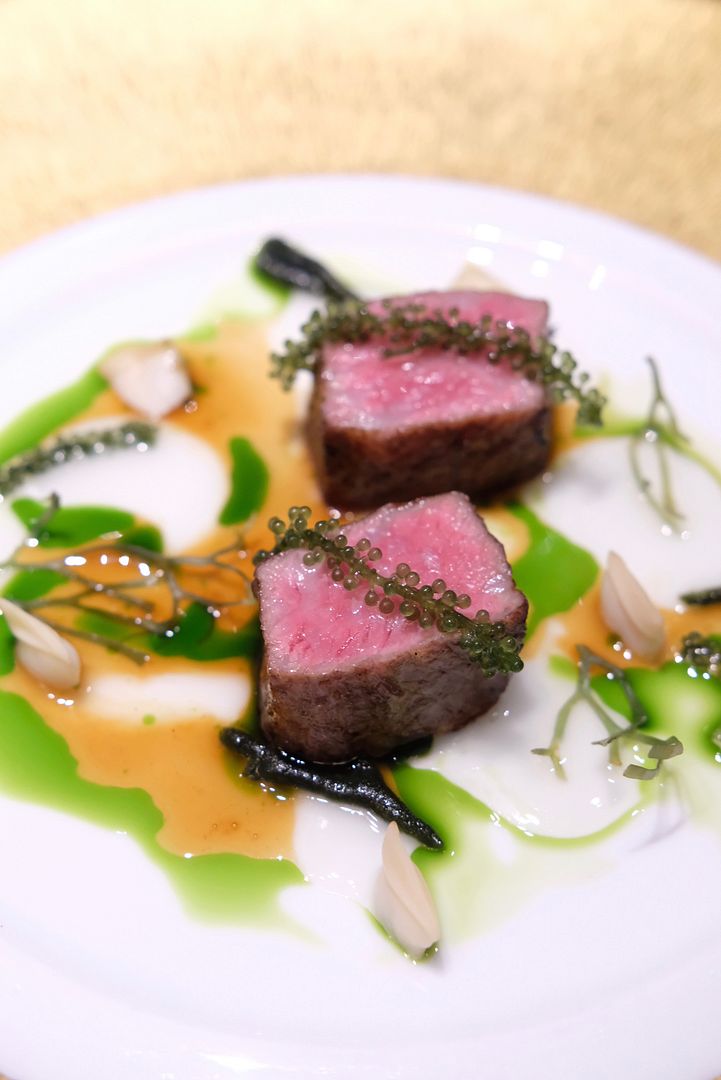 Doesn't the A4 Kagoshima striploin(+$70) just look gorgeous? It was truly love at first sight. I just knew that it was going to be magnificent, and I was right. Every bite of the succulent beef was followed immediately by a slow oozing of tantalising juices. I was savouring every morsel silently, in bliss, while thinking to myself "this is so so good" repeatedly. The combination of oxtail jus and
Chinese chive oil was fantastic and made the beef even tastier. I would have wished for a bigger portion of course. I don't suppose anyone can finish this and not be longing for more. Trust me, you're not going to regret ordering this.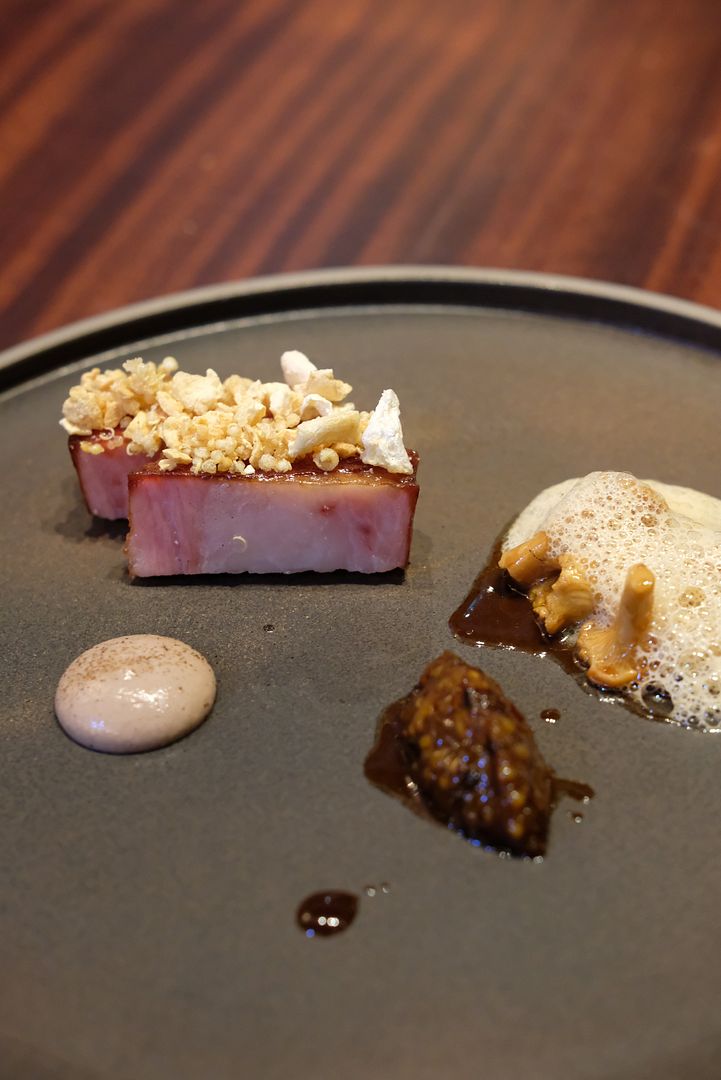 An adorable ensemble of crispy Iberico pork jowl, pickled girolles, bacon jam and walnut miso garnered praises from all of us. The pork jowl was very fatty and tasted great with the bacon jam that we were almost desperately scraping off the plate. The walnut miso packed deep captivating notes, and the pickled girolles had prominent earthy hints. An interesting and thoughtful creation!

The signature dessert at Table65 is the intriguing, beautiful and highly instagram-worthy Apple. Encased in a "glass" shell that cracks open with a gentle knock of a spoon is a lightly tart apple sorbet that was refreshing and easy on the palate. Together with a flaky puff pastry, salted caramel, and walnuts, the Apple proved to us why it's the signature dessert here, and deservedly so.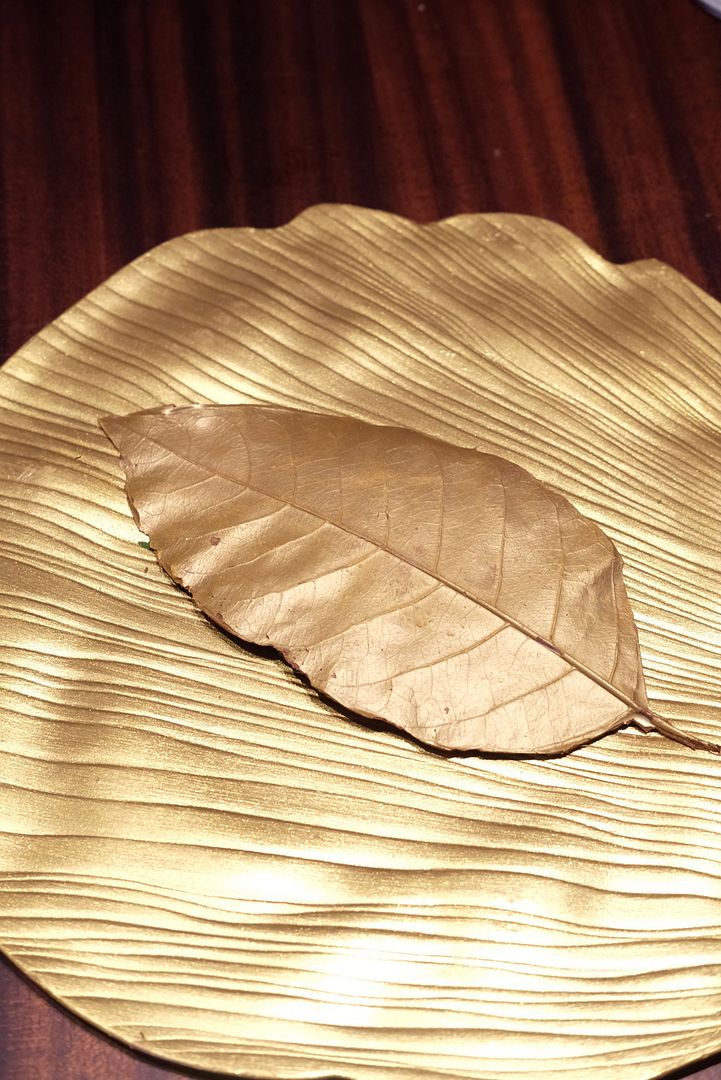 A stunning Tainori 64 chocolate gold leaf arrived next. I was amazed by how much the gold leaf resembles a real leaf. It was as if someone took a leaf and just spray painted it with a gold coat. Needless to say, I was very fascinated and wowed and was looking forward to the leaf being cracked apart with a hard knock of a utensil. To my surprise, the leaf was soft and revealed a rich chocolate mousse with sea buckthorn and marigold leaves. Delish, and decadent.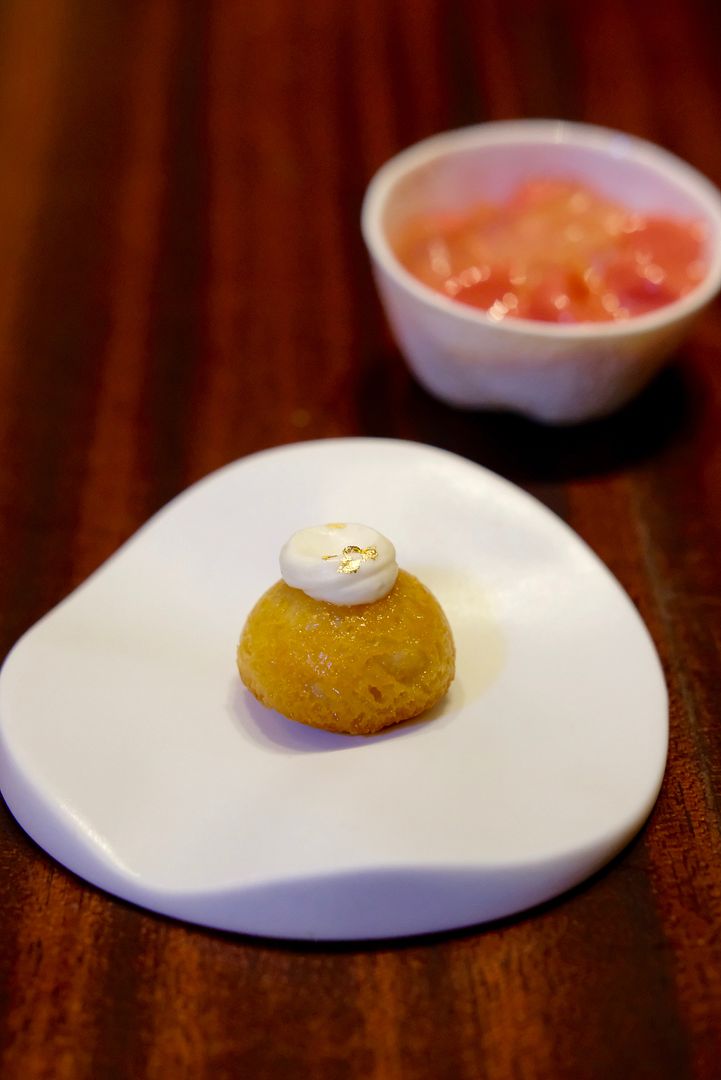 A petite rum baba and a light aloe vera jelly to round off the meal.
It was my first time at Table65 and I really had a great time. The staff were really warm and friendly and they made the dining experience a whole lot more memorable with the little jokes they injected as they explained about the dishes. Apparently, service is something that the restaurant is known for, on top of brilliant food and drinks. The open kitchen concept where guests are sometimes invited for a closer look at food preparation, and fun casual vibes make the restaurant even more charming. It's no wonder why this young restaurant was awarded a Michelin star this early. I will definitely be back!
26 Sentosa Gateway, Hotel Michael
Tuesday - Saturday : 6pm - 930pm