Longstanding Red House Seafood is one of the oldest seafood restaurants in Singapore, and it's no surprise at all. Consistently sending out the tastiest seafood dishes crafted by old master chefs, the restaurant, which currently has 3 outlets, is always a hot spot for an amazing dinner, and intimate reunion feasts. The outlet at Grand Copthorne is the prettiest one of all, and is also a popular venue for wedding banquets. My family used to go to Red House Seafood alot when I was a kid, but as I grew up, we had fewer dinners together and haven't been back in awhile. After trying a few highlights from the Chinese New Year menu at Red House, I immediately told my family that we are heading back here for CNY!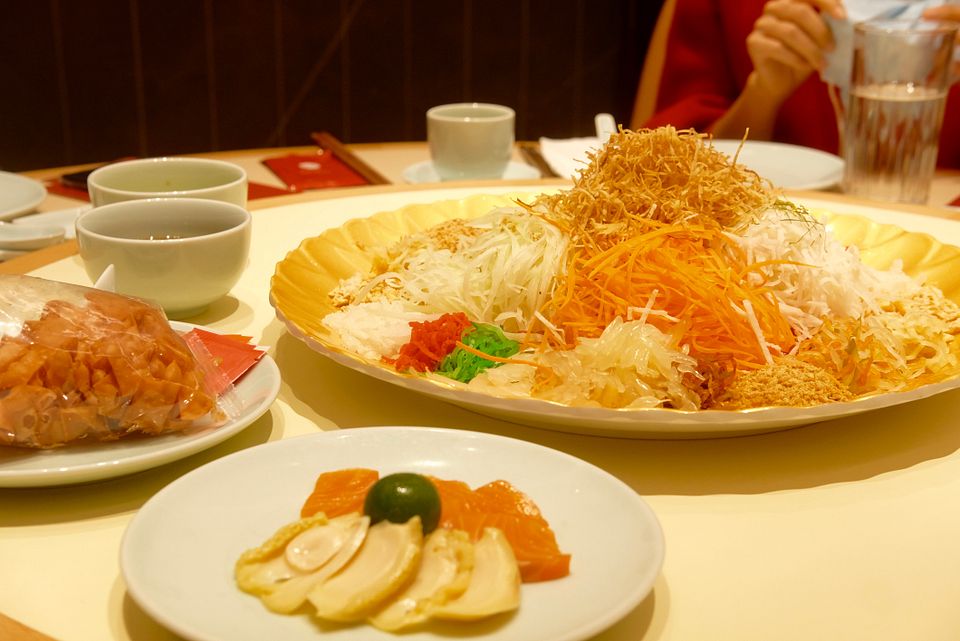 Prosperity Salmon Yu Sheng ($48/4-6 pax)


Of course, we can't have a Chinese New Year feast without yusheng! The Prosperity Yusheng is available as the starting dish of Red House Seafood's numerous Chinese New Year set menus, or as an a la carte item that you can enjoy at the restaurant, or take away.



When the beautiful Royal Seafood Pot ($288) arrived at the table, I was a little surprised at how different it looked from the typical pencai. And, little did I know that I was gonna be having the best pen cai ever right there and then. I'm pretty confident that it is quite possibly the best pen cai in Singapore in 2022. While it's not like your usual pen cai that's filled with sea cucumber, abalone, other premium ingredients in a slightly viscous braised sauce, the Royal Seafood Pot is in a league of its own with an absolute stunning ensemble of Fish Maw, Fresh Scallops, Crab, Lobster, Tiger Prawns, Threadfin Fish Stuffed with Minced Pork Meat, Fish Puff, Fresh Clam, and Baby Shanghai Cabbage. Expect an exceeding addictive and incredibly rich broth that's packed with umami. Trust me, you will be finishing every last drop of that soup! Of course, the lobster and crab naturally stood out, but the undeniable star is the stuffed Threadfin Fish that only old master chefs know how to craft. This is 100% not to be missed! Every purchase comes with a complimentary classic claypot as well.


Another dish that will leave an impression is the Crispy Golden Phoenix Chicken with Kiwi. I'm not a big fan of chicken dishes usually but I easily had 4 pieces of this. That thin crisp exterior and flavourful flesh made this one of the most unique and best chicken dishes I've ever had. The pairing of kiwi with the chicken was both interesting and refreshing. I also enjoyed the crackers which added a nice crunch and a light kick of savouriness(not that the chicken needed it but who doesn't like crackers?)
Designed to look like a fan, the Braised Abalone, Dried Scallop, Sea Cucumber & Mushroom in Superior Oyster Sauce is a luxe dish made up of delicacies. A dish befitting of the Lunar New Year celebrations, it's quite a classic item made up of familiar flavours and ingredients that many deem an essential during the festive period. I like that the oyster sauce had a good balance of flavours and the delightfully tender and well-executed sea cucumber.


No Chinese meal is complete without carbs, and Red House Seafood's Chinese Sausage Rice served with Pine Nuts will hit all the right spots. Look forward to a tasty mix of optimally firm and nicely separated rice grains, cubes of lupcheong, and a smattering of pine nuts which add a distinctive nuttiness and earthiness to the dish. Yum!

I'm honestly quite impressed with what's on offer at Red House Seafood and will highly recommend that you guys come here for a grand feast! If you're opting for takeaway, don't forget to order their Steamed Carrot Cake with Chinese Sausage (8-inch, 1.3KG/ $33.80) which comes with complimentary housemade X.O Sauce
Happy Chinese New Year!!!
Grand Copthorne Waterfront