Yì by Jereme Leung and Raffles Hotel Singapore have pulled out all the stops this year to bring us an exceptionally magnificent Lunar New Year. Ring in the Year of the Tiger with creations tailored to symbolise prosperity and abundance from Yì and Raffles Boutique. It might not be possible to book the beautiful private rooms at Yì anymore, seeing as we are already so near CNY, but I'll suggest that you try anyway. Are you ready to dazzle your loved ones with an exquisite and luxurious modern Chinese reunion feast? Here are some stunning dishes that you should most definitely order.
A few new highlights awaiting at Raffles Boutique are the Sliced Raffles Tasmania Wild Caught Abalone($168) and Bak Kwa & Pork Floss Cookies, and Cereal Prawn Cookies (a collaboration with Old Seng Choon). The pristine briny flavours locked in the plump and smooth abalone were really quite remarkable! Each bite was more addictive than the last, and it definitely makes for a brilliant gift. The cookies, which adequately captured the flavours of their key ingredients were a little crumby, and carried a lovely buttery fragrance. Cookie lovers should not miss them!

Of course, we had to kick start an indulgent meal with the aesthetically and palate pleasing Prosperity Yusheng with Tuna Sashimi and Spanish Iberico Ham which comes complete with honey melon & Yì's signature Yunnan Rose dressing. Yusheng drizzled in a tangy and refreshing sauce has always been well-received, and is quite the norm these days, so if you're seeking something different, Yì's rendition will not disappoint. Yì's yusheng has been one of my favourites since I first tried it — I couldn't get enough of that deep aromatic Yunnan Rose sauce which also imparts a lovely earthiness and depth. The yu sheng is available for takeaway in a pretty and nifty red box, if you're looking to take home or gift an yu sheng platter!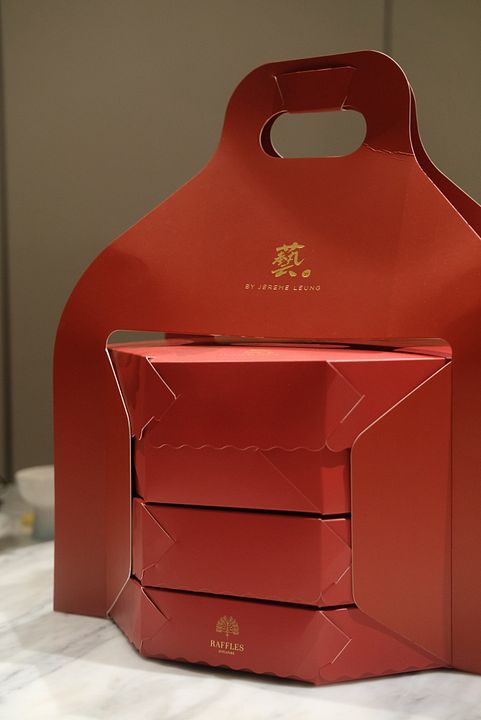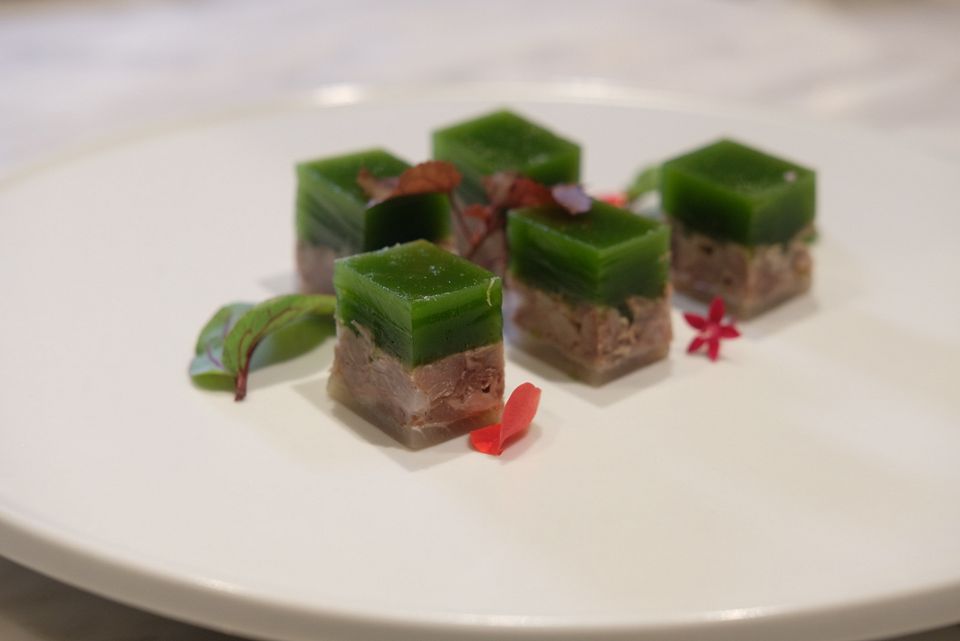 A unique signature dish of Yì — Zhejiang Style Shredded Crystal Pork Knuckles with Spinach Jelly

Another signature dish — Sea Whelk with Wasabi Soy Sauce Dressing
Crunchy and firm, the Deep-Fried Japanese Pork Jowl was amazingly fatty, but not greasy in the least bit. It was interesting paired with a crisp beancurd skin and adorned with a crown of caviar.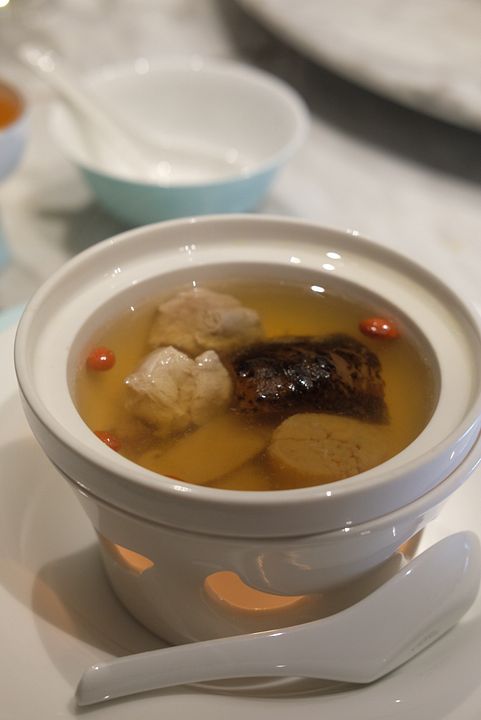 I was really looking forward to the double-boiled soup! Yì sends out really delicious and nourishing soups which are always very comforting and satisfying. The soul-warming Double-Boiled Sea Cucumber Soup with Dried Scallop & Matsutake Mushrooms had my heart. I savoured this really slowly, and also loved that it was kept warm throughout by the burning fire. When I reached the end of the bowl, I was desperately trying to scoop up any last drop elegantly, and found myself wishing that this bowl of soup never had to end.
One of my favourite dishes of the night had to be the dreamy Braised Beef Ribs with Dried Tangerine Peel, Carrots and Radish. Braised to perfection, the fork-tender beef was packed full of flavour. I'm not sure how long the beef had been braised for, but it must have been slow-cooked over an extremely long period of time for it to be this tender, and for the meat to have thoroughly absorbed all the flavours of the sauce. The delightfully rich sauce was quite a masterpiece in itself. It had a great consistency, and carried a light appetizing tartness that kept me going back for more. What's not to love about this dish? I could have mopped up all the sauce with some mantous!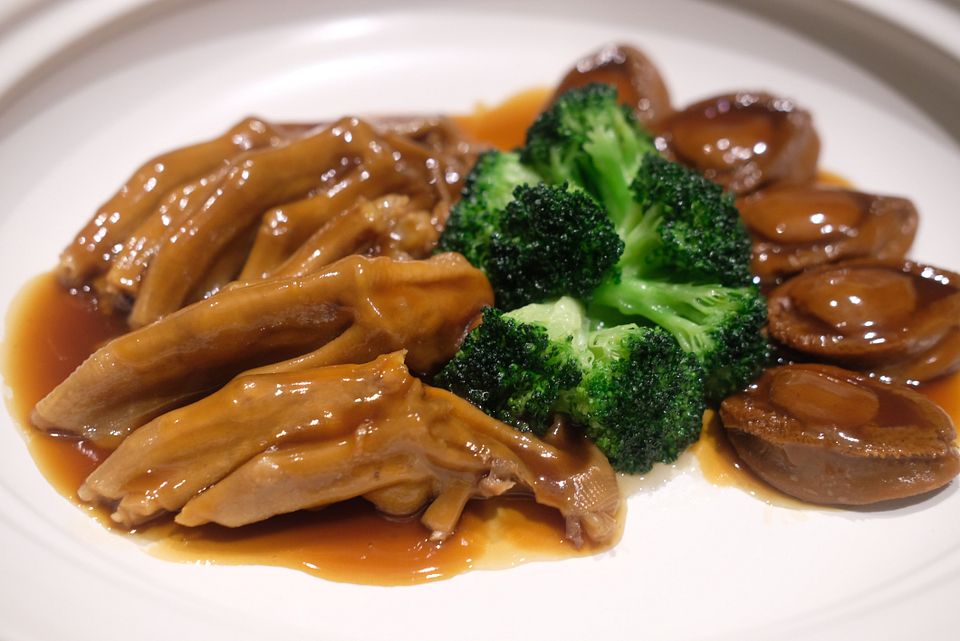 Fans of goose palm will enjoy the Braised 8-Head Abalone, Goose Palm with Green Vegeables. It's not quite my thing but I'm sure many of you will enjoy this uncommon delicacy!

One of the unexpectedly great dishes that stole the limelight was the Handmade Ramen in Scallion Oil with Spanish Iberico Pork Char Siew & Shrimp Roe. As someone who's not big on noodles, I was really impressed by this delectable ensemble. The savoury noodles were cooked really well, and that tender and succulent char siew was to die for! I would actually come back just for this!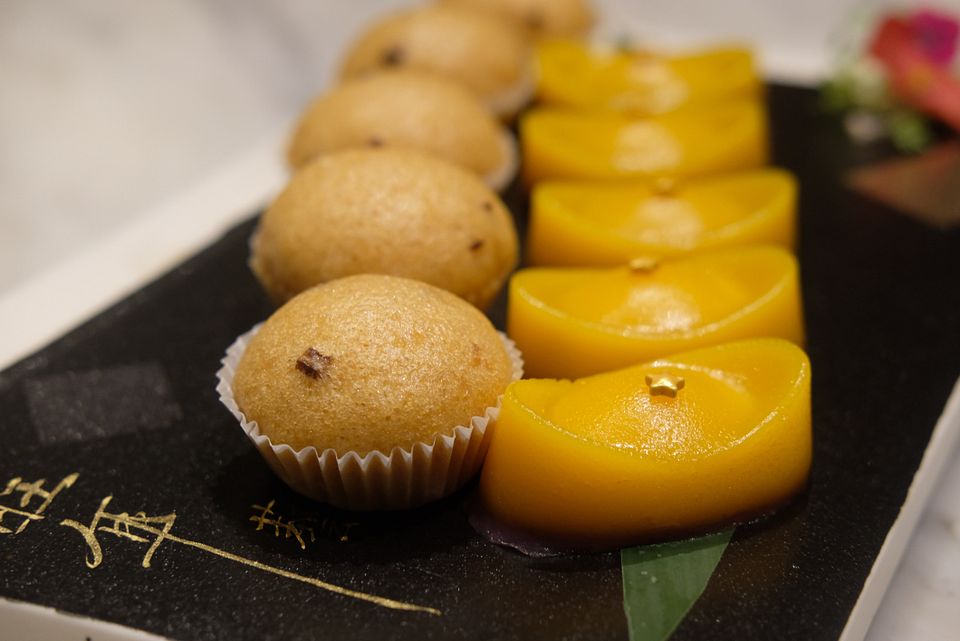 An unusual little treat in the form of an ingot, the slightly sticky Pumpkin & Sweet Potato Nian Gao was easy to bite into. It's not too sweet so I'm sure both the young and old will take to it well. The soft, fluffy and moist Cantonese Sponge Cake infused with Dried Tangerine Peel was armed with a lovely hint of tangerine peel. I enjoyed this more than I thought I would, and as a nian gao fanatic, to say that I preferred the sponge cake to the nian gao says alot.
It's always a good meal here at Yì. After seeing that I came here for dinner, one of my good friends told me that she really enjoyed her dinner here a few weeks back as well, and we were both gushing about the food. Get your reservations in today!
Raffles Hotel Singapore, Raffles Arcade

1 Beach Rd, #03-02, Singapore 189673
Daily : 1130am - 2pm, 6pm - 930pm