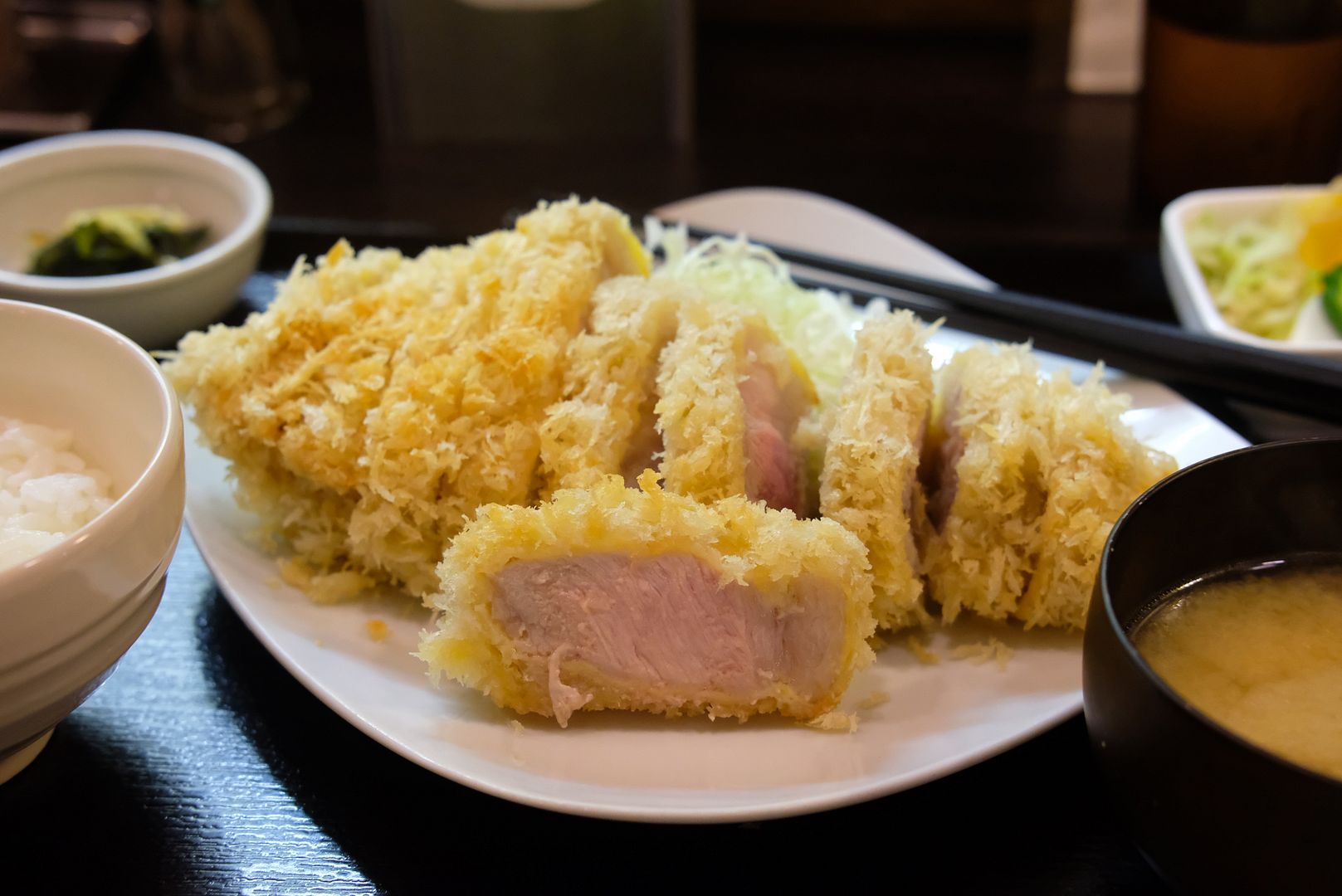 Tokyo is home to tons of famous restaurants and is especially known for awesome sushi, addictive ramen, and fresh sashimi. But don't you come to Tokyo and not dine at Bib Gourmand awardee Narikura! I've always been a huge fan of tonkatsu, and I frequent Tonkatsu by Ma Maison in Singapore quite a fair bit. But honestly, Tonkatsu by Ma Maison has nothing on Narikura.
I arrived at 1030am and queued for about an hour to get into the cozy little restaurant. I was offered a seat for one at the bar counter. I watched intently, and excitedly, as the chef carefully fried each piece of cutlet.
The tonkatsu did not sport an enticing deep brown, but rocked a pale shade of yellow. It was definitely a stellar example of "don't judge a book by its cover". The batter was incredibly light and crisp, and not oily at all. And wow, the meat was so insanely tender and juicy! Every bite was a small piece of heaven and I promise you that you'll be hooked! Each bite just left me craving for more and I couldn't help savouring a few pieces on their own before pairing the rest of the cutlet with rice. The portion was really huge and I couldn't finish it and felt so bad because it was SO DELICIOUS. I am replaying the whole experience in my mind right now — the audible crunch when I bit into the batter, and the warm juices that oozed out of the succulent meat as I sunk my teeth into it. I've never had a tonkatsu this good, and I'm not sure if I ever will find something that's better than Narikura. Sure, there are tons of tonkatsu restaurants in Tokyo, and food in Tokyo will always be good. But a tonkatsu this excellent? Hell, promise me that you'll try it when you next visit Tokyo!
1 Chome-32-11 Takadanobaba, Shinjuku City, Tokyo 169-0075, Japan
Monday - Wednesday, Friday - Saturday : 11am - 130pm, 530pm - 8pm