Award-winning Wan Hao Chinese Restaurant at Singapore Marriott Tang Plaza Hotel never, ever, disappoints. Being the choice restaurant of many, even during non-festive periods, the restaurant is consistently packed, and scoring a reservation here during Chinese New Year is quite often a difficult feat. If you haven't yet dined here, it's high time you do so! Wan Hao is ringing in the new year with a flourish of 8-course Set Menus, enticing à la carte Lunar New Year masterpieces, and irresistible takeaway treats.

In light of the current COVID-19 situation, a growing proportion of the population is abstaining from raw fish. Hence, Wan Hao has launched a luxurious Boston Lobster (Cooked) & Caviar Yu Sheng(Large: $188++, Small: $108++) that comes with a choice of Traditional or Mandarin Orange Sauce. I adored the mandarin orange sauce which bound all the individual components together seamlessly. You won't ever see me eat vegetables but I wiped the entire plate of yu sheng clean because it was just so delicious!
Raw fish is something that I love and will never give up so I'll pick the Lobster, Scallop, Salmon, Tuna, Caviar & Crispy Fish Skin Yu Sheng (Large: $268++) anyday but the cooked lobster version is definitely no less delicious. Toss to an auspicious year with either of these choices, or one of the other 4 options available.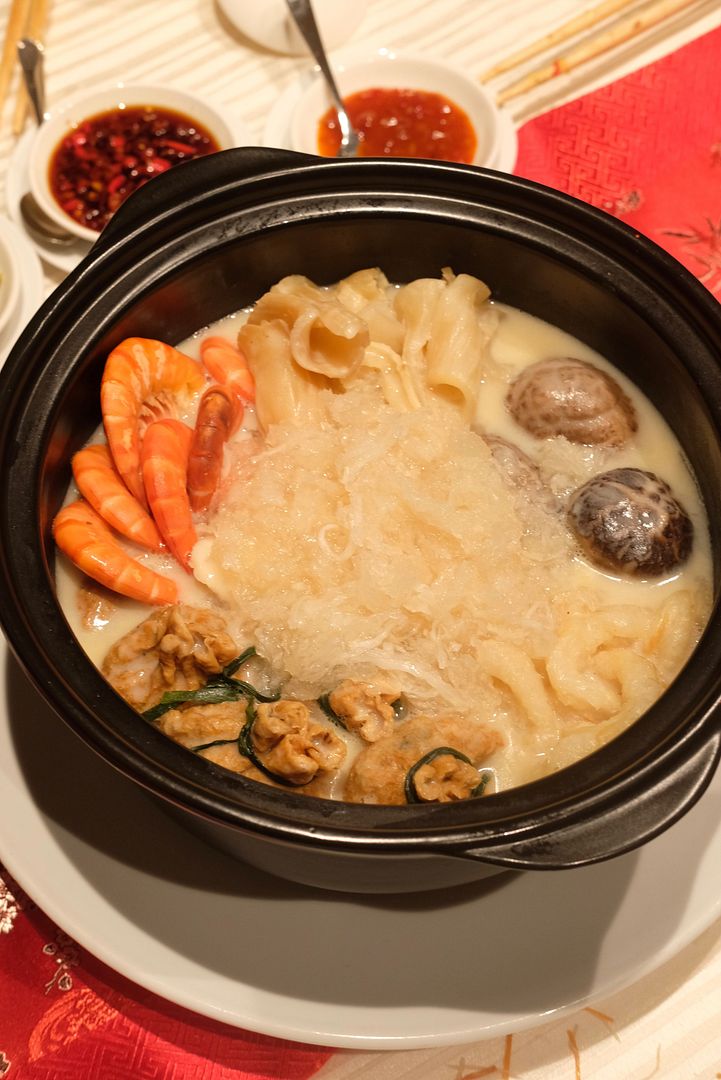 Making its debut this year is the opulent Wan Hao Eight Treasures Imperial Pot with Bird's Nest($788nett/10 persons). A refreshing change-up from the usual pen cai with braised sauce, this exquisite creation sees a rich and smooth superior broth packed with premium ingredients such as Bird's Nest, 10-Head Australian Abalone, and Fish Maw. Replete with collagen and nutrition, this new pen cai is an exceedingly indulgent and nourishing treat. I'm very certain that your loved ones will fall in love with its richness and fine flavours. Quite a number of my dining companions praised the pen cai immensely and preferred it to the classic version with braised sauce.
Of course, if you're after the good old classic pen cai, don't miss the Wan Hao Imperial Pot of Prosperity Pen Cai with Australian 3-Head Abalone & Goose Feet ($688++/6 persons, $1088++/10 persons) that is loaded with 14 luxuriant ingredients.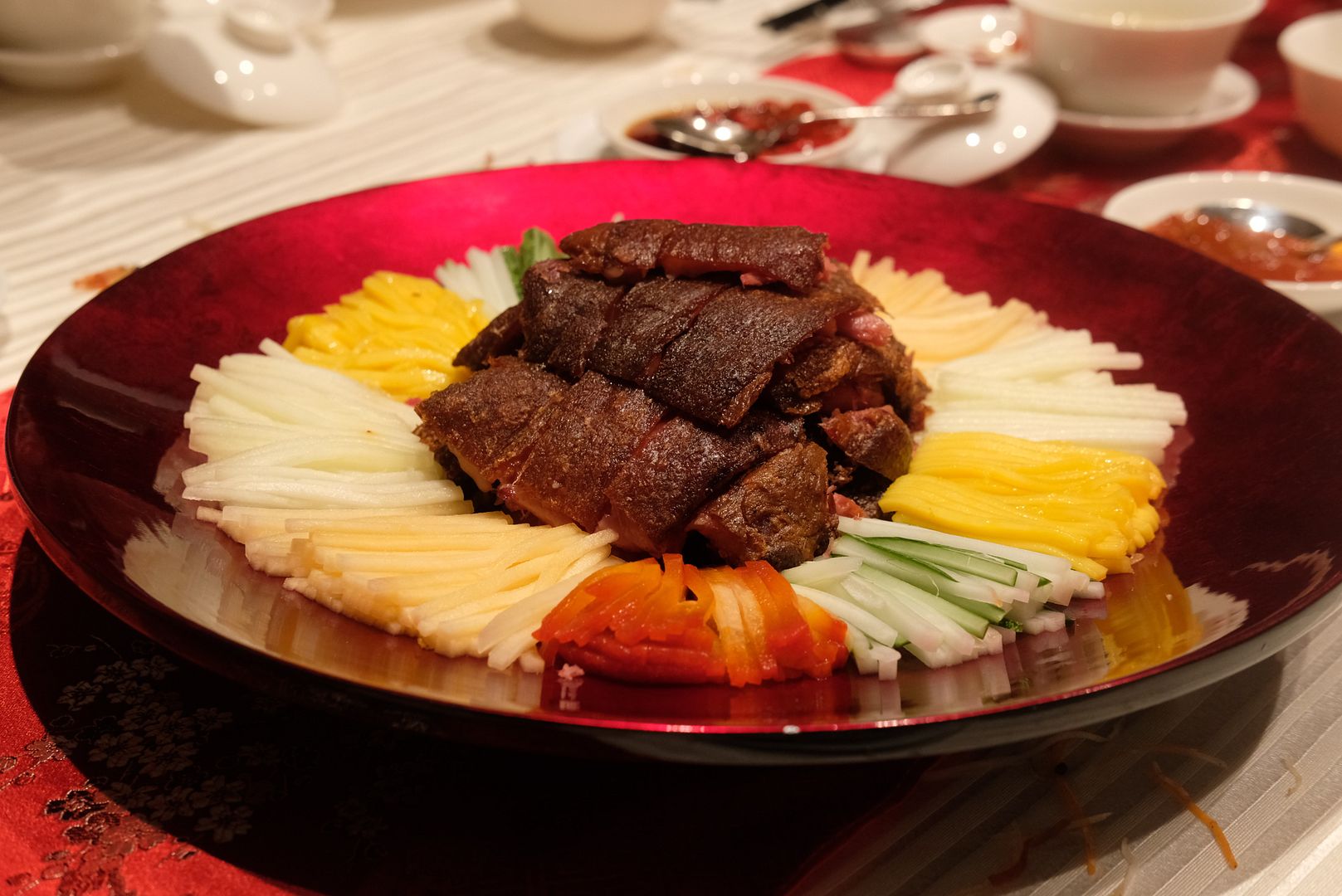 An interesting addition to this year's CNY menu is the Crispy Pork Trotters with Fermented Red Rice Sauce. The juicy pork trotters wore a crisp jacket that was shatteringly crisp and fragrant, and were surrounded by fresh julienned fruits and vegetables that lent a refreshing touch and light sweetness. The taste of the trotters will be elevated by a quick dip into the accompanying red rice sauce that carried a hint of sourness. I was pleasantly surprised by the unique combination which worked really well.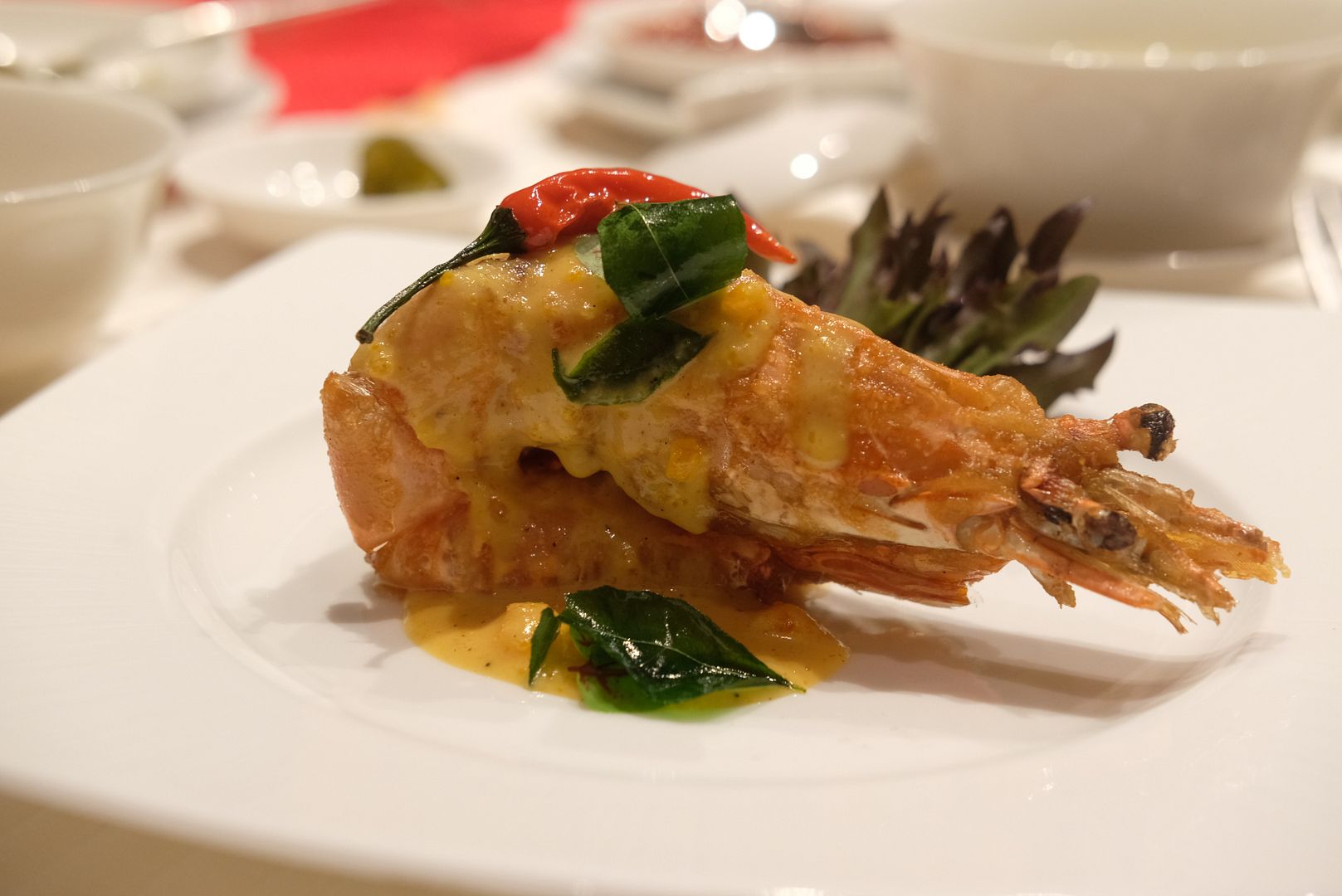 You can't go wrong with the Braised Giant Prawn with Salted Egg Cream Sauce. Expect a prawn head oozing with delicious juices, and a fragrant, succulent, and firm prawn dressed with healthy lashings of aromatic salted egg cream sauce. The giant prawn was an absolute delight to tuck into, and was, undoubtedly, one of my favourite dishes! Can I have another one, please!

We rounded off the meal with a refreshing Water Chestnut Puree with Hashima
,
the must-have Golden
Nian
Gao Tart
,
and flawless Black Sesame Glutinous Rice Ball with Pistachio. I'm a huge fan of Singapore Marriott Tang Plaza's Golden Nian Gao Tarts and I look forward to them every single year. This year, they have four flavours — Japanese red bean, sweet potato, cempedek and yam — available. I really loved the black sesame rice ball with pistachio as well. I thought it was a clever put together of two strong flavours, and I fancied the mochi-like texture very much.
It's always a wonderful time here at Wan Hao Chinese Restaurant!

For dining reservations and pre-orders, please call 6831 4605, email singaporemarriott.festive@marriotthotels.com, or visit www.celebratorydelights.com/cny.
Singapore Marriott Tang Plaza Hotel
320 Orchard Road, Level 3