Formerly known as Cheek by Jowl, Cheek Bistro is still run by the same husband-and-wife duo. They have changed their name, and switched up their prix fixe menus for a la carte menus. I've never been to Cheek by Jowl but I remember looking at their menu multiple times. I was glad that they've introduced a la carte menus which allow diners to pick their desired dishes, of course, and the a la carte options make dining here more affordable. I would say that you will definitely be getting your money's worth at this One-Michelin-starred restaurant that's belting out great contemporary Australian cuisine.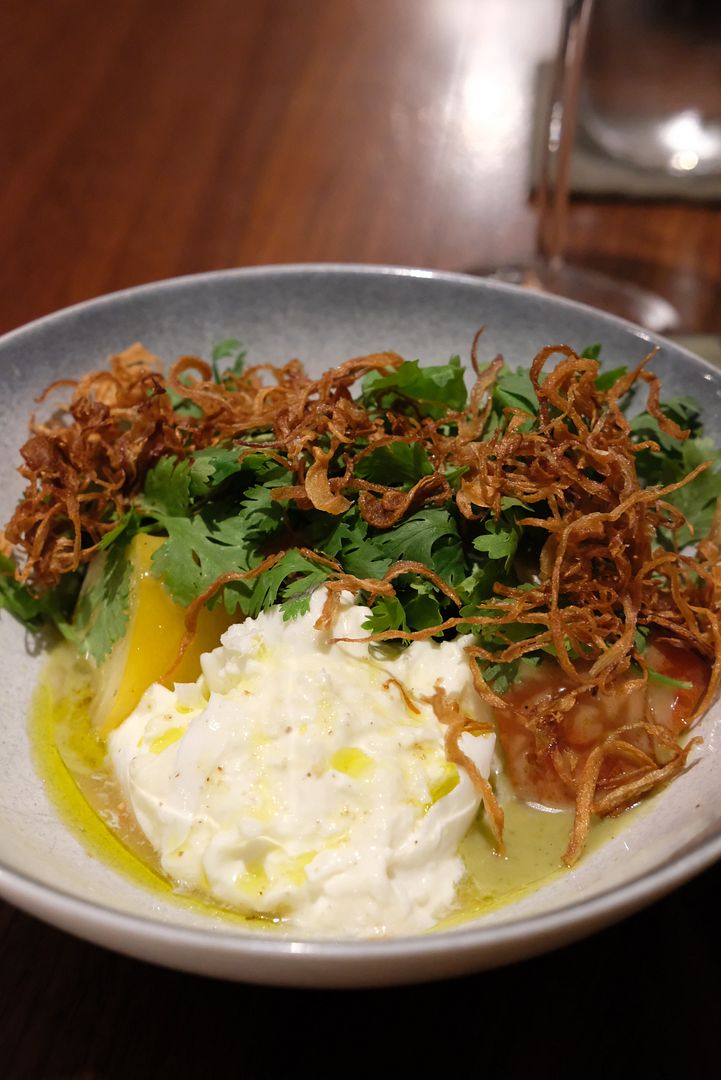 Having lived in Melbourne for a bit, I found that Modern Australian cuisine can be a tad confusing. It's not like French food and Italian food where you know the iconic dishes are duck confit and beef bourguignon, and pizzas and pasta respectively. So one might not know exactly what to expect. At least I didn't. I did notice that Modern Australian cuisine sometimes incorporate Asian influences, and it uses alot of fresh produce procured in Australia. Ingredients such as oysters, marron, and kingfish are typical items that secured spots on menus. I'm not fussed when it comes to how clearly defined a cuisine should be, because what's most important it that it tastes good, right? While I haven't had many memorable visits to Mod-Oz restaurants in Melbourne, my favourite was Cumulus!
Well, now, back to Cheek Bistro. We started off with a bottle of Rippon Sauvignon Blanc($98) which was easy on the palate. As for food, you can't go wrong with the Buttermilk Quail ($28) with sriracha mayonnaise. Nicely fried, the pieces of quail had a moist interior, and a thin crisp skin. Liberal squeezes of lime accentuated the natural flavours of the quail, and the pairing of any mayonnaise and fried food never fails.
I've been really into burrata recently so we ordered the Burrata($26) with heirloom tomatoes, fermented green chilli and coriander. I loved that the burrata was lightly dressed so it wasn't bland even without any of the accompanying ingredients. The lavish sprinkling of fried shallots lent more fragrance and crunch to the dish, and was an unusual but much welcomed addition.


As my friend wasn't particularly hungry, we had just 3 dishes. The last being Duck & Waffle($38). The duck leg, which was tender and juicy, lay in a spiced caramel sauce that held just the right amount of sweetness and savouriness. I'm not a fan of vegetables so I would gladly do without that cucumber salad on the side. The waffles were sufficiently crisp and light, and tasted better when dipped into the spiced caramel.
I wouldn't say the food is outstanding or exceptional but the dishes we had were all hits! So, I will definitely recommend Cheek Bistro if you're looking for a place with casual vibes and good food, or even looking to dine at a Michelin-starred establishment without breaking the bank. I was celebrating my birthday so they served up a dainty plated dessert with a candle. Sweet gesture! Also, the server was really patient and nice, so thumbs up for service.

I really want to try the Fish & Chips so I will definitely be back!

21 Boon Tat Street
Singapore 069620
Tuesday - Wednesday : 6pm - 10pm
Thursday - Friday : 12pm - 3pm, 6pm - 10pm
Saturday - Sunday : 10am - 4pm, 6pm - 10pm