Can you believe that I cooked this
Squid Ink Paella
in just 30 minutes??!?! Neither can I. I'm really so so happy to have found
Kitchen Hands
because they made me a "chef"! Who would have thought that I could whip up a
grilled beef burrito
,
cheese hambagu
,
brown butter grilled fish
and more all under 20 minutes? ABSOLUTELY INSANE.
I have been obsessed with Kitchen Hands ever since I first tried it in January. I've been a regular since, ordering the meal kits almost every week. For my first ever delivery from Kitchen Hands, I had the Thai Basil Pork Rice with Thai Fish Cakes, Grilled Beef Burrito, Spaghettini Alle Vongole, and Butter Chicken. AND, I WAS SOLD, right from the very first kit I tried.

I seriously love Kitchen Hands' meal kits — they are fuss-free, straightforward, easy, convenient, and EXTREMELY affordable.

If you will like to try the meal kits, check out with "homecooked10" for 10% off. You can also use my code "kimberley15" for 15% off (valid until May 2021)
1) Extremely affordable (<$12/kit with delivery) and great portions
Where can you get ribeye with roasted garlic mashed potato, mushroom sauce and kale for $12????
Each meal is just about $12 with delivery($35.90/3 kits)! What's most impressive is that some of the recipes are crazy "high level stuff". Like how would I even think that I could cook paella in my home ever?! And where can you even get paella or prawn risotto for $12???
The meals are actually really delicious and filling, and I'm quite a big eater (I eat more than some of my male friends) and I find the portions more than fair. I truly believe that $12 is fantastic value for money.
Kitchen Hands has seriously saved my life. I used to order food delivery alot(and honestly, most of the time, the food is meh and expensive), or just feed myself idiot-proof dishes such as beef bolognese (with bottled pasta sauce, and pasta from a box), steak, and aglio olio. I am a terrible cook but I have been consistently cooking up amazing dinners thanks to Kitchen Hands' meal kits. I don't even remember when's the last time I actually cooked for myself without using a Kitchen Hands meal kit!
2) Every ingredient is neatly packed and labelled
There won't be any spillage(even the egg is wrapped in bubble wrap). Fresh items such as chopped vegetables, garnishes, meats, and house-made sauces are vacuum packed to maintain freshness.
3) Almost no preparation required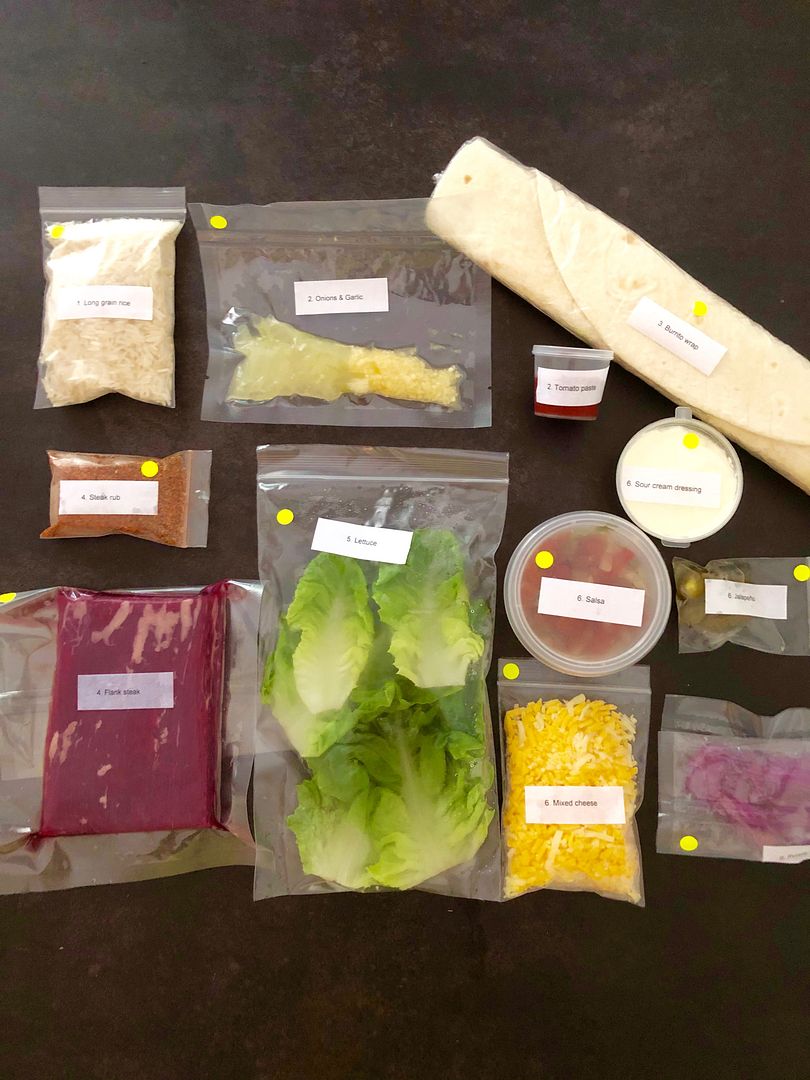 There's almost no preparation needed. I don't have to peel my garlic, marinate my meats, chop my onions, or make seafood stock. The most prep I have ever done is to half baby potatoes for the Salmon en Papillote. Notice how the onions and garlic are chopped, how the salsa is ready to be poured out, and how the lettuce has been torn and washed?
4) Each kit comes with clear and concise instructions on how to prepare the dish
The rosti has to be my favorite and the easiest meal kit(4 steps) from Kitchen Hands to date. I know, how can rosti be easy to cook??? It's one of the most tiring dishes to prepare. I would know best because I used to sell rosti and we spend hours just washing, boiling, peeling, shredding, and marinating the potato.
Kitchen Hand's rosti and bratwurst are vacuum packed in separate bags. All I had to do was

1) pour rosti and bratwurst onto heated pan
2) cook a sunny side up
3) add orange vinaigrette to side of salad
4) add sour cream, lemon wedge and chives, which were all packaged neatly in the box, to the dish
and I was all set for a really good meal. Where can you find rosti with the above accompaniments for just $12???
And it's so incredibly easy to cook!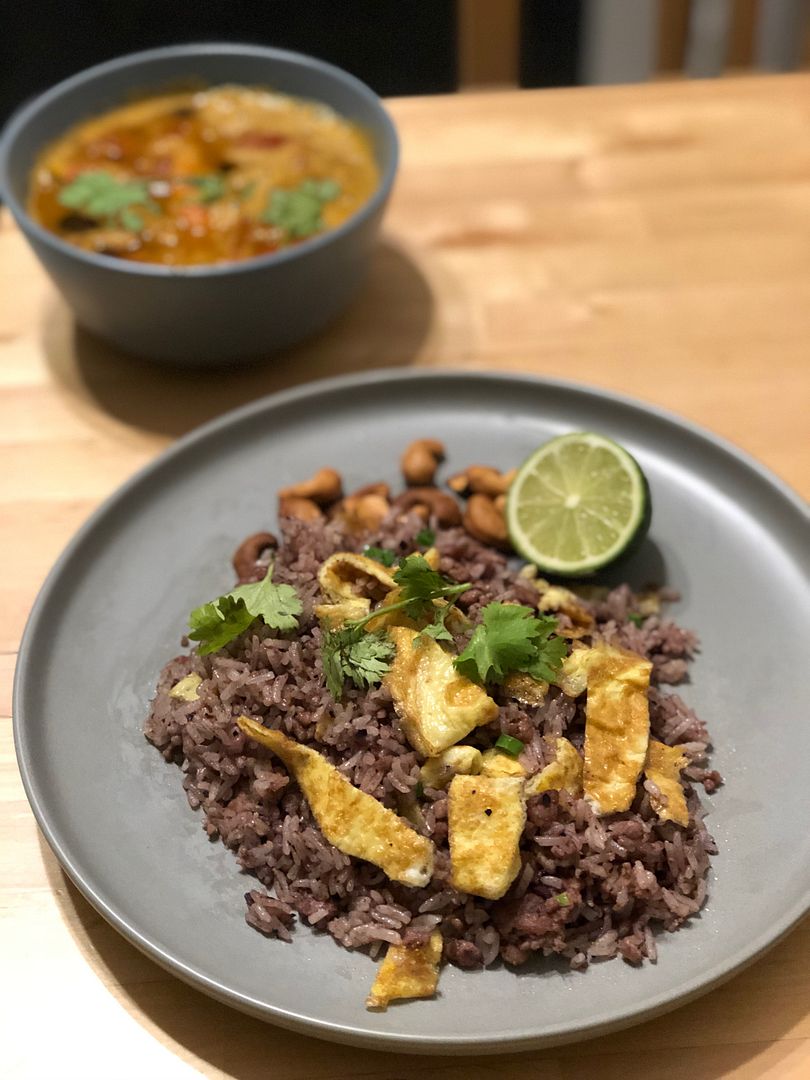 Olive fried rice with tom yum soup
5) The ingredients are really fresh and many of them are made in-house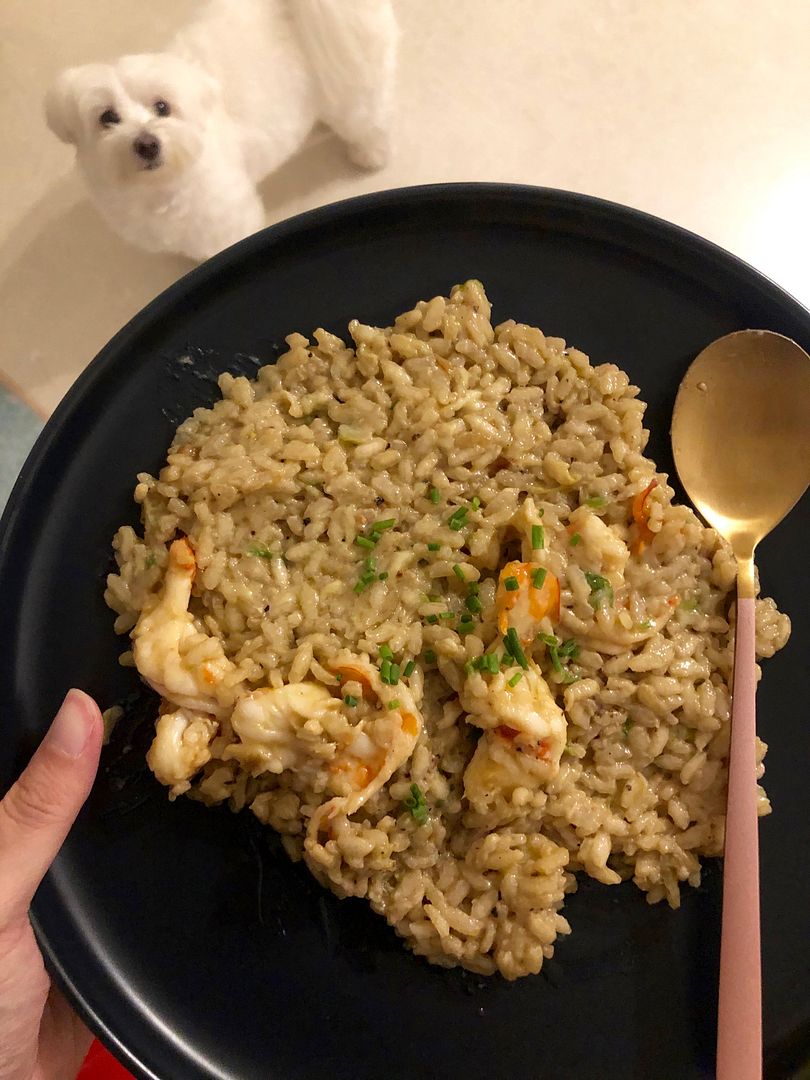 Another thing that I love about Kitchen Hands is that they try to make as many items from scratch as possible — house-made prawn broth for tom yum soup, house-made prawn stock for risotto, fresh pasta for beef ragu alla bolognese, house-made rosti, house-made sauces etc. I really admire their commitment to using the freshest produce, and their dedication to making as many items on their own. I really wonder how the meal kits are priced at $12 (inclusive of delivery). I would gladly pay $14 - $15 for each kit to be honest.
6) Delicious meals in just 20 minutes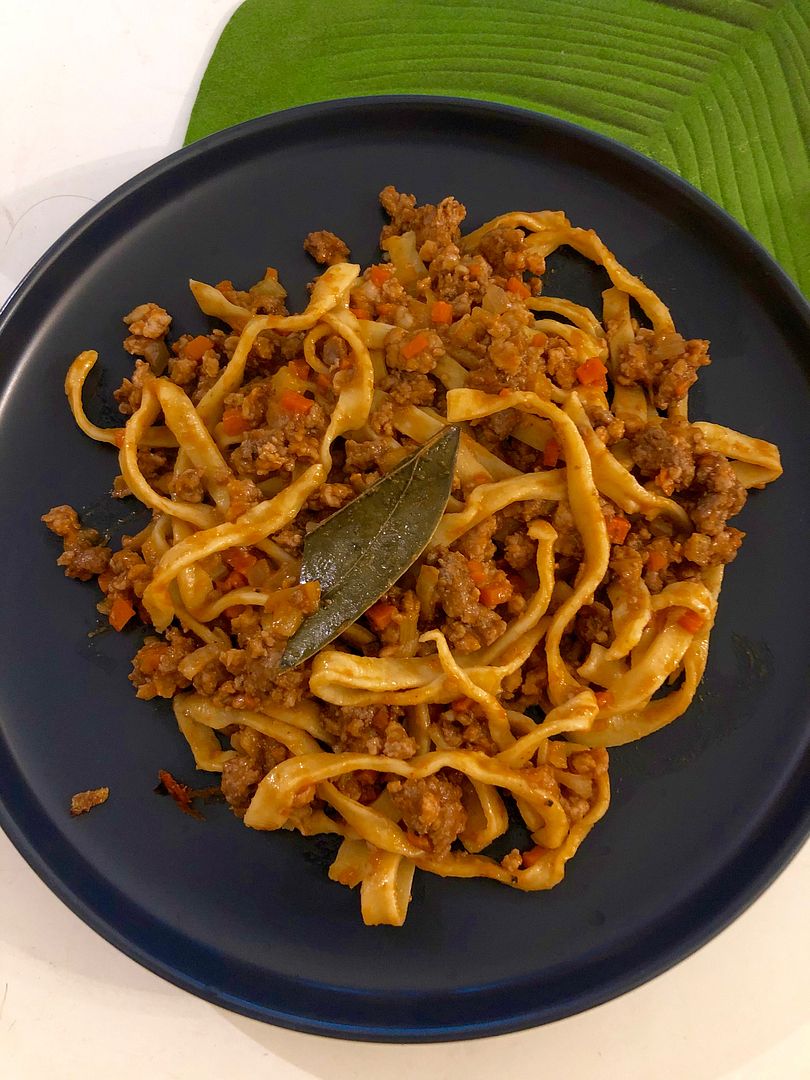 Most of the meals can be whipped up in just about 20 minutes. Gone are the days when I place an order for food online, wait for 30-45 minutes for it to arrive(and sometimes there are missing items or spillage, the food is lukewarm, cold, or not fresh). It is definitely better to whip up a tasty and piping hot meal in just 20 minutes in the comfort of my own home!
7) Adjustable levels of spiciness/saltiness etc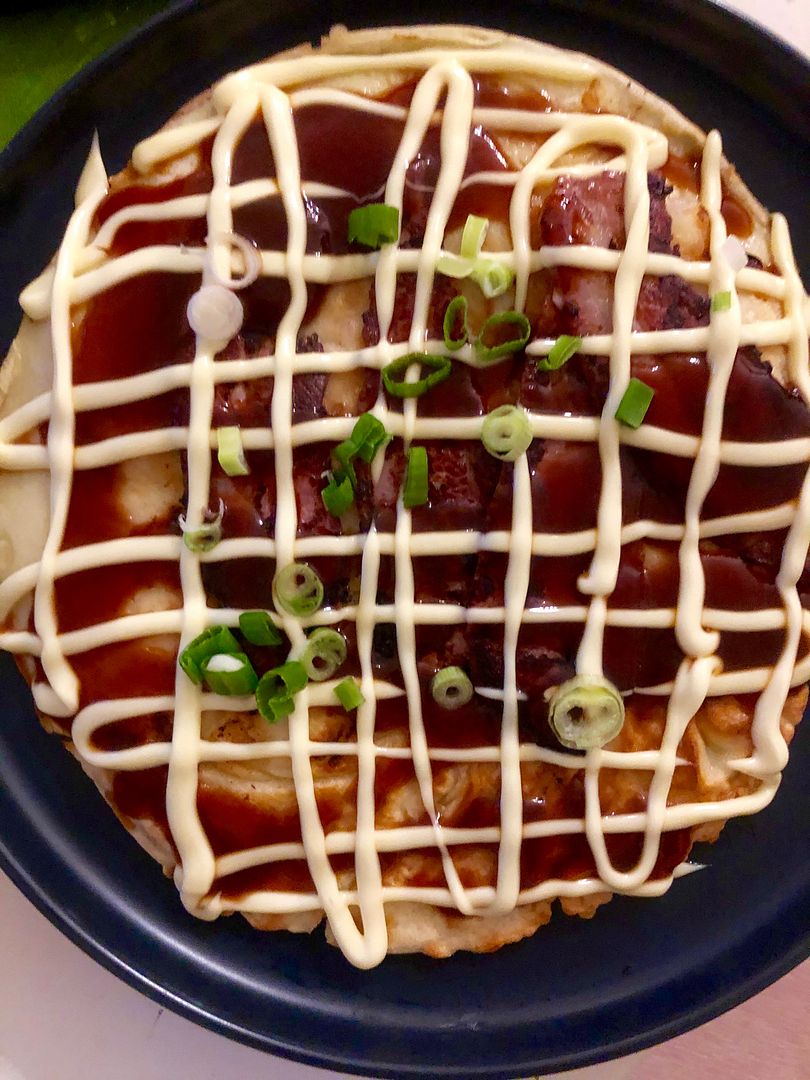 You can decide how much seasoning to add, how much salt/pepper to toss in etc. For me, I'm happiest about being able to omit vegetables from my meal. Take this okonomiyaki(sorry, I forgot to add the bonito flakes), for example. I didn't add in most of the vegetables, and I still enjoyed the rest of it (despite having not charred it enough) with less brown sauce and all of the mayo.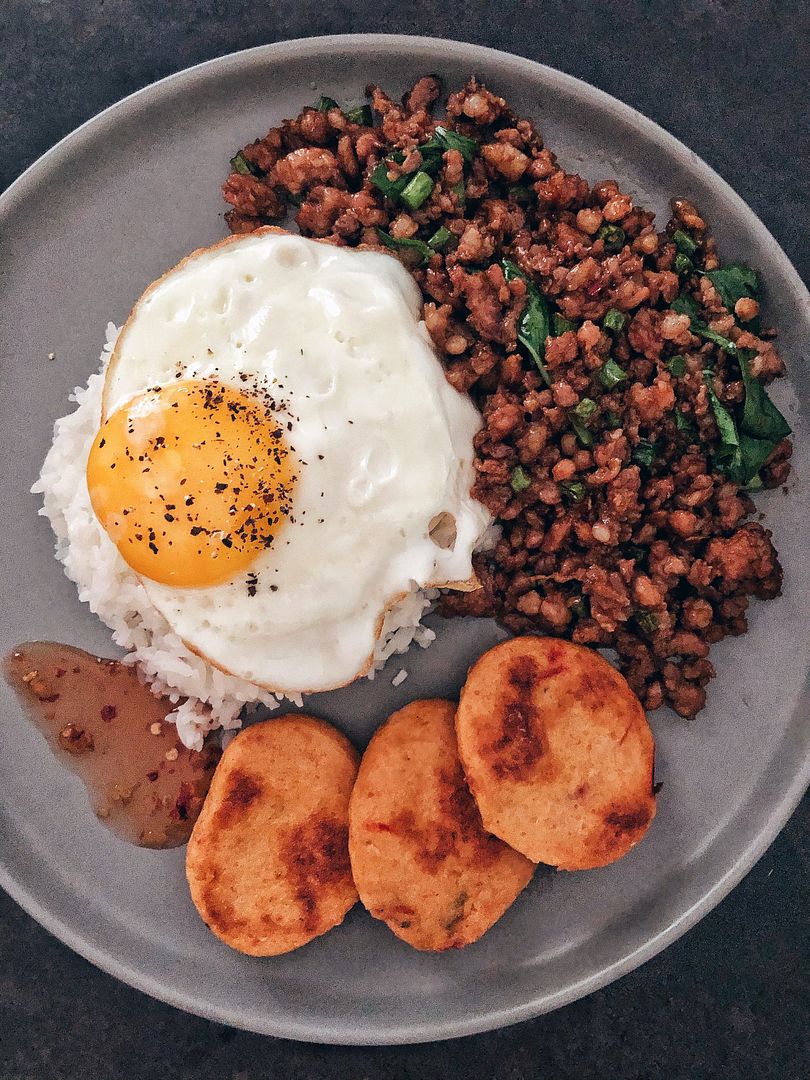 I'm also really pleased that I can customize the spiciness of my food! I've never been able to eat Thai basil pork rice at Thai eateries because it's always crazy spicy . Here's my Thai basil pork rice with almost no chilli at all!
8) Minimal clean up
One of the best parts about Kitchen Hands is undoubtedly the extremely minimal clean up! I usually just have to wash like 1 or 2 pans, a spatula, and a plate and fork/spoon.
9) Hardly any wastage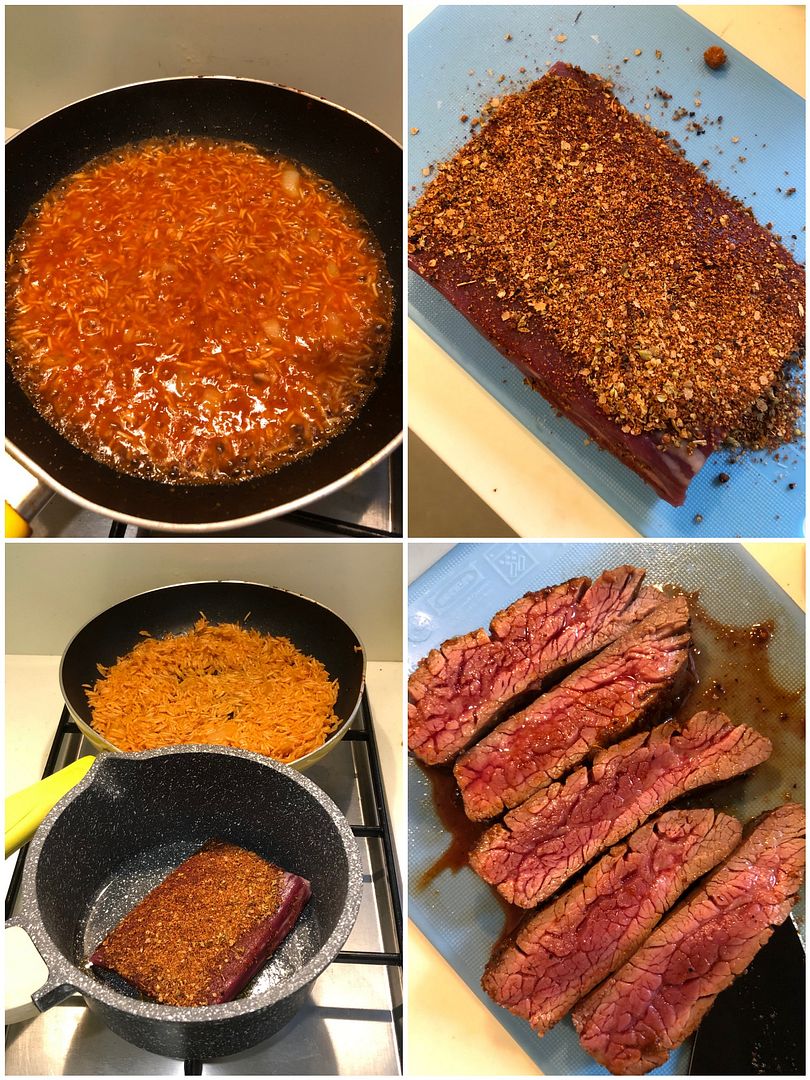 Have you ever purchased an entire bottle of wine just to cook a plate of vongole? High five, been there, done that. And the remaining wine is wasted as it's typically not good enough to be savoured on its own. Or have you purchased a bottle of fish sauce, or a whole box of rosemary, only to use 5% of it, and not know what to do with the rest? There will be no such occurrences with Kitchen Hands' meal kits because the exact amount of ingredients are weighed and packed conveniently for you. Yay to #zerofoodwaste!
Fancy making a burrito with no leftover unused ingredients, wew!

10) Everchanging menu and new recipes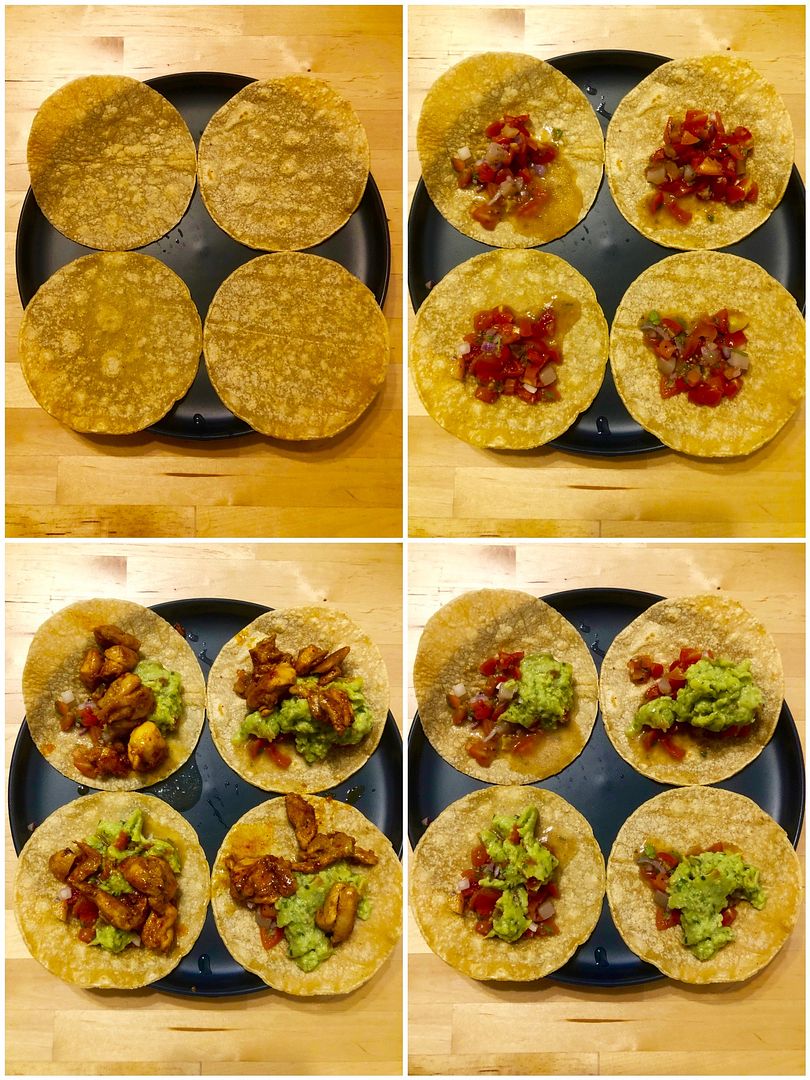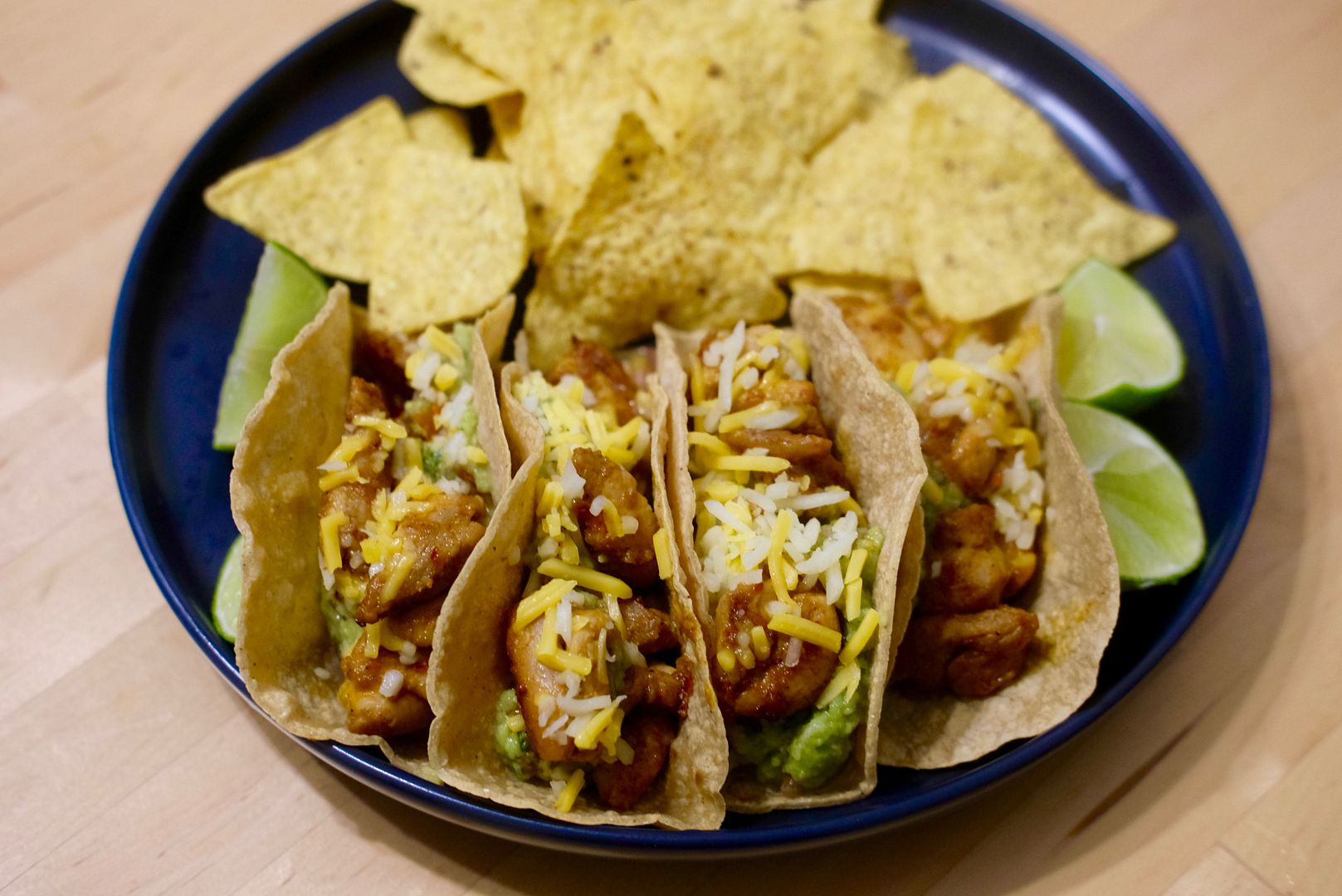 I'm really impressed that the team has come up with so many different recipes. I have been using Kitchen Hands for three months now, and I haven't seen a repeat item. They are starting to offer low carb options such as cauliflower rice, alternative grains such as barley, and even meat-free options such as impossible burger. You can expect local favourites such as claypot rice and Hokkien mee, and Asian-inspired dishes like Sri Lankan barramundi curry, lemongrass banh mi and bistek tagalog.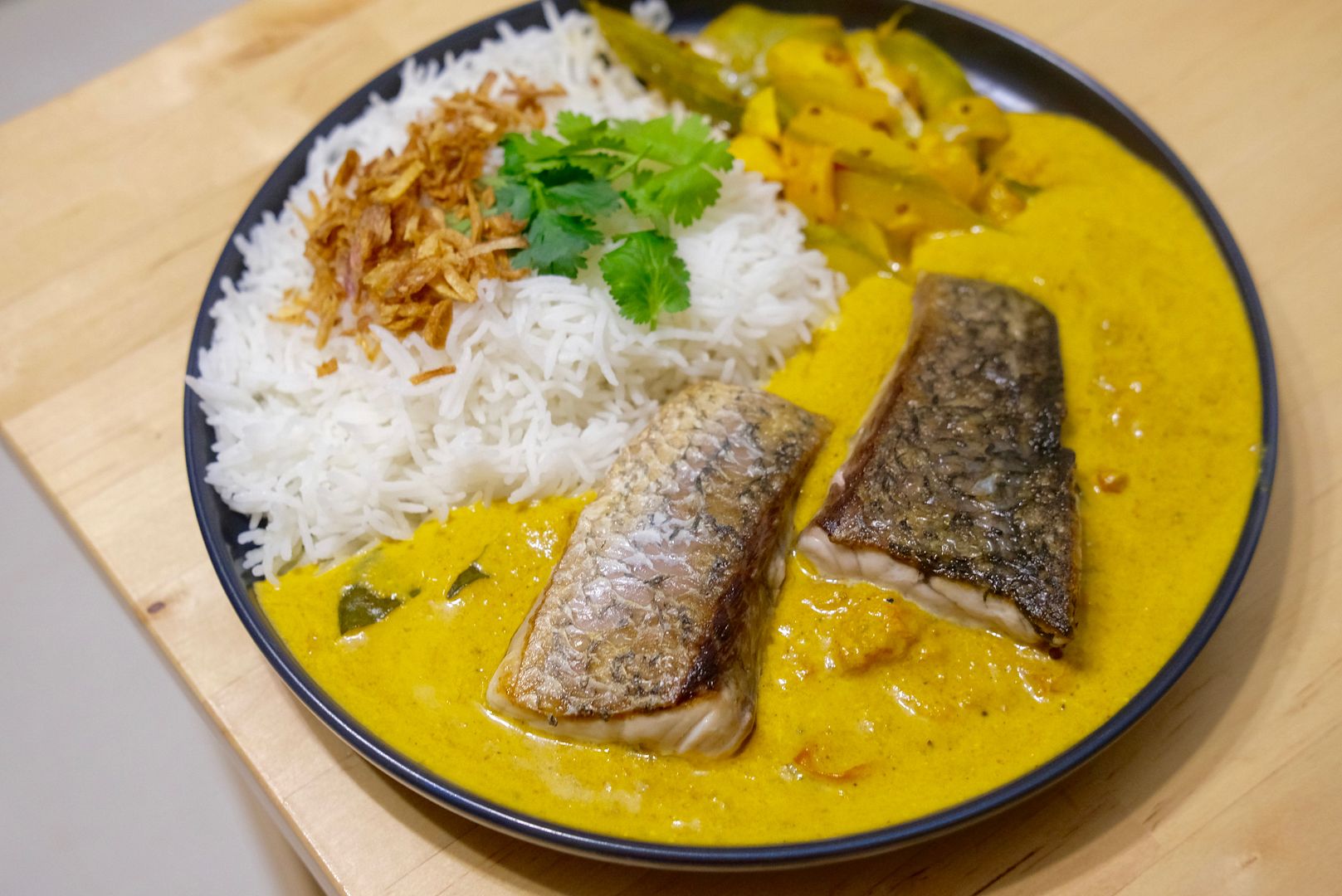 I really look forward to receiving the kits each Saturday. Never thought I would enjoy cooking, and never thought cooking a tasty meal could be this easy, fuss-free, and fun. I legit look forward to dinnertime and cooking nowadays. You're a godsend, Kitchen Hands!

Kitchen Hands also has event kits (for special occasions like Mother's day), baking kits(eg : ondeh ondeh tart), and festive kits for Chinese New Year and Christmas. Imagine whipping up a fuss-free and convenient pencai at home omg?
Cheese Hambagu
I genuinely think that Kitchen Hands has the best meal kits in Singapore. It's a subscription plan but you can pause it anytime, and not get the kits for the weeks that you're probably going to be dining out alot. Orders have to be placed by Saturday for delivery the following Saturday.
If you will like to try the meal kits, check out with homecooked10 for 10% off. You can also use my code "kimberley15" for 15% off (valid until May 2021)
I'm very confident that anyone who has tried Kitchen Hands will be a repeat customer, just like me hahaha. I hope you like the kits as much as I do!