Are you looking to up your miles game? It's time to download
Kris+
by
Singapore Airlines
then! Kris+ is Singapore Airlines' lifestyle app on which KrisFlyer members can enjoy (1) exclusive privileges, (2) pay with miles at every day partners and (3) earn miles from daily spends.
From 9 April - 31 May, Kris+ and their dining partners (Les Bouchons, UNA @ Alkaff Mansion, WAKANUI Grill Dining & more) are presenting the Kris+ Gastronomy Series which promises exclusive menus and privileges to KF members.
In addition, you can earn up to 6 BONUS miles on every $1 spent paid with cash, credit or debit card. Find out how in this post!
Glass of Bordeaux Red Wine
Starter (Choose 1)
-Soupe a l'oignon (French Onion Soup)
-Burgundy Escargots with Garlic Butter
-Caprese Salad (V)
Mains (Choose 1)
-Grilled Black Angus Rib Eye with vigneron butter
-Assiette Bat D'Af (Lamb skewer, Merguez, Harissa)
-Grilled Filet of Salmon with "passion fruit butter"
Dessert (Choose 1)
-Homemade Crème Caramel
-Crème Brûlée
-Double Chocolate Lava Cake
I've been to Les Bouchons at least 10 times. I just can't get enough of their value-for-money Ribeye(300g) steak! The steak is always done perfectly, consistently delicious, and never fails to put a smile on my face. The meal always starts off with warm bread, and I usually order the French Onion Soup to share with my dining partners. The Black Angus Rib Eye (which I always order) comes with a side of salad and a generous and unlimited serving of fries. You will definitely be extremely full and satisfied as Les Bouchons feed their customers seriously well! This was my first time trying their lava cake, and I adored it to bits! The food is always good here, and I know I'll come back again and again.

Beurre's Kris+ Menu($58+)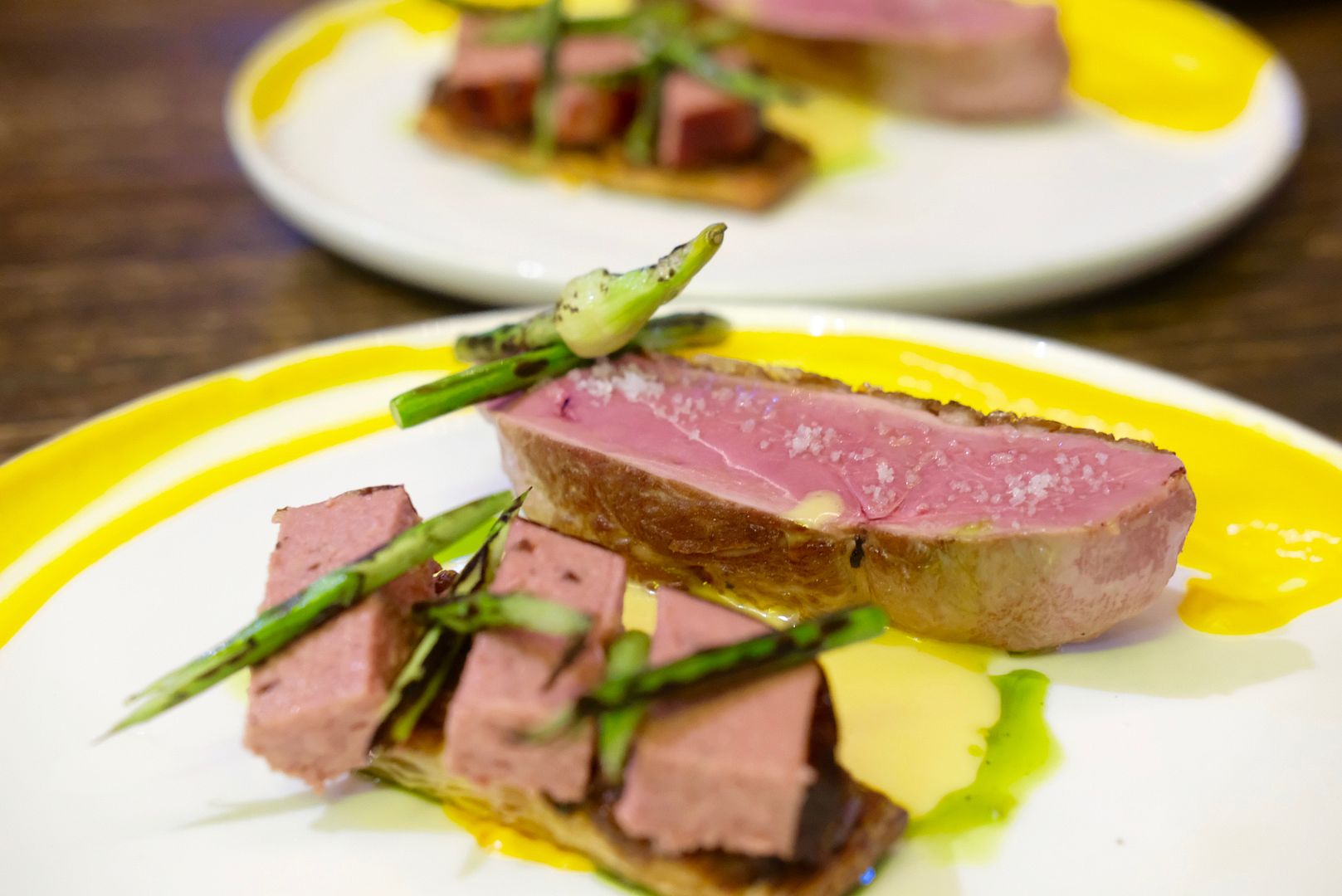 Salad : Deep Sea Crab Salad
Starter : Spanish Mackerel
Main : Challans Duck Breast
Dessert : Mayer Lemon Creme Brulee with Champagne Gelato
This is the first time I'm dining in at
Beurre. I ordered food from them twice during CB. So, I wasn't expecting to be wowed by the food, but I actually was! I was seriously surprised by how good the Spanish Mackerel and Challans Duck Breast were. The almond-crusted mackerel was delicious and the perfectly-executed duck breast with a crisp caramelised skin knocked our socks off. We found the menu to be great value for money. Plus, you can get 4 bonus miles per dollar, on top of your usual credit card mile accrual with the Kris+ app. Oh, and you might wanna grab a glass of their signature butter beer when you're here!
UNA at The Alkaff Mansion's Kris+ Menu ($118++)

Course 1 : Amuse bouche
Course 2: Langosta Pochada (Poached lobster with salsa rose)
Course 3 : Fideua de Calamaries(Spanish noodles with crispy baby squid)
Course 4: Consome de Tomate (Tomato consomme with Hokkaido scallop)
Course 5 : Wagyu a la Parilla (Char-grilled wagyu tri-tip)
Course 6 : Bunuelos de Viento (Spanish donut)
The menu comes with a complimentary tapas, and a complimentary glass of cava(sparkling wine)
Housed on the second level of the gorgeous Alkaff Mansion, UNA is a beautiful venue for a romantic dinner or celebratory meal. The standouts from the 6-course Kris+ menu were the Spanish noodles, wagyu tri-tip and Spanish donut. You can earn 6 bonus miles per $1 spent on this Kris+ menu with the Kris+ app. Use a credit card that offers 4mpd on dining expenditure, and you will effectively be earning 10mpd by choosing this menu!

How to earn 6 BONUS miles on every $1 spent

Earn up to 6 BONUS miles on every $1 spent paid with cash, credit or debit card. Simply key in amount paid on the app, show QR code to staff and be rewarded with KrisPay miles. KrisPay miles can be transferred to KrisFlyer and contribute to flight miles accumulation. Don't forget to make payment with a miles credit card to double dip on the miles you can earn!
Earn miles, Burn miles, and Enjoy privilege with Kris+ today!