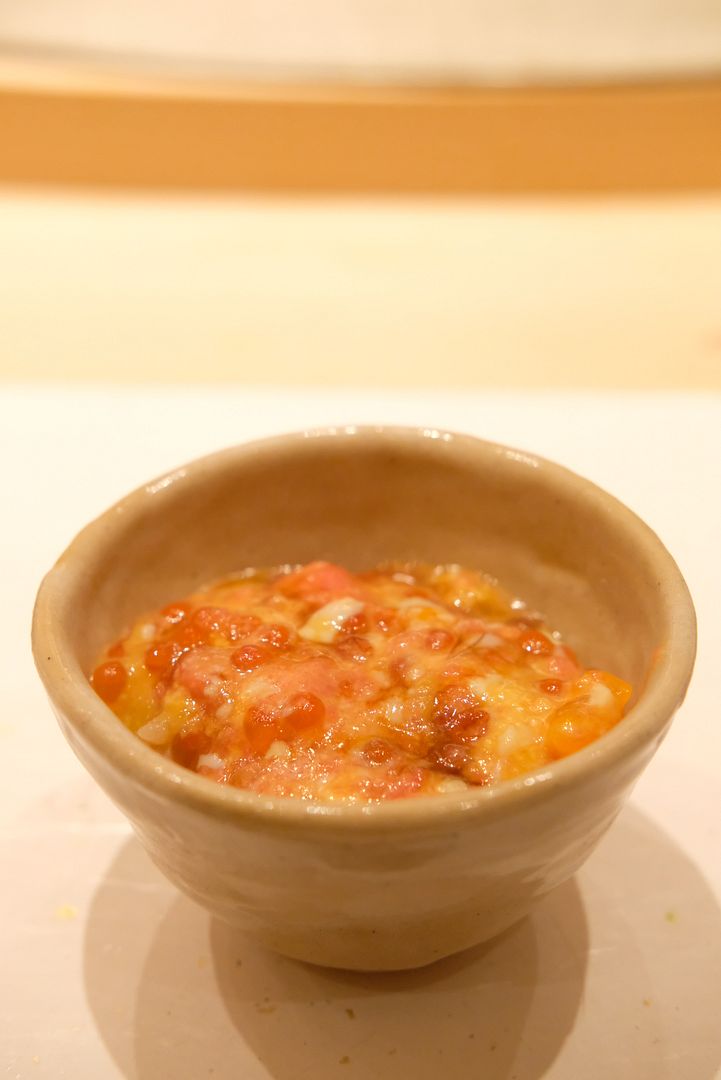 One-Michelin-Starred Sushi Kimura is tucked away in a quiet corner of Palais Renaissance. The fine dining sushi restaurant focuses on Edomae-style sushi that's made with fish air-flown from Tsukiji Fish Market, sushi rice from a specific farm in Yamagata prefecture, and only premium ingredients imported from Japan.
Master Chef Tomoo Kimura, who has had stints at numerous fine-dining and Michelin-starred establishments, must be a perfectionist because he ensures that every item is made with only the finest ingredients and presented beautifully. He cooks his specially-sourced sushi rice in Hokkaido spring water, and not just any water. A master in the ageing of fish, Chef Kimura chooses to introduce fish that is rarely found on the menus of Japanese restaurants in Singapore. The amiable chef attends to his guests with a big bright smile and explains every dish succinctly.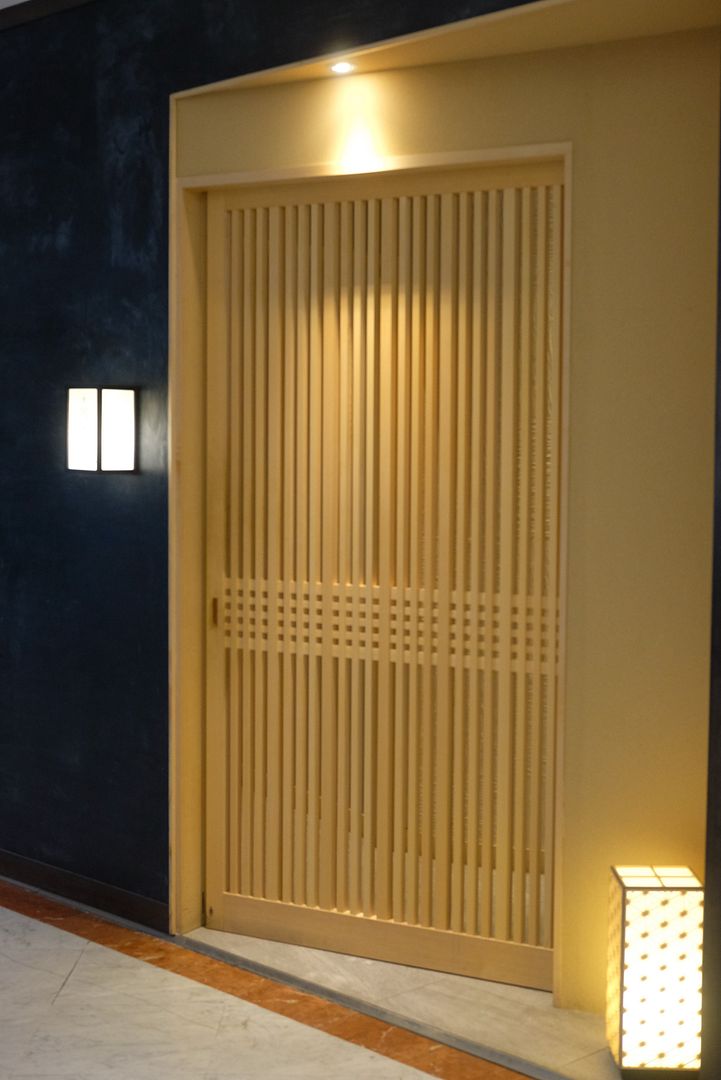 Sushi Kimura hasn't been open all that long, and it has already earned a star in arguably the most prestigious dining guide in the world. The sushi-ya must be doing something right.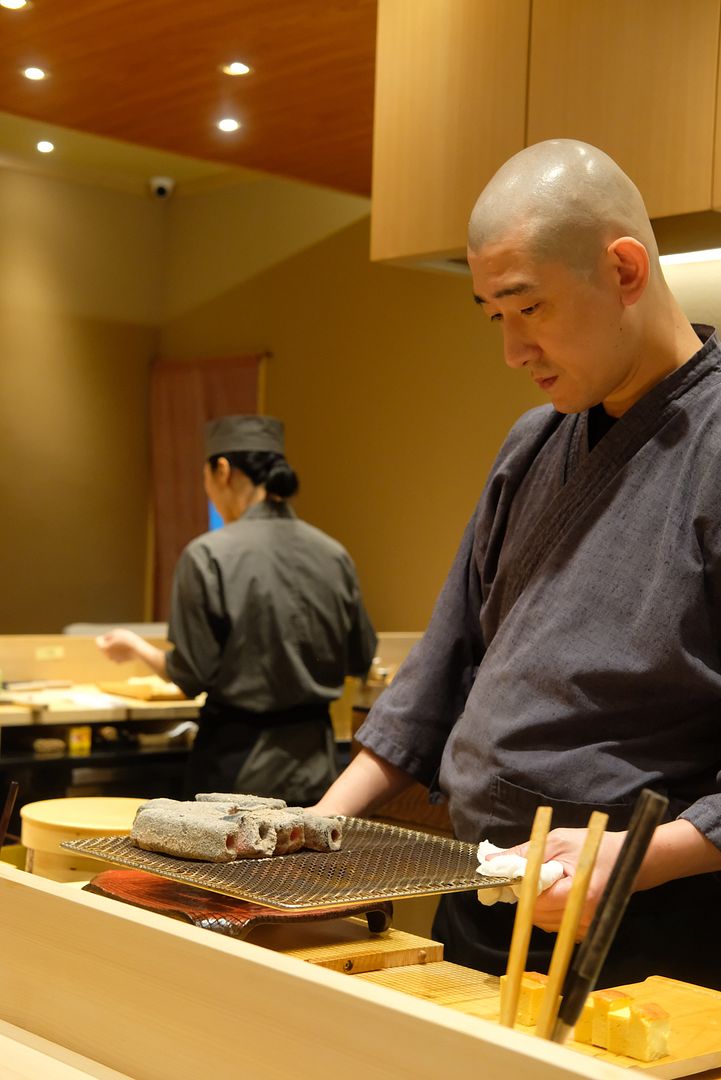 We took a seat at the sushi counter — a counter made from 150-year-old hinoki.
My friend and I popped by for lunch, and we both had the
Raku ($250)
omakase menu which comprises the following:
Seasonal Starter

Chawanmushi

Seasonal Sashimi

Grilled Fish

Sushi

Signature Rice Bowl (Uni, Ikura, Negitoro, Onsen Egg)

Soup

Dessert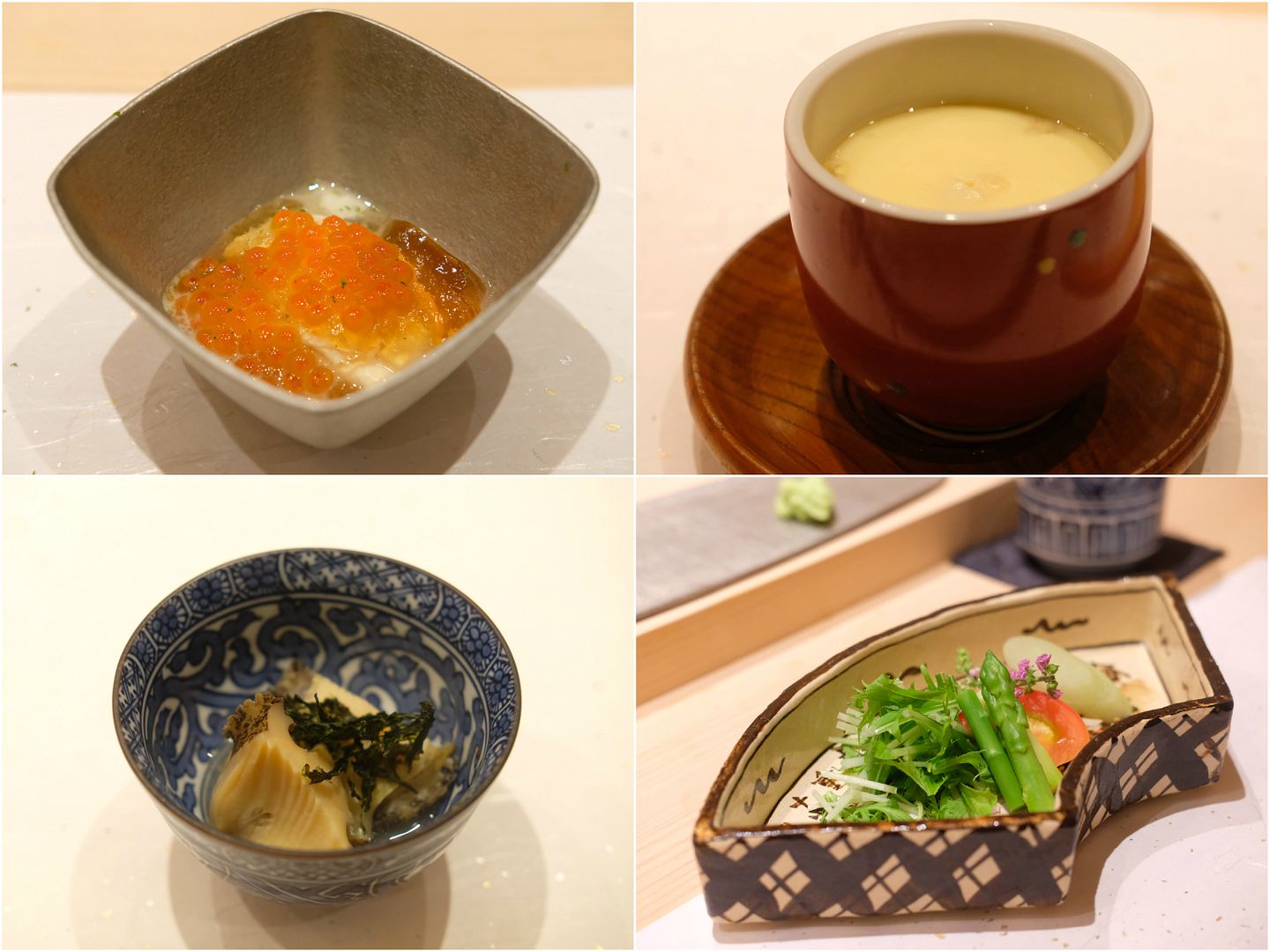 Beancurd with dashi jelly, ikura and yuzu zest
Oita egg chawanmushi with Hokkaido hairy crab cooked in Hokkaido spring water, Hokkaido corn
Hokkaido abalone simmered in sake for 8 hours, seaweed from Saga prefecture
Asparagus, tomato, shiso flower, ginger flower, natural coloured sesame seeds

Japanese marlin, Bonito smoked with charcoal, Ishikagai clam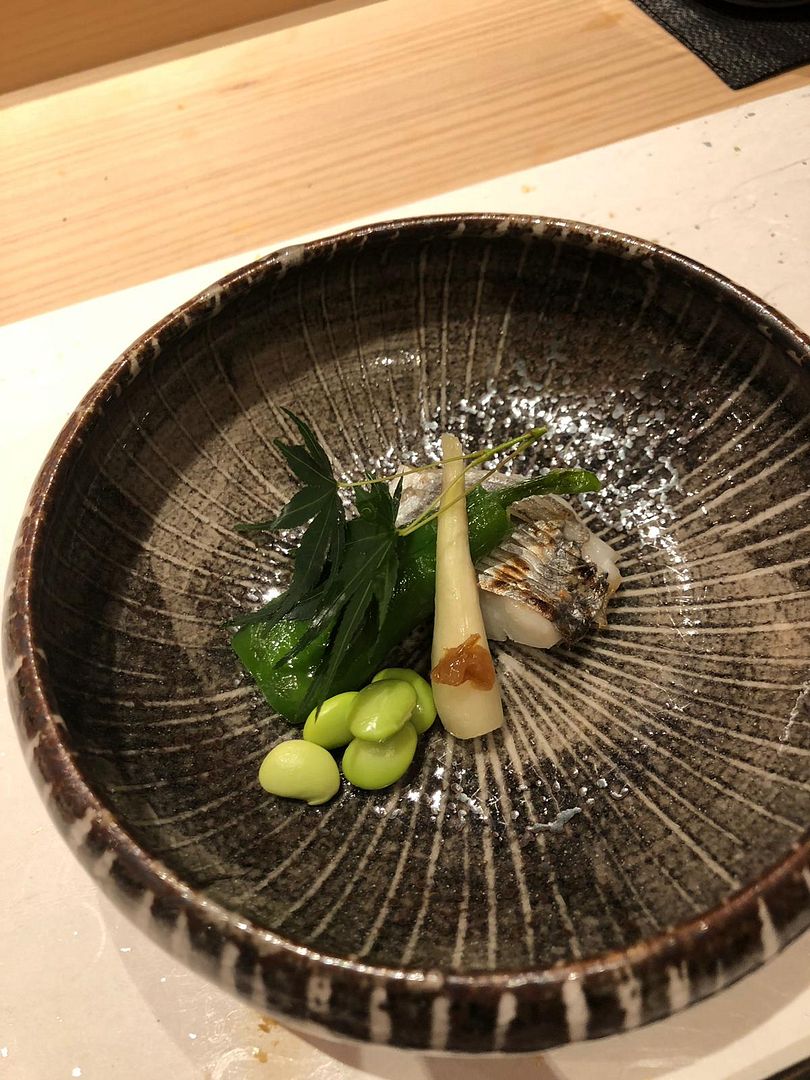 Grilled tachiuo, edamame from Osaka, shishito peppers from Kyoto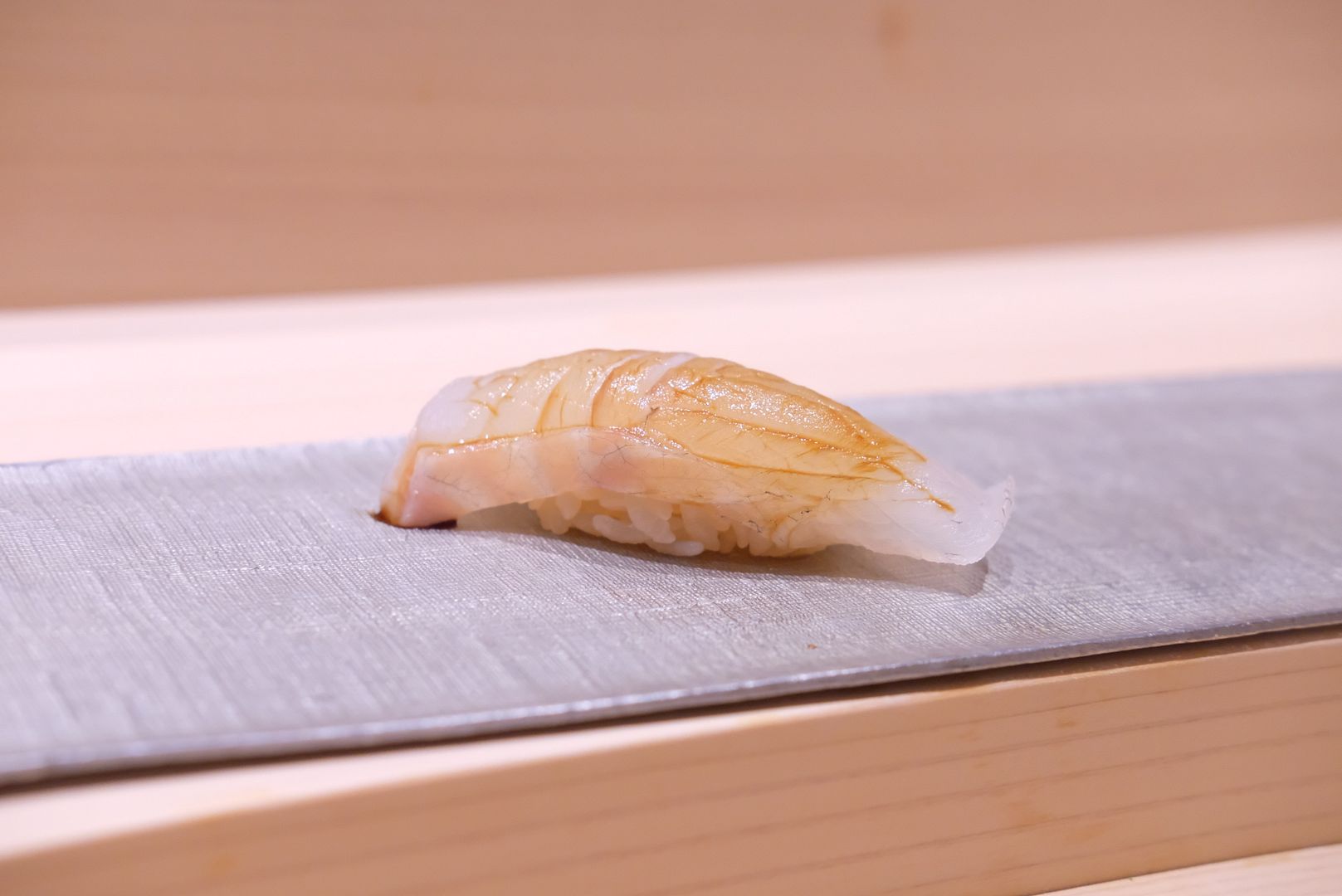 Suzuki(Japanese seabass)
Usuba hagi(unicorn leather jacket) - similar to kawahagi, marinated tuna

Oki aji(ocean mackerel), striped bonito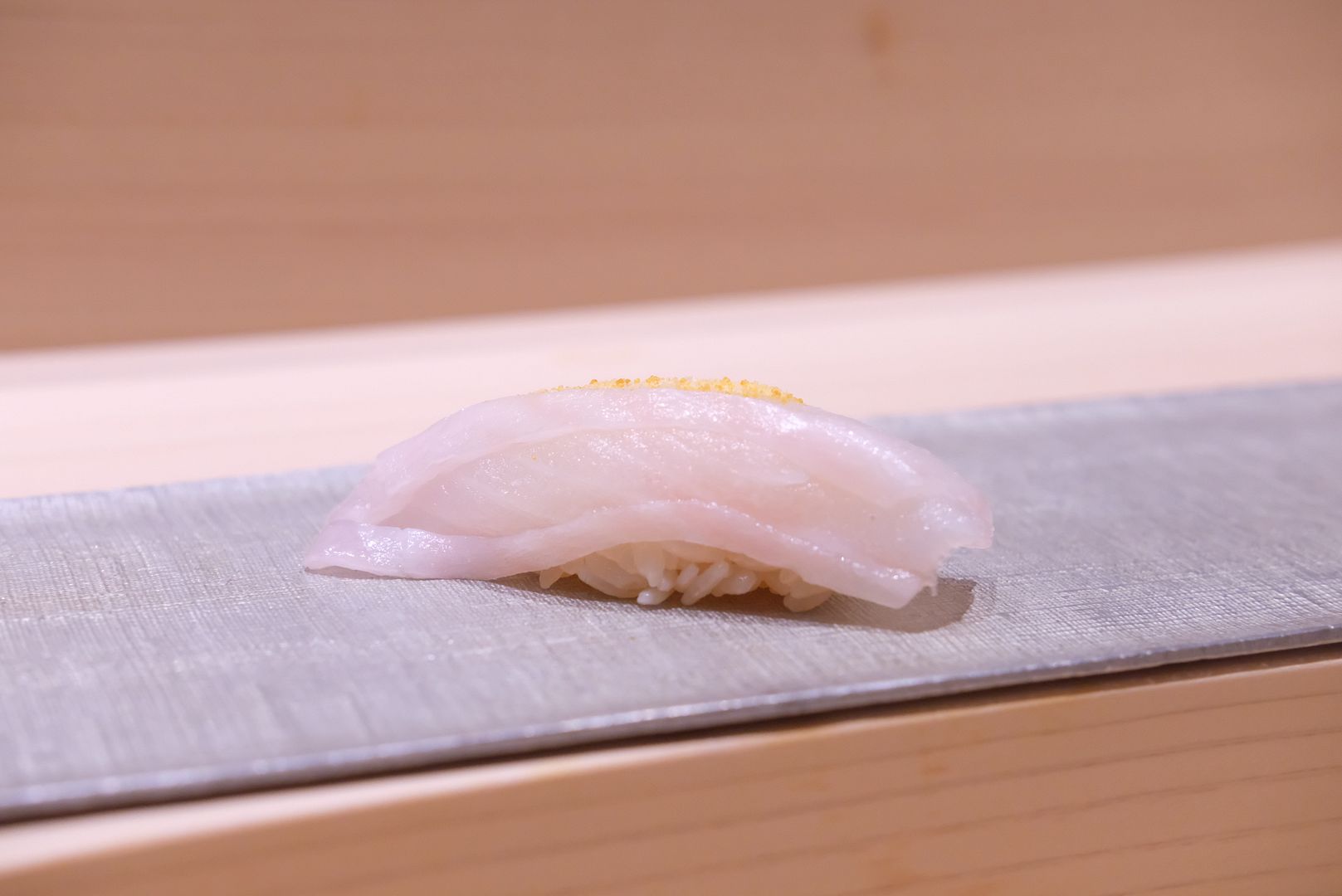 Sharkskin halibut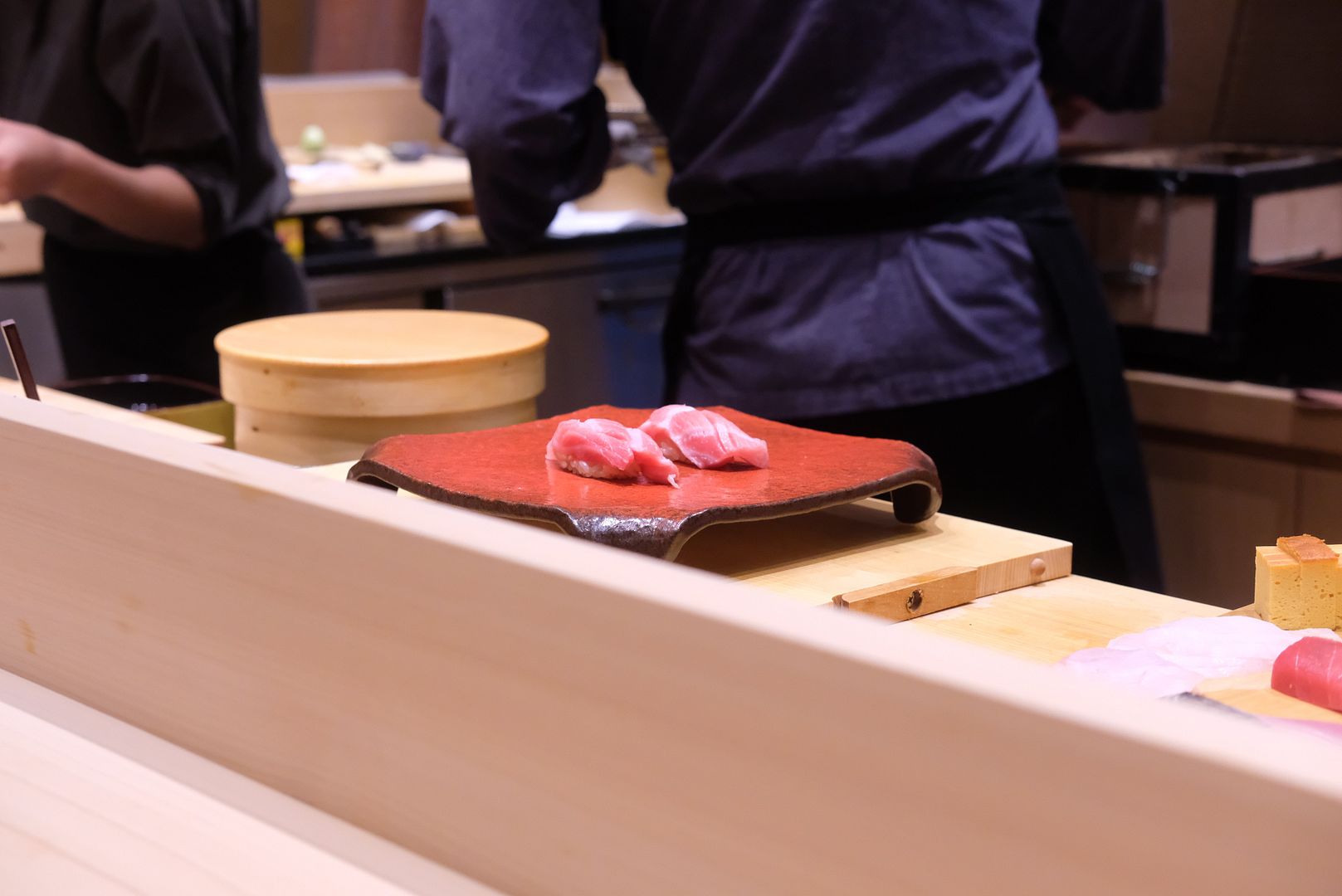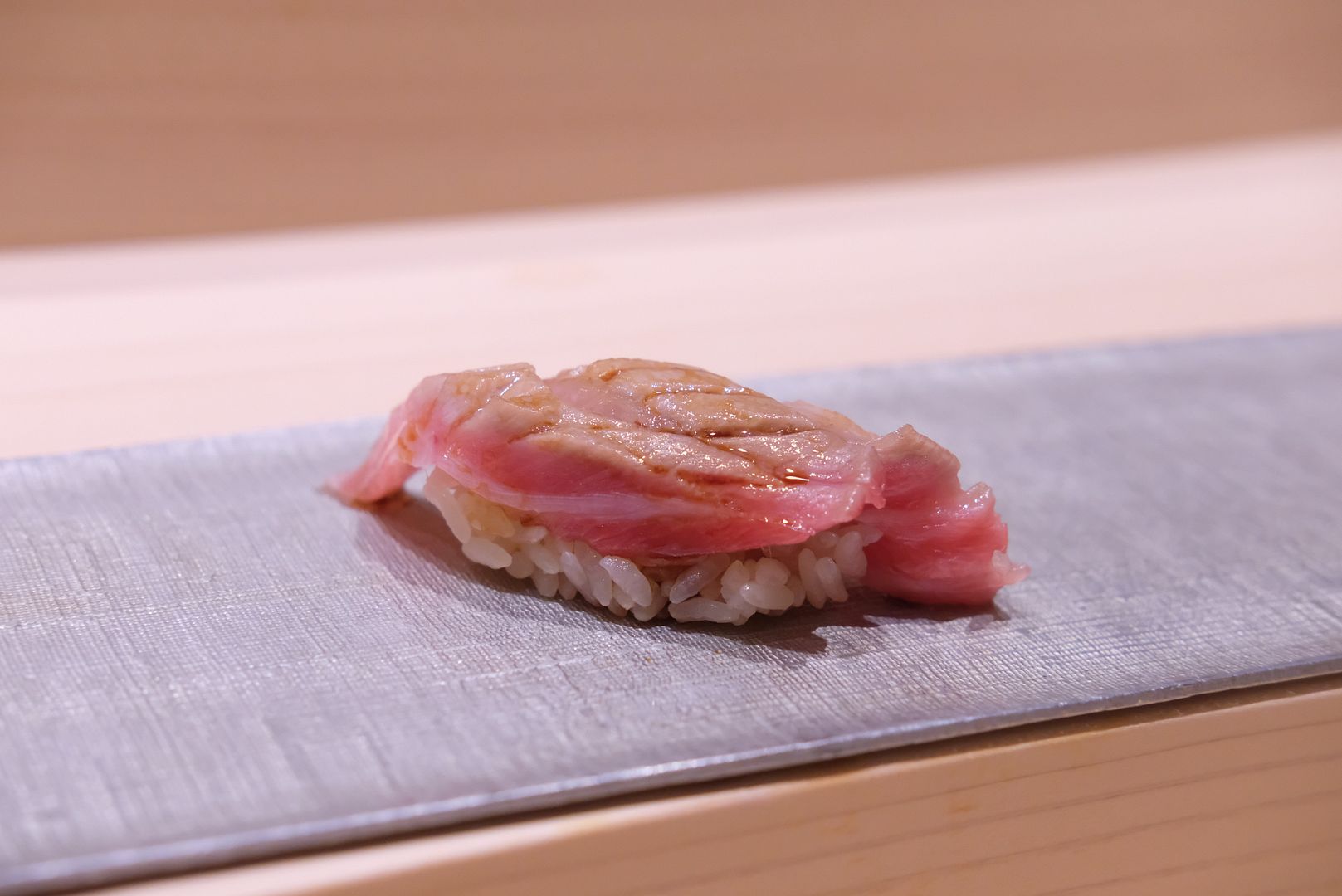 Grilled otoro - yummy!!!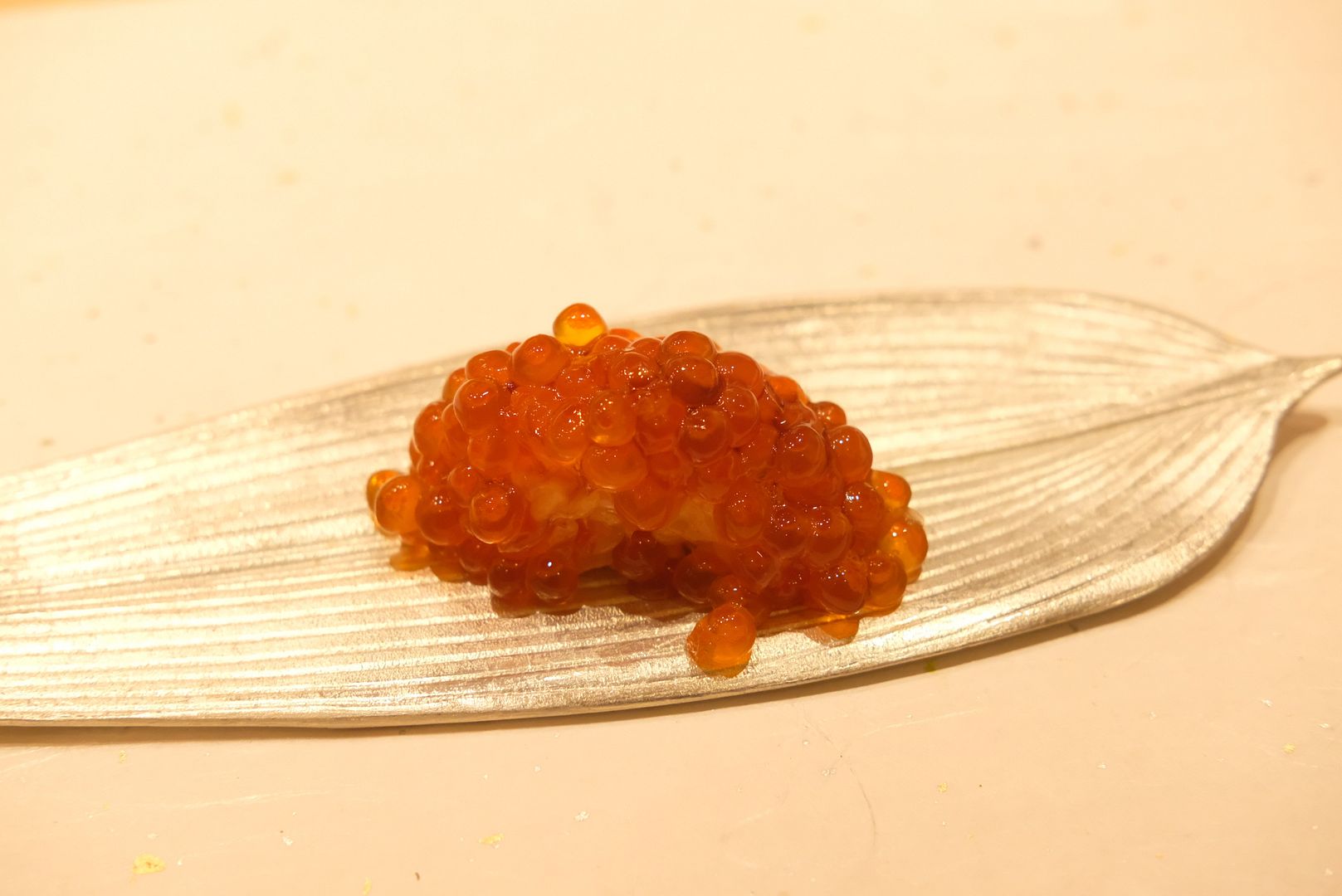 Sujiko(immature salmon roe in a sac) - redder, smaller, more fragile and a tad sweeter than ikura.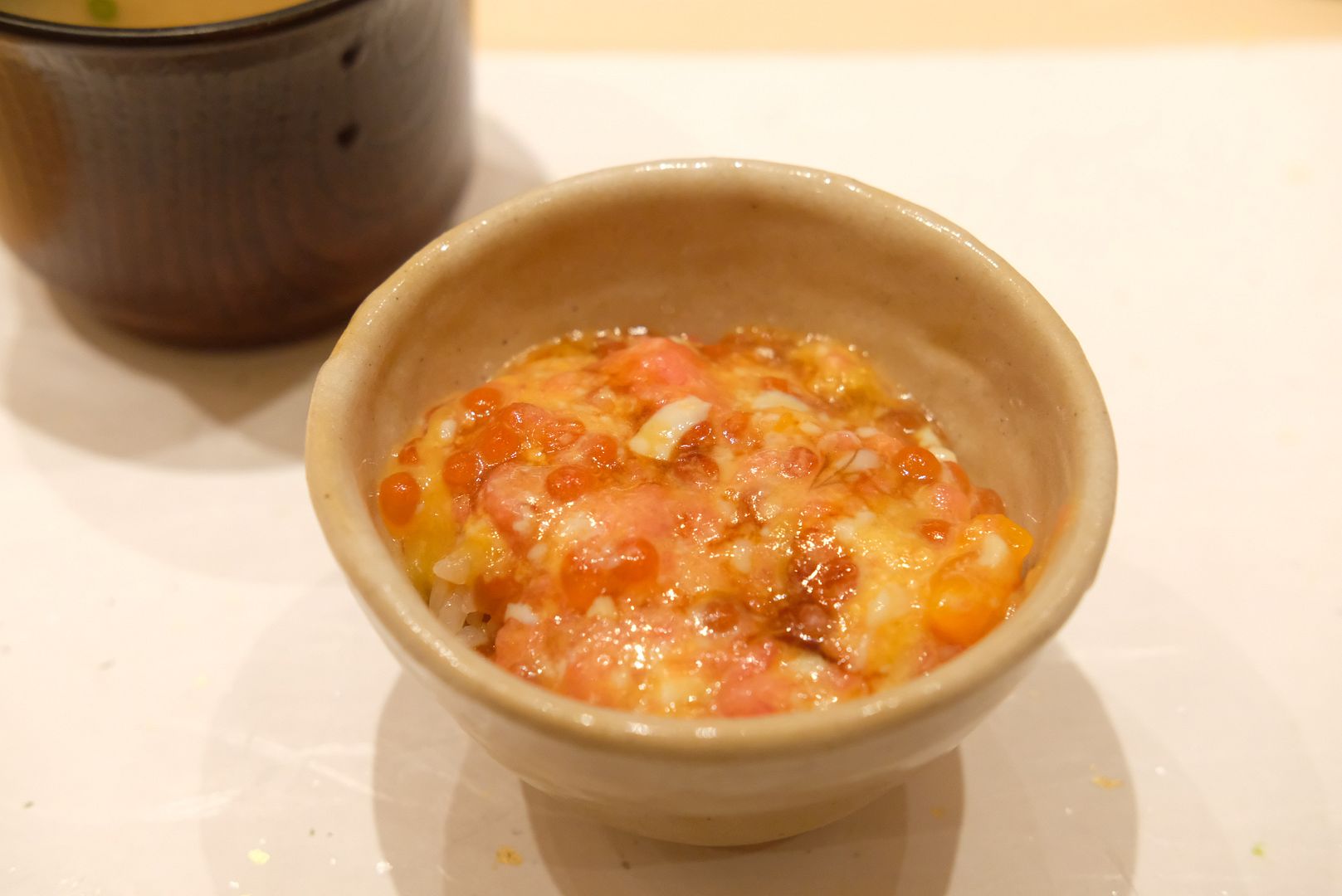 Signature rice bowl - uni, ikura, negitoro, onsen tamago
I heard that the original version didn't have onsen tamago in it. I think that that would have been yummier because you can taste more of the uni and negitoro. In this version, the taste of the egg masked the natural flavours of the uni and chopped tuna. I was a little disappointed.

Tamagoyaki, soup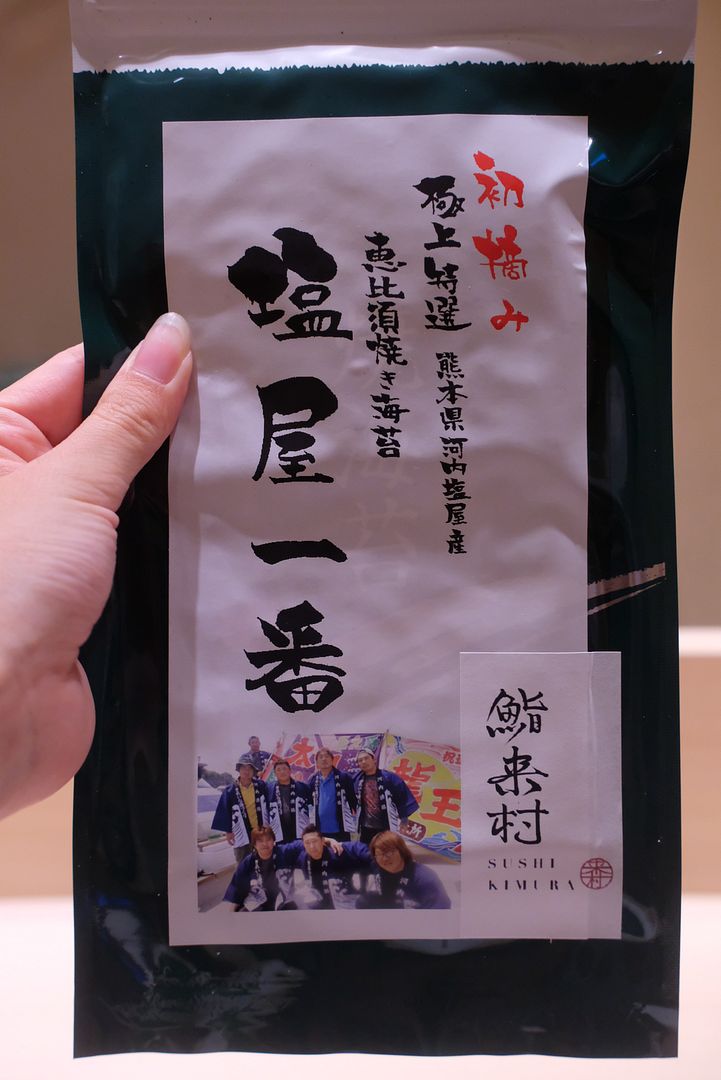 It was my birthday so Chef Kimura gifted me a packet of seaweed that he flew in from Japan! It's apparently the best seaweed in Japan!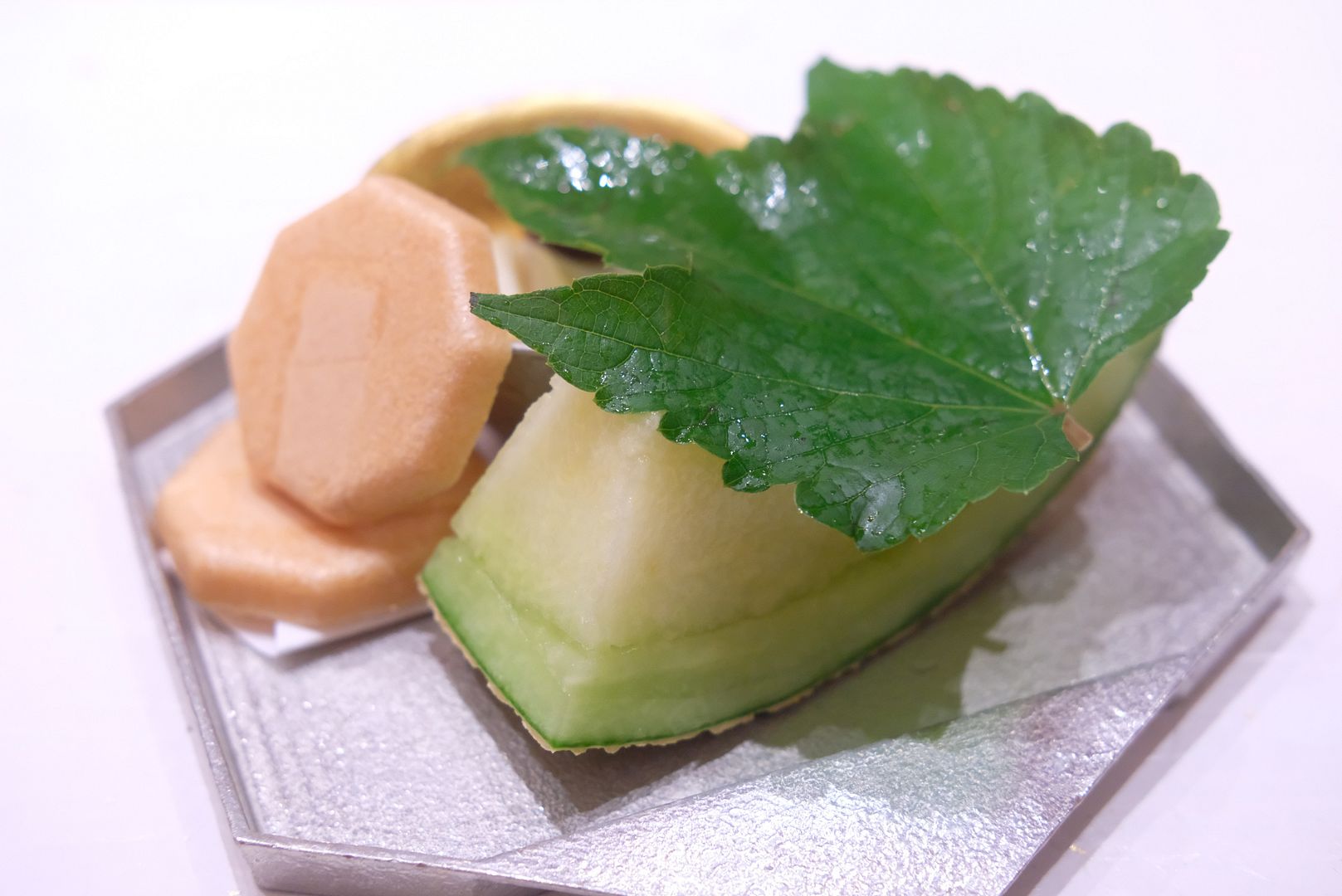 Kuzumochi, monaka wafer
Musk melon from Shizuoka
It was my first time encountering fish such as oki aji, and usuba hagi, and it was truly an eye-opening experience. Chef Kimura highlights the natural flavours of the fish expertly. Maybe I'm just basic and prefer fish that I'm accustomed to or familiar with. I didn't feel that this meal was particularly mind-blowing, especially the signature rice bowl which I thought could have been better. While I can't refute the quality of the food and service here, my visit wasn't one that made me say "wow, I'll definitely come back again". I guess my palate is not refined enough to appreciate Chef Kimura's creations. One thing that I really loved though, was Chef Kimura himself. He's really friendly and nice, and he has one of the most adorable and captivating smiles. Service is also top-notch here.
I think my best and favourite omakase experience is still at
Akashi
at the old Orchard Parade Hotel.
390 Orchard Road
Palais Renaissance, #01-07
Singapore 238871
Tuesday - Sunday : 12pm - 3pm, 7pm - 10pm
---
Love, K