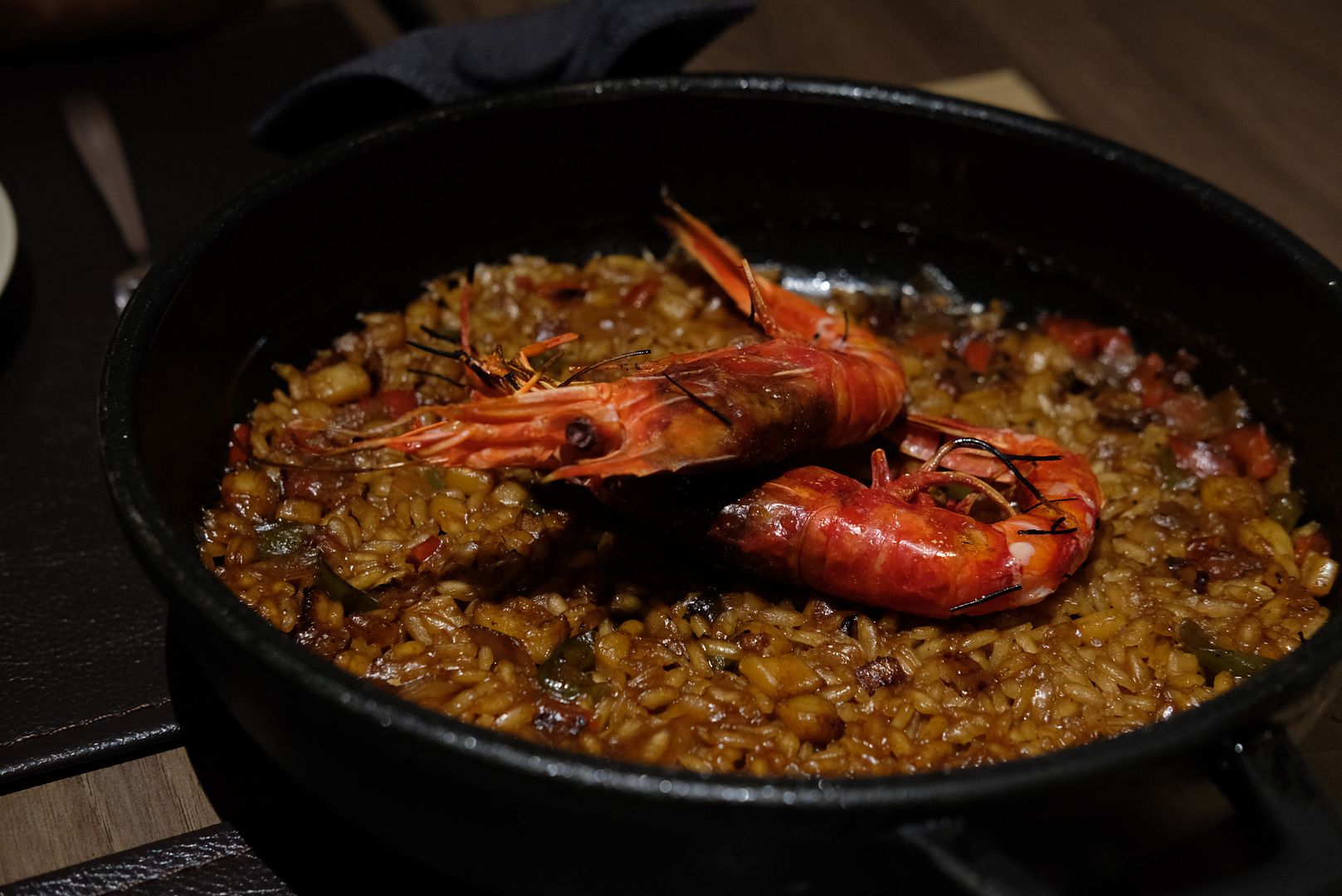 Restaurant
Gaig

is not widely reviewed, and it certainly is a secret that's been very well kept. And I can totally understand why. Loyal fans will want to keep this place a secret, for sure. I am actually even hesitating, as I'm drafting this. Do I really want to hare about this hidden gem? Well, I guess, it's only right of me to share good things right?
Sitting on the popular Stanley Street, 3-year-old Gaig is a charming little outfit that promises warm and attentive service, and great food at pocket-friendly prices. The restaurant has a rich history that dates all the way back to 1869 when Carles Gaig's family started Taberna d'en Gaig in Barcelona. The restaurant was renamed Restaurant Gaig in 1898 and went on to receive a Michelin star in 1993
I'm used to plump and round Jamon Croquettes($12) so these lean croquettes were a little surprising. The thin and crisp crust packed a core of creamy and savoury cream mix. I prefer my croquettes to be fatter as they have a better filling-to-crust ratio but these were still pretty good!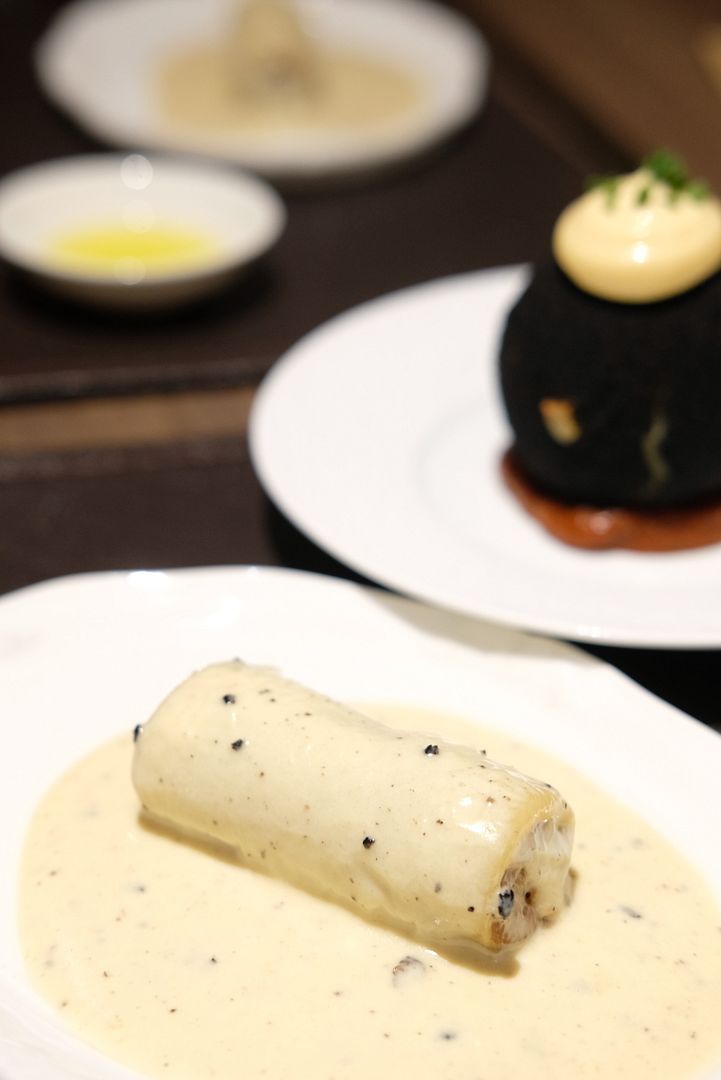 Gaig's Traditional Cannelloni ($16.50/2 pieces) was highly recommended by the staff.
This recipe was created in 1869! It is their signature item and we were really glad to have ordered it. Not particularly dressed up, or adorned with sprinkles of garnishes, the cannelloni looked simple but it was anything but. Expect a generous bundle of
beef and pork
wrapped in a thin and soft dough, that rests daintily in a pool of delightful cream sauce. The flavours all came together beautifully and every bite was a little party in my mouth.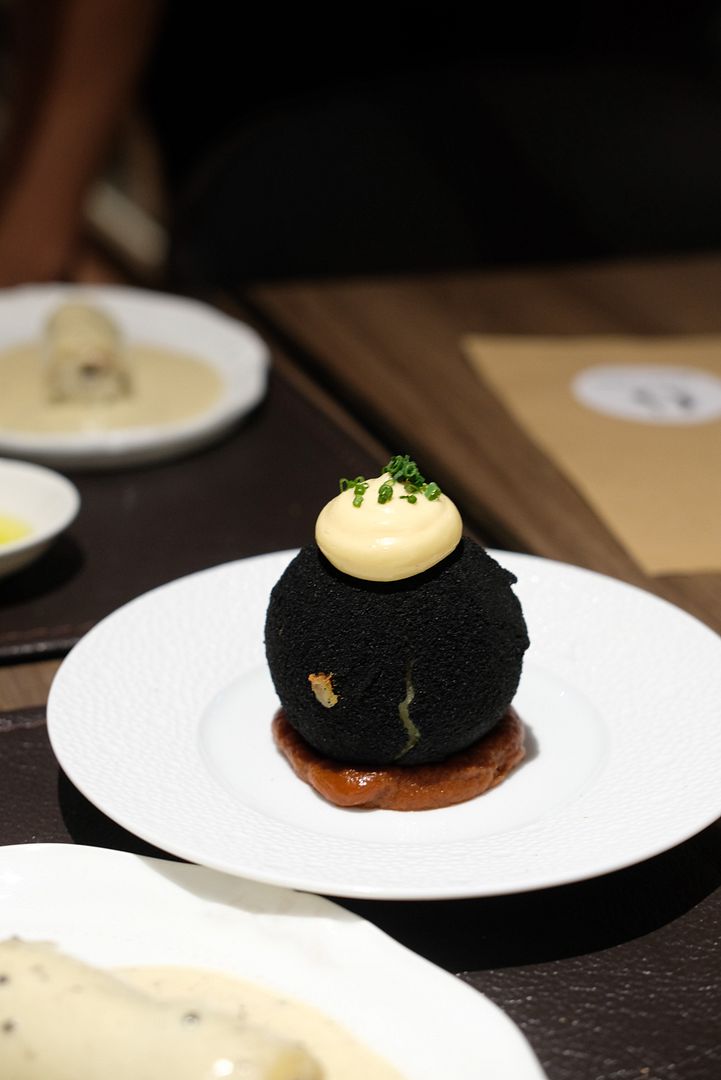 It's the first time that I'm encountering a black Bomba($15)! Pushing a knife through the little sphere was easy enough. The knife slid through the thin, firm, and crispy crust with ease, revealing a mass of potato and spicy beef. Although it was a tad too spicy for me, I still enjoyed it very much. You can taste the individual components distinctly and the 2 different sauces enlivened the dish. We were trying to get every last bit of sauce onto our morsels of potato and beef!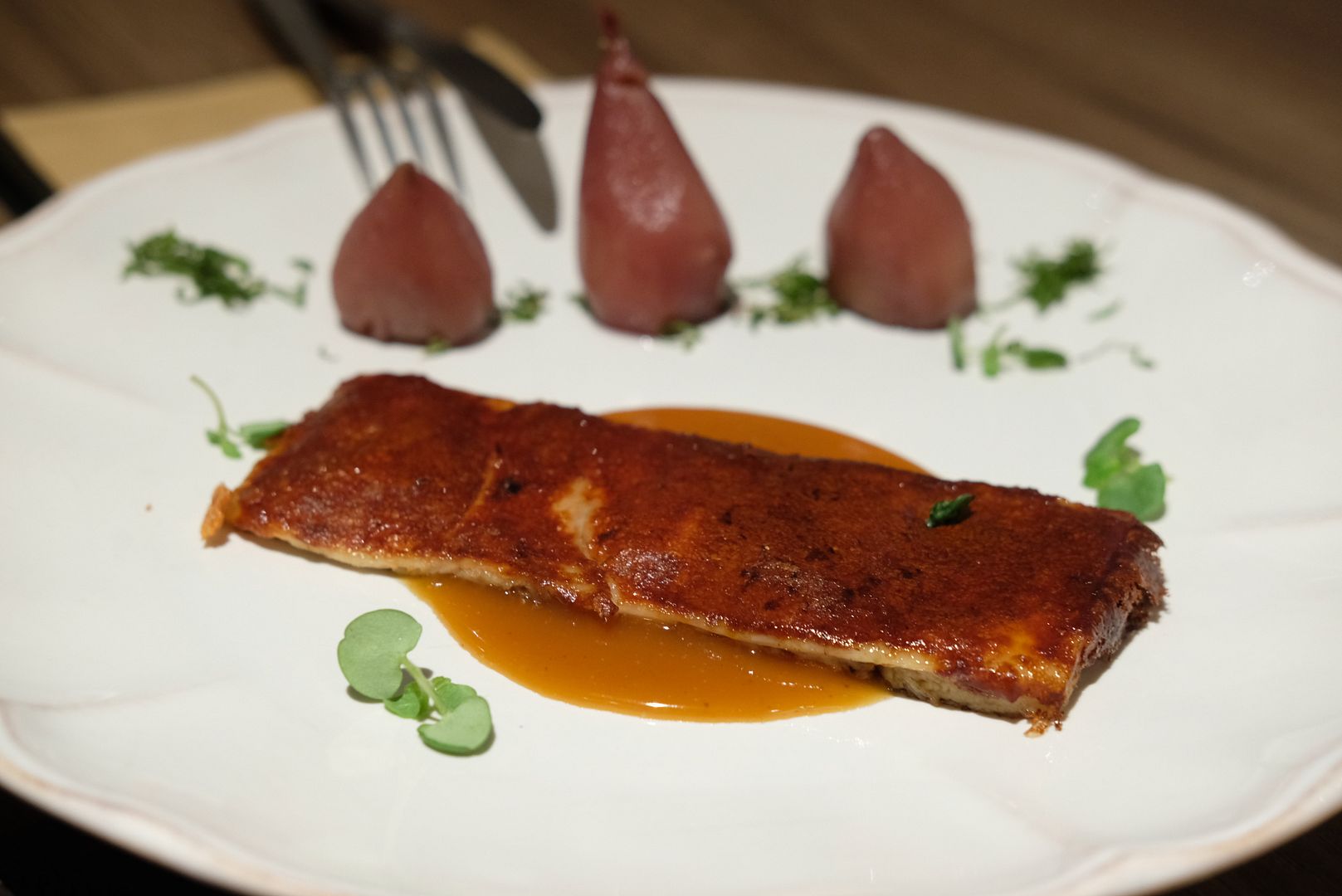 The Suckling Pig($42.50) took us by surprise. It was nothing like the usual chunky and fatty suckling pig served at Spanish restaurants. The slab of meat was thin and I wasn't expecting much to be honest. Interestingly, beneath that almost paper thin crackly skin was a very thin layer of fat, and tender and slightly juicy meat. It was quite delicious and the pear infused with wine and honey was very good as well.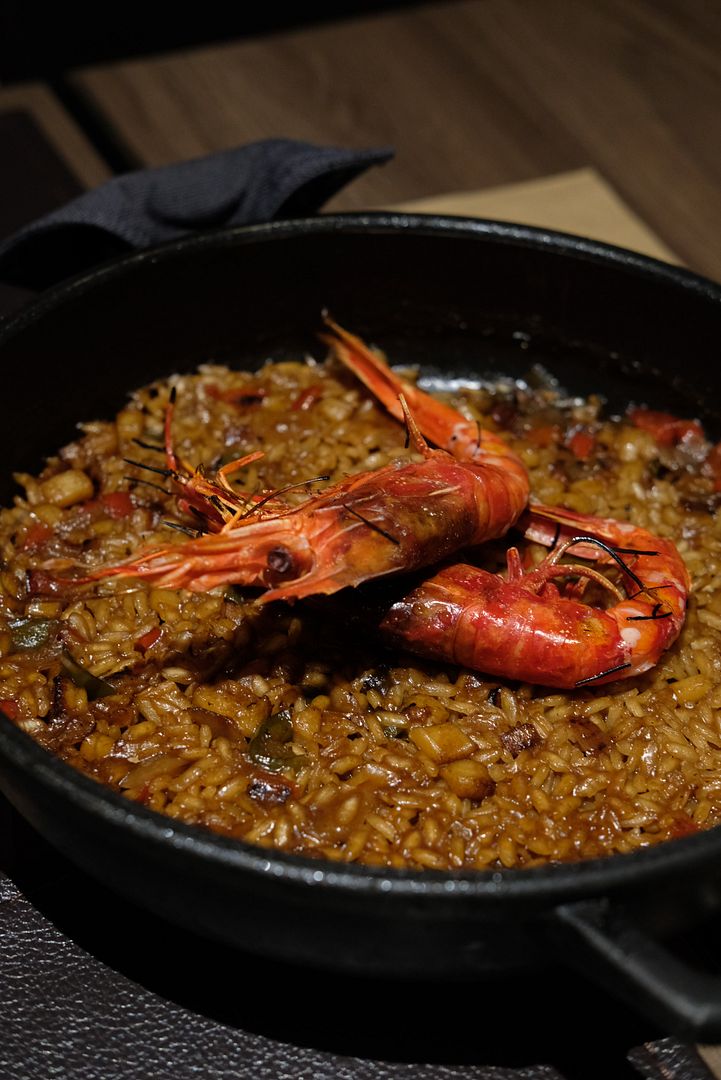 For me, paella is a must on every visit to a Spanish restaurant. We were choosing between the Seafood Paella with Carabinero Prawns ($42.50) and Pigeon Porcini Paella($52.50) and picked the seafood variation in the end. The texture of the paella was perfect, and it was so very flavourful. The Carabinero prawns had juicy heads and the juices that oozed out from the heads made the paella even tastier. Robust and rich, the paella definitely was a winner in our books.
We rounded off the meal with the Pa amb oli i xocolata($15.50). The
crispy chocolate ganache was such a treat. There were many different textures and the crispy bits were the best parts. The olive oil ice-cream was unique and paired exceeding well with the decadent chocolate dessert. Will highly recommend that you order this!
Right from the very first dish, right up to the last, every dish was a hit. Our meal at Restaurant Gaig concluded on a high. We had a very wonderful evening here and will definitely be back for more!
Monday - Saturday : 12pm - 10pm