SE7ENTH at Oakwood Premier AMTD Singapore has just refreshed their menu with new additions! Having stayed at the luxurious property for three months, and ordered room service multiple times, I know that the head chef at SE7ENTH whips up pretty delicious dishes. Hence, I was excited to see what he has come up with.

We started dinner with the signature Crispy Chicken Wings with Truffle Maple Drizzle ($15). The wings have been on the menu since the very beginning, and for very good reason. I had them a couple of times when I was staying here. The wings are beautifully fried, with a nice crisp skin that had just the right thickness and juicy meat. The truffle maple drizzle adds a lovely fragrance and sweetness that just made the wings even yummier.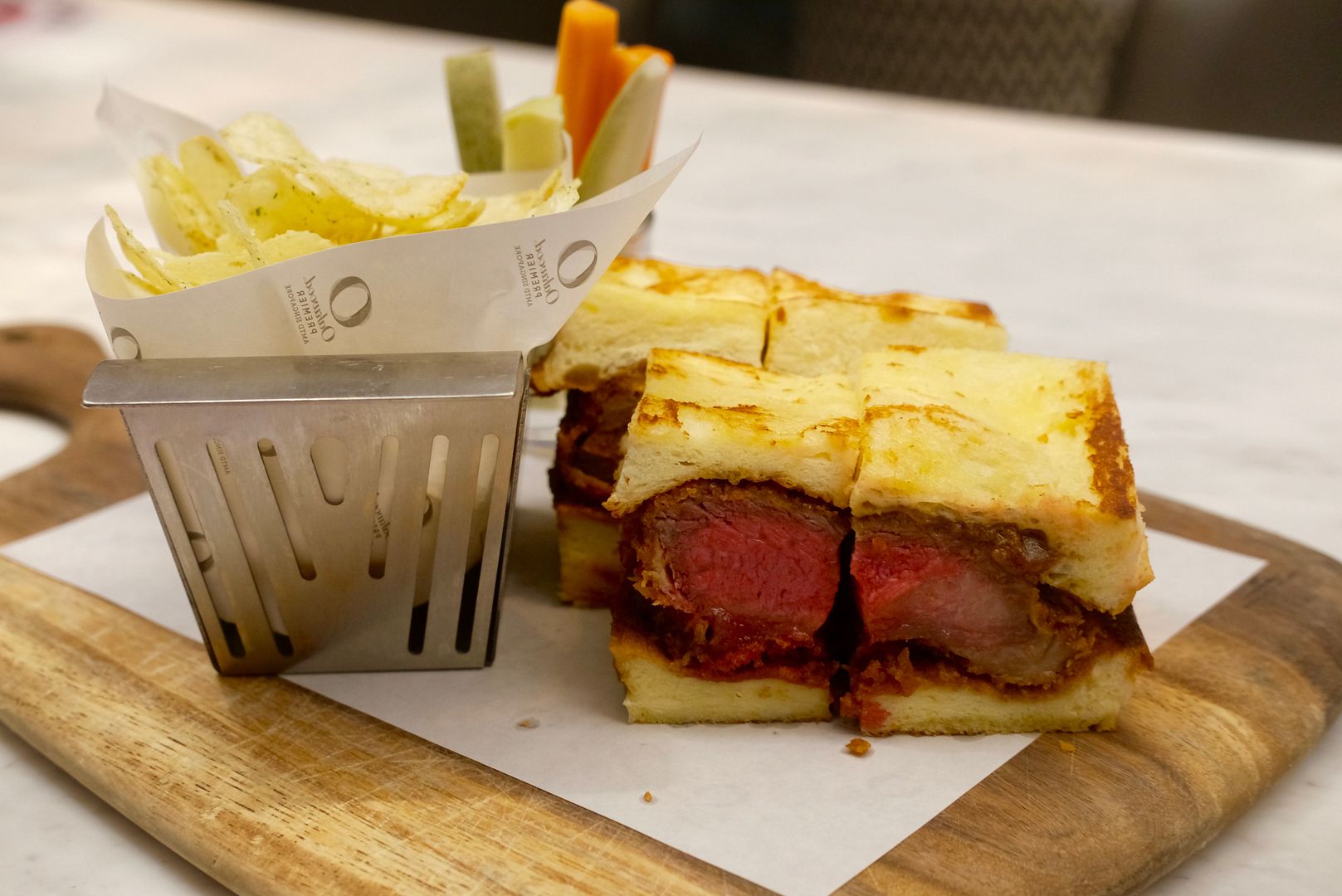 Katsu Sando has been a thing since
Wagyumafia
in Tokyo was born. I have tried a few renditions in Singapore, and I do like them very much, except that they so very often burn a hole in my pocket and they don't fill me up at all. Imagine my surprise when I found out that the
Wagyu Katsu Sandwich
at SE7ENTH is only
$35
! So, I managed my expectations and honestly wasn't expecting the katsu sandwich to be very good but it was??? I was really very pleasantly surprised by how well executed the sandwich was. The thick medium done beef was perfectly tender and juicy, and the buttered grilled brioche was great as well. The substantial Wagyu striploin steak sandwich comes with sour cream chips and homemade pickled vegetables. This might just be the best beef sando you can get at this price point in Singapore! Love that they are very generous with the portion as well!
Chef is an expert when it comes to salmon and I can attest to that, after falling in love with the previous salmon dish that was on their menu. Hence, I was eager to dig into the Salmon En Papillote with Wild Mushroom Veloute($35). The slab of salmon, which was baked to perfection, sat on a bed of sliced zucchini and egg plant, and was lavishly doused with a velvety wild mushroom sauce. The entire combination worked really well and the star was definitely the tender and firm salmon that earned praised from everyone!

I'm not great with spicy food so the Mala Xiang Guo($28) wasn't really up my alley. Chef's take on Singaporeans' favourite mala dish is chock full of ingredients such as king prawns, scallops, black mussels, squid, quail eggs, luncheon meat and noodles, all tossed in Chef's secret recipe of Sichuan spices. You can't choose the level of spiciness but the default level here is medium. I'm pretty sure that all who love a good mala xiang guo will enjoy this!
Last but not least, we had the Alaskan King Crab Seafood Platter with Truffle Risotto ($42). The platter looked pretty promising at first, with a good selection of seafood. Unfortunately, the truffle risotto was pretty bland and the texture of the grains could use some work. The seafood felt like very separate components from the risotto so the entire dish didn't seem very put together. It might be better if the seafood was cut into smaller pieces and incorporated into the risotto, and the dish then be topped with the Alaskan king crab legs? Hopefully they improve on this and make it a really outstanding dish because there's so much potential.

I will definitely be back for the Wagyu Katsu Sandwich! And will highly recommend the Salmon dish as well!

Oakwood Premier AMTD Singapore
6 Shenton Way, Level 7
Singapore 068809